This article may contain *affiliate links. Please see our affiliate disclosure for more details
A big part of being a successful affiliate marketer is picking the right affiliate programs for your specific niche. Individual affiliate programs are going to be the lifeblood of your passive income website.
Finding these individual affiliate programs can be a bit of a chore sometimes. We have dozens of articles on affiliate programs in a variety of niches that you can look at. But you're going to also want to join some affiliate marketing networks.
We're going to look at one of these affiliate marketing networks right now. And that is ShareASale.
In this article, I'm going to lay out some reasons why I think every affiliate marketers should sign up with ShareASale in order to find the best affiliate programs for their given Niche.
As an affiliate marketer, you can sign up to ShareASale for no cost and use the affiliate programs that they host to really build yourself a wonderful passive income for years to come. You can sign up for the ShareASale affiliate network for free.
Can't Wait? Here is the review overview for you to check out
---
What Is ShareASale?
ShareASale is an affiliate marketing network. This is very different from an affiliate marketing program that you would place a link to on your passive income website.
Most affiliate networks have hundreds, in ShareASale's case thousands, of individual affiliate programs that you can signup for.
You still need to join each individual affiliate program separately on an affiliate network like ShareASale, but the network runs the affiliate programs back end and make sure everything is running smoothly and makes sure you get paid on time.
Joining ShareASale as an affiliate is free of charge. Merchants pay a fee to ShareASale. That is how they make their money and stay in business.
Merchants tend to choose affiliate networks and pay the fee due to the ease of use and leaving the affiliate marketing aspect of their business to the professionals at ShareASale.
It is a good situation for everyone involved. The affiliate gets a professional and convenient way to find and manage their partners. The merchants get a hassle-free affiliate program and ShareASale makes money on the fees from the merchants.
---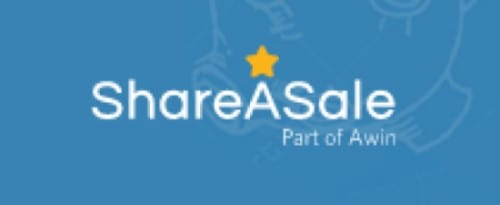 What Makes ShareASale So Good?
There's really no one thing that makes yourself such an appealing Prospect for anyone looking for an affiliate marketing network. In the following sections, I will go into individual areas that I think make ShareASale one of the best affiliate marketing networks around.
However, keep this in mind. Affiliate marketing networks are free to join for the most part. I think there are a couple that requires a fee but I have to delve into a little bit deeper.
The point is you should sign up for as many affiliate networks as you can and then individually choose the affiliate programs that you want for your specific Niche.
A lot of times you might find a great affiliate program on ShareASale and another one that's going to fit your Niche perfectly on Commission Junction.
So you going to want to have the versatility of being a member of as many of them as you can even if you don't use one as much as the other.
ShareASale Has Custom Linking And Good Affiliate Tools
Most affiliate networks will allow you to deep-link or custom link webpages on any of their partner's sites. But ShareASale makes the process incredibly easy and straight forward.
It means you can grab a custom affiliate link pointed directly at the product you are reviewing or building your content around. The whole process takes around 30 seconds and it is a convenient way to get the exact affiliate links you want.
But that is not the extent of their tools. Some of these are affiliate dependent so they are not available for all merchants but a large number of them take advantage of the ShareASale tools.
In addition to custom links you can also find banners and image ads for many affiliate programs as well as data feeds for many of the products.
Not all merchants have a data feed but the ones that do give you a great way to link images of the products quickly and conveniently.
ShareASale Is Easy To Navigate
The ShareASale website is incredibly easy to navigate. They have everything categorized in easy to follow menus and their search function does a great job of finding the partners you need and filtering out the rest of the junk.
It may seem like a small thing but being fast and easy to navigate is not something that every affiliate network can claim. Some of them are tragically slow and convoluted. Some don't even allow keyword searches, just the names of merchants. It can be a nightmare.
Not with ShareASale though. It is fast and easy and makes finding your next affiliate program a breeze.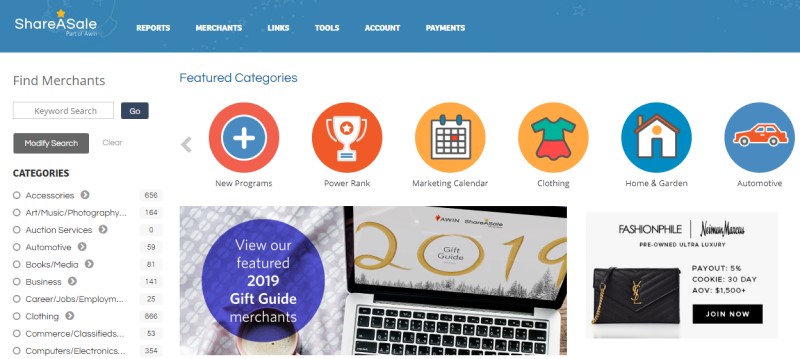 ShareASale Has A Huge Number Of Niches
It really doesn't matter what niche you're in. ShareASale is almost definitely going to have affiliate programs designed specifically for that particular sub-niche or micro-niche.
When you combine ShareASale with all the other affiliate networks then you are not going to have any problems finding great partner programs for the smallest of micro-niches.
An important thing about micro-niche says you don't need a huge amount of traffic to get some really good right profits if you can find the affiliate programs that have the best affiliate terms for you to take advantage of.
If you can find 10% or 20% commissions for affiliate programs than the number of sales you need to make in the amount of traffic you need to generate goes down dramatically from something like Amazon Associates where you're only getting about 4%.
Courage is some of the niches that sheriff sale has hundreds of affiliate programs for. These are just a handful of categories. There are dozens more and thousands of other affiliate programs to choose from.
Home And Garden
ShareASale has a huge number of home and garden affiliates. Over 700 at least count. Great gardening partners like Garden Tower Project, you can read my review of their affiliate program here.
As well as dozens of mattress affiliate programs that are some of the most generous partners in terms of commissions.
Health
Health is a huge and profitable blogging niche and ShareASale has hundreds of health and fitness affiliate to help get you the commissions you deserve.
Every health micro-niche you could think of has some affiliate representation here. Got a blog that deals with dental issues, they have some great partners like Smiledirect that would fit perfectly into that type of website. And that is just one example.
Clothing And Fashion
ShareASale has over 800 fashion and clothing affiliates for you to consider for your affiliate strategy. These affiliates cover just about every fashion and clothing sub-niche and micro-niche you could think of.
Whether your passive income website is dedicated to underwear or wedding dresses they have an affiliate program that is going to fit in nicely.
Food And Beverage
There are dozens of subscription boxes in the food and drink niche that you can take advantage of listed on ShareASale.
Computers And Electronics
Computers and electronics are a tough niche to crack. Especially given that Amazon has some pretty poor commissions when it comes to these types of products.
The affiliate on ShareASale will give you a much more fair commission for all the hard work you put into promoting electronics and computer products.
ShareASale Analytics Are Very Good
I really like the way that the analytics on Shareasale is laid out. they give you a good idea of who's clicking your links and with the tracking options where those clicks are coming from in regards to your content.
It really makes it easy to find out exactly what's working and what not when it comes to your affiliate programs.
They also give the earnings per click of the affiliate programs On their service. I have found these are a little bit hit or miss when it comes to them. So not all the aspects of their analytics are fantastic.
But the backend analytics related to your account is fantastic. You can find out how much traffic you're getting from each click you can find out how many sounds are making from each individual link as long as you assign a tracking ID to it.
It is an easy to navigate and an easy to use analytics Suite that comes with ShareASale. It might not be something you think about when looking at affiliate marketing networks but you will really learn to enjoy the ease at which everything is laid out with ShareASale.
Auto-Approval For Some Partners On ShareASale
Another thing I like about ShareASale is they make it very clear which affiliate programs are going to give you auto-approval.
If you're an established website Auto approval really doesn't matter because most of the time you can get approved for these affiliate programs anyway.
But if you just starting on it can be difficult to get approved for a lot of these programs. Especially the ones that have really good affiliate terms.
These affiliate programs want to make sure that the people they are partnering with have a good amount of traffic and have quality content and everything else that goes along with being a good affiliate partner.
However, some of these programs allow you to join without much of a hassle. This is the auto-approval process. It's a great way for a new website or affiliate marketer to get some affiliate programs under their belt II start promoting.
This is completely dependent on the individual affiliate programs and but it is labeled very clearly when you search for affiliate programs on ShareASale.
It's a small little thing that really makes a lot of difference when searching for affiliate programs to this you don't waste a lot of time if your new website.
---
Closing Thoughts On The ShareASale Network
That brings us to the end of our look at the ShareASale affiliate marketing network. This is one of the best affiliate marketing networks around.
They have just about everything you need to get started in the world of affiliate marketing at least from the affiliate program side of things.
You're still going to need to find web hosting, I recommend Bluehost(*affiliate link) for your website as well as getting a domain that you're comfortable with.
But having a place that you can have all your affiliate data in one network is really going to be a benefit when it comes to figuring out what works and doesn't work for your particular Niche and with your specific audience.
That doesn't mean you should only sign up for ShareASale. You need to diversify as much as you can and find as many affiliate networks to sign up to even if you don't plan on using them very often.
Remember signing up for affiliate marketing networks should be free. And you can sign up for Shareasale right here.
The last thing you're going to need to get off to a good start with your passive income business is a little bit of affiliate marketing training does going to make the process as smooth as possible.  
Don't go it alone. Get the best learning tools and community to help you build your online dream. Check it out here.
Thanks for stopping by and have a wonderful day.