This article may contain *affiliate links. Please see our affiliate disclosure for more details
Welcome, welcome.
To my review of the Farmasi cosmetics entrepreneur opportunity. If you thinking about joining this multi-level marketing program or if only just heard about it and are beginning to do some research on it then you have come to the right place.
Search no more because you were going to find out a lot you need to know about this business opportunity and whether or not it's a good place to invest your time and money.
I'm also going to lay an alternative to multi-level marketing on you at the end that I think does a better job of providing passive income for anyone who is willing to put the work in.
So let's get right to it here is my Farmasi Review for your consideration.
Farmasi Review Quick Summary
Company Name: Farmasi
Business Niche: Cosmetics
Cost To Join: $19 Plus Product Purchases
A good multi-level marketing opportunity for anyone interested in the cosmetics or make-up niches. However, it suffers from many of the issues inherent to multi-level marketing companies, particularly the need to buy the products in order to sell them.
Overall Rating: 73/100
Recommended?: No
---
What Is Farmasi Cosmetics
Farmasi is a cosmetics company that was founded in Turkey in 2004. In the last 15-years, they have expanded into many new markets and have recently developed a presence in the United States.
They use cruelty-free methods to test their cosmetics so you can promote their products with a clear conscience. They offer a business opportunity that allows you to but their make-up and cosmetic products at a 50% discount and then resell them and pocket the difference. There is a membership fee for this entrepreneur program.
All in all, Farmasi looks to be a very well run cosmetics business with a pretty good line of products. But it is the entrepreneur opportunity that we are most interested in and the reason you are here today.
Let's have a look…
Become A Beauty Influencer
A Farmasi influencer is a name that they call their marketing partners. This is simply another name for the entrepreneurs that are going to be reselling their products and trying to build a sales team of other individuals that make up the multi-level marketing aspect of this company.
they seem to be really leaning into the influencer aspect which is probably a good idea considering how important cosmetics and beauty products are for social media and online influencers.
It also means that you can use a wide variety of formats to get Farmasi's products out there so that you can resell them. Instagram and Pinterest, as well as YouTube and general blogging, are probably going to be good ways to resell these products.
Farmasi Is A Fast Growing Company
Farmasi touts itself as a very fast-growing company. It has a presence in many countries around the world and you can purchase the product from even more. You can check out some of the countries that it is available right here.
It may seem like a trivial thing that a company is growing when you're just an entrepreneur trying to make a little money through direct marketing. But it's important to look at the corporate structure to make sure that the overall health of the company is pretty good.
The last thing you want is some fly-by-night multi-level marketing company to sell you a bunch of stuff and then go out of business a week and a half later.
That won't be the case with Farmasi it seems. They've been around for a good amount of time and they look to be expanding their influence to New Markets.
---
The Cost Of Joining Farmasi
The Farmasi Starter Package is only $19. This is a very fair price for an MLM. Other multi-level marketing memberships can cost hundreds of dollars. You still have to purchase the products to resell.
How much added cost that incurs is dependent on how much you buy and how profitable it is to re-sell those products. You must also place an order every 6 months or risk your account being closed and their kits cannot be returned.
Return On Investment At Farmasi
The return on your investment at Farmasi is going to come down to how well you are able to sell the Farmasi cosmetic line and how well you're able to recruit others to join the program and sell their products as well.
This is your typical MLM setup. You can find all the details for their compensation plan including all the bonuses and possible income streams on their website here.
Reselling Farmasi Cosmetics
Reselling me retail products that you buy from Farmasi is where most people are going to make most of their money.
basically you purchase their products at a discount. In this case, it's about a 50% discount and then resells them at retail price. You then pocket the difference and make a nice commission essentially.
The 50% commission is fantastic for a multi-level marketing company and it's a very good commission for just about any other type of marketing as well.
The only real issue with the reselling of these products is that you have to purchase the kits from Farmasi and then sell them on your own.
That means that you have to take into account all of the other aspects of this type of business which means you have to deal with the inventory and the customers that you will be selling to.
If you have a good user base on your social media or a good presence online in the form of a YouTube channel or a passive income blog then you might be able to do pretty well with reselling these products.
But if you don't have these Outlets to get exposure for the products you can have a tough time making your money back from purchasing these Farmasi kits.
Various Bonuses
The residual income from these bonuses is where a lot of money can be made, but it is also where the biggest problems start to emerge. But they are just about the most convoluted things you will ever see.
Here is a look at the leadership bonus. Just one of the bonuses that you can get in this program.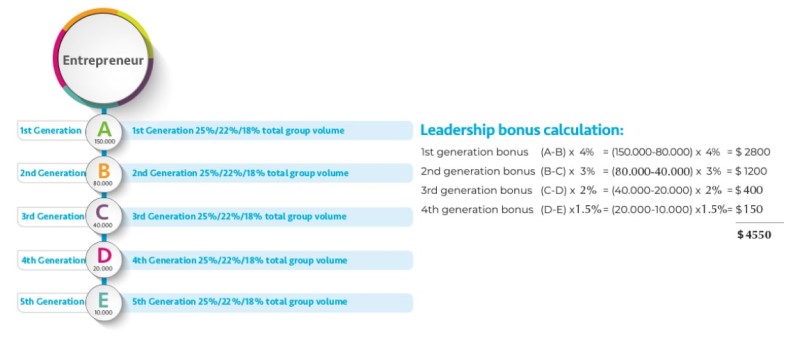 The bottom line here is that you need to take a long hard look at the compensation package offered by Farmasi and figure out if it is right for you.
Farmasi Products
I have not used Farmasi products personally as I don't have any need for make-up or cosmetics but their products seem to be well received.
Here are some of what they offer for you to resell if you join their program.
Fragrances
Make-Up
Skin Care
Personal Care
Foot Care
Hair Care
There's nothing really out of the ordinary here. These are the typical types of products that you would find at any cosmetic store or with any cosmetic based multi-level marketing company.
They do state that their products are not tested on animals which is an absolute must if you are going to sell Cosmetics these days.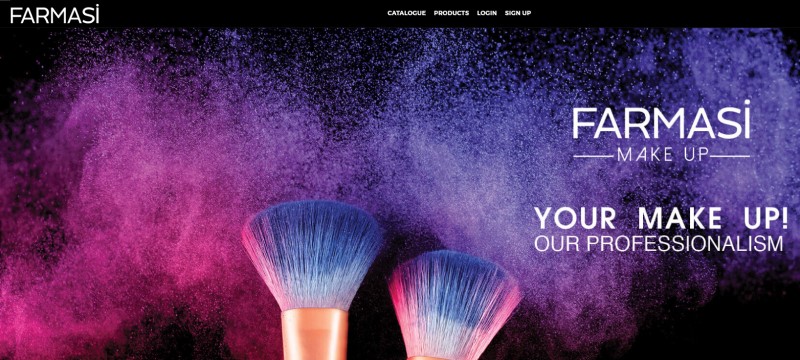 My Thoughts On Farmasi
Is Farmasi A Scam? This question seems to come up all the time when you're dealing with multi-level marketing companies or affiliate marketing products or really any money-making online type of product.
Is it a scam? The truth of the matter is very few of these products or programs are actually scams. They may not be very good but they are definitely not scams.
Farmasi sets itself apart from a lot of these programs by actually being a good multi-level marketing company. They have good products that people seem to like they have a fair membership price and the price of their products is in line with other cosmetics.
So this company is not a scam in any way, this company is not a pyramid scheme in any way. This seems to be one of the best multi-level marketing companies that I've come across.
So if you're in the market for a multi-level marketing business this might be one that you really want to consider.
Farmasi
$19 Starter Membership
Pros
50% Commission On Reselling Products
Good Products
Low Membership Fee
Cons
Continued Cost Of Buying Products
Low Success Rate For MLM's
Compensation Plan Is Convoluted
Alternatives To Multi-Level Marketing
Farmasi is an excellent multi-level marketing business opportunity. It really functions the way an MLM should. The problem is that it still suffers from many of the problems that are inherent with direct marketing or multi-level marketing companies.
The main problem is that you still have to buy the products that you were going to resell. And that becomes a real problem if you don't have a place to store these products or you get stuck not being able to sell them.
An alternative to multi-level marketing is affiliate marketing. With affiliate marketing, you promote the products the same as you would with a direct marketing company but you don't actually have to buy the products ahead of time.
Most MLM companies only offer compensation that is similar to affiliate marketing products. Farmasi Has an exceptional commission that is going to be higher than the majority of your affiliate marketing opportunities.
But that still doesn't make up for having to put down so much cash upfront to get the products in order to resell them. And the risk of not being able to sell the products is just not there with affiliate marketing.
If you want to learn more about affiliate marketing these two great training programs will help you build your passive income website that will most likely make more money than you ever would at an MLM, including one as good as Farmasi.
Keep in mind that affiliate marketing isn't for everybody and you may feel more comfortable with a direct marketing company if that's the case then you are not going to find many that are better than Farmasi.
Affiliate Marketing Training Programs
These programs will have all the training you need to get your business off on the right foot. Check out the full reviews linked below for more information.
Either one of these programs will get you off to a great start.
---
Wrapping Up Farmasi
As far as direct marketing companies go, Farmasi is absolutely one of the best. If you are dead set on getting into multi-level marketing then this could be the best opportunity you're going to find.
There are a lot of inherent problems with multi-level marketing. And those are still present with Farmasi, but they seem to be doing everything in their power to make their product as appealing as they possibly can.
Multi-level marketing is a tough business. Most people are going to fail at it. According to some estimates, 95%+ percent of people who try out multi-level marketing ultimately end up losing money at it(source).
So this business is not for the faint of heart. I think affiliate marketing is a safer more productive way to start your business online.
But ultimately it comes down to what you want. If you think you can make Farmasi work then you have a great opportunity to build a business with them. You're not going to find many MLMs that are better.
If you choose to go to the affiliate marketing group please check out my reviews of the affiliate marketing training programs that'll set you on your way and get you started on building your passive income business.
That's all I have for you today. Thank you for stopping by and as always have a wonderful day.
---