This article may contain *affiliate links. Please see our affiliate disclosure for more details
Fashion in general is what is known as an evergreen affiliate industry. It is always going to be competitive and lucrative. Pets, gardening, finance, and dating are other examples of evergreen niches.
But back to fashion, it is an industry that you are going to want to niche down in. So today we are going to look at some great affiliate programs for a fashion sub-niche, plus size clothing and fashion.
There was a time when fashion was only for extremely slim models and just about no one else. The runways and department stores seemed packed with outfits made for a very specific body type. In this environment, plus-size clothing was a bit of an afterthought.
Not anymore. Plus-size fashion is front and center. And that means that plus-size niche websites are a popular and profitable endeavor now. Scores of affiliate programs have popped up to service the plus-size fashion market.
Plus-size clothing affiliate programs are a much more focused set of affiliate partners that you will want to use on your plus size niche site. Using only a general fashion partner with a limited selection of plus size clothing is not going to maximize your niche site.
It comes across as a little impersonal, at times. You will want to have at least one dedicated plus-size affiliate partner for your niche site to make sure that your audience gets the specific attention that it deserves.
While there are quite a few affiliates dedicated to plus size fashion, I have also included some outstanding general fashion affiliate programs that have a good selection of plus size clothing but could also be used as a more general fashion partner.
There Is Just Something About Owning Your Own Business. Being Your Own Boss. Building Something From The Ground Up With Your Own Hands. Especially When It Is This Easy To Get Started.
---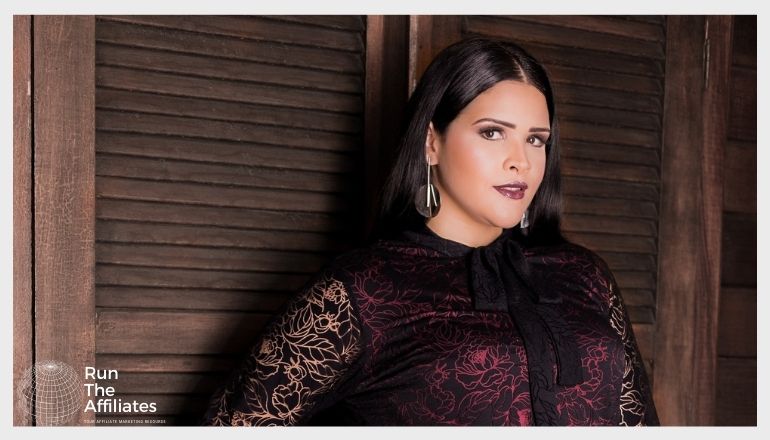 ---
COCOMY Affiliate Program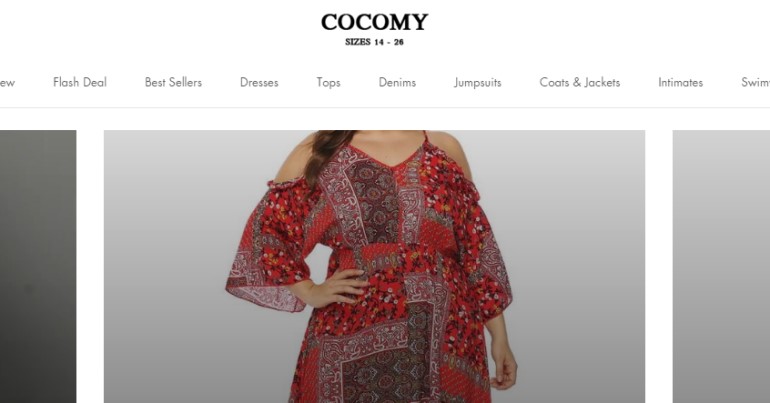 COCOMY is an online store that has the newest trends and best fast fashion in plus sizes. From dresses and jumpsuits to coats and jackets they have a great selection of clothes for you to promote on your niche site.
The COCOMY Commission
Weighing in at 12% the commission is fantastic. It is also very competetive with the other affiliates on our list. The trend for plus-size affiliates is to have an 8%-15% commission so this one fits right in the middle.
You can rack up quite an income for your affiliate marketing business. Especially if you can generate the traffic flow and consistent conversion rate need for a steady income.
Following up with the tracking cookie. It is a standard 30-days for this partner program. It should work out quite well as there are really no products on their site that come close to high ticket items.
Why Promote COCOMY?
I think the commission really works well for this affiliate partner and makes it worth considering for your niche site. They have a good selection of clothing but not an overwhelming one.
As a result, I would pair this up with some other affiliate partners to give you the most options for your clothing niche site. Mixing in their products with products from other vendors into a top 10 list is going to give you a great basis for monetizing your niche site.
---
Kathy's Curvy Corner Affiliate Program
Affiliate Commission: 15%
Tracking Cookie Duration: Not Listed
Auto-Approval?: No
Affiliate Niche: Fashion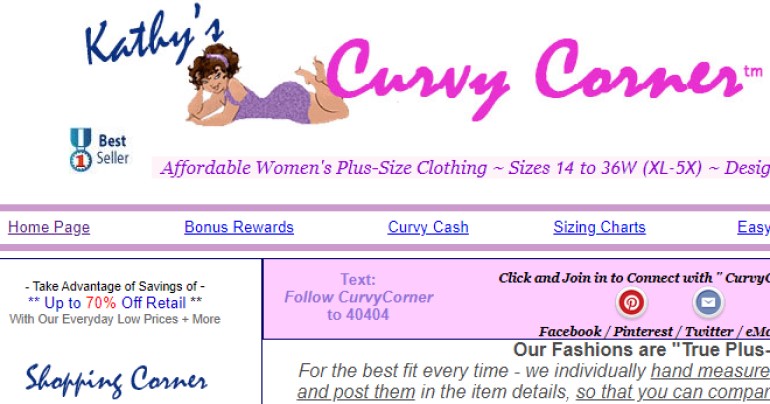 Kathy's Curvy Corner is an online store that specializes in plus-sized garments. They have a good selection of tops, pants dresses, and lingerie. They have discounted prices that can fit a wide range of income levels and are Made in the USA.
The Commission For Kathy's Curvy Corner
I couldn't find the tracking cookie duration on their affiliate page so be sure to ask about it when you sign up for their affiliate program. I suspect it will be competetive with the other affiliates on our list and should not be an issue.
The commission, on the other hand, is quoted at 15% for sales made through your affiliate links. This puts it as one of the largest affiliate commission is the plus size clothing niche. A commission this high can be used as the cornerstone for your entire affiliate business if you can get solid traffic flow and a good conversion rate.
Why Promote Kathy's Curvy Corner?
I think Kathy's Curvy Corner will have a pretty broad appeal within the niche. They have reasonably priced products that should be pretty easy to promote with confidence.
The only issue is that their website looks about 2 decades too old. It is not the prettiest or easiest to navigate and that might put some people off. The way I handle websites like this are to mention them,half-jokingly in the content to prepare people for an outdated looking website.
---
SHEIN Affiliate Program
Affiliate Commission: 10%
Tracking Cookie Duration: 30-days
Auto-Approval?: No
Affiliate Niche: General Fashion
Join The SHEIN Affiliate Program Here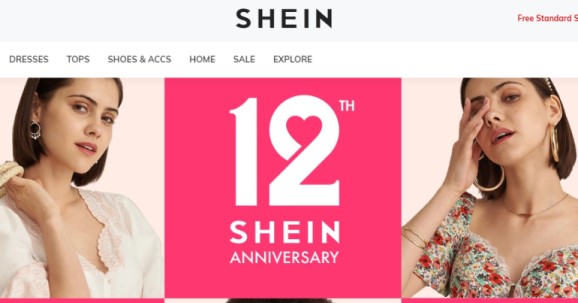 Shein is a more general fashion affiliate program. They have products across most fashion niches including plus size clothing. Their plus-size collection is pretty good and can help enhance your option on your niche site.
SHEIN is also one of the most popular general fashion stores online at the moment. So it should be an easy partner to fit into your plus size niche site.
Ultimately though they make our lists for having a very nice commission and tracking cookie to go along with their plus-size clothing options. You can check out our closer look at the SHEIN affiliate program right here.
The SHEIN Commission
The commission is a very nice 10%. Their website claims you can get a commission as high as 20% in some cases. 10% is good 20% is almost unheard of in the fashion niche. Be sure to ask how to get higher rates if you decide to use this partner program.
The tracking cookie duration is a standard 30-days. It works well for this affiliate since they don't really have much in the way of high-ticket items. That means a month should be long enough to support a decent conversion rate.
Why Promote SHEIN?
SHEIN is a great affiliate program for any fashion niche site for the most part. It makes sense to at least consider using them for your plus size niche website.
SHEIN has been around for over a decade at this point and has cultivated a very good reputation for their business. It will be a benefit to anyone in the general fashion niche and will work nicely for a plus size site as well.
I would pair them up with a couple of dedicated plus size fashion affiliates to cover as much of the niche as possible. Give them a look if you are in need of a popular clothing retailer for your niche site.
---
Kiyonna Clothing Affiliate Program
Affiliate Commission: 8%
Tracking Cookie Duration: 30-days
Auto-Approval?: No
Affiliate Niche: Fashion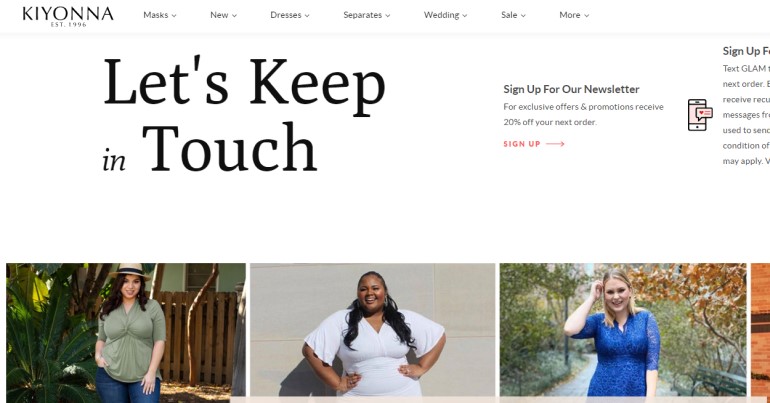 Kiyonna Clothing is a plus-sized fashion shop that has a pretty good selection of dresses and separates for you to promote on your fashion niche site.
I would say the focus of their program is plus-sized dresses. They have a wonderful selection for you to promote, including some wedding dress options.
Here are a few of the dress styles that this affiliate specializes in…
Cocktail Dresses
Lace Dresses
Maxi Dresses
Wrap Dresses
They also have a few masks as well. It seems more and more fashion shops are adding masks to their websites for obvious reasons so you can incorporate them into your content if needed.
The Kiyonna Clothing Commission And Tracking Cookie
The tracking cookie duration is 30-days. A standard duration and one that works well for this affiliate partner. I think it should be plenty log enough for most of their clothing but some of their dresses do run well into the hundreds of dollars and could benefit from a longer duration.
The bulk of your sales will be around the $100 mark, I suspect so the 30-day tracking cookie should be just fine for the vast majority of affiliate marketers out there.
Moving on to the commission now. Kiyonna offers an 8% commission through its ShareASale profile. 8% is a good commission and it's competitive with other plus-size affiliate programs on our list.
8% is a good enough commission that you can build your niche site around this affiliate if you choose to. I would use a couple of affiliates if possible just to protect yourself from any sudden commission drops that do happen from time to time.
Why Promote Kiyonna Clothing?
They have everything you need for a successful affiliate marketing campaign. Good high-quality and relevant products, a good commission, and a solid tracking cookie. The next step is to get your audience on board with them and move on from there.
I think Kiyonna is the type of affiliate partner that works well on its own or as part of an affiliate suite that you can build your online business around.
---
Curvy Affiliate Program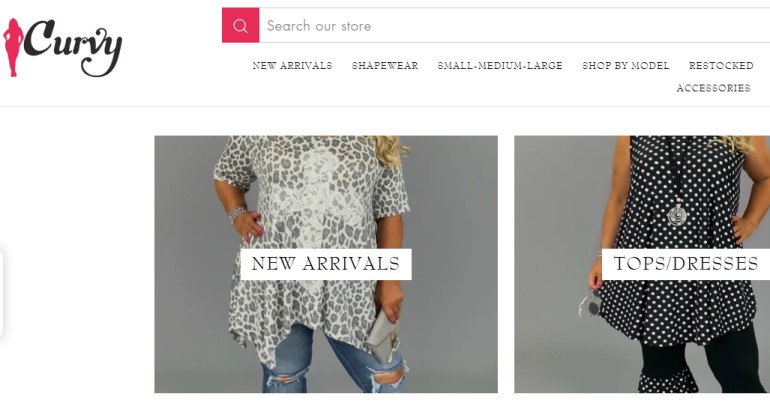 Curvy is an online retailer of stylish and fun fashions for plus size women. They have a good selection of tops and bottoms, outerwear and dresses amongst other clothing items. It is pretty reasonably priced so it should be a good option to promote across a range of income levels among your audience.
The Curvy Commission
The tracking cookie was not listed on their affiliate profile so be sure to ask about it when you get accepted. The commission is a solid 5%.
It is a little bit lower than many of the other affiliates on our list but it can do a job for you with the right traffic and a solid conversion rate. Ideally, you want something closer to 10% but you can make do with the 5% on offer here.
Why Promote Curvy?
Curvy is more of a social media style affiliate program but one that could work for a traditional blog if you get accepted into it. Its commission is on the lower end of the spectrum but should work out pretty well if you can get a decent conversion rate.
It is one to look into if you need an additional source of products to promote on your plus size niche site but I don't know if it can carry an entire niche site on its own.
---
ELOQUII Affiliate Program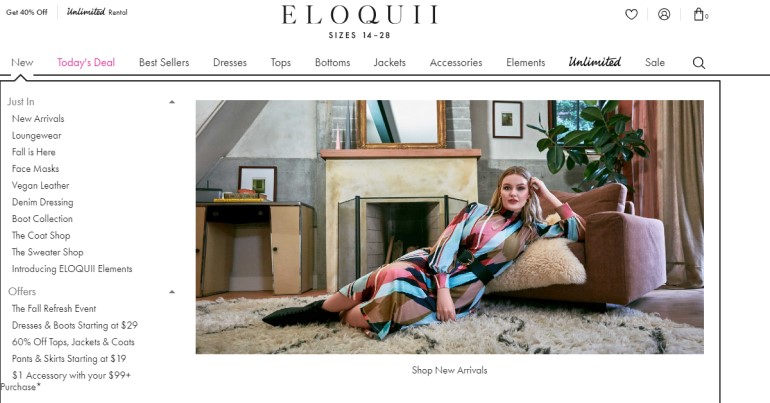 Looks to be a solid addition to just about any affiliate lineup. They have some great looking products for your plus-size customers. they have sweaters and coats as well as a variety of dresses and even vegan leather if you want to promote that type of product.
The Commission For ELOQUII
The commission is quoted at 5% which is a little on the low side but should be just fine if you can get a good conversion rate in a solid amount of traffic flowing through your website.
The tracking cookie is 45 days which gives you a solid month-and-a-half to make a sale after someone clicks your affiliate Link.
Why Promote ELOQUII?
Overall this looks to be a pretty good affiliate program. the commission is really the only weak point in the affiliate program but you should be able to compensate for it with some clever content and a solid traffic source.
Lastly, you might need to contact ELOQUII directly about their affiliate program as it seems their CJ.com page is no longer active.
---
Kervology Affiliate Program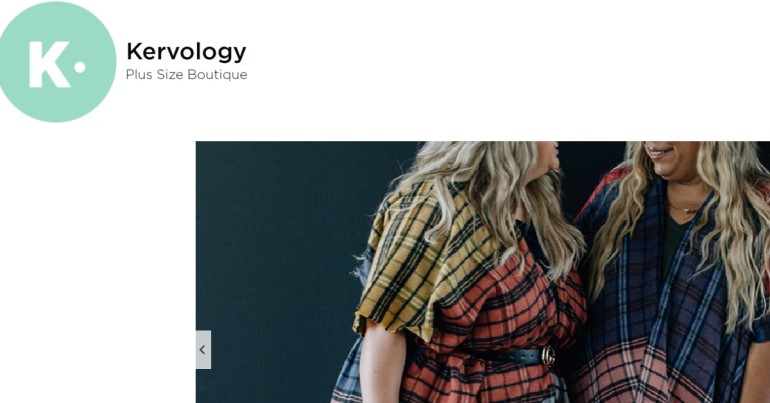 Kervology fancies itself as a plus-size boutique and it is hard to argue with that. They have some fun and interesting fashion designs that will liven up just about any plus size apparel niche site.
Here are just a few of the types of plus size clothes you can expect to promote with this affiliate partner.
Pants
Shirts
Jumpsuits
Skirts
Dresses
Tees
Shorts
Sweaters
It is standard fair and exactly what you would expect from a fashion retailer.
The Kervology Commission
The 10% Commission on offer from this affiliate program is going to be a great Boon for any affiliate Marketer that chooses to join up with this partner. 10% is a Great Commission and one that can provide you with a nice solid income As Long As You Are converting your traffic at a reasonably High rate.
A double-digit commission is the type of commission that you want to build your affiliate website around because it can only take a handful of sales to approach a full-time income with this type of commission.
Moving on to the track and cookie. The Trinity is a 30-day duration. This gives you a full month to promote the products and still earn a commission for that promotion. It's a standard tracking cookie but it's a good one.
A tracking cookie of this duration can really make a difference in your conversion rate by allowing your potential customers a good amount of time to make a decision on whether or not to make a purchase.
Why Promote Kervology?
It's the products that are going to be the most important thing when you promote any affiliate program and if you have some great looking product like the apparel from Kervology, it is going to make your job quite a bit easier when it comes to promoting their products.
I still think that you're going to probably need to pair this up with at least one or two other affiliate Partners out there just to make sure that you have a wide variety of products to promote in a wide variety of styles as well.
But this might be a very good place to start if you are looking for your initial plus size clothing affiliate program or are looking to add something to go alongside with Amazon Associates.
---
Curve Girl Affiliate Program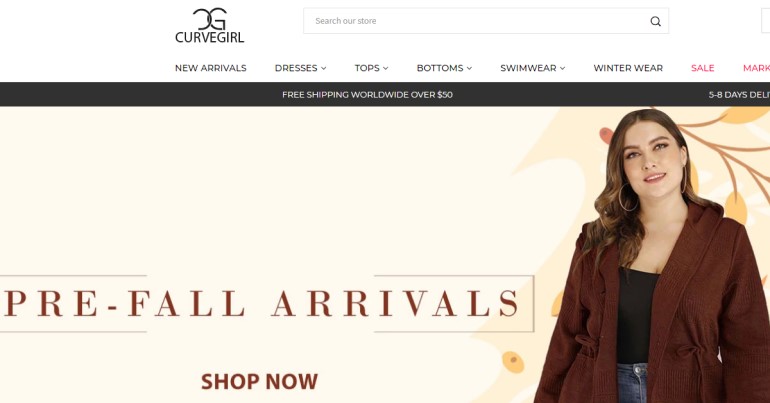 Curve Girl is another outstanding choice for a plus-size affiliate program. They have a good selection of a variety of plus size clothing and accessories that you can promote on your Niche site. From tops and bottoms to dresses and even swimwear they've got you covered.
The Curve Girl Commission And Tracking Cookie
The cookies duration for this affiliate program is 15 days. Typically you like to see at least a 30-day tracking window for most affiliate programs.
Some of the larger affiliate Partners like Amazon Associates have a much lower tracking cookie but for these smaller independent affiliate programs, 30 days is really the standard.
That being said 15 days should be all right for most affiliate Partners out there. it gives you a decent amount of time for return days and for initial sales but it might affect your conversion rate if people take longer than the two weeks to decide on a purchase or not.
Moving on to the commission it is a solid 10%. Any time you hit that double-digit of affiliate commission Mark you were doing quite well for yourself if that affiliate program is a physical product Company.
A 10% commission can really generate a solid income and with the right conversion rate and a good traffic flow, it can generate a full-time income with just this affiliate program.
That being said I always like to use at least two or three affiliate programs just to protect myself from any unexpected commission drops. It's the "don't put all your eggs in one basket" Theory.
Why Promote Curve Girl?
Curve Girl Looks to be another great all-around affiliate program for anyone operating in the fashion Niche. It probably lends itself best to a plus size Focus Niche side buttock and works on a general fashion website as well.
The trend cookie is a little bit short but should be just fine and the commission is excellent so there's really nothing not to like about this affiliate partner and I recommend anyone looking for a new plus-size partner program to give this a try and see how well it resonates with your specific audience.
---
Just My Size Affiliate Program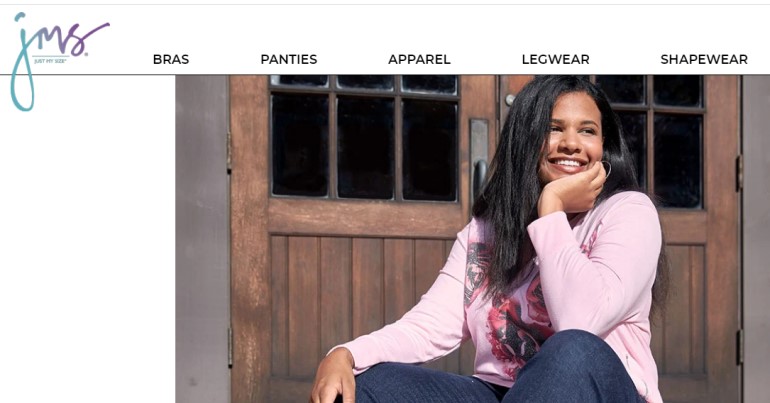 Just My Size is a HanesBrands company. This makes it very easy to promote with confidence since Hanesbrand is one of the biggest names in undergarments'. Most people will have some knowledge of Hanes from the get go.
They have a fantastic selection of shapewear and undergarments. They make a good addition to a plus size clothing niche site especially if you are missing some of these types of items to prmote.
They also offer Military, Teacher, and Student Discounts making it an even more appealing prospect to promote on your affiliate niche site.
The Just My Size Commission
The tracking cookie is only 7-days. This is a little bit short but should be ok for most everyone out there. You might want to place you affiliate links in more buyer intent content to compensate for it.
The commission is also a little low. You can still work with it but it would be nice to see something a little close to 8% or 10%. As it stands it is only slightly higher than Amazon Associates.
Why Promote Just My Size?
Being a Hanesbrand company is reeally going to make this affiliate that much more appealing for an affiliate marketer.
Just My Size offers a great selection of underwear and other garments that is going to appeal to a wide range of customers. The commission and cookie could be a little better but they should do for most marketers out there.
---
Stylogic Affiliate Program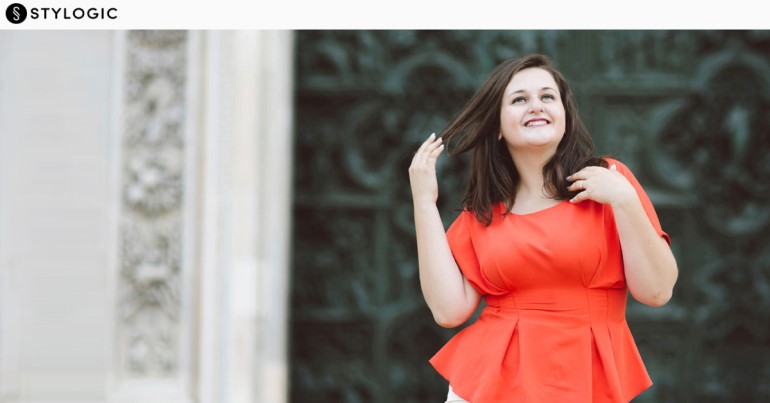 Stylogic is a curated box of 5 hand-selected clothing and accessories items. You get assigned your own personal stylist who builds your box around a variety of criteria.
The novelty of this affiliate is really what is going to be the main thrust of your promotion. It is a cool set-up and one that will appeal to a variety of potential customers.
The Stylogic Commission
I am not a fan of the $3 dollar flat fee commission. I would much prefer a percentage commission but that seems to be a thing of the past with most subscription type services nowadays, although this is more a curated box than a subscription service.
The tracking cookie is a little on the low side. Only 7-days to make a sale and still get a commission. Not terrible but not great either.
Why Promote Stylogic?
The curated nature of this affiliate partner is really what sets it apart and makes it appealing for affiliates out there. Other than that it is pretty unspectacular for the affiliate marketer. The products look nice and the customers get those personalized products, so there is a uniqueness to the affiliate partner.
---
The Wrap Up
That brings us to the end of our look at some of the best plus size clothing affiliate programs for you to deploy on your niche site.
Plus-size fashion is a booming industry and one that does not look like it is going to let up any time soon. As positive body images take hold more and more people are going to want fashionable and interesting fashion choices that actually fit real people.
These affiliates work best on a site dedicated to plus size fashion and give you the opportunity to build a solid relationship between yourself, the affiliate program, and your audience.
You can always take your general fashion niche website and add a plus size fashion category to it. But you really need to know what the expectations of your audience are when adding a plus-size section to your niche site.
If you are just promoting products for the commission instead of providing information for the consumer you are going to alienate your potential audience. It is something that you need to be cognisant of when building out a fashion niche site.
Don't go it alone. Get the best learning tools and community to help you build your online dream. Check it out here.