This article may contain *affiliate links. Please see our affiliate disclosure for more details
It might not seem like it at first glance but jump roping can be a pretty lucrative endeavor for an affiliate marketer. Truly anything and everything can be a profitable affiliate niche, within reason of course. And workout-based jump roping fits neatly into the fitness niche, which is an evergreen niche as it always is.
One affiliate that is at the top of the jump roping niche is Crossropes and that is who we put under the microscope today.
With Crossrope, we are not talking about skipping rope in the park, these are full on fitness products designed to get you a full body workout with strength and cardio rolled into one.
Crossrope can help you earn money through affiliate marketing with the program. It might just be the new addition that will accelerate your own affiliate marketing business to new heights.
There Is Just Something About Owning Your Own Business. Being Your Own Boss. Building Something From The Ground Up With Your Own Hands. Especially When It Is This Easy To Get Started.
---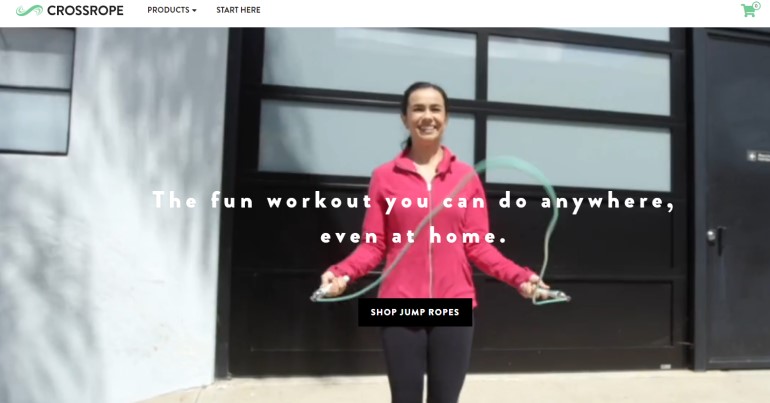 ---
The 10% Affiliate Program Commission
I always like to start with the commission on any of these little overviews and I do on popular affiliate programs. The reason for that is the commission is the most visible part of an affiliate program for most affiliate marketers.
In fact, some people will come to this article to find the commission percentage and then leave to go join the affiliate program without really looking into the other aspects of that affiliate program.
So while the commission is very important it needs to be balanced out by great products and the potential for a solid conversion rate.
That being said you always want to get as high a commission as you possibly can. For the Crossrope affiliate program, we are looking at a 10% commission which is very solid for this type of affiliate program.
10% for a physical product affiliate program is something that you should really strive for. That double-digit commission can offer so much for your online business. That doesn't mean you always have to hit the double-digit commission but it's always nice to say. 
One thing I will mention is that if you are dealing with a digital-only product the commissions are going to be much higher but they tend to convert at a lower rate than their physical product counterparts.
There's really not much else to say about the commission. it's going to be a Great Commission if you can get a good amount of traffic flowing through your site and you can get a conversion rate.
The conversion rate will come from your audience really liking the products and services that you are promoting. if you can marry a great conversion rate with this 10% commission then you are going to have a foundation for a very lucrative Niche website.
Tracking Cookie Duration
The duration of the tracking cookie offered by Crossrope is 30 days. This is very much a standard tracking cookie decoration for most of the affiliate programs out there.
The benefit of having a tracking cookie this long is that it gives you plenty of time to promote their products and still get credit for the commission because any time someone clicks on your link you have 30 days from that click to make a sale and get a commission.
Crossrope Also benefits from the 30-day duration tracking cookie because of their products are well into the hundreds of dollars. The ropes themselves can run over $200 and some of the accessories are closing in on her dogs as well.
When the prices start to get into the multiple hundreds of dollars you definitely want a long-duration cookie in order to maximize your conversion potential. The longer your potential customer has to decide whether or not to make it purchase the better chance you have of getting a conversion for your affiliate links.
---
The Crossrope Products
Crossrope is a very focused affiliate program with a very focused line of products. They sell jump ropes and accessories and that is the extent of their product offering.
Keep in mind that I am not reviewing the products, that is for you to do on your niche site. These are just a brief look at some of the products you can expect to promote if you decide to join this affiliate program.
There are a variety of jump ropes and handles that Crossrope sells. They come in a variety of weights for the jump ropes from a 1/4lb to 2lb ropes.
In addition to the rope and handles they have a small selection of accessories including a couple of mats and a workout bag.
Overall there isn't a huge selection of products so you will need to make sure your audience really likes the brand and the products or it might be tough to pivot with this affiliate partner.
That being said, they look to be high-quality products that should please most jump rope enthusiasts out there and could be a great potential suite of new products to promote on your niche site.
---
Best Niches For Crossrope
There is not a lot of wiggle room for the Crossrope partner program when it comes to the best niches. You will want to be in the fitness niche or the jump rope niche, or both, for this to be a real effective partner for you.
These aren't really children's skipping ropes, so any niche based around activities for kids would probably not work well.
Crossrope is a fitness product and as such you are going to want to be in a jump rope specific fitness niche to get the most out of this partner.
That said if you think you can make it work in a different niche and can get approved then go for it. Finding partners with tangential products is a great way to expand your content and your audience.
How To Become A Crossrope Affiliate
You can sign up for the Crossrope partner program here. The affiliate program is hosted on the ShareASale affiliate network so you will need to be a member of ShareASale as well.
Fortunately signing up for both is free. After joining ShareASale and applying to Crossrope you will have to wait a short while for them to approve your website.
The exact criteria for approval aren't readily available, but you will want relevant content to the Crossrope products and some traffic flowing through your site before you join up.
---
The Wrap Up
That brings us to the end of our look at the Crossrope affiliate program. I think it's affiliate program is going to have a pretty narrow appeal for your Niche site.
If you have a niche that is based around jump roping and exercising with a jump rope in this is going to be an excellent option for your affiliate strategy. For more General Sporting Good affiliate Niche site it might be a little bit of a stretch to add it to your affiliate repertoire.
Typically form or general Website you're going to want to go with a big sporting good store like Dick's Sporting Goods or Amazon Associates because they're going to have a broader range of products, unlike Crossrope which just focuses on the jump ropes and the related workouts.
But that doesn't mean this can't be a very effective affiliate program for anyone that does want a very focused jump roping affiliate program. In fact I think it would be an ideal affiliate program if you were building a niche site around workouts or training methods that involved jump ropes as the main piece of fitness equipment.
The best thing to do if you are working in the jump roping Niche or any general fitness Niche is to give this affiliate program a try. Apply for the program and then run some tests to see how well it resonates with your specific audience and whether or not they like the product that Crossrope has to offer.
 If your audience likes it then you can do very well with this affiliate program. If they don't respond to it then you probably want to move on and find something else that is going to get you the type of conversion rate that you want for your Niche site.
Don't go it alone. Get the best learning tools and community to help you build your online dream. Check it out here.