This article may contain *affiliate links. Please see our affiliate disclosure for more details
I am sure that you are pretty familiar with food delivery services. Maybe you have even used one or two of them. They are nothing new really. Some have been around for decades, many delivered right to your door well before the internet was really a thing.
But today there are dozens if not hundreds of food delivery services and many of them have affiliate programs to go along with them.
So today we are going to be taking a look at one of these food delivery programs called Daily Harvest. Let's see if it meets your expectations for an affiliate program.
I want to check out the commission and the tracking cookie as well as the products and best niches for this particular meal delivery service. Join me as we dive into the Daily Harvest affiliate program.
There Is Just Something About Owning Your Own Business. Being Your Own Boss. Building Something From The Ground Up With Your Own Hands. Especially When It Is This Easy To Get Started.
---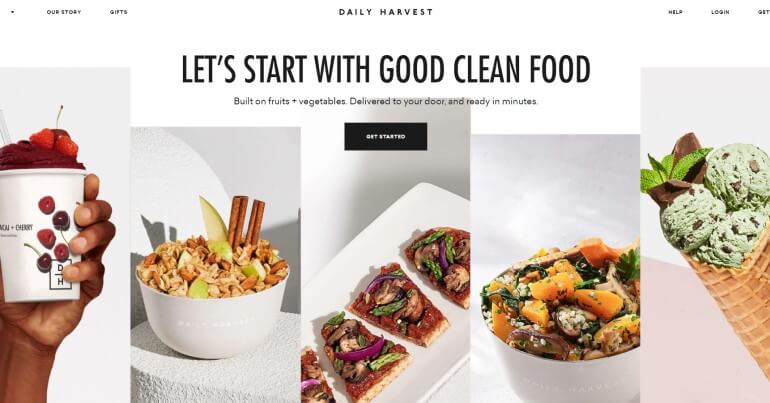 ---
What Is The Daily Harvest Affiliate Program
Daily Harvest is an online food delivery service that prides itself on using the best ingredients to create nutritious meals, snacks and smoothies for their customers.
These meals and food items can be delivered weekly or monthly and the subscription boxes can be customized by the consumer. They can add whatever items they want to mix and match and create a unique meal subscription for themselves.
The affiliate program offers content creators a chance to monetize their content by adding Daily Harvest affiliate links to that content.
When someone clicks those affiliate links and makes a purchase from Daily Harvest the content creator gets a commission for their trouble.
You can find more information about the Daily Harvest affiliate program and a sign-up form here. You will need to sign up for ShareASale in addition to Daily Harvest. Both are free to join.
---
The $10 Flat Fee Commission
Like most subscription services Daily Harvest offers a flat fee commission to their affiliate partners. In this case you get a $10 flat fee for each new customer that buys one of there meal plans.
$10 is not a bad commission but it does not allow you to benefit from your referral after the initial commission. At least as far as I can tell it is a one time commission.
The problem is you will miss out on a recurring commission. But this is very much the standard these days for a food delivery affiliate. The majority are flat fees.
Personally I love recurring commissions for any subscription service, but you can do very well with a one time flat fee if you can get the traffic flowing through your site on a daily basis.
A 60-day Tracking Cookie
The 60-day tracking cookie is a nice addition to the affiliate prgoram. Typically you will see 30-day tracking durations for the majority of these subscription or meal delivery services.
The addition 30 days is going to help boost your conversion rates by giving your audience a longer tracking gap to decide on whether or not to make a purchase.
The prices for their boxes can get fairly high depending on how many items you choose to add to your box. But it never really reaches the high-ticket item plateau. So the tracking cookie duration should work pretty well.
---
What Daily Harvest Has To Offer
Daily Harvest has a huge selection of healthy food items and smoothies that your audience can add to a subscription box.
Here is the thing. The individual products are not really what you are promoting. You are promoting the subscription boxes made up of these items.
You can focus on a certain product but ultimately it is going to be up to the customer to add what they want to the subscription box.
These types of affiliates are always a bit tricky because you are only going to get a commission for the first order and not a percentage commission for a recurring sale. So you just want to recommend the service and not worry too much about the individual products.
If you do want to focus on a few of there individual products, the biggest draw for Daily Harvest is probably their smoothies. These healthy drinks are sourced with only the best ingredients and are an ideal addition to a health and fitness site.
---
The Best Niches For Daily Harvest
There are not a whole lot of niches that would make sense for Daily Harvest. It is a meal kit/ food delivery service so it is going to fit into niches related to those types of products.
If you are doing a straight up review site of the best meal kit services then you are absolutely going to want to add it to your list of affiliate partners. See how it stacks up to the competition and put your Daily Harvest links into your content.
But a review site like that is going to be extremely difficult to get off the ground. Authority site will probably kill any attempt for new sites to get into the food delivery niche.
You best bet would be to tie Daily Harvest products into tangential content in a related but less competitive niche.
A mom blog with a quick meal ideas section would be a great niche to introduce Daily Harvest meals into. Likewise, a full niche site for quick easy meal recipes might be another excellent place to deploy this partner program.
Another option would be to use it on a subscription box niche site. Daily Harvest falls squarely into this niche and could add some consent if you need other food delivery niche companies to round out your affiliate offerings.
While there may not be a lot of obvious niches for this partner, if you can brainstorm up some ideas and use it in creative ways there are plenty of other places to try it out. Here are a few more to consider.
Health And Fitness Blogs
Vegetarian Blogs
Healthy Living Blogs
Meal Kit Blogs
Parenting Blogs
Green Blogs
Cooking Blogs
Overall you should be able to find a place for it in your affiliate stable if you are in a related niche and it can work quite well for you.
---
The Bottom Line
That brings us to the end of our look at the Daily Harvest affiliate prgoram. Overall I think this is a pretty ggod affiliate partner to have if you can fit it into your chosen niche.
The flat fee commission is a bit of a letdown, but it is very typical of subscription box services in general. Still you can work with it if you have a steady traffic and a solid conversion rate.
From the consumer side of things it looks like a pretty good meal delivery service. These can be hit or miss with an audience so try out a few of them to see which one resonates the best for your specific audience
Keep in mind that Daily Harvest is fruits and vegetables for the most part which will limit its appeal somewhat depending on the makeup of your audience.
The bottom line is that this is a good looking affiliate partner with a lot going for it and some interesting looking food items that can spice up your affiliate offerings.
It won't work for everyone, no affiliate program really does aside from Amazon Associates, but it is worth your time to consider adding it to your affiliate strategy.
Don't go it alone. Get the best learning tools and community to help you build your online dream. Check it out here.