This article may contain *affiliate links. Please see our affiliate disclosure for more details
Home decor is one of the truly Evergreen niches for bloggers out there. Within the confines of this large industry, there are hundreds of smaller sub-niches in micro niches that you can use to build a fresh website.
Anyone of these smaller niches can be the foundation for you to build a successful online business, as long as you put in the hard work and time.
But, in order to maximize your profits inside the home decor space, you are going to need to find the perfect affiliate programs for you.
So today we are going to take a look at one of the biggest home decor affiliate programs out there, The One Kings Lane Affiliate Program.
This affiliate program is a large online store that has a huge selection of products that will benefit a wide variety of niches and really help add that additional layer of monetization to your Niche site that is going to take you from a small blog to a full-time job.
There Is Just Something About Owning Your Own Business. Being Your Own Boss. Building Something From The Ground Up With Your Own Hands. Especially When It Is This Easy To Get Started.
---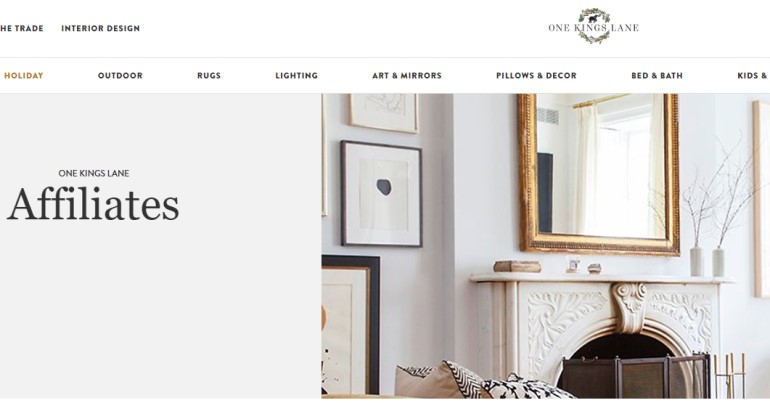 ---
What Is The One Kings Lane Affiliate Program?
The One Kings Lane Affiliate Program allows content creators to monetize their content by advertising One Kings Lane through their affiliate links.
The concept is simple. Any time someone clicks on your One Kings Lane affiliate link and then makes a purchase the affiliate marketer makes a commission on that sale. Affiliate marketing is one of the most widely used and lucrative ways to make money online.
---
The 5% Affiliate Commission
I want to start off this review by taking a look at the affiliate commission. This is what most people look for when choosing their affiliate partners for their niche sites.
The commission is important, no doubt about it, but you must look at the affiliate program as a whole to get the real picture of what that affiliate partner can bring to your niche site.
One Kings Lane is a great example. They offer a 5% commission on sales made through your affiliate links. It is not a huge commission and if you only focus on that commission you might not even consider this partner when there are higher commissions to be had.
The problem with that is that you also miss out on their great product line, the solid name and recognition of One Kings Lane as a business, and the overall monetization options it can bring to your website.
If you can get this affiliate to convert well the 5% commission will do wonders for your niche site. Amazon Associates is the backbone of many a blog and they only offer about 1%-3% to their affiliates.
The point is don't just focus on the commission. Give the entire affiliate program a good look and find out if you can get the conversion rates you need to succeed once you start pushing traffic through it.
The 14-Day Tracking Cookie
The tracking cookie duration offered up by One Kings Lane is 14-days. This is somewhat short in my opinion. Typically I like to see 30-day tracking cookie gaps for these types of affiliate programs.
It is still much longer than the 20-hour duration Amazon Associates give their partners but they are an exception. 14-days is a decent tracking cookie duration but not a great one.
The short tracking cookie can really be felt when you start getting into the higher-ticket items offered by One Kings Lane. Some of their products run well into the multiple thousands of dollars.
You want as long a tracking cookie as possible for these high-ticket items and 14-days just won't cut it in many cases. A potential customer will take more than 2 weeks to decide whether they want to drop 2 grand on a new rug and if they take that time you will is out of the commission.
That said it should be decent for the lower cost items and that is probably where you want to focus your promotional attention anyway. It's much easier to sell 10 $100 dollar items that it is to sell 1 $1000 dollar item, generally speaking.
---
One Kings Lane Products
The One Kings Lane Product line is probably the most impressive part of their affiliate program. They have hundreds if not thousands of different products that work well in a variety of sub-niches in the larger home decor industry.
Whether you're looking for furniture or bed and bath or patio Decor they have got you covered with great products that you can promote on your Niche site.
What's really interesting about their product selection is that the diversity of it makes this a great affiliate program for a wide variety of different niches.
We'll get into more specific pitches in the next section but suffice to say that if you are even tangentially associated with a home decor submarine tour micronism this is an affiliate program that might really appeal to you and one that you should consider running some tests with to see how they resonate with your specific audience.
I think there's even an opportunity to use this affiliate program and their product line for very small Micro Niche sites or even single product Niche sites.
For example, if you wanted to build a niche site around Studio rugs. This might be a great option for you as an affiliate program since they do have a good selection of rugs in general and Studio rugs in particular.
Now that's a very narrow Niche and it might not be viable I was just using it as an example but quite a few of their product categories could be built out into a small in this site and then you can expand it into a larger home decor Niche site if you choose to.
That's the one great thing about starting a small Niche site is that you can always add another category here in another category there and before you know it you've got a hundred fifty articles across a few different product types.
That really gives your website a robust feel and a good opportunity to earn you some money. I think that this affiliate program is one that can definitely help you earn quite a bit of money because of the wonderful selection of products that it has.
---
Best Niches For One Kings Lane
There are plenty of great niches and micro-niches that you can use the One Kings Lane Affiliate Program with. Any sub niche for home decor is going to be a great option but they are not the only ones to consider.
Here are a few niches that might not be on the top of your list but can work well with this partner program.
Furniture
Sleep and Mattresses
Lighting
Individual Room Decor (Bathroom, Living Room, etc.)
Baby Accessories
Outdoor/Patio Furniture
Garden Decor
Fire Pits
There are plenty of other niches that you can try this affiliate with. It might be a good idea to run some tests with your existing niche site to see if One Kings Lane can add some additional value to your existing affiliate lineup.
---
Closing Thoughts
Affiliate Commission: 5%
Tracking Cookie Duration: 14-days
Auto-Approval?: No
Affiliate Niche: Home Decor
That wraps up our look at the affiliate program. I think this is yet another example of a solid affiliate program that is just a little bit let down by the affiliate terms.
The product selection and apparent product quality are second to none. these are the types of products that you are proud to promote as an affiliate marketer and ones that are going to be big hits with most of your audience that purchases on.
The real issue is that the commission is only mediocre and the tracking cookie is just a little bit too short giving some of the high ticket items that for sale through this retailer.
With that said it's not completely unexpected to see this type of commission with a store that ships some pretty large items. Furniture affiliate programs, in particular, tend to have sub 10% commissions for the most part and I think that One Kings Lane certainly falls into the furniture category.
It's probably got a lot of overhead with those larger items. It is something that you need to balance out when you are looking for an affiliate partner.
Not everyone is going to be able to give you 10 or a 15% Commission so you need to look at the quality of what they do offer you and see if you can work with it to build a sod income-based for your online business.
So can you make money with the One Kings Lane affiliate program? Almost certainly. It is a well put together online store with some great products. Even with the lower commission, there is a lot of potential here.
In closing, I would recommend this affiliate program to affiliate marketers with at least a little bit of experience under their belt. It's not really designed for a brand-new affiliate marketer because a lot of the products are quite high in price and can be a little bit tricky to promote if you are brand new to this business.
That said if you do have that little bit of experience than this could be a great option for you to expand your affiliate strategy.
Especially if you are based solely around Amazon Associates right now. Their commissions are much lower than what One Kings Lane offers you.
Given Amazon Associates' track record, you never know when they are going to lower them again or drop them outright so you want to diversify your affiliate marketing portfolio as much as you can so that you're not unduly punished when someone decides to change a commission in the future.
Don't go it alone. Get the best learning tools and community to help you build your online dream. Check it out here.
Thanks for visiting and have a wonderful day