This article may contain *affiliate links. Please see our affiliate disclosure for more details
So you want to build a website dedicated to one type of product, the amazing air fryer. Don't laugh. Many people have built full time incomes around simple appliances. A single product can easily turn into its own micro-niche if you can generate enough content around it.
In order to make that money, you are going to need some outstanding affiliate programs that you can promote in the content you create for your blog, YouTube channel, or any other place you publish content for your online business.
It is interesting how single products can become niches unto themselves. Crockpots and coffee makers and even air fryers are great products to build a niche site around. They have good price ranges and there are a lot of potential customers to promote these types of products.
In the past most affiliate marketers just used Amazon Associates for their appliance blogs. You would have a choice of air fryers that you could put into a top 10 list and all of them went to Amazon. It was nice and efficient. It was also very lucrative when you could get 8% plus for these types of products.
Unfortunately those commissions are long gone. Now you are lucky to see 3% for most products. Therefore it has become imperative to find other affiliate programs for your air fryer blog in order to get a reasonable commission and a decent tracking cookie duration.
So I have decided to put together a little list of some good air fryer affiliate program alternatives that can help you break free of Amazon Associates and start earning the commissions you deserve.
Let us see if we can find something that is going to enhance your monetization strategy either by complementing Amazon Associates or completely replacing it in your affiliate marketing business.
There Is Just Something About Owning Your Own Business. Being Your Own Boss. Building Something From The Ground Up With Your Own Hands. Especially When It Is This Easy To Get Started.
---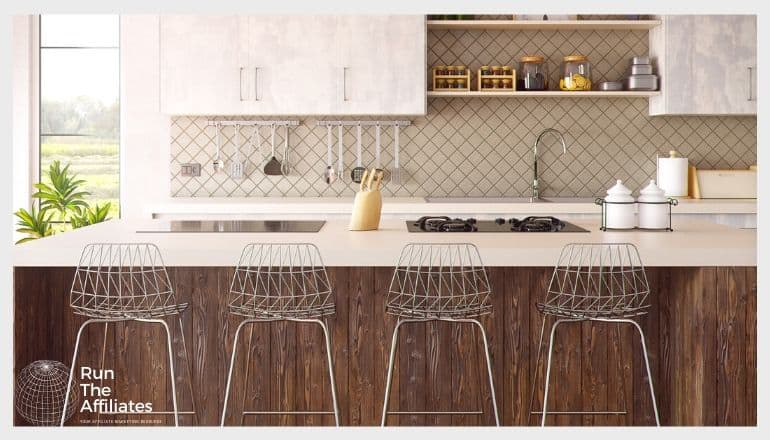 ---
Pinsoon Affiliate Program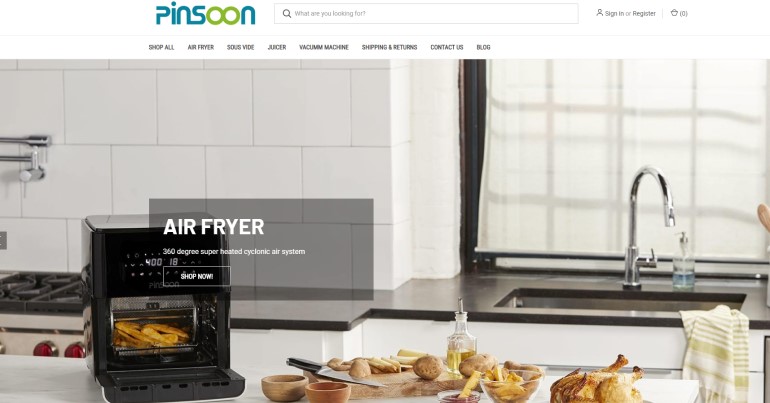 Pinsoon doesn't have the largest selection of kitchen appliances but what they lack in quantity they make up for in quality. In particular their air fryers are some of the sleekest looking one available and they get the job done as well.
They also have some air fryer accessories as well as juicers and vacuum packing machines if you are operating a niche site that is more general in nature.
The Pinsoon Commission And Tracking Cookie
The tracking cookie duration is very good at 90-days. This guves you a solid 3 months to promote their air fryers and still get credit for a commission. Long duration tracking cookies usually lead to better conversion rates as they give your potential cystomers more time to decide on their purchase.
On to the commission. At 5% this a commission is a little on the lower side. It is still a viable commission and higher that what you would get through Amazon Associates. That said I always like to see commissions as close to double digits as possible and this one falls a little short of that.
Why Promote Pinsoon?
The biggest reason to partner up with Pinsoon is its air fryer. It looks great. It is well made and it should be easy for you to promote on your niche site. You can easily add it to one of your top 10 or best-of lists and open up a whole new monetization option for your online business.
---
Mealthy Affiliate Program
Affiliate Commission: 15%
Tracking Cookie Duration: 180-days
Learn More About Mealthy
Auto-Approval?: No
Affiliate Niche: Small Appliances
Join The Mealthy Affiliate Program Here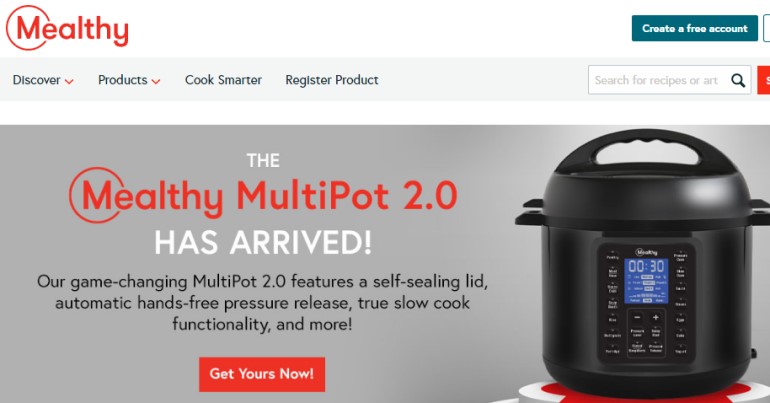 Mealthy has a few products that are related to air fryers such as crockpots and kettles but the product that makes them fit for our list is the Mealthy Crisplid. You can have a look at it here. This interesting bit of kit turns an electric pressure cooker into an air fryer.
It is a very interesting product and one that can work well for an air fryer blog if you are looking for new related products to add to your content and help you expand your niche site.
The Mealthy Commission
Moving on to the affiliate terms now. They are some of the best in the niche. Mealthy offers a 15% commission on valid purchases made through your affiliate links. When you compare this commission to the likes of Amazon Associates there is no contest. 15% is 5 times what Amazon offers.
If you can reach a decent conversion rate you can really start to earn a substantial income from this affiliate partner. Placing the Mealthy products into your best-of lists is a great way to incorporate this partner into your content and start taking advantage of that wonderful 15% commission.
Not to be left out of the fun, the tracking cookie is just as impressive as the commission. According to their Refersion Profile, Mealthy offers a 180-day tracking gap for their affiliate partners.
A long-duration cookie like this one is going to do wonders for your overall conversion rate and should be a great asset to your online affiliate business.
Why Promote Mealthy?
The biggest draw for this affiliate partner is a unique Crisplid. It is a neat little product that will fit snuggly into your air fryer niche blog and give you some new content avenues to discover as well.
When you add in the fantastic commission and tracking cookie it is clear that this is one of the best small appliance affiliate partners in the air fryer niche.
You can even deploy this partner in a variety of other appliance product based niches like crockpots for example. This affiliate would make a great addition to any appliance niche site that is looking to expand its promotional content into other related areas.
---
UberAppliance Affiliate Program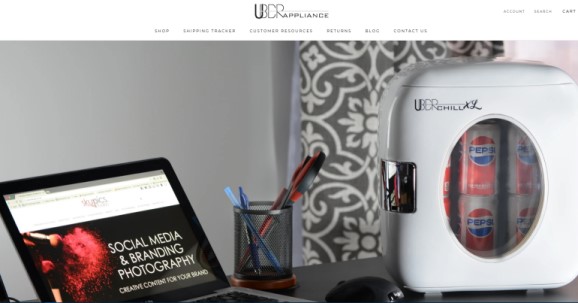 UberAppliance has a couple of great looking are fries for you to add to your Niche site. Like many of the other Affiliates on our list they don't have a huge selection of air fryer since they are selling their own manufactured brand.
This makes it a little bit trickier to promote since you don't have a lot of other products within the affiliate program to promote alongside it. What it is great for is adding to your top 10 list to help broaden the Spectrum instead of just having 10 air fryers from Amazon.
Air fryers aren't the only thing that they have to offer. Here are a few other products that they have in case you want to expand your niche site out a little.
Mini Fridges
Air Fryers
Sorbet and Ice Cream Makers
Electric Pressure Cookers
Juicers
The Commission And Tracking Cookie
Let's check out the track and cookie and the commission now. The tracking cookie is a pretty standard 30-day duration. For this affiliate program, the duration is perfectly fine. You will notice that it is a little bit lower than some of the other affiliate programs on our list.
With these types of products, it really doesn't matter that much since they are not what I would classify as high-ticket items. The 30-day duration is going to be just fine for most affiliate marketing professionals out there.
The commission stands at a rock-solid 10%. Once again we see a double-digit commission in this niche. It's a very good sight to see. You always want to get as high a commission as possible without sacrificing the quality of the products in the process.
In this case, you get the best of both worlds good, high-quality products and a solid double-digit commission that is going to earn you a lot of money if you can get enough traffic flowing through your Niche site.
Why Promote UberAppliance?
When you put everything together that this affiliate program offers you get one of the most balanced affiliate programs on our list. They have a solid tracking cookie a great product line and a very nice double-digit Commission.
The only question that is left is how it will resonate with your specific audience. If they like these products and you can get a good conversion rate then you are set up for a long fruitful relationship with this affiliate program.
---
Instant Brands Affiliate Program
Affiliate Commission: 8%
Tracking Cookie Duration: 45-days
Auto-Approval?: No
Affiliate Niche: Air Fryers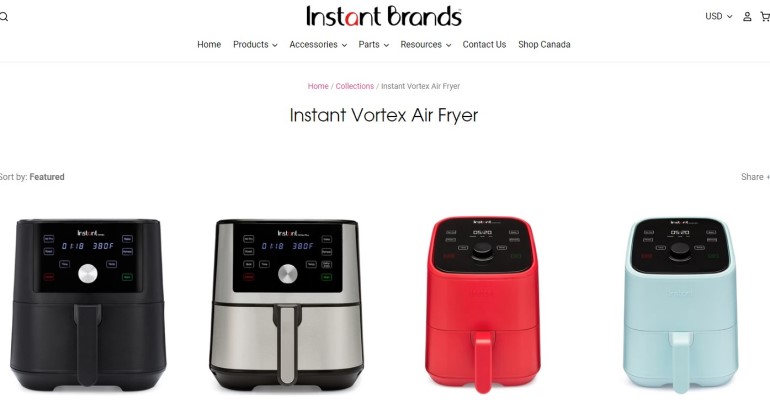 Instant Brands has a wide range of products for your kitchen. This is great if you want to expand into any of these product categories
For our list, they have a fine selection of air fryers for you to promote. From larger 6 Quart fryers to small mini fryers they give you a decent selection to promote on your niche site.
One last thing I wanted to mention was that Instant Brands the same as Instant Pot for our purposes. The Refersion site lists them as Instant Pot while their affiliate page labels them as Instant Brands, the Refersion application is right where you want to be to sign up with them.
The Instant Brands Commission And Tracking Cookie
The tracking cookie is 45-days giving you a month and a half or there abouts to promote thier products and still get credit for a commission.
45-days is always nice to have but I don't think you will really need it. Most of the products you will be promoting are around $100 or so. This info comes straight from their Refersion profile, you can check it out here.
Over to the commission now. Instant Brands offers its affiliate partners a good 8% commission on qualifying sales made through your affiliate links. While not quite hitting that coveted double-digit commission an 8% affiliate commission will do just fine for your affiliate marketing business.
Why Promote Instant Brands?
This strikes me as an all-around good affiliate program it's a solid commission with a solid tracking cookie and good product selection.
While some of the other Affiliates have only one or two air fryers to choose from, Instant Brands has a solid 5 or so different air fryers that you can promote on your Niche site as well as a huge selection of other small kitchen appliances that you can promote as well.
In fact, you could probably use this as a more General kitchen affiliate program as well as an air fryer partner program.
---
TaoTronics Affiliate Program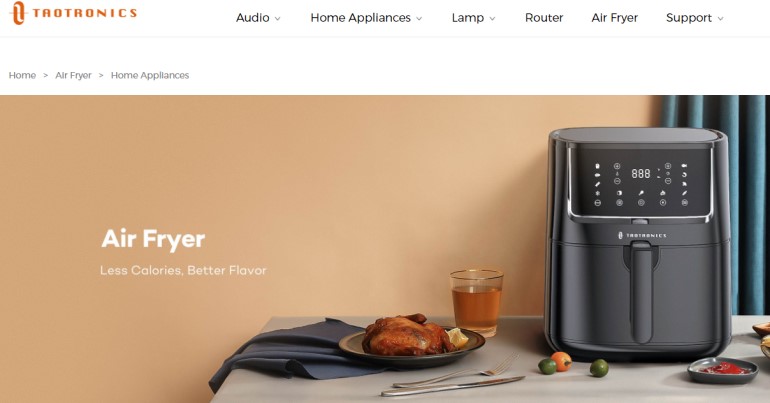 TaoTronics is a bit of a wierd one as far as affiliate programs go. They have a nice looking air fryer for you to promote but they also have headphones, lamps, and some other home appliances that don't really fit into our very small air fryer niche.
Still, you should be able to incorporate their air fryer into your content and use their solid affiliate terms to turn a nice little profit if their products resonate with your audience.
The TaoTronics Commission
The tracking cookie is a solid 45-days for the TaoTronics affiliate program. A month and a half should be plenty of time to get a conversion for a motivated buyer. The commission is only 5%. A Little low but it should work out decently well since you will likely be incorporating other affiliates alongside this one.
Why Promote TaoTronics?
This is essentially a single product affiliate program for our purposes since they only have one air fryer to choose from. As a result you will want to use this affiliate alongside some other air fryer partners to give you enough products to put together your reviews and comparison lists.
---
The Big Finish
That just about brings us to the end of our look at these wonderful air fryer affiliate programs. Whether or not these affiliate programs are going to completely replace Amazon Associates or just be used as additional affiliate programs alongside it is going to be up to you.
The big benefit of having one of the smaller affiliate programs working for you is that you have a bit of insurance against Amazon dropping their commissions again or dropping their affiliate program completely.
Now, I don't think they're going to drop their affiliate program anytime soon but they have twice in the last three years slashed their commission rates.
So if you were reliant on simply Amazon Associates you took a big hit but if you had a diversified affiliate program portfolio you can wear those abrupt changes quite reasonably.
If your focus is on some of these other affiliate programs you can make a lot more money given the higher commissions that they tend to offer.
It's all going to come down to how well you promote the products the type of content that you have an ultimately the conversion rate that you were able to obtain.
If you can get a conversion rate anywhere near what you can get at Amazon Associates then you will make a ton more money with one of these smaller air fryer affiliate programs.
Don't go it alone. Get the best learning tools and community to help you build your online dream. Check it out here.
Thank you for stopping by and have a wonderful day.