This article may contain *affiliate links. Please see our affiliate disclosure for more details
Music is an incredibly popular, competitive, and lucrative blogging niche that can be fun and educational for both the affiliate marketer and their audience.
Most music niches have a somewhat large barrier for people to get involved with it. If you want to learn guitar, for example, you have to buy a guitar which can be quite expensive.
But for one music Micro Niche, there are no instruments and it's one of the most popular sub-niches of the entire music industry. And it is one that you can build your own online business around.
Of course I'm talking about singing. Like most of the other music niches it is a very popular and very lucrative Micro Niche. Teaching people how to sing is usually the focus of most of these Niche site and today we are going to look at an affiliate program of a product that does just that.
Singorama Is one of the more popular singing training sweet out there. And for the affiliate marketer their affiliate program is one of the most generous as well.
 So let's dive in and see if Singorama  might be a great addition to your affiliate program strategy for your music or singing Niche website.
There Is Just Something About Owning Your Own Business. Being Your Own Boss. Building Something From The Ground Up With Your Own Hands. Especially When It Is This Easy To Get Started.
---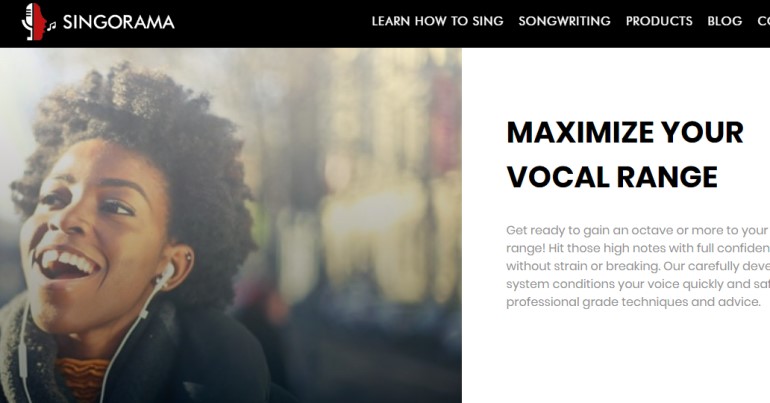 ---
What Is The Singorama Affiliate Program
Signorama partner program aloows content creators to motenize thier music or singing content by placing affiliate links into that content.
When someone clicks on the Singorama affiliate link and then makes a purchase the affiliate marketer gets a commission for their trouble. You can check out the Singorama affiliate page here with more information about the program.
Affiliate marketing is one of the best, safest, and most lucrative ways to make money online. It can be the foundation for a very successful online business for anyone who puts the work in.
---
The Affiliate Commission
Singorama is a digital product. Typically digital products have much higher commissions that their physical counterparts. Singorama is no exception. For their Singorama 2.0 product the commission is a whopping 70%.
70% of the purchase price is your to keep if the sale originates from your affiliate link. It is massive. The tradeoff is that digital only products tend to convert less that a physical affiliate product like you might find on Amazon for example.
Still, when dealing with such a huge commission you only need 3 or 4 sales per day to generate a solid full income for your affiliate marketing business.
Additionally, there is a subscription option that bills monthly and gives the affiliate marketer a recurring 50% commission. The subscription service is a backend sale that is sold to the customer.
The Tracking Cookie Duration
Singorama is hosted on the ClickBank affiliate Network. Typically ClickBank products give you a 60-day tracking cookie from the last affiliate link that was clicked.
I would check with Signorama to make sure that you're going to get the typical 60 days or if they've changed some other Direction.
 the 60-day duration is going to be more than enough for you to make your promotional content and still get credit for the commission. Singorama is not what I would consider a high-ticket item. So you're not going to need a super long duration to achieve an effective conversion rate for your online business.
---
The Singorama Product
The Singorama product is a digital learning product designed to teach people how to sing properly and effectively. Everyone can sing to a certain extent but this product really tries to teach you all the nuances of singing that you won't learn from just humming a tune in the shower.
Singorama is a one product affiliate program. It does have an added upsell in a subscription service, but for the most part, you will be promoting the Singorama 2.0 product.
The Singorama product is a digital learning product designed to teach people how to sing properly and effectively. Everyone can sing to a certain extent but this product really tries to teach you all the nuances of singing that you won't learn from just humming a tune in the shower.
There are quite a few pluses and minuses to promoting a single product affiliate program. The benefits are the two only have to focus on the one program and you can craft all your content to directly promote that single product or funnel your audience to the reviews of that product in order to maximize your Potential profits.
The downside to a single product affiliate program is that that particular product needs to be popular with your audience in order to make it work. If your audience is indifferent or outright dislike the product that you were trying to promote to them then it's not going to be very successful.
The best way around this is to develop content that directly ties into that product so when people go to search for anything singing related they are going to be presented with a product that is going to fit very much into the Wheelhouse of what they're looking for.
---
Best Niches For Singorama
The choices for the Singorama affiliate program are pretty limited. This is a single product affiliate and as such really needs to be deployed on a singing niche website to make the most out of this program.
You can conceivably use it in a general music website if you have a category or a decent amount of content dedicated to singing. Still, it works best on a singing specific niche site.
One thing I want to add is that this type of affiliate program is very popular for use in a direct single product niche site. Meaning that you are building all of your content around Singorama in some form or fashion.
All of your info posts have direct links to your Singorama landing page and you have no other monetization options for the most part. No banner ads, no general music affiliate programs. Just the Singorama affiliate and content that gets people to click through to the sales page.
These were very popular a few years ago but they are getting tougher to build with all the Google algorithm changes recently.
So while it still may be viable, I think you are better off with a more general singing niche site that incorporates a couple of different singing affiliate programs in order to diversify your affiliate portfolio.
Just to recap, singing and maybe general music is the only really viable niches as far as I can tell. You can expand a music niche site by adding a dedicated category to singing and then deploy Singorama as your chosen affiliate partner for that content.
---
Closing Thoughts
Is it possible to make money with the Singorama affiliate program?  the answer is 100% yes. This is a very popular affiliate program in a popular niche.  
Music is what I would consider an evergreen Niche and singing is something that a lot of people would like to learn how to do and is more accessible to a wider range of people because you don't have to buy expensive instruments like a guitar or drum set in order to learn singing.
This makes it an ideal place to start a niche website. Giving you a broad range of potential customers across a huge range of income levels.
When you add in the fact that the Singorama product is not overly expensive then you have the opportunity to really generate quite a few sales on a consistent basis that will help form the foundation of your online business.
All in all, this is a great affiliate program to add to your existing music or seeing this website but it can also be a great option for any when he was just starting out and looking for a product or affiliate program they can promote within this Niche.
Don't go it alone. Get the best learning tools and community to help you build your online dream. Check it out here.
Thank you for stopping by and have a wonderful day