This article may contain *affiliate links. Please see our affiliate disclosure for more details
Hello everyone. Today I wanted to take a look at one of the best food storage/survivalist's affiliate programs out there right now. The Wise Food Storage, also known as the ReadyWise, affiliate Program.
Lon term food storage along with easy to make meals are both great opportunities to build an online business for yourself.
Typically these are very different audiences that require different affiliates. But ReadyWise covers them both along with some camping and hiking ready meals that expand the possible niche even more.
An affiliate program like this one lets you expand into other areas while still building a level of trust between yourself, your audience, and the affiliate program which makes it much easier to promote their products with that level of familiarity.
With that in mind let us take a look at this interesting and diverse affiliate partner and see if the affiliate terms live up to what is a pretty impressive lineup of products. Can you make money with the Readywise affiliate program or is it one that you should pass one?
Let's find out.
There Is Just Something About Owning Your Own Business. Being Your Own Boss. Building Something From The Ground Up With Your Own Hands. Especially When It Is This Easy To Get Started.
---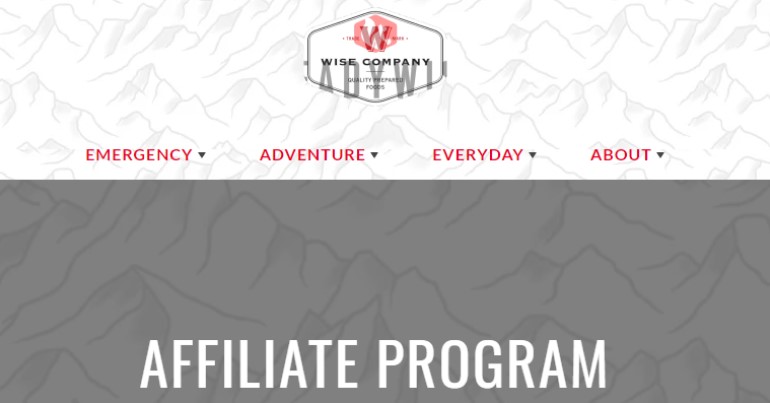 ---
What Is The ReadyWise Affiliate Program?
The ReadyWise, formerly Wise Food, affiliate program is designed to allow individuals to promote the ReadyWise products in their content by placing affiliate links into that content.
When someone clicks on one of these ReadyWise affiliate links and then makes a purchase the affiliate marketer gets a commission for htier promotional efforts.
These commissions are the backbone of many online businesses and can form the foundation for your niche blog in a wide variety of affiliate marketing niches.
The Wise Food Company is now known as the ReadyWise Company. They are one and the same, just to alleviate any confusion.
---
The 12% Affiliate Commission
The commission for this affiliate program is a real eyecatcher. They offer a very generous 12% commission on refferals made through your affiliate links. A high commission like this one is motivation enough to prmote their products and brand.
The commission is not the end all be all of an affiliate program, you still need great products. But seeing a 12% commission is hugely motivating when you are spending hours developing and publishing content on your niche blog.
A commission of this size can make this affiliate program the centerpiece of your affiliate marketing business. You might have a few satellite partner programs to go along with it but the bulk of your content and promotion material can flow directly into ReadyWise and take advantage of this wonderful commission.
With that said, I think it is important not to get too caught up with the commission alone. You audience must be willing to purchas the products or the commission is irrelevant.
The best course of action is to find products and services that you are sure will resonate with your audience and view a high commission as a bonus. In essence, you don't want to force an affiliate program on your readers or viewers just becuAse it benfits you and your business.
Always put the audience and their needs first and view the commission, no matter how good, as the icing on the cake. The commission is important to your business but you must focus on the audience and the products you are promoting.
The Tracking Cookie
The tracking cookie in any given affiliate program can really benefit your conversion rates if it is long enough. Essentially the tracking cookie is the amount of time a potential customer has to make a purchase after clicking your affiliate link.
ReadyWise offers their affiliate partners a 120-day tracking cookie duration. This is a very generous duration. 30-days seems to be the standard duration so this is about 4 times the standard.
What this means is that anyone that clicks your affiliate link is going to have 4 months to make a purchase. The conversion rates typically go up when you have a longer duration cookie so it is a pretty important aspect of any affiliate program.
---
The Wise Food Storage Products
The ReadyWise products are essentially broken down into 3 categories. Emergency Everyday and Adventure. In each category there are plenty of options for just about any diet or need for your customers.
Here is a look at some of the Emergency Options…
Long-term Food Kits
Starter Kits
Bundles
Organic
Survival Packs
The Everyday Options have a good selection of quick and easy meals that work well in normal conditions making this affiliate program more than just a survivalist based partner program. There are standard meals as well as fruits and vegetables that you can promote from the everyday section.
The adventure category is more along the lines of food and meals best suited for outdoor scenarios. Hiking and camping come to mind for these types of products.
One thing I want to mention isn't that just because someone clicks an affiliate link to a survivalist meal kit on your Niche site and then decides to buy something from the adventure or everyday meal section you will still get the commission. It's a site-wide affiliate cookie as far as I can tell.
The importance of these very different categories of products is that you can have a niche site that only targets one of them. And it's something that's very important when you see this type of affiliate program.
It does give you some options in the types of content that you want to produce as well as options when you decide to expand your Niche site into some other tangential areas.
You'll notice that these categories can be used for a wide variety of blogging niches that are very different in the types of customers you are looking to attract. Let's take a look at some potential blogging niches that could be a great opportunity for this affiliate partner.
---
Best Niches For Wise Food Storage
As we discussed briefly in the products portion of this article there are a wide variety of different niches that you could conceivably deployed this affiliate program in.
The Main niche that you were going to probably associate with this Phillip program is anything related to survival or long-term food storage and they have very much got that covered with their products. 
Anyone in the survivalist Niche or the food stores Niche are going to do very well to at least consider this affiliate program for their niche site because they have the products you're going to want to promote.
They also have very favorable affiliate terms with both their commission and the track and cookie being so generous.
However what you might not think of when looking at this Phillip program on the surface is that they can be used for a good number of other niches as well.
In particular, I think outdoor niches would be very good for this affiliate program. Especially is something long-term like a camping outing or a long hiking session.
Their meals and snacks that are designed for outdoor adventure are going to be great options for you to promote on your Niche site either within existing content or creating content around this product specifically.
---
Closing Thoughts
Affiliate Commission: 12%
Tracking Cookie Duration: 120-Days
Auto-Approval?: No
Affiliate Niche: Food Storage/Survival
That brings us to the end of our look at the ReadyWise affiliate program. The overall feeling I have about this partner is that it is pretty great. I would recommend it to anyone that can conceivably fit it into their niche website.
When you look at the products, the commission, and the rest of this affiliate partner, ReadyWise is one of the best affiliate programs that you could hope for.
They will benefit your readers and you can promote with the confidence that your hard work will be rewarded with sizable commissions and it will be a great asset to your online business.
If you can fit it into your niche I would suggest at least considering and running some tests with this affiliate to see just how valuable it can be to your specific audience.