This article may contain *affiliate links. Please see our affiliate disclosure for more details
There are so many fashion affiliate programs that can earn you alot of money through affiliate marketing. Fashion is one of the biggest industries that affiliate marketers use on their niche sites or Youtube channels.
The key is finding the fashion and clothing products that are going to resonate with your specific audience. It is not as easy as it sounds. You will need to taest quite a few fashion affiliate to find the ones that will work best for you.
In that vein, we are going to take a look at the Shein affiliate program to see if you can incorporate it into your content and make a bit of money from promoting their products.
The Shein affiliate program is a broad partner that covers much of the fashion industry. They have products across most categories and would work well on just about any fashion niche site.
The large inventory makes them an ideal alternative to the Amazon Associates program, especially after they lowering of their commissions once again.
So how does the Shein partner program look for affiliate marketing professionals? Is the commission solid? Does it have a good tracking cookie? Are the products worth promoting and what niches would it work best for? Let's dive in and find out.
There Is Just Something About Owning Your Own Business. Being Your Own Boss. Building Something From The Ground Up With Your Own Hands. Especially When It Is This Easy To Get Started.
---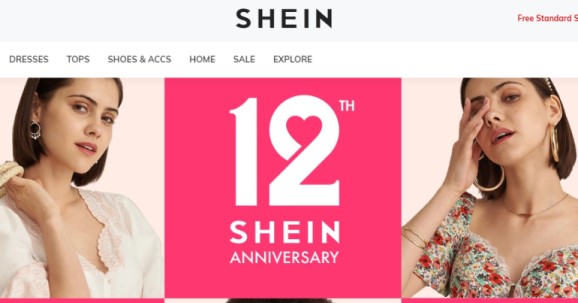 ---
The 10% Commission
On to the Shein commission. The start percentage is 10%. Their affiliate page states that it can go up to 20%. 10% is great, if you can get the higher 20% commission you have yourself one of the best fashion affiliates out there.
For many affiliate marketers the commission is the most inportant aspect of an affiliate prgoram. It is important, don't get me wrong but the products and services you promote are far mor important to the overall perfomrance of the affiliate prgroam.
Without good products that people want to but the commission is largely meaningless. But when you can marry the solid products with a great 10% commission like we have with the Shein affiliate program, you have the opportunity to use this partner as a foundation for your online business.
A 30-day Tracking Cookie Duration
Moving on the the tracking cookie. Shein offers its affiliate partners a 30-day tracking gap. Essentially this means that for the next month after someone clicks your affiliate link you get a commission if they make a purchase during that timeframe.
I always like to mention the tracking cookie because it is such an overlooked part of any affiliate program. A longer tracking cookie usually leads to a better conversion rate, all other things being equal. Amazon Associates offers a 20-hour tracking cookie for comparison.
30-days is basically the standard duration for a tracking cookie these days and they work pretty well for most products.
High-ticket items will benefit from a longer duration tracking cookie but nothing on the Shein website really hits those high prices so the 30-day cookie should be just fon for most affiliate marketers out there.
---
Checking Out Some Of The Shein Products
Shein has a huge selection of fashion products. They have been around for over a decade and are one of the most popular names in fashion going right now.
Adding their products to your affiliate marketing stable can bring in a lot of new traffic and sales as well as giving you some great ideas for new content to develop.
Partnering up with them and promoting their products is a great way to enhance your niche site's monetization options. Here are a few of the products and categories you can look forward to promoting when you join this affiliate partner.
Sweater Dresses
Biker Shorts
Shirt Dresses
Tank Tops
Plaid Dresses
Knit Dresses
Tees
Pants
Skirts
Leggings
Sweaters
Sweatpants
This is just a small sample of the types of clothing they have for you to promote. They also have plenty of options for Plus size apparel, men's clothing, and kid's clothing.
Add to that the solid selection of beauty products and you have a versatile affiliate program that is a direct alternative to Amazon Associates in the fashion and beauty niches and all the micro-niches that that includes.
One area I do want to focus on is their selection of dresses. They have a wide range of them and it is a sub-niche in fashion that can be very lucrative for affiliate marketers.
I think anyone in any dress niche would do well to consider adding Shein to their affiliate repertoire. At least runs some tests and see how their products resonate with your specific audience.
---
Best Niches For This Affiliate
The niches that are going to benefit them ost from the Shein refferal program are going ot be pretty preidicable. For the most part it is fashion and beauty niches that are going to make the most out of this partner.
The key thing to remember is that you can use this partner for any of the sub-niches and micro-niches in the major affiliate marketing niches out there.
Here are a few sub-niches that you could use with Shein.
Kid's Clothing
Woman's Fashion
Dress Specific Niche
Men's Fashion
Plus Size Focused Niches
Lingerie And Undergarments
Realistically you can apply this affiliate to any niche that has a relevant product. Have a niche site that focuses solely on sweaters? Shein has a great selection of sweaters to promote. Just match up your content with the products offered by Shein and you should do quite well for yourself.
---
Closing Thoughts
There you have it. This little review comes to an end with a solid recommendation for anyone in the fashion or beauty niche that is looking for a solid partner program to add to their online business.
They don't have an auto-approval process on their ShareASale profile so newer websites might need to build a bit of traffic before they will accept you into their affiliate program.
Once you do get accepted you are looking at one of the best fashion affiliates out there and a partner program that can be a great alternative to the Amazon Associates program.
Not all affiliate programs are going to work well for every affiliate marketer out there. The best you can do is find good affiliate programs and run some tests with them to see how well they do with your specific audience.
With that said, Shein has everything going for it and should work very well for most marketers out there and when you toss in their excellent commission you have the potential to make a nice income promoting their products.
It is always incumbent on the affiliate marketer to find the best partners to maximize their affiliate business. A lot of the time people just settle for Amazon Associates because it is the biggest and until recently one of the best ways to make money with affiliate marketing.
Amazon Associates can still work very well but adding in great affiliates like Shein can increase your the overall profitability of your online business.
It will take a little bit of extra work to get people comfortable shopping at online retailers other than Amazon. But that is where the trust between you and your audience can make all of the difference.
Take a little time promoting Shein and building a relationship between yourself the affiliate and your audience and you will be shocked at how much growth potential you have with the same amount of traffic flow.
Don't go it alone. Get the best learning tools and community to help you build your online dream. Check it out here.
Thanks for visiting and have a wonderful day.