This article may contain *affiliate links. Please see our affiliate disclosure for more details
Subscription boxes are a incredibly popular and frankly a pretty fun way to get the items you didn't even know you needed. Subscription boxes are available for almost any niche these days and today we are going to be looking at one that fits into the personal wellness/lifestyle niche.
Hello everyone. Welcome back. The subscription box affiliate program that we are going to be taking a look at today is the FabFitFun affiliate program. A seasonal box filled with all types of lifestyle goodies. But we are going to focus on the affiliate program and how it might benefit an affiliate marketer like yourself.
From the affiliate commission and the tracking cookie to the sub-box itself we are going to be taking a hard look at this partner program to see what it brings to the table and if it is worth your time to promote this particular subscription box over so many others out there.
There Is Just Something About Owning Your Own Business. Being Your Own Boss. Building Something From The Ground Up With Your Own Hands. Especially When It Is This Easy To Get Started.
---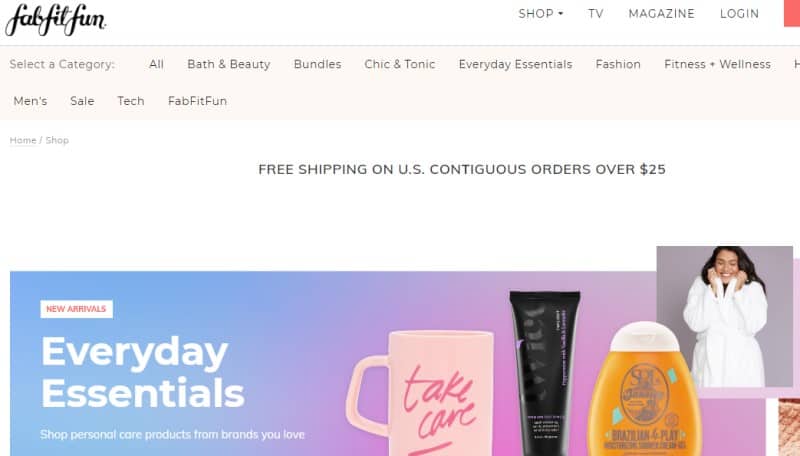 A Closer Look At The FabFitFun Affiliate Program
FabFitFun is a seasonal subscription box service that provides a box of various health and lifestyle items to your door each quarter. Here is how it works according to the FabFitFun Website…
As a FabFitFun Seasonal or Annual Member, you'll get a box of fabulous finds in beauty, wellness, fashion, and fitness - hand-picked by the FabFitFun team!

FabFitFun Website
---
The $8 Flat Fee Affiliate Commission
The flat fee commission offered by this affiliate is decent. It comes it at $8 dollars. The issue is that it is a one time fee instead of a recurring commission. It works like this, for every new subscriber you get you will recieve an $8 commission.
That can add up quickly, if you can get 10 or so each day then you will be making quite a bit of money from this affiliate. I just prefer recurring commissions on subscription boxes, but that is a personal preference and your opinion might differ.
The Tracking Cookie Duration
I could not find the tracking cookie information at the time of publication. Be sure to ask about it when you signup for this affiliate program. The tracking cookie information is commonly left out of the affiliate information with alot of the independent affiliate rograms. It is not a negative it is just something that I have noticed from time to time.
A Quick Word On The FabFitFun Products
The product offered by the FabFitFun affiliate program is a seasonal subscription box that ships 4 times a year. The cost is pretty reasonable at ~$50 dollars per seasonal box or around ~180 when you prepay for a year. The box itself is full of all types of wellness and health products. You can customize your box to a certain extent depending on the level of subscription you have.
Overall it looks to be a nice variety of useful products that fit into a variety of niches making this a pretty good looking affiliate program for quite a range of niche sites and blogs. You can check out some of the customized items in their promotional video below. This should give you a better idea of the types of products they have in their subscription box and whether or not they fit into your overall content strategy.
What I Like About The FabFitFun Affiliate Program
I must admit that I am pretty neutral about this affiliate program in general. There are a couple of negatives (see below) but everything else is decent. The products look fine. But I am no expert on these types of products so a more experienced operator might not think as highly of the as I do.
That said I always love a subscription box affiliate program and I think every affiliate marketer should try and incorporate one into their niche site if at all possible. They add a new level of monetization and are very popular currently, and should be even more popular in the future.
Some Things I don't Like
There are not too many issues with the FabFitFun affiliate program. I would rather have a recurring commission that pays you for each subscription box and not just a one time fee for new subscribers. But recurring commissions are becoming increasingly rare for these types of subscription services.
Another thing that I really do not like about this affiliate program is the payment schedule. They only pay their partner out 4 times a year at the end of each quarter. You can check out the schedule below.
Summer (May – August)
Fall (September – November)
Winter (December – January)
Spring (February – March)
That is an awfully long time to wait for a payment. Typically, a lot of affiliate will have about a 30-day wait from he end of the previous month to pay out their partners, and even that is a problem. But a 4 month lead time for you payments is a bit much. There is just no way to sugar coat it.
---
Some Alternatives To Consider
Here are a few affiliate program alternatives that cover many of the same niches as FabFitFun and could be a good alternative or even as a companion affiliate to this partner program.
Sephora
Youngblood Mineral Cosmetics
Amazon Associates
ScentBox
Alima Pure
I think any make-up or beauty niche affiliate program could be used as a replacement but keep in mind that you always want to try and have at least one subscription box service regardless of the niche you are in. So using the alternatives alongside the FabFitFun affiliate program might be the best way to maximize your earning potential. But a lifestyle affiliate program would work as well since the products in the boxes are so dieverse.
You can also check out some of our top 10 lists that might have some options for you as well.
---
The Big Finish
Commission: $8 Flat Fee
Tracking Cookie: Not Listed
Auto-Approval: No
Affiliate Network: None
Affiliate Niche: Subscription/Various
Join The FabFitFun Affiliate Program Here
That just about concludes out look at the FabFitFun affiliate program. I must admit that there is not a whole lot to talk about with this partner program. They only have the subscription service and a few products that go into their subscription box. If the box is popular with your audience then they would be a good affiliate program, if not they have very little else to offer your business.
There is really not much else to say about this partner program. Hopefully, it helps you out in your business but I suspect this is going to have a very niche appeal to most affiliate sites out there and is not going to be a really broad affiliate program that a lot of people can use effectively.
I am not really sure why but this affiliate program didn't really impress me. It all just seems a bit meh. Like something is missing, but I can't quite put my finger on it. Maybe its because it will have to compete with CrateJoy and other far more robust subscription box services and it really doesn't look like it is a better option that many of those.
Don't go it alone. Get the best learning tools and community to help you build your online dream. Check it out here.
That is all I have to say about that. Thank you for stopping by and have a wonderful day.