This article may contain *affiliate links. Please see our affiliate disclosure for more details
Tactical gear is pretty popular these days. For a variety of reasons that I won't go into. But it looks like that popularity is not going to wane any time soon. And Tactical Gear Affiliate Programs are at the heart of a successful niche site.
So building your tactical gear or survival niche website should be something you get started on right away. Using the affiliates to monetize you niche site will not only provide you with a solid income.
But it will provide your audience with solid tactical gear that they can use in their daily lives. Ultimately that is the aim here.
To provide visitors to your blog with information and recommendations that will benefit them and hopefully earn you a little money in the process.
Let's dig into the tactical gear niche and see if we can't find a couple of affiliate programs that will provide you with the products and the commissions that can turn your blog into a passive income business.
There Is Just Something About Owning Your Own Business. Being Your Own Boss. Building Something From The Ground Up With Your Own Hands. Especially When It Is This Easy To Get Started.
---
Military Watch Exchange Affiliate Program
Affiliate Commission: 9%
Tracking Cookie Duration: 30-days
Auto-Approval?: No
Affiliate Niche: Watches/Tac Gear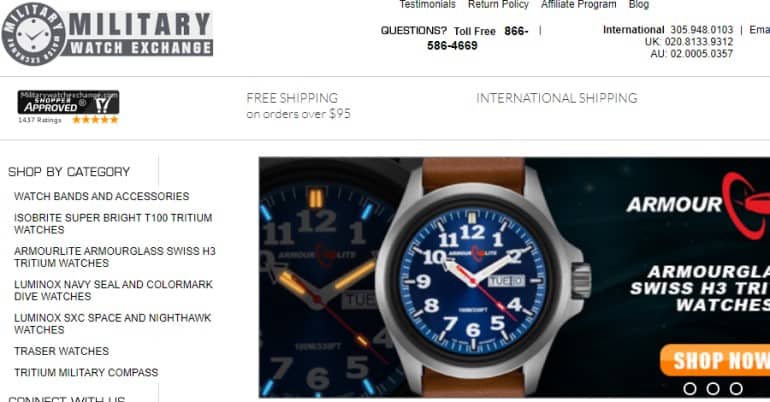 We start off our list of these partner programs with a tactical watch affiliate program. Military Watch Exchange is a retailer of some great heavy-duty and durable watches for all manner of extreme activities.
Watches are an integral part of any tactical setup but it is one of the more overlooked parts. Everyone has their tac knives and lights and body armor, but a solid reliable watch should be high on the list as well.
Military Watch Exchange brings those watches to the forefront. Make no mistak, however, these are not cheap. They are high-ticket items that are going to need toyyour best promotion and content to maximize their potential.
The focus of their product line is through the Luminox, Armourlite, and Traser brands. Well-known and highly respected brands you can be proud to promote.
The Military Watch Exchange Commission And Tracking Cookie
The tracking cookie is a standard 30-day duration. This is acceptable for this partner but a longer one wouldn't go amiss. The reason for this is that many of these tactical watches are high-ticket items costing in excess of $500 dollars.
For products this expensive you really want as long a tracking cookie as possible in order to maximize the conversion rates on these high ticket items.
The commission is 9%. Almost the coveted double-digit commission that I always look out for. 9% is very good for these types of products. A couple of sales a day is all your need to make a solid income with these tactical watches.
Put it together and you have an outstanding affiliate program. Great commission and a decent tracking cookie should work well for most partners.
Why Promote Military Watch Exchange?
The brands of watches that they have on offer are really the highlight of this partner program. They are top-notch. When you add in the fantastic commission it just gets better for the affiliate marketer with the foresight to partner with Military Watch Exchange.
Across any niche that can use a solid durable watch, this is the affiliate for you. Whether you are strictly tactical gear or in a broader niche like survival or scuba diving, Military Watch Exchange will help you achieve your goals.
---
Klik Belts Affiliate Program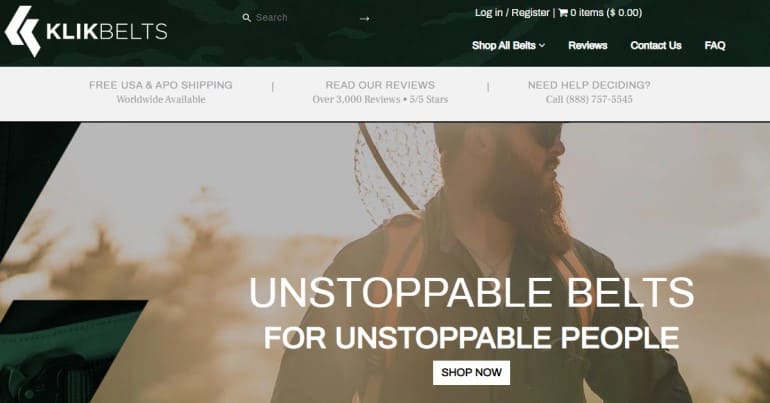 What tactical gear website would be complete without a solid belt to hold it all up. Tactical belts are a popular item for a wide range of activities, from fishing and hunting to concealed carry belts.
Klikbelts sells high quality and durable quick release belts for a wide range of activities. They even have dog collars if you are looking for some interesting products for a dog niche site.
The main thrust is belts for humans though. They even have some stylish leather belts for a more traditional look and feel. The 2-Ply Tactical belts will be of particular interest to anyone with a tactical gear blog.
The Klik Belts Commission And Tracking Cookie
Let's start off by taking a look at the tracking cookie for this affiliate. It is one of the best on our list at 60-days. The products are decently priced at Klik Belts and nothing is really a high-ticket item. Though many of their products do run over $100 dollars.
So a super long duration tracking cookie is not really needed but its always nice to see 2 months of returns days on a tracking cookie.
Moving over to the commission we find a nice 8% commission on offer. Solid is probably the best way to describe this commission. Given the price of some of these belts, an 8% commission can really do quite well with a decent amount of traffic.
Why Promote Klik Belts?
For me it always comes down to the products when I am looking for an affiliate program. Klikbelts has an impressive line-up of durable belts that are sure to please the audience of your tactical gear blog.
These belts also fit well into almost any outdoor niche and can even be used on a daily basis and a regular belt for someone who needs that kind of durability in their day to day lives.
When you add in the great cookie and the solid commission it becomes clear that this would be a boon to almost any affiliate marketer in a related niche.
---
Ravencrest Tactical Affiliate Program
Affiliate Commission: 25%
Tracking Cookie Duration: Not Listed
Auto-Approval?: No
Affiliate Niche: Tactical Lighting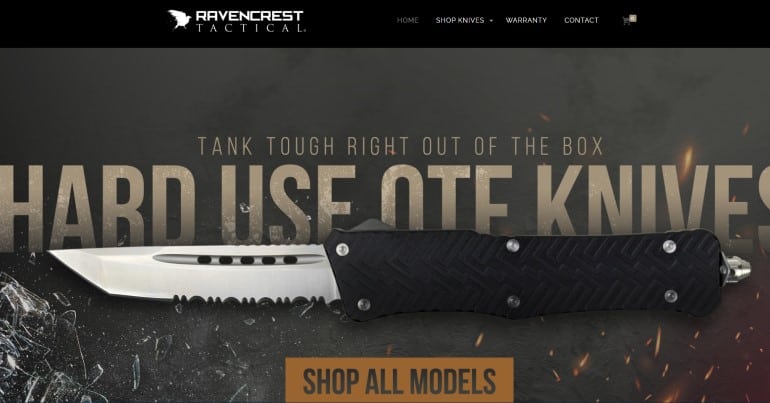 Knives are one of the most popular products in the tactical gear niche. You will want an affiliate that is dedicated to high-quality knives.
That is were Ravencrest Tactical comes in. Technically, I would probably classify this as more of a knife affiliate program but it works well in a more general tactical gear niche as well.
Ravencrest Tactical offers some of the toughest and most durable knives for you to promote on your niche site. I would pair it up with a couple more general tactical gear affiliates if you are going for a more general niche site.
If your tactical gear niche site is focused solely on tactical knives then this might be the only affiliate you need.
The Ravencrest Tactical Commission And Tracking Cookie
Let us take a look at the commission for this affiliate partner. It is a staggering 25% on qualifying sales made through our affiliate links.
This commission is one of the best in the tactical gear niche and one that should be a huge benefit to anyone in the tactical gear or survival niches.
It still needs to preform and get a good conversion rate but with a 25% commission you can really build a profitable business around jsut a single affiliate like this one.
I couldn't find the exact tracking cookie duration for this partner so you will have to ask about it when you sign up. I imagine it should be a pretty decent one all things considered. Just ask to be sure.
Why Promote Ravencrest Tactical?
When you add it all together you have one of the best tactical gear partners around. Yes, it is only for tactical knives so you will need other affiliate with a wider range of gear.
But your tactical knife affiliate is properly sorted with just this one partner program. Provided, of course, that you can get it converting at a solid rate.
When you factor in the huge commission the picture becomes that much clearer. This is a top notch affiliate and the way affiliate programs should reward their partners.
---
Alpha Defense Co. Affiliate Program
Affiliate Commission: 15%
Tracking Cookie Duration: 30-days
Auto-Approval?: No
Affiliate Niche: Tac Gear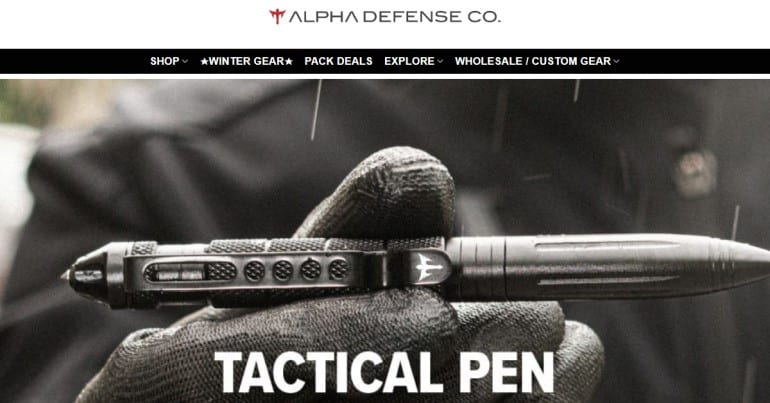 Alpha Defense Co. doesn't have a huge selection of products. It is a smaller vendor so you will want to pair it up with some that have a little more in the way of product selection.
What it does have is a good selection of tactical face shields as well as some other general tactical gear for you to promote. Here is a look at some of what they have to offer.
BULLET ANTENNAS
TACTICAL PEN
PARACORD BRACELET
SILICONE RINGS
FACE SHIELDS
The Commission And Tracking Cookie
The commission is probably the first thing you are going to noticce about this affiliate partner. It is a robust 15%. One of the best on our list and one of the best in the tactical gear niche. It is fantastic.
This commission should do well for you although the price ranges on most of their products are not very expensive. So you will need more sales to really get the most out of this afiliate partner.
The tracking cookie is a solid 30-days. This is more than enough for this affiliate program as nothing really hit that high-ticket item range.
Why Promote Alpha Defense Co.?
The commission alone is a good reason to consider promoting this affiliate. But it should not be the only one. You have to make sure that you are comfortable promoting their products or the commission is irrelevant.
This affiliate will probably not have the broadest appeal due to its small range of products but for those of you that can find a place for it in your affiliate lineup, it can do a solid job for you.
---
NiteCore Affiliate Program
Affiliate Commission: 5%
Tracking Cookie Duration: 30-days
Auto-Approval?: No
Affiliate Niche: Tac Lighting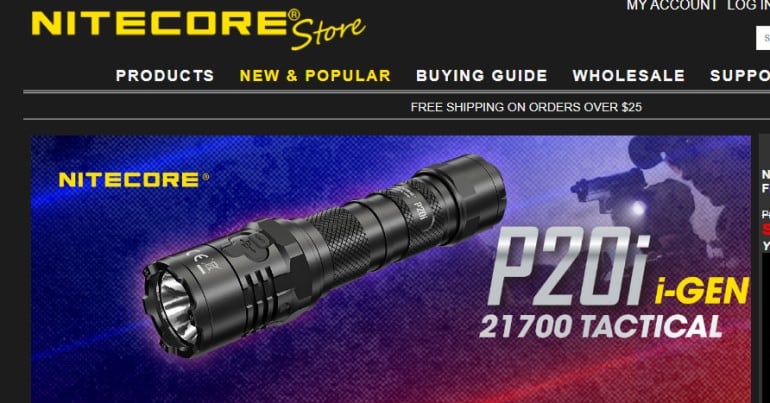 Nitecore specializes in tactical lights. Just about every type of tactical light you can imagine is part of their product selection.
Lighting is an important part of a tactical niche site. Many tactical affilaite will have some form of lighting available but having a dediacated tactical light partner is really the way to go.
You can specialize your content specifically around tac lighting and specifically Nitecore products. In addition it adds more opportunity to build a best of list for all lighting brands.
Here is a few of the categories of products that Nitecore has on offer…
Flashlights
Headlamps
Bike Lights
Dive Lights
Lanterns
Batteries
Chargers
The variety of lights they offer makes this a versatile affiliate program. Nitecore could work as a lighting affiliate program as well as a survivalist affiliate.
How you integrate Nitecore into your survival blog will determine its effectiveness. If you build a solid stream of content around tactical lighting this could be a nice addition to your affiliate niche site.
The NiteCore Commission And Tracking Cookie
The tracking cookie duration is 30-days. This should be pretty good for most affiliates. But I want to point out that many of their products are well over $100 dollars.
The higher the price the longer duration you want in your tracking cookie. But 30-days should work for most products under around $200 without a huge decrease in conversion rate.
Nitecore's commission is 5%. It is a little on the low side. But not by a whole lot. 5% is still a good commission and one that can generate a solid amount of profit for your niche blog.
Why Promote NiteCore?
Nitecore looks a solid lighting affiliate partner. The commission and cookie are decent but nothing special. It will be of particular appeal to a niche site that needs a dedicated tactical lighting affiliate. But It can work for a general tactical niche site as well.
---
Extreme LED Affiliate Program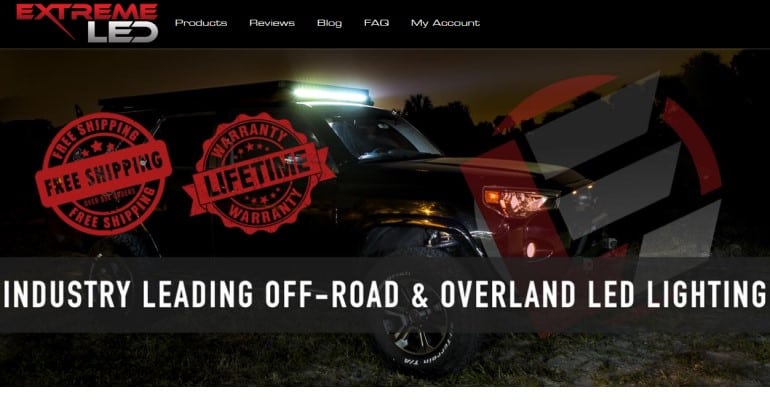 Extreme LED offers a wide range of lighting options for your vehicle. Because sometimes you might want to get tactical with your truck or off-road vehicle.
Not all tactical gear is for the individual. It might be a stretch to add this to a list of tactical gear affiliate programs but I think many of you can do wonders fitting something like this into your niche site.
I offer it up only as a suggestion and an example. An example of how to broaden your affiliate niche by bringing in tangential products that can be interesting and effective with your audience.
The Commission And Tracking Cookie
The tracking cookie is 30-days for this affiliate. It is a solid enough tracking cookie but Extreme LED has products across a wide range of prices.
The lower priced lights will be fine with this duration but some of the higher priced items might suffer a little bit if it takes longer than 30-days to make a purchase.
Overall it's not something to worry too much about but keep an eye on the high-priced items and maybe promote them in more buyer intent content.
The commission is 8% from Extreme LED. Another solid commission in the niche and one that will work well for most affiliate out there. Some of the higher priced items will only need a few sales a day to really start bringing in a nice profit.
Why Promote Extreme LED?
This is definately not a standard tactical gear affiliate program, but I think it is a solid addition to a specifc tactical gear or survival style niche site.
Having this array of lighting on your vehicle in an emergency is a great option. Even though it doesn't fit neatly into a tactical gear blog, I think there is enough crossover to make it worth your while in some cases.
Give it a try and see if your audience likes the direction that this affiliate can take you niche site in. It can't hurt trying something new.
---
BulletProof Zone Affiliate Program
Affiliate Commission: 1%
Tracking Cookie Duration: 30-days
Auto-Approval?: No
Affiliate Niche: Bulletproof Vests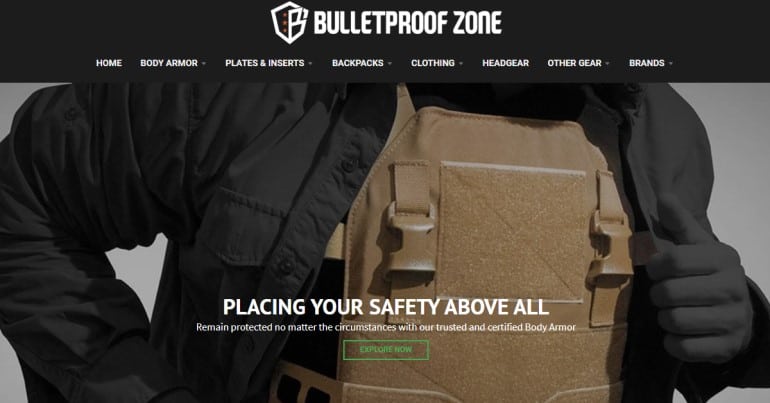 BulletProof Zone is a retailer of some impressive tactical gear. While other tac gear sites focus on lighting and knives, BulletProof Zone focuses on body armor and protection of the highest order.
This type of tactical gear won't have the broad appeal of a quality tactical knife or durable flashlight. But it is becoming increasingly popular in the niche and has a place on just about any tactical niche site.
Here are a few of the product categories you can expect to promote with this partner.
Body Armor
Head Gear
Tactical Packs
Plates For Body Armor
Holsters
Medical Supplies
And Much More
It is a wide assortment of tactical gear. Tactical gear for just about every occasion. I think this affiliate can work as a survival niche affiliate as well as a more tactical gear niche site as well.
I think BulletProof Zone sums up what they are all about in the following quote from their website.
"For over 5 years now we have been working with some of the best names in the industry. From plate carriers, to bulletproof vests, armor plates, bulletproof backpacks, even bulletproof clothing. With Bulletproof Zone you will be able to compare all the highest quality products so you can make the best decision for your investment in safety."

BulletProof Zone About Us Page
The Commission And Tracking Cookie
The commission is the problem with this affiliate program. Normally you can work with just about any commission rate but 1% is a taxing proposition.
It is not impossible to make some money with a commission this low but it might be more trouble than its worth. So where does this affiliate fit in?
The best bet for an affiliate with this low commission is to use it for "top 10 lists" and "best of" articles. That way the 1% commission is mixed in with other quality products with higher commissions.
If someone buys one fo their products and you get that 1% commission then that would be a great outcome. You get a little bit of a commission and the consumer gets exactly what they want.
The products are solid the commission is low. That's the long and short of this partner program. The tracking cookie duration is a standard 30-days.
Why Promote BulletProof Zone?
It is a tough sell to promote an affiliate program that only offers a 1% commission. But ultimately it is up to your audience to decide what products they like. The commission is of no consequence to them.
So the best reason to offer for promoting this affiliate is to give you audience choice when it comes to selecting the best tactical gear for themselves.
---
Tactical Pro Supply Affiliate Program
Affiliate Commission: 10%
Tracking Cookie Duration: 30-days
Auto-Approval?: No
Affiliate Niche: Clothing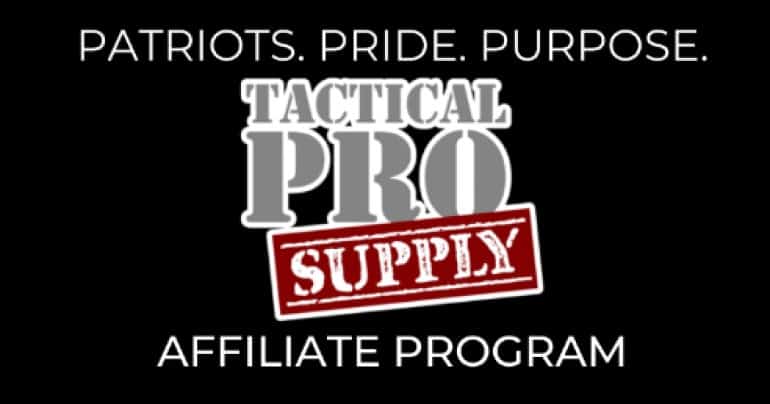 I would describe this partner as more of a tactical clothing affiliate rather than tactical gear. They offer clothing that is going to fit right into most tactical gear niche sites. But they don't actually have all the tactical gear.
Tactical Pro Supply is a good complement to those tactical gear websites by offering some fun and interesting and relevant designs for your audience to check out.
This is definitely an affiliate that you will want to run alongside other partners and is more of a luxury affiliate than a necessity for a tactical gear blog.
The Commission And Tracking Cookie
Let's begin with the tracking cookie. The duration is a standard 30-days. This gives you a full month from the time someone clicks your link to a potential purchase.
It should also include return days, so any purchase made through those 30-days should be valid for a commission.
Speaking of that commission it weighs in at a solid 10%. A double-digit affiliate commission is always a welcome site and one that will produce some decent dollar amounts for each commission.
Why Promote Tactical Pro Supply?
With a solid commission and tracking cookie, this affiliate would be an asset to any tactical gear blog. It is more of a support affiliate to be sure. But a clothing affiliate that is relevant to your niche is always a great thing to have.
Typically the products are reasonably priced and people tend to pick them up without much promotion on the affiliate marketers part.
You won't need to dedicate a whole lot of content to their clothing products so it's more a bonus when you get some sales from an affiliate like this one.
I would recommend that everyone with a tactical, survival, or patriotic niche site look into this affiliate and see if it might work for you.
---
Longhorn Tactical Affiliate Program
Affiliate Commission: 5%
Tracking Cookie Duration: 30-days
Auto-Approval?: By Country
Affiliate Niche: Tactical Gear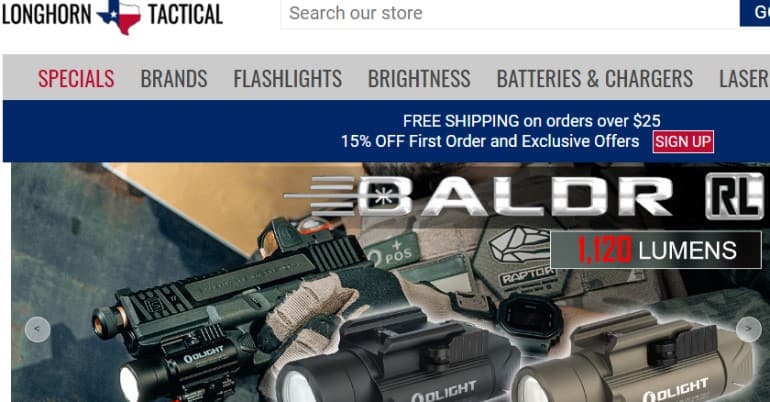 Longhorn Tactical focuses on tactical lighting and options. High-quality tactical lighting and the batteries that power them are part and parcel of the Longhorn Tactical(affiliate link) affiliate program.
Lighting and optics are very popular and integral parts of any tactical gear niche site. Whether its a standard handheld flashlight or a rail-mounted torch, lighting is a must-have for your niche site.
Longhorn Tactical provides you with just what you need in this regard. I will say that unless your entire focus is on tactical lights, then you will need to pair it with another affiliate in order to offer your audience a proper range of products outside lighting.
The Commission For Longhorn Tactical
The tracking cookie durations is a standard 30-days and the affiliate commission is a solid 5%. Neither of these are particularily spectaular but they are both solid and reliable.
A 5% commission can earn you alot of money with a decent conversion rate and a solid traffic throughput. My advice is to find the best affiliate for you audience and not worry about the commission to much.
As long as the partner is converting then you can make a good profit regardless of the commission most of the time. Problems only really arise when you get down into the 1-2% commissions. Not something to worry about with Longhorn Tactical though.
Why Promote Longhorn Tactical?
I think Longhorn Tactical is a good affiliate to promote for a varied number of niches. For our purposes it makes a great option for a tactical focused blog or niche website.
But it can also work great for a hunting niche site as well as an emergency preparation niche site and many others that can use durable high-quality lighting solutions.
---
TacticalXMen Affiliate Program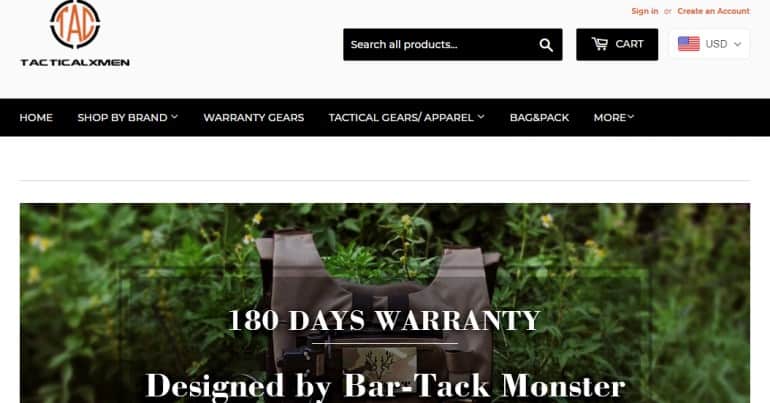 TacticalXMen is a more general tactical partner than some of the others on our list. They have a whole variety of tactical gear that you can promote.
From tactical bags and packs to helmets and headsets, TacticalXMen has tons of great products from some of the biggest brands in the tactical gear niche.
This is the type of affiliate that is a direct alternative to something like Amazon Associates. Their product selection is broad enough that it covers many of the tactical gear micro-niches.
For example, if you were to start a micro-niche blog focused on tactical gloves, TacticalXMen would be a good choice and you can expand into other areas without needed a new affiliate partner.
The TacticalXMen Commission And Tracking Cookie
A 6% commission is what is on offer from this affiliate program. It is in line with many of the other affiliates on our list. It is short of the double-digit commissions that I like to see.
I don't see it being too much of a problem with enough traffic flowing through your niche site. 6% can easily produce a full-time income in most cases.
The tracking cookie is above average. At 45-days you will have plenty of time to promote these products and get credit for the commission. A month and a half of return days are going to be very beneficial as well.
Why Promote TacticalXMen?
The biggest reason to promote this partner is their expansive products selection. They have a wide range of gear from head to toe for the tactically inclined.
Add in the solid commission and the excellent tracking cookie and you have all the makings of a top tier affiliate program that can help you reach your goals of a full-time passive income.
---
Wrapping Up Tactical Gear Affiliate Programs
That brings us to the end of our look at these affiliate programs. Tactical Gear and survival niches are a growth industry when it comes to affiliate marketing.
People are looking for ways to protect themselves, to enhance their outdoor hobbies, and prepare for emergencies. All of these are great places for tactic gear affiliates to prosper.
Another great thing about the tactical gear niche is that you can break it down into a bunch of little micro niches that can be profitable in their own right.
These affiliate programs are a good representation of that with some focusing on tactical knives While others focus on tactical lights While others focus on body armor and those types of products.
It's not necessary that you dip into each product category for your Niche blog but the more options you have a better chance for success that you were going to have with your tactical gear Niche blog.