This article may contain *affiliate links. Please see our affiliate disclosure for more details
Did you know there is an Adobe affiliate program for both their cloud services and their stock photo services? Hard to believe that one of the most popular software brands is often overlooked in the affiliate marketing sphere.
Sure if you are right in the middle of a niche that Adobe is relevant in you knew they have a solid affiliate program. But many beginners simply don't think about stock photos as a nice to make a good income in. And a good asset for your affiliate marketing business.
Hopefully, we can change show you the benefits with our review of the Adobe affiliate program and maybe even find that you are in a perfect spot to utilize this partner program to help build your own passive income.
There Is Just Something About Owning Your Own Business. Being Your Own Boss. Building Something From The Ground Up With Your Own Hands. Especially When It Is This Easy To Get Started.
---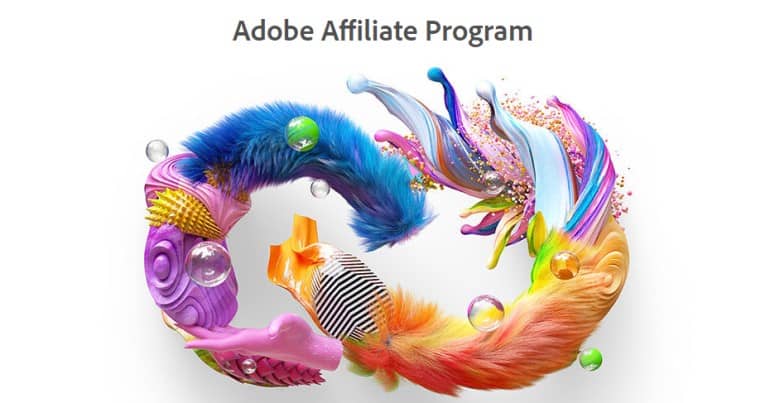 ---
What Is The Adobe Affiliate Program?
The Adobe Affiliate Program is a referral program where an affiliate marketer gets a commission for recommending Adobe Creative Cloud and Adobe Stock. When a purchase is made through your Adobe affiliate links you receive the commission.
This is a standard product based affiliate program and not a lead generation partner. Sales must be made in order to receive a commission.
---
The Adobe Affiliate Program Commission
The commission structure for the Adobe partner program is pretty complex on the surface, but when you break it down it is basically a flat-fee for one of their subscription services. Here is the breakdown for the Creative Cloud commissions.
Commission for Creative Cloud
Monthly subscriptions: 85% of the first month
Yearly subscriptions Paid Monthly: 85% of the first month
Yearly subscriptions : 8.33% of first-year
It all comes out to be about the same in real dollar terms. The big takeaway here is that you will receive a one-time fee for each new subscriber and not a recurring commission. That is a little disappointing but not unexpected. It is essentially a flat fee for the commission.
Adobe Stock Commission Structure
Monthly subscriptions: $72
Yearly subscriptions Paid Monthly $72
Single Purchase: 8.33%
3 standard assets a month: 85% of the first month
Another pretty confusing commission here. But it basically breaks down to a $72 flat fee for new subscribers and again no recurring commission to be had. Still, a flat fee this high is good enough for just about anyone.
The single purchase option gives you an 8.33% commission but it is unclear if that is for each purchase or only the first one. You can buy individual images from Adobe Stock. I imagine it has to be for every single purchase but I might be mistaken.
I would ask about this when you sign up to be sure you can develop your content and affiliate strategy properly around this partner program.
The Tracking Cookie Duration
The tracking cookie duration for this affioiate program is a standard 30-days. I don't really see a problem with this duration since you are only getting a one-time commission up front for each new subscriber.
It should not be much of an issue. Most people are not going to take a month to decide whether to buy these services making the 30-days a good duration.
---
The Adobe Products
Adobe Stock And Creative Cloud are the main products that you are going to be promoting form Adobe. Adobe stock is going t be the more popular one for now, but their cloud services should grow moving forward.
Here is how Adobe describes their Creative Cloud Service…
"Creative Cloud is a collection of 20+ desktop and mobile apps and services for photography, design, video, web, UX and more."

Adobe.com Creative Cloud
I'll get into what type of niches this would be good for in the next section but suffice to say this a product designed for an creative media.
From website design to advertising to building your brand. Creative Cloud is going to be an option for al lot of creators out there.
The second major prodcut that you can expect to promote with this affiliate program is the Adobe Stock service. This is going to be much more mainstram and probably more well-know.
Adobe Stock is their asset repository for all manner of images and other creatives that you can use when you sign up for their Adobe Stock subscription service.
Depending on the niche this could be a very solid product to promote and one that will be very popular with creative people looking for assets for their projects.
---
Best Niches For This Affiliate Program?
Adobe is interesting is that it offers a couple of products that will probably fit into different styles of niches. Let's focus on Adobe Stock first.
Adobe Stock fits in well with some pretty standard and broad niches that are profitable and popular.
Photography Niches
How To Build Blog Niches
Website Design Niches
Writing Niches Where Images Are Needed For The Copy
Another way that many people might deploy this affiliate is simply as a resource on their resource page. Any niche can do this.
Simply add the affiliate link to your resource page with something along the lines of "This Is Where I Get My Photos For This Blog" as well as linking to it any time the issue of images comes up in your content.
Next up is Adobe's Cloud Services, namely Creative Cloud & Document Cloud. Creative Cloud is going to fit right into any blog about building and designing blogs.
You can also promote it on just about any creative website that would benefit from the suite of apps. The conversion rate would be a little bit less, I assume, if your niche wasn't web design or design in general. But it should still work well as just a resource page addition.
---
Closing Thoughts
From top to bottom this is a good affiliate program. you have one of the most recognizable names in photo editing. Adobe is also huge in the photo and image selling space.
The chances that your audience is unfamiliar with this brand is going to be very low. This makes it all the more simple for you to promote their products with confidence.
I think the Adobe Stock part of the affiliate program will be where most people congregate but their cloud offerings can be popular on the right type of niche website. Either way if you can get it working for you then you are going to have a great affiliate earner well into the future.
Bottom Line: This is a very good affiliate program that I recommend as long as you can fit it into your niche. Solid products and services from a popular and well-respected company. A good, if confusing, commission structure and a decent tracking cookie.
Overall it should do a great job with a decent conversion rate and a solid traffic flow if you are in a relevant niche for this partner program.
Don't go it alone. Get the best learning tools and community to help you build your online dream. Check it out here.
Thanks for visiting and have a wonderful day.