This article may contain *affiliate links. Please see our affiliate disclosure for more details
Weighted blankets are a big deal. If you are operating in a sleep, mattress, or blanket niche then you are missing a good chunk of potential business without some type of weighted blanket affiliate program in your arsenal.
There are plenty weighted blanket affiliate s out there but we are going to zero in on one of the most popular and recognizable brands in weighted blankets. Gravity Blankets.
Gravity Blankets gives you an opportunity to promote their amazing weighted blankets and other products and make a little money in the process.
But just how good is this affiliate program. Does the tracking cookie give you enough time to maximize your conversion rate? Is the commission competitive with other similar affiliates? Let us jump right in and fine out.
There Is Just Something About Owning Your Own Business. Being Your Own Boss. Building Something From The Ground Up With Your Own Hands. Especially When It Is This Easy To Get Started.
---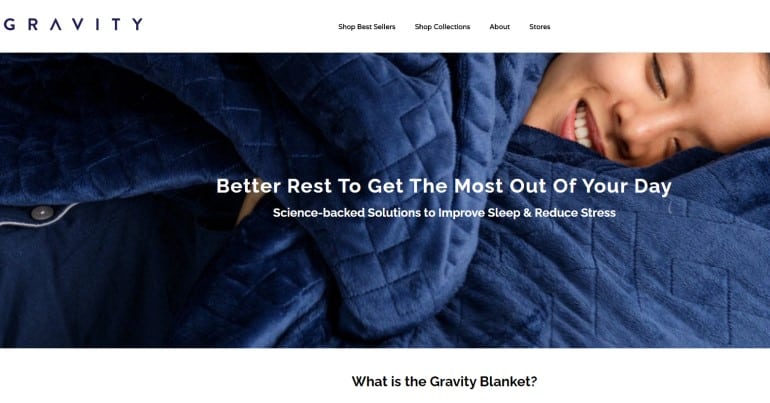 ---
What Is The Gravity Blanket Affiliate Program
The Gravity Blanket affiliate program is a referral program that allows content creators to promote Gravity Blanket products within their content.
When someone uses your affiliate link and makes a purchase you receive a commission for your promotional work. Affiliate marketing is one of the most popular and lucrative ways to make money online.
Here is how they describe thier signature product on their website
"Gravity Blankets utilize the power of weight to relax your nervous system. And with high-quality materials such as premium-grade glass beads and soft, durable duvet covers, it's no wonder why it's the world's most popular weighted blanket."

GravityBlankets.com About Us Page
---
The 3% Commission
The commission for this affiliate program is probably the weakest part of it. The products, we'll get into them a bit later, look great and the tracking cookie is solid. But at 3% the commission is at the lower end of the range I like to operate in.
In fact, it is the lower range. I rarely go lower than 3% on any of my affiliate programs. The exception is Amazon Associates and that is because they are Amazon.
For everyone else 3% is the lower limit. So what we have here is a great affiliate program that is dragged down into the average to good affiliate program range solely on the commission.
You will need to generate more traffic and get a higher conversion rate for this affiliate to make you the income your are really looking for.
The good news is, everything is in place to get those high conversions and generate some good traffic for your affiliate links. It is just up to you to make it happen and maximize the Gravity Blanket partner program.
The 45-day Tracking Cookie Duration
The 45-day tracking cookie is a bit over the average duration cookie. 30-days tends to be the duration that you see the most in affiliate marketing.
A longer tracking cookie is always better but for most affiliates 30-45 days is plenty. Where you need to be aware of your tracking cookie is for high-ticket items.
You will want as long as possible for your potential referral to make a decision on their purchase. In regards to Gravity Blankets, some of their products are quite expensive and benefit from the 45-day tracking cookie.
---
A Quick Look At The Gravity Blanket Products
The most important product that you are potentially going to be promoting is their weighted blanket, the titular Gravity Blanket.
The Gravity Blanket comes in grey, blue, and white and 3 weights as well. 15, 20, and 25 pounds. Here is a conversion table for everyone else in the world on the metric system.
The blanket runs costs about $189US at its regular price so it is close to being a high ticket item but not quite there, in my opinion.
I tend to place items $400 and up in the category of the high-ticket items but it differs from marketer to marketer.
The bottom line is that these are high-end blankets with a high-end price so you will need to be on point in your content and promotion to really maximize your sales.
In addition to the blankets they have a variety of other products that you can promote. Some of these work in completely different niches but most are closely related to blankets and weight blanket niches that they can be promoted on the same niche site.
Here is a look at some of the other products that you can promote on your niche site.
Kids Gravity Blanket
Travel Gravity Blanket
Weighted Throw Blanket
Cooling Blanket
Duvet Covers
Bamboo Sheets
Weighted Sleep Masks
Weighted Robes
Gravity Pillows
And More
One other product that they have is their Gravity mattress. You could use it for a mattress affiliate but there are plenty of those already and mattresses are one of the most competitive niches out there right now.
---
Best Niches For Gravity Blankets
The most obvious niche is one centered around blankets. You can have a general blanket niche site with a section on weighted blankets or even a weighted blanket specific niche site.
Both would work well and be profitable. Be aware that blankets and particularily weighted blankets are quite competitive niches so you will have to be clever in your keyword and topic research to maximize this affiliate partner.
There are other niches where this affiliate would make sense. Here are a few.
General Sleep Niche
Bedroom Niches
Home Decor Niches
Sleep Mask Niches
Robes Niches
Mattress Niches
You can break these niches down into smaller sub-niches and build out from their. For example, instead of a general sleep mask niche sight, you can start out focusing your content on weighted sleep masks as a micro-niche.
Then build into the large sleep mask niche as you expand your content. It is a great way to build authority and trust without having to deal with the huge players in any given niche.
---
Closing Thoughts On Gravity Blankets
Affiliate Commission: 3%
Tracking Cookie Duration: 45-days
Auto-Approval?: No
Affiliate Niche: Weighted Blankets
---
That just about wraps up our look at this affiliate partner. And I have to say that everything looks fantastic, apart from the 3% commission.
The commission is just decent. Can you make money with the Gravity Blankets Affiliate program? You sure can, but you will need to make quite a few more sales because of the lower commission.
If the commission were up around 10% then this would be one of the best affiliate programs across just about any niche. It has everything else going for it.
The tracking cookie is a solid 45-days. The products look good. The company itself is solid
One thing I will add is that most of these companies give you the best commission that they can reasonable give. So don't get mad about the 3% commission just build your business around it.
You might need to generate more information content that you can link to your Gravity Blanket money pages, for example.
Or drive traffic from other sources like YouTube or Pinterest in order to make the 3% commission really sing for you.
The bottom line here is that this is a good affiliate program for the weighted blanket niche or any home and garden niche site that needs a solid weighted blanket affiliate to help round out their affiliate strategy.
I recommend this affiliate for more experienced affiliate marketers who know that they can generate the traffic required to make the most out of this partner and its commission rate.
Don't go it alone. Get the best learning tools and community to help you build your online dream. Check it out here.
Thanks for visiting and have a great day.