This article may contain *affiliate links. Please see our affiliate disclosure for more details
Hello everyone. Today we are going to be taking a look at a makeup affiliate program that you can implement into your affiliate strategy across a wide variety of beauty-related niches and micro-niches.
Beauty and cosmetics is an incredibly competitive niche. You will need to have great content and great affiliate partners that your audience can fall in love with in order to maximize your chances at success.
Can Camera Ready Cosmetics be an asset for your own online business? Is it worth the time and effort to promote their products? Let's find out.
There Is Just Something About Owning Your Own Business. Being Your Own Boss. Building Something From The Ground Up With Your Own Hands. Especially When It Is This Easy To Get Started.
---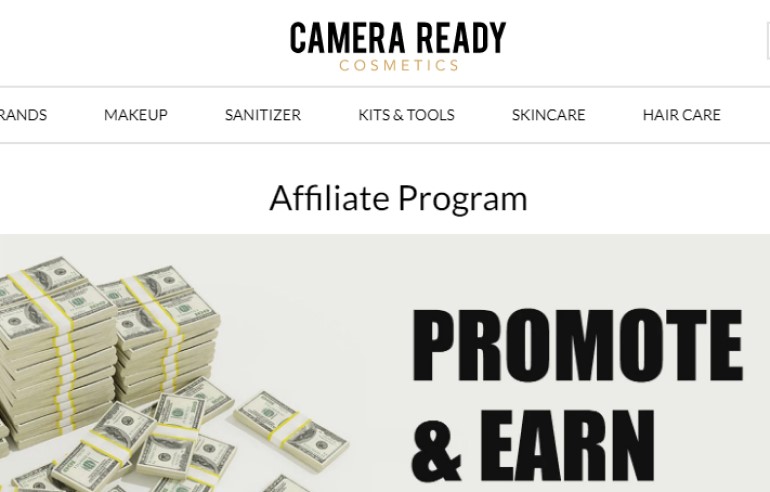 ---
What Is The Camera Ready Cosmetics Affiliate Program?
Affiliate Commission: 10%
Tracking Cookie Duration: 30-days
Auto-Approval?: No
Affiliate Niche: Beauty
The Camera Ready Cosmetics Affiliate Program is a beauty and make-up affiliate program designed to allow content creators to monetize their beauty content by adding affiliate links to their content, whether it is written or images and videos.
This type of affiliate marketing is one of the most popular and lucrative ways to make money online. The cosmetic and beauty niches are among the most competitive and lucrative affiliate marketing niches.
---
The 10% Commission
Let's get this started with a look at the all-important affiliate commission offered up by Camera Ready Cosmetics. They give their affiliate partners a solid 10% commission.
This puts it on par with other beauty and makeup affiliate programs. It is the type of commission that can be a solid earner for you across your niche site.
The 10% commission is well above what you would expect to get from the big boys like Amazon Associates. Making it a great alternative to Amazon as an affiliate option.
A double-digit commission is always a welcome sight these days. I would look to incorporate it into your content to see just how well it performs for you
This will give a good idea if you can make the most of that solid 10% commission on your makeup niche website.
The 30-day Tracking Cookie Duration
Let's take a look at the tracking cookie for this affiliate program. It weighs in at 30-days. This gives you a full month from the time someone clicks your affiliate link to make a sale and get a commission.
Many tracking cookies also have return days meaning any purchase made during that window will give you a commission as well. You will need to ask Camera Ready Cosmetics if their cookie is one time use or offers return days.
Either way a 30-day duration should be good for just about any affiliate marketer and provide you with a good duration to maximize your conversion rate.
---
What To Expect From Camera Ready Cosmetics
In a lot of ways Camera Ready Cosmetics is much like many of the other cosmetic affiliate programs out there.
They have all the products and brands that you would expect from a large cosmetics supply company. There are dozens of big-name brands that you can promote through this affiliate program.
Here are just a few of those brands that you can promote to your audience. This is just a small sample.
William Tuttle
Vera Mona
NYX
The Balm Cosmetics
Anna Sui
The Beauty Chef
Gerard Cosmetics
Peter Thomas Roth
Christophe Robin
Philip B
In addition to the brands, there are a wide array of products from make-up to hair and skincare products. The products and brands make this a great option for the centerpiece of your affiliate strategy.
You can use this as the foundation for your online affiliate business and then incorporate other affiliate programs to fill in any gaps.
The website is fast and responsive. It is easy to navigate and looks like you would expect a professional cosmetics website to look like.
Your expectation of how well this affiliate will do is going to be based in large part on the reaction of your audience to their products. That is always the tricky thing about a niche like makeup or cosmetics.
They tend to be pretty subjective and what might work for one group might not for another. That is why it is so important that you make a great case for these products with your content and hope it resonates with your specific audience.
If you can manage to get a solid relationship between Camera Ready Cosmetics and your audience then you can expect to do very well for yourself given the pretty generous affiliate terms that they offer.
---
Best Niches For Camera Ready Cosmetics
There are quite a few niche possibilities for Camera Ready Cosmetics. Anything in the beauty niche will probably work quite well.
However, there are dozens if not hundreds of smaller micro-niches in make-up, cosmetics, and beauty supplies that couple work well with this affiliate.
Whether you are operating a more traditional blog, YouTube channel, or some other type of content platform, Camera Ready Cosmetics will do nicely for your cosmetics needs.
In addition to a beauty niche website, a fashion niche website might work pretty well if you have some content that requires make-up or cosmetics to get the fashion look you are aiming for.
They also have a decent selection of hair care and skincare products that make it a viable option for a hair care niche site or a skincare niche website.
---
Closing Thoughts
Affiliate Commission: 10%
Tracking Cookie Duration: 30-days
Auto-Approval?: No
Affiliate Niche: Beauty
That brings us to the end of our look at the Camera Ready Cosmetics affiliate program.
Overall this is a solid affiliate partner with a good commission and tracking cookie. It is on par with many other in the beauty and maneup niches.
Ultimately you are going to have to decide if it is best for your specific audience. There is no shortage of beauty affiliate programs to choose from so make sure to try out as many as possible and see how they work for you.
I think Camera Ready Cosmetics could just be the answer for many of you. But its success is going to be determined by your content and traffic generation abilities.
Choosing the ideal affiliate programs for your niche blog might seem easy but you would be surprised how much money is left on the table by not optimizing the perfect affiliate partner for your specific audience.
Picking a great affiliate program that your audience responds to is going to go a long way in making your business a success.
Don't go it alone. Get the best learning tools and community to help you build your online dream. Check it out here.
Thanks for visiting and have a nice day.