This article may contain *affiliate links. Please see our affiliate disclosure for more details
There are few niches more competetive and more lucrative than the pet niche. Even within the huge pet niche, there are large sub-niches like the dog niche.
And if you drill down even further you can make a nice living in smaller micro-niches like dog food.
And that is where we find ourselves today. The dog-food niche. Don't laugh. It is more lucrative than most blogging niches and one of the best places to build content on your pet niche website.
To maximize your profits in this niche you are going to need some solid affiliate partners so today I want to take a look at an all-natural dog food affiliate, namely The Wild Earth Affiliate Program.
Does this affiliate have what it takes to earn a place in your affiliate strategy? Being the boss means making tough decisions. Let's find out what this affiliate has to offer from the commissions to the best niches.
There Is Just Something About Owning Your Own Business. Being Your Own Boss. Building Something From The Ground Up With Your Own Hands. Especially When It Is This Easy To Get Started.
---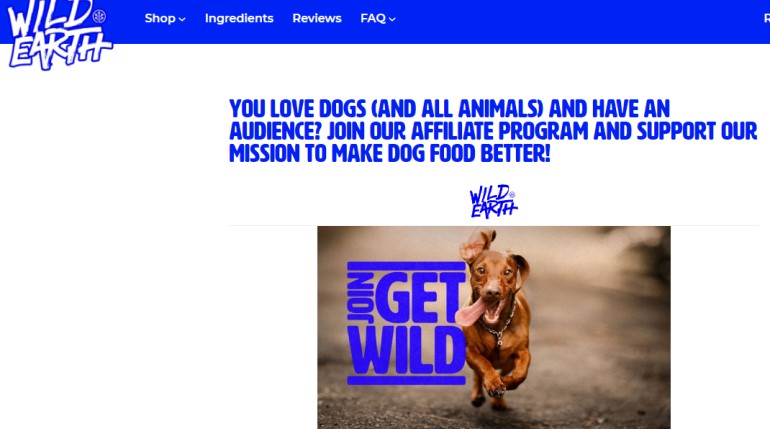 ---
What Is The Wild Earth Affiliate Program?
Affiliate Commission: Up To $60
Tracking Cookie Duration: 30-days
Auto-Approval?: No
Affiliate Niche: Dog Food
The Wild Earth Affiliate Program is a dog food affiliate program that offers a subscription service to pet owners who want high-quality organic dog food for their pups.
By placing Wild Earth affiliate links into your dog or pet reealted content you can monetize that content but sending referrals through those lins and over to the Wild Food website.
Once a purchase is made the affiliate marketer gets a small commission for their promotional work.
Affiliate marketing is one of the most lucrative ways to make money online and the pet niche is an evergreen niche that consistently provides solid returns.
---
The $60 Flat Fee Commission
Wild Earth offers its affiliate partners a whopping $60 dollar flat fee for new subscriptions that purchase certain size bags of dog food.
Be sure to check the requirements so that you are promoting the ideal size of dog food and make sure you get the best commission possible.
This is a solid subscription service similar to food delivery services but for your pups. The flat fee is quite eye-popping as you don't see flat fees like this outside of Web-based services and SaaS applications.
To find such a high commission on physically delivered products is something that you will want to take note of if you are in any dog-related niche.
Wild Earth is a great example of what the pet niche has to offer if you look around a little bit. It will make a great alternative to Amazon Associates or even Petsmart for your dog food needs on your niche site.
Overall you will hard-pressed to find a better commission in just about any dog food affiliate program. The trick is to get the right kind of high converting traffic that will allow you to place this affiliate front and center in all your dog food-related content.
The Tracking Cookie Duration
Wild Earth offers a solid 30-day tracking cookie duration. This gives your audience a good month to decide whether or no they want to subscribe to Wild Earth.
Typically the higher the price products you promote the longer the duration cookie you want to see.
I think the 30-days works well for this affiliate since you are not really looking at a high-ticket item and you won't need a super long duration cookie to maximize your profits.
Given the wonderful commission its nice to see that he tracking cookie is not neglected and it makes this affiliate that much more appealing.
---
What To Expect From Wild Earth
With Wild Earth you can expect to promote one of the more interesting dog food out there right now. They offer a subscription service for you to prmote to your dog loving audience.
The website itself is pretty clean and responsive. The color scheme might b e a bit over the top for some people but overall it shouldn't affect your conversion rate one way or the other.
But it is the affiliate terms that really stand out for this affiliate partner. The commission alone positions itself as one of the best dog food affiliate in the niche.
So you can expect to make a handsome profit if you can manage just a couple affiliate sales a day. Its has the look of a great affiliate partner for your dog or pet niche website.
---
Best Niches For Wild Earth
The niches for Wild Earth are pretty straightforward. They produce high-quality dog food so a pet niche or dog food-specific website or channel is going to be your best bet.
A general niche site built around organic products could work as well. You would need to create some content around dog food and work it into your site but it could be a good option if you are not directly related to the pet niche.
U think this affiliate works best when you compare it to other affiliates in list content or top 10 content.
I think it will shine with its high-quality food and when you factor in the great commissions it is a win-win for you and your audience.
It won't work for all niche sites of course. Your audience will determine the overall success of the affiliate by choosing whether or not to make a purchase through them. But it is absolutely worth a try to get it working for you.
---
Closing Thoughts
Affiliate Commission: Up To $60
Tracking Cookie Duration: 30-days
Auto-Approval?: No
Affiliate Niche: Dog Food
That brings to an end our look at the Wild earth affiliate program. This is a great dog food affiliate program. The potential of the commission is what r4eally sets it apart.
It might be one of the best commissions you are likely to find in the entire pet niche. The real qyestion is how well it resonates with your specific audience.
If your audience like sit then it can be the centerpiece of your entire affiliate niche business. If not you will have to look elsewhere.
But I am confident that you can build the type of content that will promote their dog food products and make everyone involved very happy with the outcome.
Don't go it alone. Get the best learning tools and community to help you build your online dream. Check it out here.
Thanks for visiting and have a wonderful day.