This article may contain *affiliate links. Please see our affiliate disclosure for more details
Hey there everyone and welcome back. Today I am going to be taking a look at one of my favorite tea affiliate programs. Namely the Art Of Tea affiliate program.
Art Of Tea is a premium tea vendor with all types of herbal infusions and teas for you to promote on your tea niche site. They also have regular teas like green and black as well.
It is a one-stop-shop for all your tea-loving visitors. The question is how does it compare to other popular tea affiliates. Can Art Of Tea beat the paltry 1% commission offered by Amazon Associates?
Does this affiliate program offer enough incentive and opportunity to make it your go-to affiliate for any tea niche site or your online tea business in general? Let us find out.
There Is Just Something About Owning Your Own Business. Being Your Own Boss. Building Something From The Ground Up With Your Own Hands. Especially When It Is This Easy To Get Started.
---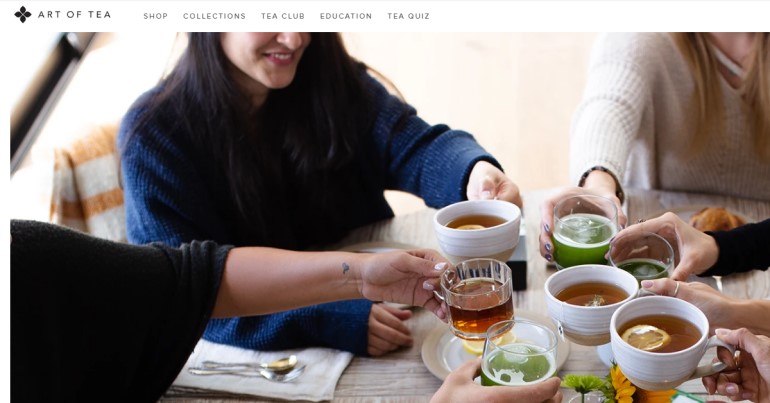 ---
What Is The Art Of Tea Affiliate Program?
The Art Of Tea Affiliate program is a referral program that is designed to allow content creators to monetize their tea-related content by adding affiliate links to that content.
Using affiliate marketing to monetize your tea niche site or tea content is one of the most popular ways to make money online and a great place to get started with your own online business.
Affiliate Commission: 10%
Tracking Cookie Duration: 90-days
Auto-Approval?: No
Affiliate Niche: Tea
---
The 10% Affiliate Commission
Let's start off by taking a look at the commission. This is going to be the most recognizable number in the entire affiliate program. the commission is what most affiliate marketers look to 1st and what they base their decisions on the affiliate program around.
I would caution against using the commission as the sole metric for determining whether or not the affiliate program you something you want to pursue. There needs to be a balance between the commission and the products and how well they resonate with your specific audience.
With all that said the art of tea offers a 10% commission on qualifying sales made through your affiliate links. This is a very solid commission. Anytime you see a double-digit commission for a physical product you can be assured that that is going to be a good commission for your online business.
10% also puts it right in the upper echelons of tea affiliate programs. They tend to run between 5% and 10% with some of them pushing up into the late teens and even a couple of 20% commissions for some tea affiliate programs.
We break it all down what this means is that you were going to have a great partner for making a good amount of money if you can get the conversion rates to a reasonable level. 
The other aspects that you want to look at are the tracking cookie duration and you want to make sure that the products or something that you feel comfortable promoting.
This being tea affiliate the products are going to be pretty good  And not something you really have to worry about too much.
Some of your audience is going to love to tease and if some of them might not enjoy them as much but that's to be expected with something as subjective as the taste of tea.
The Tracking Cookie Duration
The tracking cookie duration for this affiliate is a robust 90-days. A 3-month tracking cookie is going to benefit your overall conversion rate quite well.
Basically, anyone who uses your affiliate link will have 90-days to make a purchase and still give you credit for a commission from that purchase.
You always want as along a tracking cookie as possible and 30-days seems to be the most common duration.
Art Of Tea offering 3 times the standard duration is something that you won't want to overlook when you are evaluating this affiliate partner. This tracking cookie can increase your profits significantly
---
What To Expect From Art Of Tea
the first thing that you can expect from the art of tea affiliate program is one of the largest tea selections that you're going to find online. I don't have an exact count for you on the number of products but it must be well into the hundreds.
They have all types of classic tees as well as some very interesting Blends and herbal teas that you just can't find anywhere else. 
They're called The Art of Tea for a reason because they've taken the art of blending teas to a new level and in turn, they are giving you so much new content and products to promote for your tea niche site.
I think the most important takeaway here is that there's always going to be some type of tea that you can promote that only the Art Of Tea has. This is important because it adds so much value to the affiliate program as a whole.
In some cases, if you have a product that you promote from a manufacturer's website people will simply go to Amazon and purchase it there and you miss out on the commission. 
So it's important to have at least some unique products that you can promote and directly from a website like the Art Of Tea.
One other quick point I want to make is that the website itself is very nice to look at. It is clean and easy to navigate.
This might seem like a trivial thing, but the look of a website that you are sending your audience to is very important these days.
People want very easy to navigate professional looking websites before they're comfortable making a purchase on them.
Everyone's used to Amazon at this point so you want to make sure that the Affiliates you're promoting have a solid website that is going to be functional and not scary for potential customers.
---
Best Niches
I see a lot of marketers combine coffee and tea into their niche site, which is a great idea if you can produce enough content to compete within this type of niche.
Another option is to go smaller with your tea niche site. You could break it down into micro-niches like herbal teas or green tea. If you take it a step farther you can focus on one herbal tea.
A full niche site based on chamomile tea or hibiscus tea could have enough traffic to make it a focused and very viable niche site.
Ultimately you want to pick a niche that you can bring enough content to your audience for whichever tea niche you choose. In all these cases Art Of Tea is a great option to use as an affiliate for your site.
You could use Art Of Tea by itself in most of these niches but it works just as well alongside a couple of other tea affiliate programs.
---
Closing Thoughts
Affiliate Commission: 10%
Tracking Cookie Duration: 90-days
Auto-Approval?: No
Affiliate Niche: Tea
That brings us to the end of our look at the Art Of Tea partner program.  The bottom line here is that this is one of the best tea affiliate programs out there right now. They have a huge array of products with some very interesting tea blends that you just can't find anywhere else.
 On the affiliate side, they offer a great 10% commission that is going to generate a good amount of income with a decent conversion rate.  The cookie is fantastic at 90 days. This is going to give you three months to make sales with those affiliate link clicks.
This is the type of affiliate program that you can build your entire Niche site around. Incorporating all the different types of teas and tea Blends they have is going to generate a great amount of content for you.
This affiliate program lends itself well to YouTube or Instagram or Pinterest or even a traditional blog. There is so much to like about the art of tea that if you are in the tea niche you are doing a disservice if you haven't taken a look at them before.
Finally, the art of tea partner program is hosted on the ShareASale Network so you can be comfortable knowing that the payments will be on time and that you will get credit for all of your affiliate sales.
When you add it all together it's a fantastic affiliate program and one that you should really take a look at it if you can fit it into your food and beverage or tea Niche website.
Don't go it alone. Get the best learning tools and community to help you build your online dream. Check it out here.
Thank you for stopping by and have a wonderful day.