This article may contain *affiliate links. Please see our affiliate disclosure for more details
Hello Everybody and welcome back. Today we are going to be taking a look at 10 of the best hair extension affiliate program currently available.
Hair extensions might seem like a pretty specific sub-niche of the huge hiar and gooming industry. But don't let that fool you. Hair extensions are big business.
People pay hundreds, even thousands to get the perfect hair extension look and you can be in the middle of it with some of these affiliate programs and a lot of solid content on your blog, Youtube, or Instagram, or anywhere else you can publish your hair extension related content.
So without further adieu let's have a look at these affiliate programs and see if one might just be the missing link for your niche site.
There Is Just Something About Owning Your Own Business. Being Your Own Boss. Building Something From The Ground Up With Your Own Hands. Especially When It Is This Easy To Get Started.
---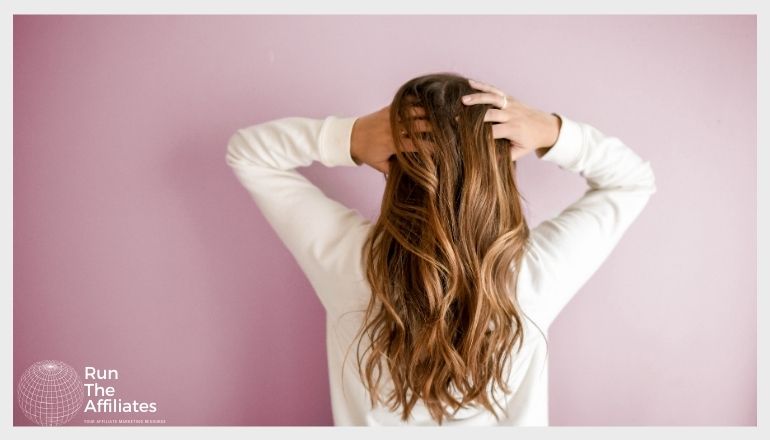 ---
Sitting Pretty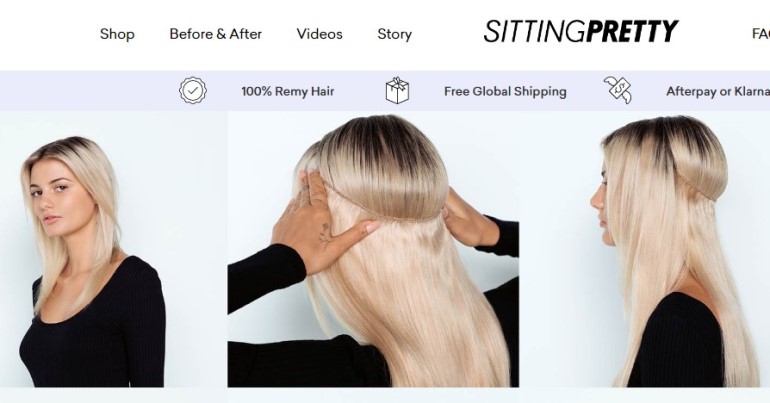 Sitting Pretty is an Australian company that is on a mission to bring you high-quality hair extension solutions at affordable prices. That sounds like a great start to a beautiful affiliate partnership if you ask me.
Sitting Pretty doesn't have the largest selection of hair extensions but they make up for that in quality. You can find high-quality products in a variety of colors that you can promote on your niche site.
The commission for the Sitting Pretty affiliate program is a solid 10%. That should do nicely for anyone in the hair extension niche. The 30-day tracking cookie should be a good boon to your conversions as well.
This is a great looking affiliate partner for anyone in the hair extension niche. The products are somewhat pricey so you will have to be on your "A" game when you promote them. They can run over $400 is some cases, making them a lucrative affiliate marketing option, to say the least
---
LA Wig Company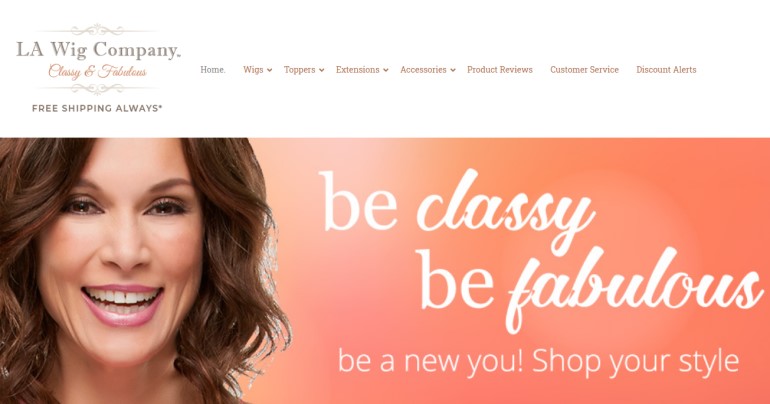 LA Wig Company's stated goal is to "make you Look Classy and Feel Fabulous". And they mean it with their extensive collection of wigs and hair extensions from some of the biggest brands in the industry., not to mention a wide assortment of hair accessories
LA Wig company has a wide variety of hair products, you could easily use it as a wig affiliate program if you so desired.
But for our purposes, it works equally as well as a hair extension partner program. Here are some of the products you can expect to promote from their inventory.
Synthetic
Human Hair
Remy Human Hair
Straight Hair Extensions
Curly Hair Extensions
The affiliate commission offered by the LA Wig Company is a solid 10%. A double-digit commission is great to see and should do nicely for your online business. The tracking cookie is also pretty good at 30-days.
If you are looking for a new affiliate to promote on your hair extension blog give them a look. LA Wig Company is hosted on the ShareASale Affiliate Network.
---
Luxy Hair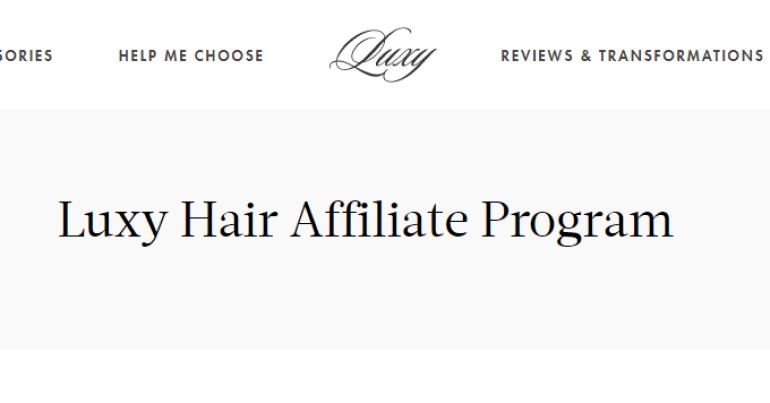 Luxy Hair is a popular and well-known brand in the hair extension niche. Their website touts them as the "#1 rated clip in hair extension brand in the world". That certainly sounds like an ideal partner for your hair extension content.
What really matters from an affiliate standpoint is the products you will be promoting. And do they ever deliver. They have scores of hair products and accessories for you to promote.
And I haven't even mentioned the hair extensions yet. They have dozens of hair extensions for you to promote. Various styles and lengths that you can promote for very specific content if you choose. It all looks great and it is backed up by a pretty good commission, let's have a look at that now.
Luxy Hair offers a flat fee of $10 per full set sold through your affiliate links. It is a solid enough commission. The tracking cookie info wasn't readily available so be sure to ask about it when you sign up.
Luxy Hair has a pretty extenisve set of requirements for thier affiliate program so be sure ot read through it fully to make sure you qualify.
Finally, they seem to focus their affiliate program on social media like Instagram and Facebook as well as Pinterest and Youtube. If you are on these platforms and meet their requirements this is a great opportunity for your hair extension niche content.
---
Bellami Hair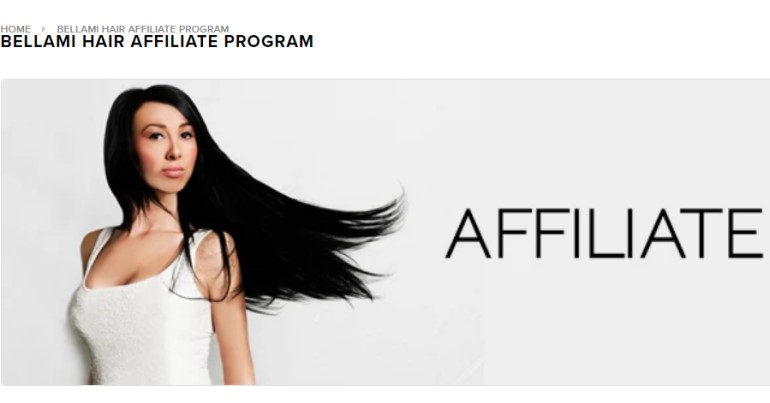 Bellami offers a wide selection of clip in hair extensions as well as some more permanent options like tape-in extensions. They also have a wide range of wigs, hair products, and even lashes if you are in a more general beauty niche.
The tracking cookie and commission rate were not publicly available at the time of publication so be sure to ask about them when you sign up for this affiliate program.
The lack of info about the affiliate terms notwithstanding this does look to be a good option for an affiliate marketer provided the commission is decent. The products look good and the store itself is clean and easy to navigate.
---
Best Hair Buy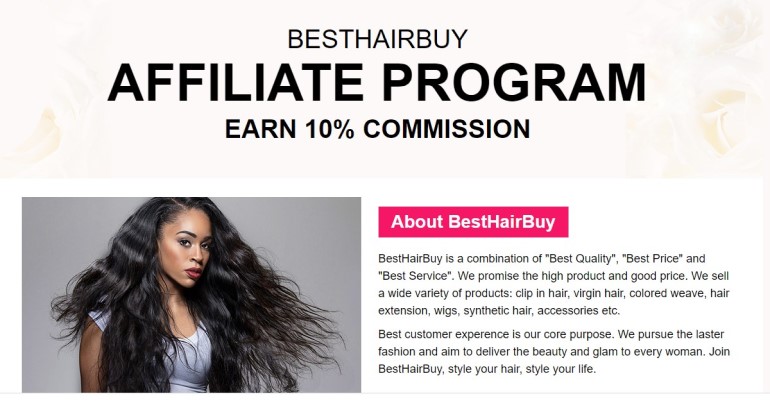 Best Hair Buy is a wholesale hair extension shop that focuses on bringing its customers high-quality products and reasonable prices.
This makes it an ideal candidate for an affiliate program on a hair niche site that caters to a wide range of income levels.
They have a wide variety of wigs, weaves, and other hair accessories in addition to their extensive line-up of hair extensions. Given their wide product variety this affiliate can work for just about any hair product niche out there.
Best Hair Buy Offers their affiliate partners a 30-day tracking cookie duration and a 10% commission on qualifying sales made through your affiliate links. It is a solid set of affiliate terms that can do nicely as a single affiliate or part of a larger affiliate strategy.
---
Curly Heaven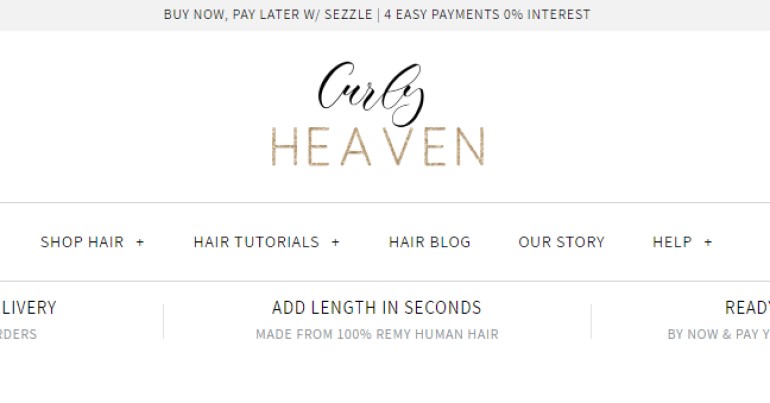 Curly Heaven certainly lives up to its name. Its focus is on high-quality hair extensions for curly hair. Just what the name implies. This affiliate will work well for any hair niche site that deals with curly hair and the unique issues that arise from it.
Curly Heaven has a decent selection of extension collections that you can promote in your hair related content. Here is a look at some of the collections you can expect to promote.
CLASSIC COLLECTION 
SEAMLESS COLLECTION
HIGHLIGHTS COLLECTIO
NOMBRE COLLECTION
PONYTAIL COLLECTION
They offer a $10 flat fee for every full set that you sell through your affiliate links. There was no information on the tracking cookie duration that I could find so be sure to ask about it when you sign up for this affiliate partner.
---
UNIce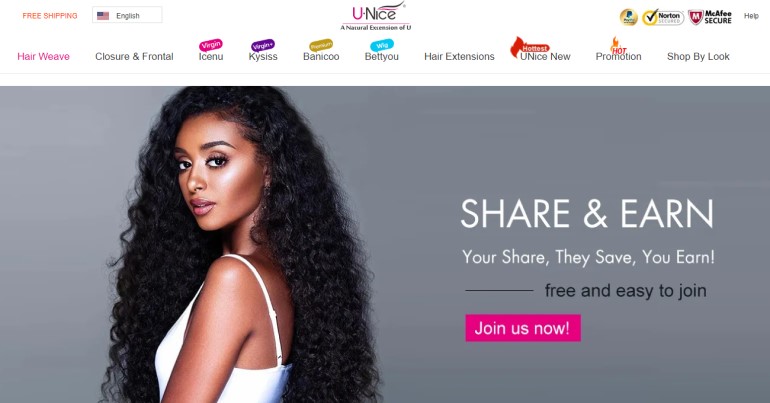 UNIce is a supplier of products made from virgin real human hair. They have had a local retail presence since 2018 and have become one of the leaders in virgin real human hair extensions online since then.
This affiliate has a good selection of hair extensions for you to promote but they offer so much more. This is a hair product affiliate program that can be used on a general hair niche site.
But they do have enough in the way of hair extensions if you are operating an extension-specific niche site, so you can use this affiliate to target audiences looking for extension specifically.
The commission for the UNIce affiliate program is between 5% and 8%. It is not the highest commission, at the low end, we have on our list but it should do just fine for most affiliates if you can get a decent amount of traffic flowing through your site.
The tracking cookie duration is a pretty standard 30-days. It should work well for any affiliate operating in the hair extension niche.
---
Beauty Works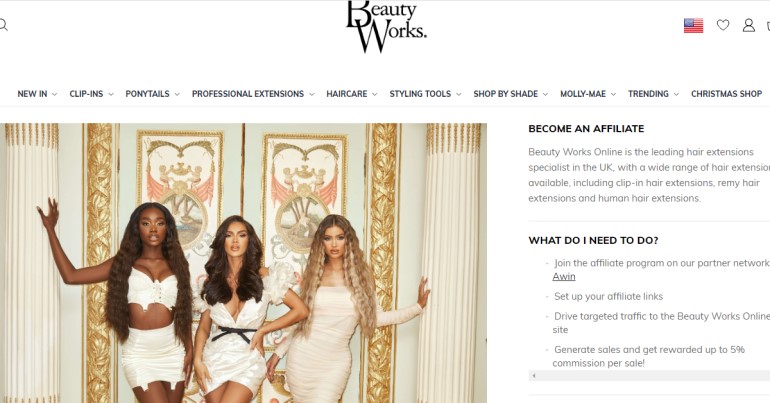 Beauty Works has a huge selection of hair extension for you to prmote. They have a variety of sizes and colors that should satisfy any affiliate marketer looking for a solid lineup to promote.
In addition you'll find a good variety of other haircare realted products that make this a great affiliate for general hair care blogs and niches as well as niche sites specific to hair extensions.
The commission for this affiliate program is 5%. The tracking cookie info was not reasily available, so be sure to ask about it when you join this partner program.
---
Zala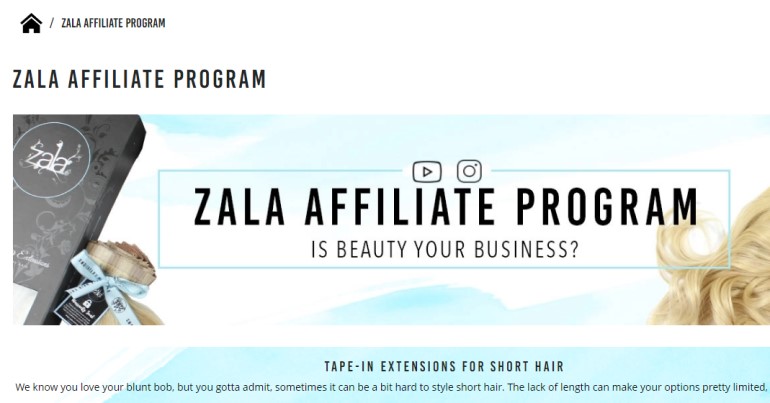 Zala has a huge selection of hair extensions in a variety of lengths and colors. You are bound to find quite a few products that really resonate with your audience with this affiliate. Runt some tests and see how it fairs.
The commission and tracking cookie information were not readily available at the time of publication so be sure to ask about it when you sign up.
Ideally, you would like to see more information about their affiliate terms but this happens from time to time.
---
Glam Seamless Hair Extensions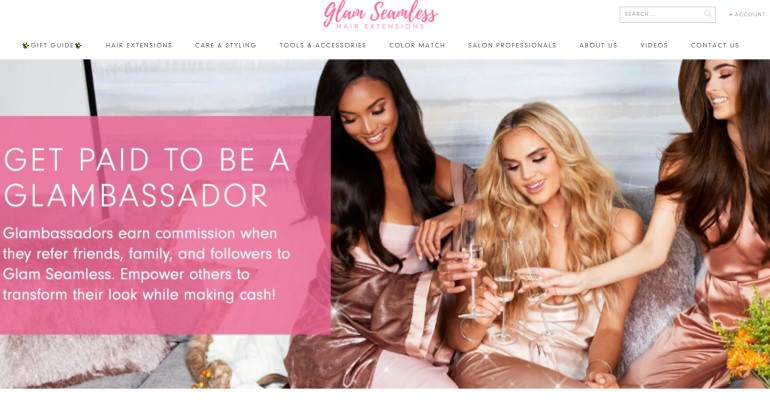 Glam Seamless Hair Extensions has a huge selection of accessories styling and hair care products and of course a wonderful variety of hair extensions for you to promote. This affiliate would work well as a general hair product affiliate.
here is a look at some of the products you can promote when you join their affiliate program.
Remy Tape-Ins
Ultra Seamless Tape-Ins
Invisi Tape-Ins
Beach Wave Tape-Ins
Wavy Tape-Ins
Glam Strands
The base commission of this affiliate program is 3%. For the higher tiers, you have to pay to join. The 3% tier should be just fine but if you are doing well enough upping to the paid service might make sense.
As a rule, I don't tend to pay for any affiliate program but it is up to you whether or not you see the added value in it. If your audience really likes the products then you can do quite well with this affiliate partner.
---
How To Make Money With Hair Extension Affiliate Programs
So you have found a couple of promising affiliate programs and now you are ready to implement them into your content.
Now comes the fun part. In order to maximize the money-making potential of any of these affiliate programs, you're going to need to create the best possible content for each topic that you intend to write about.
The content is really going to drive your overall hair extension niche business. The affiliate programs are really the ending point to earn the money. The content is where that money is going to be generated by getting traffic to your affiliate links.
What I mean is that the content is what is going to draw those readers or viewers in order to eventually make a purchase through your affiliate links.
Where you choose to create this content is another Factor but I think a less important one. You can do great content on YouTube or Instagram or Pinterest and still make a great business for yourself without ever having to build your own website.
That being said I would always advise people to build a niche website even if it's just a hub for your other traffic sources like Instagram or YouTube.
Just having a website is going to give you the opportunity to rank your content on search engines and then you can take that search engine traffic and funnel it into your Instagram or YouTube traffic and vice-versa.
You'll create your own little hair extension ecosystem that is going to be a really great benefit to your online business.
Types Of Content For These Affiliates
I think for this Niche the best types of content are going to be informational posts about various hairstyles and how to get the most out of your hair extensions.
How-To videos and articles might be the ideal type of informational content for the hair extension niche. You get to show yourself using the products and teach people how to use them effectively for a variety of hairstyles.
You're also going to want to include some buyer intent content like the best-of lists or reviews of individual hair extension products.
It's all pretty standard to an affiliate marketing website or YouTube channel or Instagram account. But there are individual little nuances that each Niche has that you're going to need come to grips with if you're going to be successful.
One thing I've noticed about the hair extension it is that you really need to show yourself using the product in order to get the most out of these affiliate programs. That's why I think YouTube and Instagram are probably your Best Bets for these types of affiliate partners.
That doesn't mean a niche website can't work but as I mentioned before it's probably best to use it as a hub to drive traffic to your Instagram and back and forth between all of your various social hubs.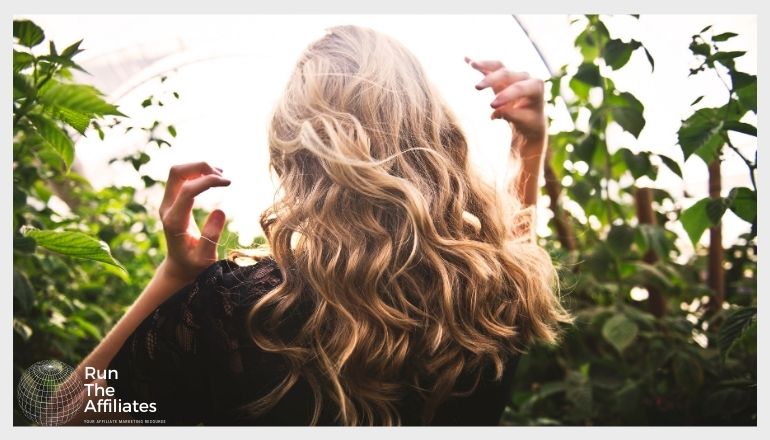 The Wrap Up
That brings us to the end of our look at 10 top hair extension affiliate programs. You can use these partners in a variety of ways, whether you are focusing strictly on the hair extension niche or whether you have broader hair and beauty niche in mind.
These affiliates can do wonders to help diversify your affiliate portfolio so you aren't relying on a single source of income for your affiliate business.
Ultimately you are going to have to narrow your affiliate list down to just a handful. You don't want 20 differet affiliate partners in all your content. It will come down to how each one resonates with your specific audience.
Find the ones that your audience loves and not necessarily the ones that have the biggest commissions. You'll figure it out with a little testing and be on your way to success with your affiliate marketing business.
Don't go it alone. Get the best learning tools and community to help you build your online dream. Check it out here.