This article may contain *affiliate links. Please see our affiliate disclosure for more details
Green tea. Healthy. Delicious. And incredibly profitable in the right hands. Any blog in the tea niche could add these great matcha tea programs to add a little diversity to their content.
A dedicated green tea affiliate program will give your blog a new bit of content to focus on while complimenting your existing content based on other teas and affiliate programs.
One thing that is often overlooked when picking up new affiliate programs is how much content can their products generate.
Everyone looks at the cookie and commission but the content is what really sells the products.
So, if you have a tea blog and you decide to add Green Tea Matcha articles to it you add a whole new area of potential content and with these few affiliate programs a targeted marketing strategy for that new content.
For more tea affiliate programs check out my article here. It includes partners for all types of teas and tea accessories.
There Is Just Something About Owning Your Own Business. Being Your Own Boss. Building Something From The Ground Up With Your Own Hands. Especially When It Is This Easy To Get Started.
---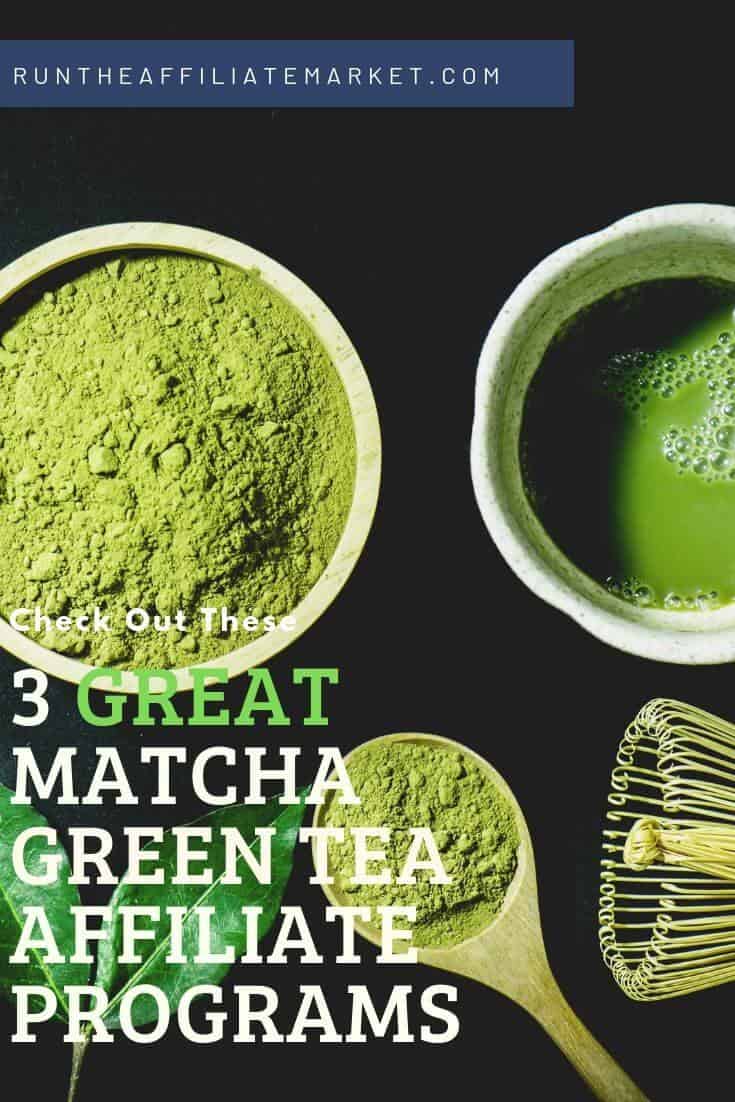 Check Out These Green Tea Affiliates
---
Matcha Source
Affiliate Commission: 9%
Tracking Cookie: 30-days
Matcha Source specializes in a variety of matcha based products. The have matcha for tea, matcha for blending into smoothies and drinks. They also have a wide variety of matcha accessories like whisks and bowls. In addition to gift sets and matcha bundles.
Another interesting aspect of Matcha Source is a section of the store dedicated to business to business transactions.
Matcha Source will help business owners with ideas and tricks to get the most out of adding matcha to your business. They also offer bulk and wholesale matcha to businesses as well.
The B2B aspect is a very interesting one and something you don't see often.  It might be worth looking into for your tea blog, depending on your audience's needs.
What's the Percentage?
Matcha Source offers a 9% commission for its affiliate partners. This is a bit lower than is ideal for such a small sub-niche of the tea niche.
But it's still a bit better than Amazon for example. The addition of bulk and wholesale matcha will help offset the lower commission.
Tracking Cookie?
The tracking cookie for Matcha Source affiliate partners is 30-days. The old standard. Definitely not the gold standard. It just makes it tougher to maximize commissions with such a low tracking cookie duration. Best to just accept it and move on.
The Wrap-Up
Another decent affiliate partner to add to your tea blog. The B2B aspect is interesting, the commission is decent and the cookie is average.
It might be worth promoting this affiliate product a few times to see how well it converts but spending a great deal of time with it is probably not advisable.
---
My Matcha Life
Affiliate Commission: 10%
Tracking Cookie: 90-days
My Matcha Life is an online store dealing exclusively in various matcha powders.  They have a few varieties of green tea matcha powder as well as some matcha preparation equipment like a bamboo whisk and a matcha bowl. There is not a ton of products here but you could get some decent content for your tea blog.
The Commission
My Matcha Life offers a 10% commission to its affiliate partners.  A good, solid commission percentage.  But not a great one. Ideally, you would like to see something closer to 15% for a smaller affiliate program like this one.  But 10% is still not a bad deal.
The Cookie
The tracking cookie offered up by My Matcha Life is a very generous 90-day cookie. The average these days is 30-days so anything above that is good. A 90-day cookie is great. It means more conversions and more commission over the long haul.
The Wrap-Up
Overall a decent affiliate program. The commission is average but the cookie length is very good. The product diversity and number of overall products are pretty decent as well.
Overall a slightly above average affiliate partner that will help generate some content for a tea blog. Not an affiliate to base a blog around, however. There is just not enough products available from them.
However, for a general tea blog or even a green tea or matcha tea blog, this affiliate program might slot in nicely next to some of the larger programs.
---
---
Material Matcha Uji
Affiliate Commission: 20%
Tracking Cookie: 30-days
Material Matcha Uji is a green team matcha producer located in Japan. They take great pride in their products and only use the highest quality materials to make their matcha tea.
They insist on covering their tea leaves with a straw-thatched roof about 2 weeks before the harvest in order to grow the finest leaves available.
All of their uniqueness and peculiarities in growing and producing their matcha tea works very well for an affiliate marketer.
Any of their quirkiness and their commitment to quality can easily be turned into compelling content for a tea blog without resorting to the health benefits of green tea article that everyone seems to have written 3 or 4 times per blog at this point.
What is the Commission?
A 20% commission is what's on the cards from Material Matcha Uji. This is a very nice commission and one of the better ones you will see from an affiliate program that deals n physical products.
The great commission really gives this affiliate partner a claim to be the focus of a lot of promotion through regular content or a full-on promotional campaign within a tea blog.
The rest of their numbers look pretty solid as well.
They have a $39.35 Average Sale.
An Average Commission of $7.87.
And an Earnings Per Click or EPC of $7.92
Tracking Cookie?
Material Matcha Uji offers a 30-day cookie for its affiliate partners. The old stand-by. #0-days basically the standard average tracking cookie for a retail affiliate program these days.
It doesn't do any good to complain about it anymore. It is what it is, unfortunately.
The Wrap-Up
A very nice affiliate program to add to an existing tea blog. I don't think there is enough product to make this a focal point of a tea blog.
But it will generate enough content around their products and company history to make a very nice compliment to any tea focused blog.
Additionally, the commission is great and the affiliate program numbers look solid.  The cookie is average but that is to be expected.  Overall a nice addition to an affiliate marketers' overall strategy.
---
The Big Finish
There you have it 3 interesting matcha green tea affiliate programs. These are by no means meant to be the focus of a tea blog.
But if you need more content and decide to start writing articles about green tea matcha, they may be of great help to your business. These are very micro-niche affiliate partners.
Overall, these 3 pretty great, and hopefully they have given you some ideas to expand your tea blog and potentially bring in new customers and with its new commissions.
Don't go it alone. Get the best learning tools and community to help you build your online dream. Check it out here.