This article may contain *affiliate links. Please see our affiliate disclosure for more details
What is the best affiliate marketing training program? There are hundreds of these types of courses floating around the internet. And some of them are literally floaters.
The 4 we have here, however, are all contenders that can offer you quite a bit of value for your dollar.
Are these the only good ones out there? Of course not but they each are well put together and informative in their own ways.
This is by no means the end all be all of the training programs.
As I try new marketing programs I will be writing new reviews and updated these lists to make sure you have the best and most current information available to you.
But for now lets get into the article.
Have a look at the Quick Look Table and see which program tickles your fancy.
Quick Look
---
Wealthy Affiliate
Wealthy Affiliate is a very good option for learning affiliate marketing. This is especially true for beginners. You can read my full in-depth review of Wealthy Affiliate right here.
Wealthy Affiliate does a good job of walking newcomers through the process of starting an affiliate marketing blog. The training is pretty decent but is starting to get outdated compared to some of the other options
While Wealthy Affiliate is overall a good package with a good value proposition, there are some very big issues with it. Including some outdated training modules and a wierd community vibe at times.
There are plenty of added value items included with the Premium Wealthy Affiliate training program. These include web hosting and weekly webinars.
Pros
Decent Training
Web Hosting Included
Live Chat
24/7 Support
Free Starter Membership
Cons
Some Training Outdated
Pricey Monthly Fee
---
What Is Wealthy Affiliate
Wealthy Affiliate is an online training program for affiliate marketing. It is one of the most well-known affiliate training courses around. It does tend to split opinions in the larger affiliate marketing community.
Wealthy Affiliate has been around for a long time. It was started in 2005 and has been one of the top affiliate training programs for many years.
It has hundreds of hours of training videos available for its members. There is also a free starter membership for anyone to try out and get a feel for what they have to offer.
I wrote an entire article detailing the benefits of the Wealthy Affiliate free membership.
Who Is Wealthy Affiliate Designed For?
Wealthy Affiliate is technically designed for affiliate marketers of all levels. However, a newcomer to the affiliate marketing industry is going to get the most out of the training offered at Wealthy Affiliate.
While experienced marketers will get some value out of the training, a lot of it is redundant and some of it is pretty outdated.
They would benefit from the outstanding affiliate program offered by Wealthy Affiliate. If you can get it to convert it can be a real income machine. It is a big if, however, as the conversions are lower than what I would consider normal.
How Much Does Wealthy Affiliate Cost?
Wealthy Affiliate is free to join for starters. The starter membership is pretty limited, however. It is a good place to get your feet wet.
There is some value in simply joining and spending some time with the community even if you don't upgrade to premium.
The premium membership is $49 dollars a month for a base price. There are quite a few discounts that you can take advantage of. You can read about all those discounts in an article I wrote about them.
You do get a lot for that monthly fee. You get decent web hosting. It is a tier or 2 below something like Blue Host or Site Ground. 2 Alternatives for your web hosting needs.
But it does the job until you need something faster once you get a good amount of traffic. But it should work for the first couple of years with no problem.
3 Key Features For Wealthy Affiliate
Web Hosting Included: Wealthy Affiliate sets itself apart from many other training programs with their managed hosting solution, SiteRubix. It is a decent solution and one that will take a while for you to outgrow. It is included in the price which adds a ton of value to your monthly fee.
Weekly Webinars: Another value-added feature that Wealthy Affiliate has over many of its competitors is its weekly webinars. These are very good at exploring new strategies and training methods for affiliate marketing as well as introducing training into emerging sectors like Shopify or dropshipping.
24/7 Support: The 24/7 support offered by the web hosting team at Wealthy Affiliate is invaluable. They are typically quick to get your issues dealt with as soon as possible. The 24/7 chat feature ensures that there is always someone around to answer your queries that are not related to website support.
3 Key Issues With Wealthy Affiliate
Some Outdated training: Some of the training modules have not been updated in a couple of years and feel a bit outdated. There are new training modules added through webinars and the community all the time but some of the basic training feels a little archaic.
Community Can Be Overprotective: This is a weird one. The community at Wealthy Affiliate is great for the most part. Most people are very pleasant and nice. And that is part of the problem. They tend not to be too critical of Wealthy Affiliate. Even when it is warranted. Criticizing Wealthy Affiliate, even constructively, is usually met with some hostility and backlash, and often times the most fervent supporters have done the least in terms of making money at Wealthy Affiliate. It is a strange situation at times.
The Downside of Web Hosting: Their web hosting is both a blessing and a curse. Their web hosting really ties you down to Wealthy Affiliate. That and buying your domain through them can really be a struggle to get it untethered from their service. It might be a bit of a brilliant business strategy actually. Make it difficult to move your domain so you have to stay there longer than you might have wanted.
Closing Arguments For Wealthy Affiliate
It might be controversial to say, but I quite like Wealthy Affiliate. Is it perfect like most reviews would have you believe? Of course not. It has some serious flaws.
And if the training is not updated very soon it runs the risk of being completely irrelevant in the next couple of years.
Especially with great programs like the others on this list and still others like Project 24 that are on the up.
But it is also not the terrible scam ridden piece of crap that a lot of people would have you believe if you happen by it on Reddit or Quora.
People have their agendas and when you are the biggest and most popular at anything people will take their shots at you.
The best thing you can do is get a free starter membership and make up your own mind as to whether it is something for you or not.
---

Super Affiliate System
John Crestani's Super Affiliate System is an excellent, but advanced training suite. It focuses on maximizing your PPC ad campaigns across a variety of media. Facebook to Google To Youtube. This system really focuses on making the most out of these paid ads.
Pros
Great PPC Ad Training
Good Testimonials
Refund Policy
Cons
Focused On PPC Training
Expensive
---
What Is The Super Affiliate System
The Super Affiliate System is an affiliate marketing training program that focuses on paid advertising as its main traffic source.
They do touch on free traffic but the training is less focus that the extensive training you get for PPC ad campaigns.
Other modules include courses on setting up a website, some free traffic models, and an invaluable course on copywriting.
This is one thing that most courses come up short on. Copywriting can be the difference between failure and success.
Just the words you use and how you phrase things can make a huge difference in the success rate of any campaign.
Who Is It For?
The Super Affiliate System is advanced stuff. I would not recommend this program to beginners.
You need to have a working knowledge of various ad types. Facebook ads work differently than google ads etc.
You really need to know a little bit about all of them because this program focuses on these paid traffic methods.
If you don't know what you are doing you can lose a lot of money trying to get your PPC ad campaigns producing a good income.
The Price
One of the biggest drawbacks to John Crestani's Super Affiliate System is the Price. It costs a whopping $997 dollars for the entire package. Price is one though, however. The really important question is.
How much value do you get for that price? Something that costs 10 bucks can be worthless and something that costs 1000's can be well worth the price. So where does The Super Affiliate System fall?
Somewhere in the middle. There is a lot of value in this product but it is still a bit overpriced. Especially given some of the other programs on this list, the price sticks out like a sore thumb.
The Big Finish
I think this program is a little pricey but there are plenty of people that swear by it. You can find quite a few testimonials for The Super Affiliate System.
They are not your run of the mill 30-second type either. These are legitimate testimonials, as far as I can tell. I'll leave one below.
The bottom line is that price is not a determining factor for everyone. If someone drops near a grand on this product and it works for them and they can afford to do it then it is a great investment.
I would not pay the last 1000 dollars to my name for this system, or any system to be honest. Here is a little affiliate marketing secret.
Do Not do it out of desperation. There are easier ways to make money to get by. Once you are getting by, then jump into affiliate marketing.
Anyway here is that testimonial for The Super Affiliate System I promised.
---
Savage Affiliates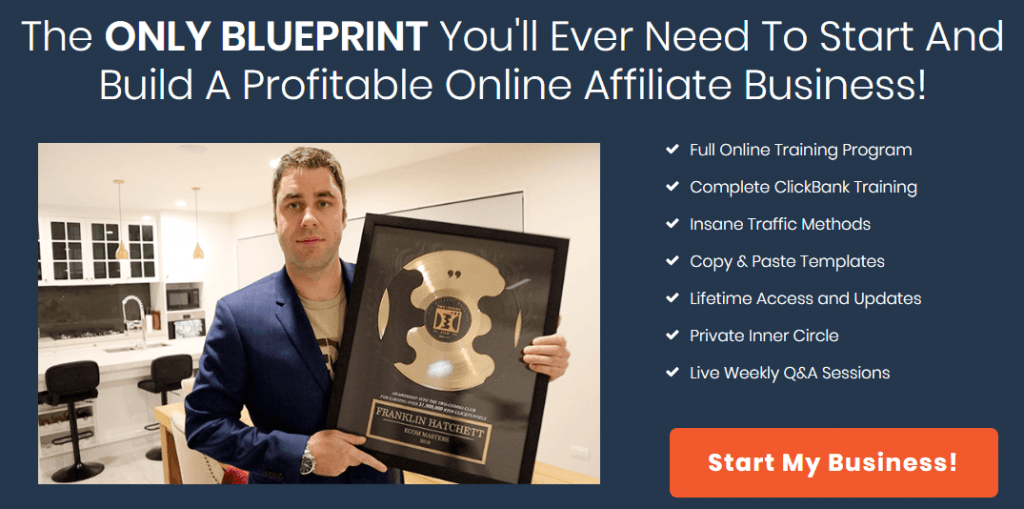 Savage Affiliates is, simply put, one of the best affiliate marketing training course currently available. It is a thorough, well-rounded and complete training suite without any frills or hype.
You know what you are going to get with these training videos and there is nothing extraneous about them. They are to the point and get you the information you need in the most efficient way possible.
Pros
Great Training
Tons Of Training
Well-Made Videos
30-day Money Back Guarantee
Great Price Point
What Is Savage Affiliates?
Savage Affiliates is an affiliate marketing training suite with over a hundred well-produced training videos that cover every aspect of affiliate marketing.
From starting a website to finding a niche or product all the way to advanced traffic techniques.
This product really delivers with its information and it's creator, Franklin Hatchett, put his methods and strategies forward with a great deal of confidence.
He knows his method works and he is going to show you exactly how to do it.
Who Is Savage Affiliates For?
This training is great for anyone, really. An advanced user can probably skip some of the early tutorials. But there is training and strategies that any level of affiliate marketing could learn from. It has a lot of something for everyone.
Beginners will probably benefit the most from this training. although it can get overwhelming if you try and cram too much in all at once.
But taken at a reasonable pace you are unlikely to find better, more relevant, and more up to date training that what Savage Affiliates has to offer here.
How Much Does It Cost?
This is one of Savage Affiliates' biggest selling points. It costs $197 dollars. It is still an investment but that is it.
A one-time payment. No upsells that I could find. Just pay your money and you get lifetime access to tons of great training videos.
And once you see what you get for that 197 bucks it becomes clear what a great value proposition Savage Affiliates is.
Franklin Hatchett really put together a fantastic training masterclass with this one.
3 Great Savage Affiliates Features
The sheer number of training videos is the best feature of this entire training program. There are so many that it takes weeks to get through them all. And you will almost certainly have to go back to some of the training a few times to let it all sink it.
The breadth of the training is as impressive and the number of training videos. The training touches on everything from setting up your website to filling out tax forms for your affiliate partners. He thought of everything.
Access to Franklin's Private Facebook Mastermind Group is the last feature I am going to touch on here. This community is filled with other like-minded individuals that trade strategies and ideas about how best to approach affiliate marketing. It adds a lot of value to the entire package.
Issue With Savage Affiliates
The only thing that I might gripe about is that there are really no frills with this training program.
You get great training and it is all well made but these aren't highly produced 5 take videos. It's Franklin Hatchett teaching you his methods.
I love it. But some of you might find him abrasive at times. And if that is the case the training could get tedious for you.
Final Thoughts On Savage Affiliates
I think Savage Affiliates is a fantastic training product for anyone even remotely interested in affiliate marketing.
It is a thorough training product that has just about everything covered in one form or another.
Franklin Hatchett has put together a definitive course on affiliate marketing and done so with no hype of extraneous frill that sometimes pops up in other courses. It is quite an achievement.
There are a few faults. Nothing is perfect after all. But the good far, far outweigh the bad for this training program. The reasonable one-time price really sets it apart from everything else on the market.
It is the cheapest product on this list and still has as much if not more content than anything else here.
---
Fizzle.co

Fizzle.co is a good, well-rounded entry into the affiliate marketing training business. They have a very good and knowledgeable community that can help you on the way.
The program is somewhat smaller than some of the others on this list.
It most closely resembles Wealthy affiliate in terms of features and overall feel. But it has a more modern and professional feel to it that Wealthy Affiliate.
The training is the highest quality and is useful to just about any level of an affiliate marketer. I wrote a full review of fizzle.co, you can take a better look at some of the perks and issues for this program.
[rwp_box_recap id="3″]
Pros
Good Training
Good Support
Great Training Videos
14 day Free Trial
Cons
Pricey Monthly Fee
Not as much content as some other options
What is Fizzle.co?
Fizzle.co is an online marketing and blogging training suite. The service is based on a monthly fee. As a member, you get access to a huge number of great training videos.
The training is similar to much of the other stuff on the web but they set themselves apart with the quality and production of their training videos.
You also get access to a great community to help you along the way in your quest to build a successful online marketing business.
Fizzle.co Price
The price for the Fizzle.co service is $39 dollars a month. It is on par with Wealthy Affiliate in this regard. Slightly cheaper actually.
It is not a bad price at all but there is a little bit less value than Wealthy Affiliate or some of the other training programs.
There is also an option to purchase the program for $349 for a full year. This is a pretty sizable discount if you can afford the yearly price tag.
3 Key Fizzle.co Features
Great Community: The community is very good at Fizzle.co. They seem to be quite knowledgeable.
Great Training videos: The training videos are outstanding and really the highlight of the product. They are continuously adding more and more relevant training videos.
Well thought out 9 step program: The program itself is well put together and very easy to follow. A good choice for beginners and experienced marketers alike.
Issues With Fizzle.co
Monthly Fee: The monthly fee is a little pricey. You get a ton of value but it is quite expensive. The issue with these month to month programs is that you are not going to make any money if your first 6 months. For most people anyway. Therefore most people never get past the first couple of months before they stop.
The Wrap-Up
Fizzle.co is a very good program. I always think I am less than enthusiastic about this product when I go back and reread or edit my articles about it.
But the truth is. Fizzle.co is very good.
It just does not have the longevity of a Wealthy Affiliate. Or the matter of fact training style of Savage Affiliates. But don't let that dissuade you.
Give the free trial a look and decide after you have tried it.
---
Final Thoughts On These Programs
Which of these programs is right for you? That is something that only you can answer. The good news is that all of these programs have some way to test them out before you commit to them.
---
[rwp_comparison_table id="0″]
The point here is that you can try them and see which one is right for you. I put my ratings on these four programs but ultimately it is up to you to decide how you want to build your future.
Find one that suits your needs, whether it is on this list or not. Then pour all the hard work, blood, sweat, and tears into making that program work for you.
And build a passive income machine that will take care of you for years and decades to come.
---
Thanks for stopping by and have a wonderful day.