This article may contain *affiliate links. Please see our affiliate disclosure for more details
Fizzle.co Review
Product Name: Fizzle
Price: 14-day Free Trial — $39 per month after
Owners: Corbett Barr — CEO and Cofounder
---
Trying to earn a real living online is the dream of many hard-working people around the world. The first problem that most of the potential new entrepreneurs run into is where to start.
Simply where to start.
You have to find some sort of training to even have a chance of being successful. You can certainly pick up bits and pieces of training for free all over the web.
Youtube has thousands of videos that try to teach you how to do one aspect of online business or the other.
The issue here is that it is all piecemeal. You might find one out of ten articles or videos that actually help and much of the information is redundant and a lot of it is just plain wrong and completely unhelpful.
So the next step is to find someone that has a great training method, is well organized and doesn't cost an arm and a leg.
Because let's be honest here. If people are giving the information away for free then it's not all that valuable, to begin with.
There are of course exceptions to that rule, some people genuinely want to help others succeed, but for the most part, you will need to find a decent training program that can teach you the ropes of starting a new online business, whether is affiliate marketing, drop shipping or opening your own Shopify storefront.
You are going to need at least some help and guidance.
That is where Fizzle.co comes in.

No Fizzle is not some new extreme soft drink with too much caffeine and a coma-inducing amount of sugar.
It is a training program for people who want to start an online business.
So What is Fizzle about? That is the question we will explore and hopefully answer in this review.
Looking for an alternative to Fizzle? Check out my top recommended resource for building a successful online business.
What is Fizzle.co?
Fizzle.co is an online training service and community dedicated to helping new entrepreneurs achieve their online business goals through high-quality video training and a cohesive and supportive community.
These types of programs are not new, but most are simply not very good. They tend to have a lot of redundant and readily available information that they then charge for.
They tend to have quite a few upsells for their programs. Upsells are basically high-priced add-ons that are almost never worth it.
Fizzle.co, however, bucks these trends. There are no upsells as far as I can tell.
The payment plan is straightforward and the information provided is excellent and very useful. A quality online program that actually does what they advertise? That is indeed a rare sight.
Fizzle.co was founded by two online business veterans, Corbett Barr and Chase Reeves. Between them, they have decades of experience with what makes an online business successful and have poured that knowledge into Fizzle.co.
But that is what Fizzle.co is a very honest, very good online training program for starting an online business. The question about Fizzle now becomes.
How does it work?
Is it better than the alternatives in the online marketing training space?
How Does the Fizzle Training Program Work?
Fizzle.co is a monthly subscription program that gives you access to dozens of online training videos, weekly coaching sessions, and access to one of the most supportive and friendly communities in the online business training sector.
Even better is that your first 14-days are free. You get access to everything for a full 2 weeks before you have to pay a dime. it is always nice to see these types of free trials. It lets the consumer know that the company has faith in its products.
Enough belief in their product to let people see the entire thing and make an informed decision on whether or not they want to purchase it. It is the way it should be with these types of things. You see it more and more with many online-based products and it is a welcome change.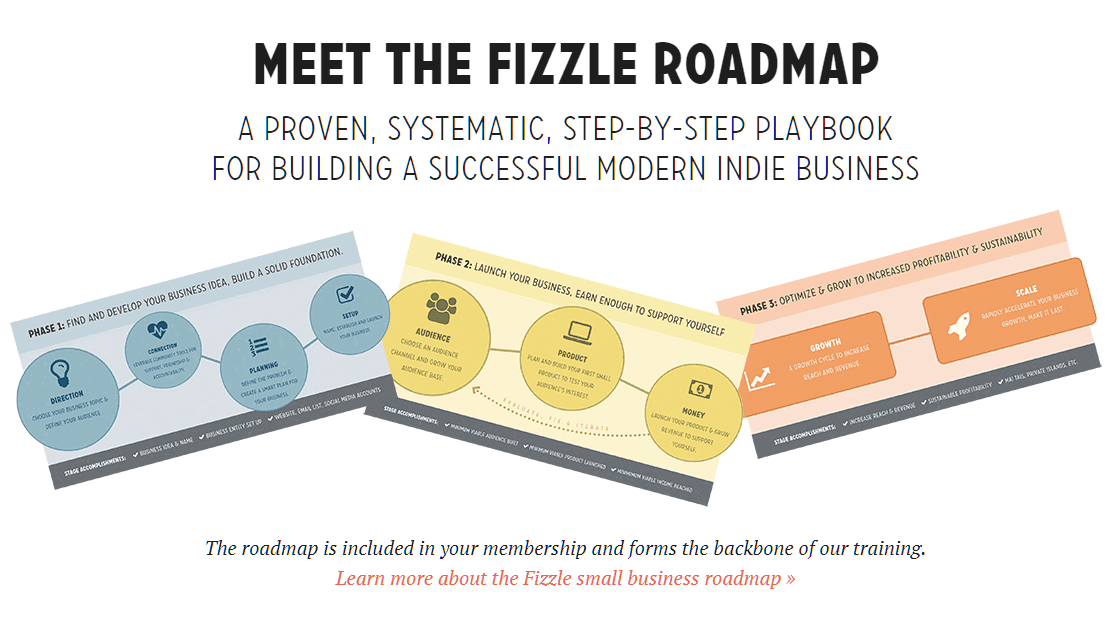 The price for the entire Fizzle.co package starts at $39 dollars a month. That includes everything, there are few hidden fees or secret information that costs a ton of extra money to unlock. It is straightforward and honest pricing for the base package.
However, there are small fees associated with what they call a peer mastermind group. Which is essentially a small group type of training that you can choose to participate in.
Does it add value? Yes.
But added fees is always a big red flag with these types of programs. Why isn't this included in the base package?
But in addition to the training videos and the community and weekly coaching sessions, Fizzle.co now offers web hosting for their customers. Their web hosting is backed by Flywheel Web Hosting Services.
Fizzle.co prides itself on its helpful and supportive community.

Anyone who has ever tried to build something online knows exactly how invaluable this type of support can be. Your family and friends can be supportive but only people who are working towards the same goals as you can really understand the hard work you put in every single day.
The included web hosting is a great addition to this program as it puts everything you need to get started right in one place for one monthly fee. It really tops off the whole package quite nicely and makes the service that much more tempting to buy.
The personalities in the training videos are likable and knowledgeable about their specific area of expertise. And you never get the feeling that they are talking down to you or just going through the motions, they seem genuinely interested in helping you.
Sounds Great, But?
It is not all sunshine and roses with Fizzle.co, however. The product is very good, no question about it. The issue is with the content itself. They have 30+ training videos and while they are well made, they use a lot of the general information that can be found freely elsewhere on the web.
Do you want to pay a monthly fee for that?
Depends on how good the information is and what sets it apart from the other sources. Fizzle.co information is decent but I am not sure it is worth $39 a month. However, when added to the web hosting part of the subscription the price begins to make a lot more sense.
Another issue is with their 9 stage business plan. It looks great and makes a lot of sense but it is just a variation on the basic affiliate marketing business plan.
Find a niche
Build a website
Attract Traffic
Earn Profits
Fizzle breaks it down even further but this is essentially what their 9 step program is. That doesn't mean it is bad, however. Quite the opposite, their program goes into depth on how to achieve each goal and does a very nice job of explaining everything. It is just not breaking any new ground.
One last thing to keep in mind is that none of this is fast or easy, regardless of the training program you choose. Any time you want to build an online business, whether its a Shopify store or affiliate marketing it is going to take a lot of time. 3-6 Months before you even start seeing any organic traffic for most brand new sites.
Not Quite the Best. Yet.
There are quite a few online training programs that will teach you similar strategies to Fizzle. And as good as Fizzle is it falls behind some of them, mainly due to the amount of content the more established training programs have.
That is the real rub. Competing programs, like Wealthy Affiliate(Read our Review) and Clickbank University(Review Coming Soon) are simply better programs than Fizzle.co right at this minute. That makes it very difficult to recommend this training program over its competitors.
Fizzle still has the feeling of a blog-turned training program. It doesn't feel established. It is all very shiny and well-produced but it doesn't feel like it has enough weight behind it. It is a problem when they are asking for $39 dollars a month.
In 3 or 4 years' time that may be a different story but for now, we like Fizzle.co and you should definitely give it a look for the free trial at least.
The Big Finish
Hopefully, this review hasn't come across as too negative. This really is a very good program to start building your online business with. It is just that there are better more developed alternatives at around the same price range.
There is nothing really wrong with Fizzle.co but there is nothing extraordinary about it either. Its main competition, Wealthy Affiliate has been around for over a decade and has the content that you would expect from such a long-lived program and is free to join the base package.
Clickbank University has the name recognition and the backing of that huge affiliate network, making it a viable albeit more expensive choice for a new online business. The best advice I can give is to use the 14-day trial and see if it fits your vision for your online business.
Fizzle.co is a well-made useful online training program that could use some time to grow before it really becomes worth the money you pay for it.
The web hosting is a good start in that direction but the content needs to build up a bit before it really becomes the great program it is destined to be.
Fizzle.co is a great program for beginners and advanced marketers alike.
---