This article may contain *affiliate links. Please see our affiliate disclosure for more details
Hello Everybody, Michael here and today I am bringing you our look at some great wig affiliate programs for your passive income blog.
Yes, you read that right. Wig affiliate programs. It is actually a pretty impressive niche, both lucrative and competitive. It falls into the incredibly diverse and popular beauty niche.
But enough talk, let's check out these affiliates and see if one is right for your beauty niche blog or website.
There Is Just Something About Owning Your Own Business. Being Your Own Boss. Building Something From The Ground Up With Your Own Hands. Especially When It Is This Easy To Get Started.
---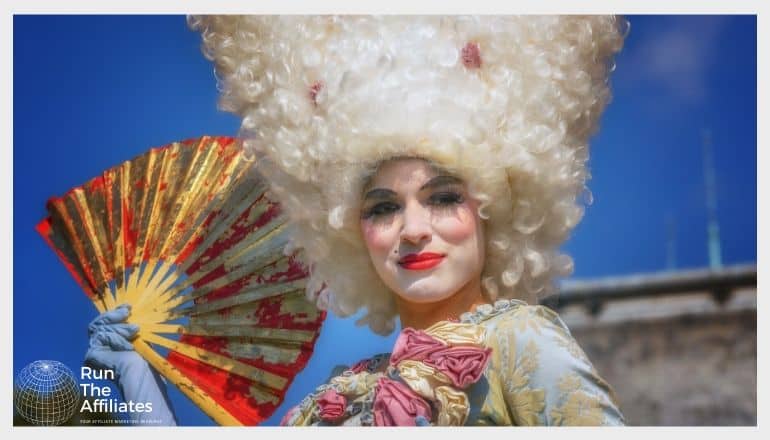 Introducing Some Great Wig Affiliate Programs
These affiliates could be used for a variety of niches. Hair product niches would be a great place to start but really any general beauty blog could have a section dedicated to wigs. These affiliates also work well for cosplay and live-action roleplay websites and blogs.
Now that you have some great wig affiliate programs you just need to create the content and drive traffic to your affiliate links. With a little affiliate marketing training, you can get started on that today.
---
RockStar Wigs Affiliate Program
Commission: 15%
Tracking Cookie: 60-days
Auto-Approval: No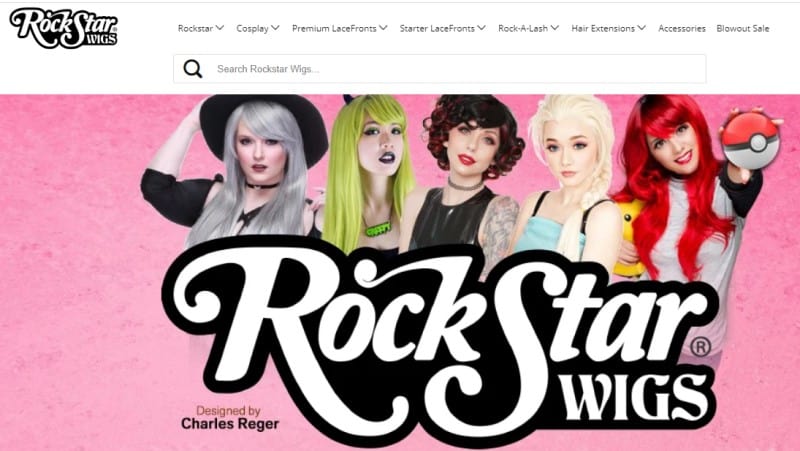 Rockstar Wigs specializes in fun cosplay and costume wigs for all occasions and in a huge variety of colors. They have long hair wigs and short hair wigs and everything in between and will make a great addition to any cosplay, costume or roleplay niche website.
I think you will find this to be one of the most appealing wig affiliates around. Their products look great, which is good for your audience and they have some superb affiliate terms, which is great for your affiliate marketing business.
Let's have a look at the commission and the cookie that make up this excellent affiliate program.
The tracking cookie duration weighs in at a very nice 60-days. This duration is ideal for this niche and should work very well to improve your conversion rate.
The commission is among the best in the wig niche. They offer a 15% commission sales through your affiliate links. Any commission this high is one that you have to really consider.
Conversion rates are still the most important thing but having a great commission like this is extra motivation to get those clicks and sales.
---
L-Email Wig Affiliate Program
Commission: 10%
Tracking Cookie: 60-days
Auto-Approval: Yes

L-Email Wig is focused on wigs designed for cosplay and live-action roleplay. And do they deliver? They have a huge assortment of cosplay wigs for you to promote on your cosplay website, roleplaying blog or even a Halloween or holiday blog where costumes are a big hit.
The affiliate terms are pretty good for L-Email Wig. They have a tracking cookie with a 60-day duration, giving you plenty of time to make a sale and get a commission.
The commission itself is rock-solid at 10%. You really cannot argue with a double-digit affiliate commission these days.
Finally, they have an auto-approval option through their ShaeASale profile. This means that even new websites can get in on the cosplay wig action with this affiliate partner.
---
OMGQueen Affiliate Program
Commission: 4%
Tracking Cookie: Not Listed
Auto-Approval: No

OMGQueen offers lace wigs, hair weaves, straight and wavy wigs for you to promote on your beauty niche website. You can easily pair this affiliate up with a more general hair product affiliate program to complement each other.
This affiliate would also fit right into a general beauty blog if you choose to build a section of your website around wigs and hair weave products.
The tracking cookie information was missing from their affiliate page. Ask about it when you sign up to make sure it will be a decent duration. It should not be a problem, however.
The commission is a pretty standard 4%. Obviously you want to see a commission a little higher than that but it should work out alright if you can get the level of conversions up to a decent rate.
---
RPG Show Affiliate Program
Commission: 5-10%
Tracking Cookie: Not Listed
Auto-Approval: No

This partner has a good-sized selection of wigs for just about every occasion. They have straight, wavy, with or without bangs and every color your audience could possibly want.
The tracking cookie duration was not available at the time of publication so be sure to ask about it when you get accepted into their program.
The commission ranges from 5-10% depending on the number of sales. 5% is good but if you can get to that 10% mark you can really make a nice bit of profit.
*There were some issues with the sign-up link. I am not sure if they have been resolved or if this affiliate has been shut down. I will leave this information up in case it gets resolved.
---
WoWebony Affiliate Program
Commission: 8%
Tracking Cookie: 90-days
Auto-Approval: Yes

WoWebony is a wig affiliate program that specializes in wigs and hair extensions. They sell functional wigs that people would use every day so this affiliate might not be suitable for a cosplay niche blog but would work great on a black hair care blog or a general hair product blog.
There are 2 sets of affiliate terms for this partner. Their ShareASale profile shows an 8% commission with a 90-day tracking cookie duration. Their affiliate page shows a 5% commission with a 365-day cookie duration.
Either one is pretty good, but be sure to ask about it to make sure you know exactly what commission and cookie duration you should expect.
---
Bellami Hair Affiliate Program

Bellami Hair has a good assortment of hair extensions, wigs lashes and other hair care products for you to promote on your beauty or hair product niche blog. They have both real hair and synthetic hair wigs that will fit into almost any wig affiliate strategy.
Unfortunately, the commission and cookie duration were not listed on their affiliate webpage. This doesn't mean you should not consider using them, you will just need to inquire about their affiliate commissions and cookie duration when you sign up for their affiliate program.
---
Elva Affiliate Program
Commission: 10%
Tracking Cookie: 1-day
Auto-Approval: Yes
Elva sells 100% human hair lace wigs. They have a good selection for you to promote and are mostly for black women seeking wigs or hair extensions.
The commission is rock-solid at 10%. You should be able to do very well with a double-digit commission for this affiliate program
The tracking cookie is a bit of a letdown, however. It is only 1-day. A 1-day tracking cookie is tricky to navigate because you need to catch that customer right when they are ready to buy.
Large affiliates like Amazon can get away with it because they are so well-known. A smaller affiliate like Elva might prove a bit difficult for beginner affiliates. I recommend this affiliate only for experienced affiliate marketers.
EseeWigs Affiliate Program
Commission: 10%
Tracking Cookie: 45-days
Auto-Approval: No

EseeWigs has a very nice selection of functional wigs that your audience can use every day. These are not cosplay or costume wigs so they fit more into a beauty niche website.
They also have a small selection of toupees and wigs for men as well. So you could so this affiliate for a male grooming or male beauty niche website.
The commission and the tracking cookie duration are both very good for EseeWigs. They offer their affiliate partners a 45-day tracking cookie and a generous 10% commission according to their ShareASale Profile. Their website lists only a 5% commission so there may be a bit of a discrepancy there.
---
Dolago Affiliate Program
Commission: 10%
Tracking Cookie: 90-days
Auto-Approval: Yes
Join Dolago Affiliate Program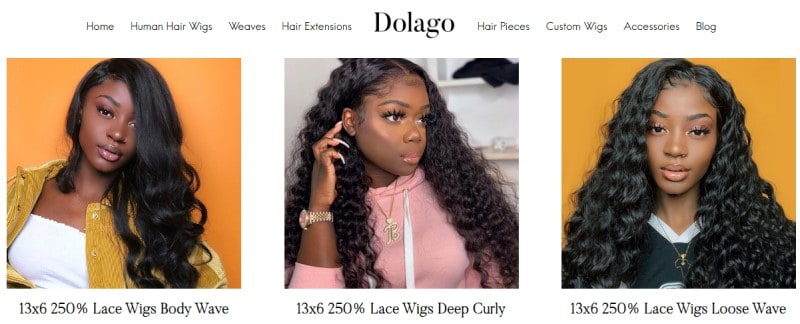 Dolago sells a wide variety of human hair wigs that will give your audience the look they want. This affiliate would be most at home on a wig specific website or a general beauty niche site as well as a hair product niche site.
They also sell hair weaves and extensions and all the accessories you need to get the most out of them.
The affiliate terms are very good as well as making the promotion of this affiliate very appealing. They offer a 10% commission on qualifying sales through your affiliate links.
Double-digit commissions are always a welcome site and 10% can really start to wrack up the passive income if you can get a good conversion rate.
The tracking cookie is phenomenal. A full 90-day tracking gap will give your readers plenty of time to decide on whether they want to make the purchase or not. Longer cookie durations directly affect conversion rates and the longer they are the better.
This is one of the best affiliate programs in the entire wig niche. If you have a beauty website that has any focus at all on wigs or hair weaves or hair extensions then you really want to consider adding this to your affiliate stable.
There are many others on this list that are going to fit well and ultimately you'll have to decide on which one to promote heavily based on the test to run to see what conversion rates you get from each one.
---
EZcosplay Affiliate Program
Commission: 10%
Tracking Cookie: 30-days
Auto-Approval: Yes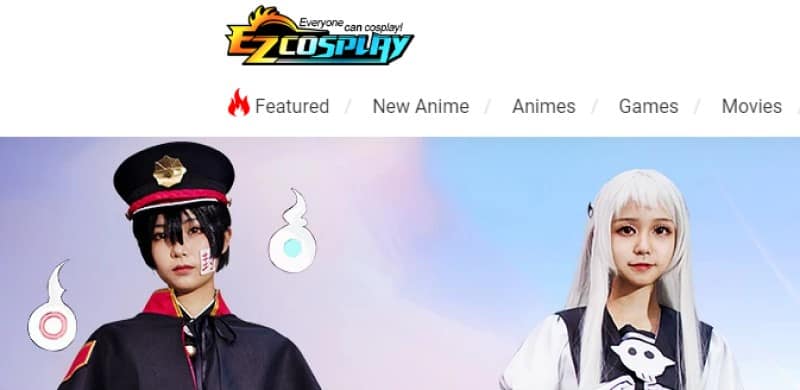 EZcosplay Is a cosplay website that sells a huge selection of cosplay wigs as well as the full costumes and all the accessories you need.
This affiliate is a little bit of a departure from the other ones on this list and that it is not a wig specific website. This affiliate would work great on a costume or cosplay Niche website and they're wig selection is large enough that you could use it as your primary affiliate for wigs and other cosplay hairpieces.
The tracking cookie for the EZcosplay affiliate program is a standard 30-day duration. This is going to be just fine for this affiliate as there aren't really any super high ticket items that are going to need an extended duration for that cookie.
The affiliate commission is rock solid as well. They offer a 10% commission for qualifying sales through your affiliate links. 10% is a Great Commission and one that you should really take seriously because not every Niche or affiliate program is going to offer a generous double-digit commission.
The last thing that's great about this affiliate program is that they do have an auto-approval process at ShareASale. what that means is that you can get approved even if you don't have a lot of traffic coming in which can hinder your approval process for many affiliate programs.
It allows you to get a little bit of experience dealing with an affiliate program at finding out what works and what doesn't in your content early on even when you have just a trickle of traffic.
---
Wrapping Up Wig Affiliate Programs
That brings us to the end of our look at these wonderful wig affiliate programs. These affiliate partners are versatile and varied in their application.
Whether you are building a cosplay Niche blog or a beauty Niche blog one of these affiliate programs is probably going to fit nicely into your overall affiliate strategy.
The wig and hairpiece industry looks to be healthy and poised to grow in the coming years(source). So now is a great time to get started with a passive income website in one of these related niches.
They are very different niches that these wig partners can be used in. So there might not be a lot of crossover with the individual affiliate programs. You'll have to pick one that really fits your Niche and your specific audience.
You could even conceivably build an entire website simply About Wigs. Especially if you're going with the functional wigs that people are going to wear every day then a style website built around that could be very profitable and one of these affiliate programs would do well in that environment.
Ultimately comes down to what you want and what you want your business to be about and only you can make up your mind on that. The bottom line is that you want to get the most out of these affiliate programs in order to generate the types of income that you need to sustain a full-time career with affiliate marketing.
Maximize Your Wig Affiliates
In order to get the most out of your wig affiliate partners, you are going to need to maximize the traffic and conversion rates for your affiliate links.
Creating the right content that will draw in the most desirable audience members who are ready to make a purchase is going to ensure that you maximize your profits with your passive income website.
Affiliate training and learning how to do it properly might be the best investment you make for your online business. Just something to consider on your path to building a great passive income online.
Don't go it alone. Get the best learning tools and community to help you build your online dream. Check it out here.
Thanks for visiting and have a wonderful day.