This article may contain *affiliate links. Please see our affiliate disclosure for more details
You finally made it. You finally made it to retirement. Now it's just lounging around in your socks and watching television right?
Of course not. Just because you are a little older and you've retired from the rat race nine-to-five doesn't mean you're ready to hang up your business chops.
It just means it's time to start a new chapter in your life. One where you can be creative and build the business that you want that can add a little bit of passive income going forward.
Even if you're in a good spot financially when you do retire you can always add a little bit to it especially if a lot of the work that you put in becomes passive income later on.
That's exactly what we're going to be looking at today. Affiliate marketing for seniors and retirees is a wonderful way to stay motivated and stay creative in your twilight years.
So read on to find out some great niches and traffic generation ideas as well as some content ideas for your affiliate marketing business.   
There Is Just Something About Owning Your Own Business. Being Your Own Boss. Building Something From The Ground Up With Your Own Hands. Especially When It Is This Easy To Get Started.
---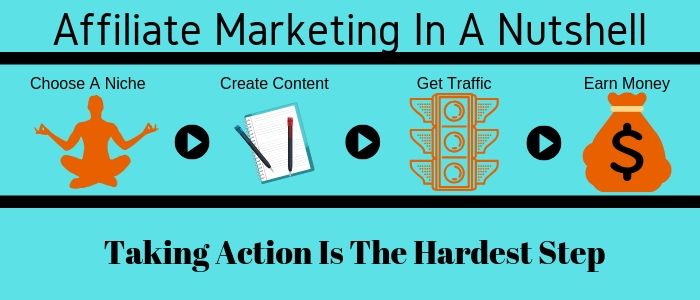 Affiliate Marketing For Seniors And Retirees
---
Affiliate Marketing With A Blog
Affiliate marketing is a great online business model for anyone of any age.
Whether you're a senior facing retirement or just someone looking for a new challenge as you begin the later years of your life then affiliate marketing might be a great business opportunity for you.
One of the best things about crafting an affiliate marketing blog is that it gets to be less and less work overtime.
Once you get the foundation built you don't have to write content every single day you can plan out your content once a week twice a month and the upkeep becomes quite manageable for you.
Meaning you have plenty of time to do all kinds of other activities while you were running a little bit of passive income from your website
Another thing that makes affiliate marketing so appealing is that the cost of starting your own business is minimal compared to most other business types.
When posting only costs a few dollars a month. Buying a domain costs around $15 a year, pennies a day.
Even if you decide to buy a training course or two it's still going to be well under a few hundred dollars I have everything you need to get started.
Paid Training is optional, although I certainly recommend it.
So realistically for less than $100 you can have the foundation of your business up and running for an entire year.
Everything else you need to get started with affiliate marketing just takes hard work and a lot of patience.
The first thing you're going to need to do is to find a niche that you're passionate about and then you're going to enjoy writing content about for years to come.
---
Choosing A Niche That Works For You
For these niche suggestions, I'm going to try and be as broad as possible. These are typically going to be large niches they're going to be a hyper-competitive.
Ideally what you want to do is take one of these large Industries and break them down into smaller more manageable micro niches.
When you find one that's small but still gives enough traffic potential then you have a great place to start your affiliate marketing blog from.
To think of these as a starting point, not the end have your search for the perfect niche.
One thing I will add when choosing a niche. Just because you are a retiree or a senior doesn't mean your content has to be focused on that age group.
If you are 75 and into cryptocurrency then, by all means, start a blog about it. Your audience might skew younger but your experience will command respect. Here are some other ideas as well(source).
Here are a few more hobby ideas that you can turn directly into an affiliate marketing blog as well.
#1 Yoga For Retirees
Yoga is quite a competitive niche. There are a lot of yoga blogs out there that focus on a wide variety of aspects in the yoga Niche.
But one thing that isn't oversaturated is yoga for seniors or yoga for retirees or yoga for people in their 60's.
Simply by adding a qualifier to the yoga niche, you find yourself in a brand-new wide-open micro niche that you can build a wonderful foundation for your passive income blog.
Ideally, you would want your content to focus on what it's like for older people to do yoga and maybe find poses for people who aren't quite as flexible.
There's a whole range of content ideas that you can use just focusing on the best way for older people to safely do yoga.
#2 Gardening
Regardless of your age gardening is a fantastic Niche to be in for bloggers. There's so many Micro Niche is so many angles that you can take in gardening that make it's a wonderful place to find a home for your blog.
But you can always customize your message and content for your specific audience.
For a gardening blog targeted at seniors and retirees, you could create content on how to comfortable garden without aggravating arthritis.
Or safety precautions to take when gardening in hot weather. Just little things to make your content more appealing to your target audience.
Just about any type of plant or type of gardening can be its own micro-niche with a little bit of clever content creation.
Take this example focused on succulents. The owners of it used one of my recommended training products, Project 24, to build a hugely successful gardening website around this tiny little niche.
You can see how well it did in the video below.
#3 Art Niches
Art is another fantastic general niche that you can build your passive income blog in.
There are thousands upon thousands of retirees that are looking for a creative outlet and you might just be able to supply them with that in your art blog.
Painting, pottery, drawing and many others. Pick whatever you are most passionate about and you will almost certainly find an audience for your creative expression.
There are plenty of affiliate programs that you can use to monetize your art blog as well.
#4 Crafting Niches
Any crafting niche is going to be a great place for you to start your passive income blog. Ideally, you want to choose a craft that you're interested in or that you have a lot of experience in.
One way you can go about creating content for a crafting niche is to learn it on the fly.
If you're new to the craft then you can build your blog around your learning to be more proficient at whatever craft you decided to choose.
It's going to be great for endearing yourself to an audience that is going to learn the craft ride along with you.
You're going to make mistakes and when your audience sees them they're going to feel more comfortable about themselves making mistakes in The Craft.
Because you're all in it together and you can make it feel like a real shared experience when you learn how to be a master at whatever craft that you want to learn.
Some great ideas that you can choose are:
#5 Fashion For Seniors
Fashion might seem like an itch that would be more at home with a younger generation. But that's exactly why I would be a great blogging Niche for retiree or someone in their sixties or seventies.
Here's why I think this might be a real Hidden Gem. It's just not something that people might expect or something that you might find commonly in another blog.
So what you have is a highly competitive highly profitable blog niche, but a micro-niche in the fashion arena that might be very underserved.
There are plenty of ways that you can go about a fashion site for seniors. You can find the latest fashions and clothing that is functional and looks great for an older clientele.
Or you can combine a sewing or crafting website with a fashion website and create your own Styles and clothing and then teach your readers how they can do the same.
This is kind of the ideal way to find a micro-niche. Find something popular and then break it down into a category that you're familiar with and one that may be underserved on the internet as a whole.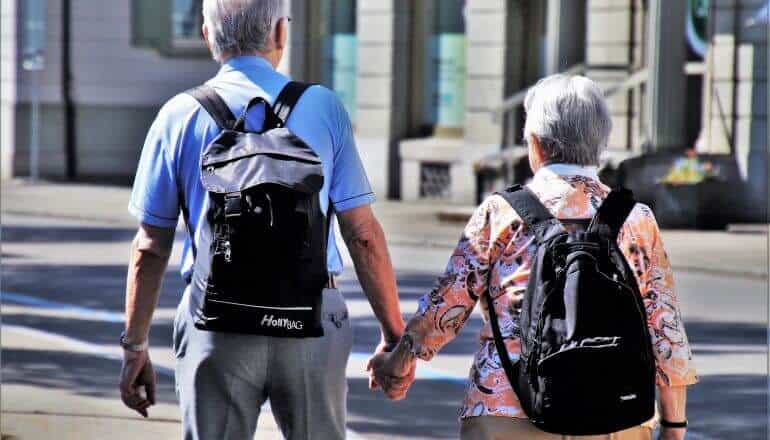 Use Your Experience To Create Great Content
Experience comes with age. And it is that experience it is going to give you one of your biggest advantages when creating a blog.
If you pick a niche that you are familiar with and that you are interested in and that you have experience with you can use those years of experience to craft unique and interesting content from your unique perspective.
And there's nothing better than affiliate marketing thin unique content. It is the basis for your entire blog and ultimately your entire business.
Content is King.
Content is the most important part of Charlotte marketing because it is what drives everything else.
Without content, you won't get traffic. Without traffic, you won't get people to click your affiliate links. Without affiliate clicks, you won't earn any money.
But as you can see it all comes directly from your content. Whether you're writing content or creating videos on YouTube it is that content that is going to drive the success of your passive income business.
Training Is Invaluable At Any Age
Training is an incredibly important part of affiliate marketing. The amount of time that you can say with proper training is going to be invaluable.
I recommend these two programs above all others. Affiliate with both of them so if you click on these links and purchase the program I do receive a commission.
But I only recommend them because I use them and I think they are absolutely fantastic.
The two products that I recommend are Project 24 and Savage Affiliates.
You do not need both of them if you choose to go to the pay training route I would pick one that you think is going to be the best for you.
You can read my head-to-head review of both of these outstanding training programs right here.
For a full in-depth look at Project 24, you can read my review right here.
If you think Savage Affiliates might be more your speed then you can read my full review right here.
Keep in mind that while these paid affiliate marketing training programs are fantastic oh, you can still find a lot of great information online for free if that's the route you want to take.
It's certainly going to take more time for you to find each specific piece of information that you need if you choose to do it for free.
But you can absolutely succeed just using free content on the internet. If you're willing to look for it.
Just The Beginning
Opportunites for seniors and retirees like this simply weren't around 20 or 30 years ago. Now though retirement is just a new beginning.
Now you can have your retirement and still earn a little extra passive income just by being creative and doing what you were going to do anyway.
It really is quite remarkable how far we've come in the last 30 or so years in terms of business opportunities online and the ability to make a real income from online businesses like affiliate marketing.
It also gives retirees and seniors a chance to supplement their social security or their countries safety net making the latter years of your lives that much more enjoyable.
I know that I feel much better when I have something to work towards when I feel like I have a purpose with my work.
I'm sure I'm not alone in that regard. So when you retire don't think it was the end think of it as the beginning of your brand new passive income business.
I know you can do it. And all you need to do is take action and start. The sooner you start the sooner you can reap the rewards.
I wish you the best of luck.
Don't go it alone. Get the best learning tools and community to help you build your online dream. Check it out here.
Thanks for visiting and have a wonderful day.