This article may contain *affiliate links. Please see our affiliate disclosure for more details
Woodworking is an incredible blogging niche. It works for almost any medium. There are tons of great affiliate partners to leverage for your blog or Youtube channel, you can find 10 of our favorite affiliates here. It is fun, popular and versatile for any level of woodworking.
A great niche but the question is…
How to make money with Woodworking? Like the niche itself, the ways to make money are varied and versatile. Affiliate marketing and drop shipping are both great ways to go about it. So is making your own pieces and selling them through your shop or on eBay or Etsy.
Plenty of places to sell your wares.
Plenty of opportunities to teach people how to make their own. We will take a look at them all.
A look at keyword research for this niche and some of the biggest questions for making money in the woodworking niche.
You can check out our look at the woodworking niche in general. It is more of an overview of the niche, you can find it here.
There Is Just Something About Owning Your Own Business. Being Your Own Boss. Building Something From The Ground Up With Your Own Hands. Especially When It Is This Easy To Get Started.
---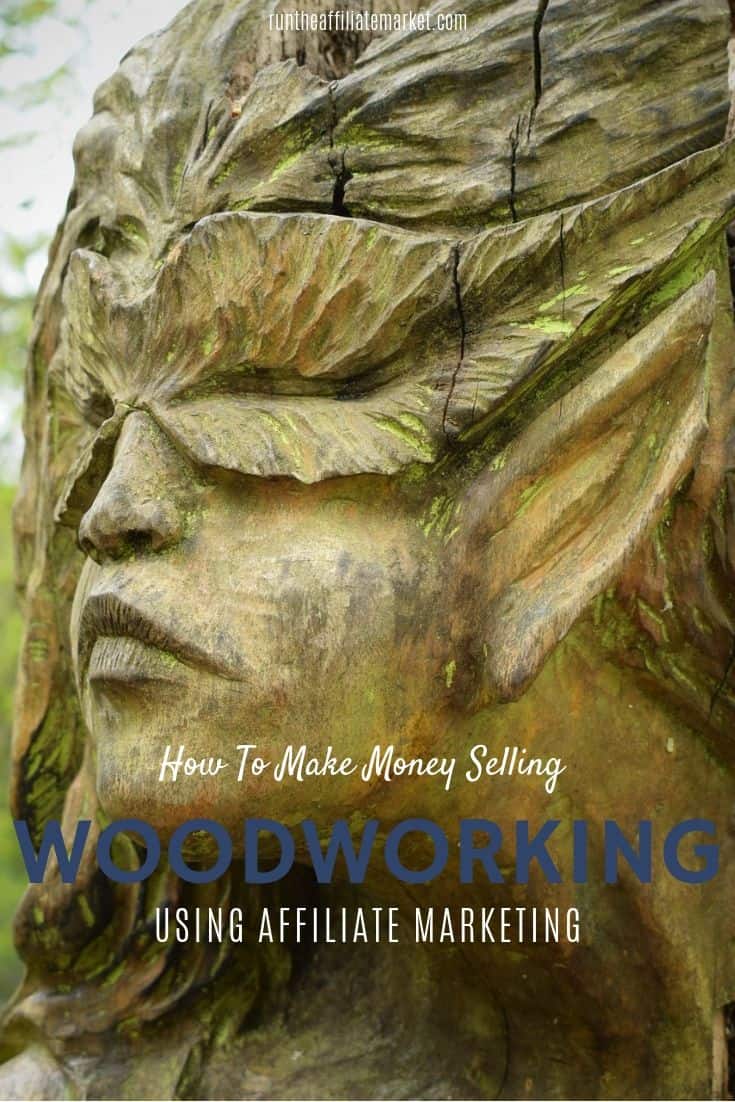 Can You Make Money Woodworking?
There are a lot of moving parts when trying to start a woodworking business. You have to decide what medium you will start it in.
Will you use affiliate marketing or sell the pieces yourself? Etsy or Shopify. Or try and sell your items locally.
What will you make? Carve sculptures or build chairs and dressers. There are a ton of places to go with a woodworking business.
So many choices to make. Are you an expert already or will your blog be about your quest to learn to be a woodworker?
We are going to dive into many of these topics and hopefully provide some clarity so that you can make good decisions on where to take your wonderful new business.
Our first stop will be in the best place to start, in my opinion. And that is with a blog.
Regardless of what you ultimately decide to do with your woodworking business, you are going to need a website and you are going to need to supply content for it. Let's get into it.
Start A Blog Or Woodworking Channel
The blog or website is the foundation for just about any online business, including woodworking. It is possible to create your business without a website.
There are some examples of Instagram businesses that have no website presence. They are the exception to the rule for the most part.
So we are going to look at 2 great places to start your blog. One a traditional written blog and one you Video blog on a Youtube channel.
You will want to create content for both of them eventually. Woodworking lends itself incredibly well to both mediums. Youtube in particular.
But you are going to want to have some written content. And that is where the traditional blog comes in.
The traditional written blog is a great place to start your woodworking blog. You can create a ton of written content based around tutorials and step by step training articles.
Images are key to the niche for a written blog. You want to make sure to put as many images of the woodcraft project that you are working on at every step of the way.
The best course of action might be to have your written step by step guides for building a project and have a video tutorial that your audience can follow along with the project.
In time you will form a synergy between your written blog and your video blog.
One will drive traffic to the other and back again giving you multiple chances to make an affiliate sale.
---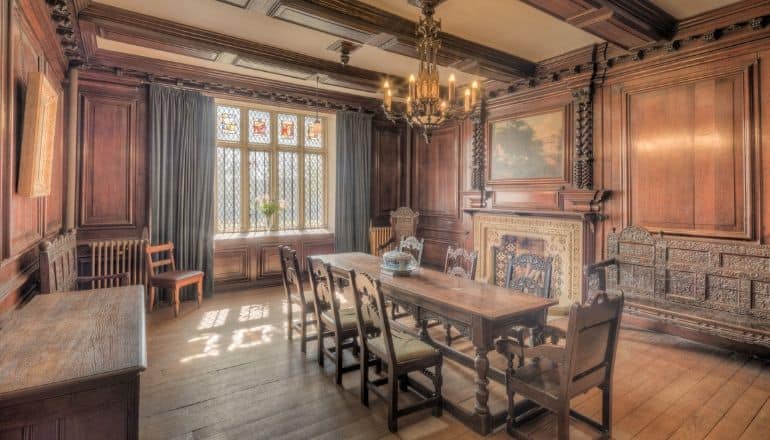 Micro-Niche Focus
Woodworking is a vibrant niche and it has an almost limitless pool of micro-niches that you can focus your blog on.
Even focusing on a single type of project can be enough to give you content ideas for months if not longer.
Keep in mind that your micro-niche is based on your content. so you can easily expand to other areas of woodworking simply by adding the type of content for that particular area or micro-niche.
Here are 10 ideas to consider for your woodworking micro-niche.
Building Chairs
Picture Frames
Hand Carved Art Pieces
Wooden Model Cars and Airplanes
Wooden Toys
Desks and Tables
Beds and Bed Frames
Garden Bench and Decorations
Birdhouses
Board Games and Pieces
There are literally hundreds of other micro-niches to start your woodworking business in. Anything you can build or create can be a niche to start in.
Pick a starting point that you are comfortable with and one that is going to keep you and your audience interested for a few months.
Then gradually start to add in other projects and other micro-niches. Before you know it you will have the beginnings of a great online business.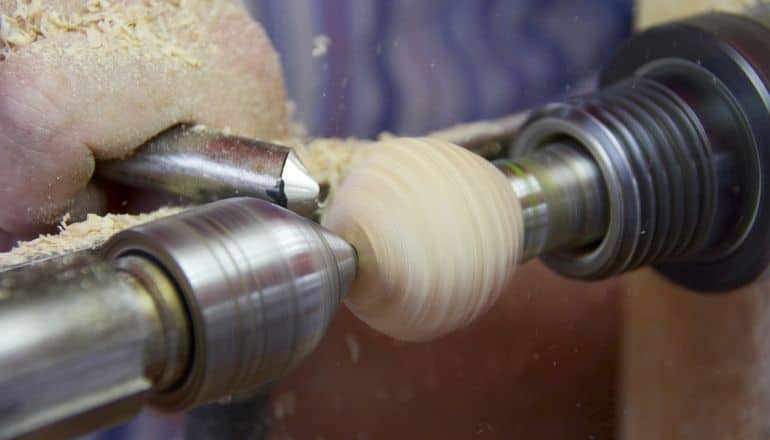 Monetize Your Woodworking Blog
There are 3 main ways to monetize your woodworking blog. This is specific to a content type of blog.
Opening a Shopify store or drop shipping are more e-commerce related that content related.
So we are only going to focus on advertisements, Info Products, and affiliate marketing for the ways to monetize your blog.
Eventually, you will want to add all three of these monetization methods to your blog and Youtube channel.
Advertising
This is a good option for a woodworking blog. Once you start getting a decent amount of traffic adding advertisements to you can generate some income fairly early on.
However, you won't see ads make a decent amount of income until you start generating quite a bit of traffic.
You really want to get at least 10000 page views a month before you start to see more than a few bucks a month.
Once you get the traffic to sign up with some of the better ad networks you can count on advertisements to generate some nice income that can be combined with the other two monetization strategies.
That is when you start to really see your blog become a full-time job in terms of income.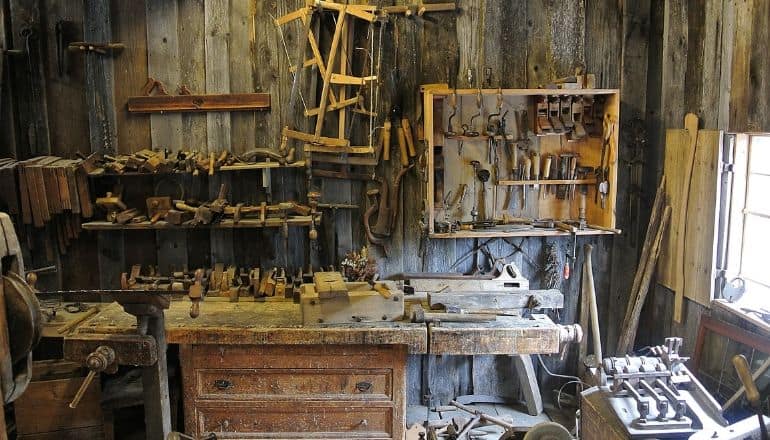 Informational Products
This is going to be your best bet once you start to get a good amount of traffic. Woodworking really lends itself well to info products.
There are a ton of different ways to go about creating an added value info product that your readers will be willing to pay for.
A series of training videos teaching your readers, step by step, how to build a variety of woodworking pieces.
You could create multiple products based around various woodworking themes. A training series about building furniture or wood carving would be great examples.
E-books of woodworking blueprints might be another option for your info product.
And I am sure you can think of some better options once you get to know your audience and what they would be prepared to pay a little extra for.
My advice for info products is to make them reasonably priced.
If you can make money selling at 15 bucks, then you should really try to make that a price point instead of trying to push the price up into the hundreds of dollars.
Obviously, you want to make back your investment and should pick a reasonable price point. But ideally, you want to make the price the lowest you can while still making a good profit.
Affiliate Marketing
Affiliate marketing is going to be the focal point of your money-making efforts from the early days of your blog.
You don't need a huge amount of traffic in order to make affiliate sales. And you can often find partners who will let you promote their products with a brand new website.
You do need a little bit of time with affiliate marketing, however. Your main traffic source is going to be search engines.
They need time to trust your new website and rank it appropriately. You can mitigate this a little by using some alternative traffic sources.
Pinterest is outstanding for this. As is starting your Youtube channel and building an audience over there. What you don't want to do is write your blog articles then wait.
Try working on your business every day. Whether its creating content or optimizing your affiliate links and Ads or working on an info product. Always get a little work in each day.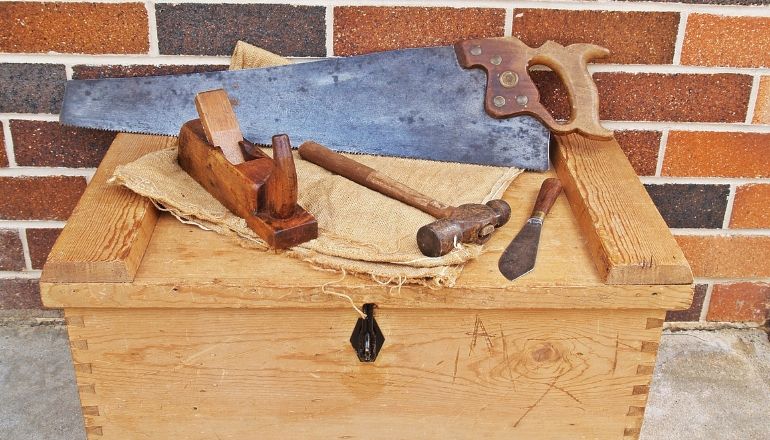 Finding Affiliate Programs For Woodworking
There are dozens upon dozens of great woodworking affiliate programs. You can check our list of these 10 great ones.
But you are certainly not limited to these 10. You can find many more in the usual places.
Here are a few affiliate networks you can use to find even more opportunities in this wonderful niche.
ShareASale
Commission Junction
Rakuten LinkShare
AvantLink
Clickbank
Try a bunch of different ones and then narrow it down to a few of your favorites in order to focus on just a few partner programs.
Your audience will let you know which ones they like and which ones they do not. Amazon Associates is also an option that you need to have at your disposal.
It can act as sort of a catch-all for any products or tools that you might not be able to find at other affiliates.
For a niche this popular and profitable you won't have any problem finding good partners to promote. And new ones will pop up from time to time so check around often.
Woodworking Content
Like most other niches you will want to vary your content and provide a great deal of value to your readers. Don't try and slap an affiliate link in every post or article.
Give information first and then link to your money pages. It is better for the audience and better for your overall SEO.
Reviews
These are going to be your money pages, along with product pages, for the most part. Any tool or material that you can use in woodworking is a potential piece of review content.
Have a great saw that you like to use for your projects? Review it and recommended it.
Think this type of wood is garbage for making a chair. Let your readers know why and review it. Reviews of bad products are still good content.
In fact, if you only have glowing reviews it starts to look a little shady. Just give honest reviews about everything good or bad.
Product Pages
Similar to review pages, only in the sense that they can act as money pages. These are where you would put your own products.
Have a piece of art to sell? Do a write up about it. Sure you want to include what its made out of and how you created it.
But for these pages make them personal. What does this piece of art or piece of furniture that you built with your own hands mean to you and why should someone want to buy it.
Product pages like these are a place to express yourself more than a review or info product. So don't hold back when describing your artwork and how it came into being.
Training Videos
These should be accompanied by their own written articles on your blog. That way your audience can choose how they want to consume this particular training.
Early on your videos are going to be a little rough around the edges. Do your best and accept any feedback your audience gives you.
Mic to loud? Fix it.
Camera angles not good enough? Fix it.
Your readers are going to be one of the best places to get the feedback you need to improve your videos and trainers.
Info Posts
Informational posts are really the backbone of your entire blog. They are there to help your readers, not sell them anything.
In fact, most of your info posts should have no affiliate links at all in them. Link them to your money pages, sure. But no direct links on-page.
For a woodworking business, these info posts can be just about anything wood related. The best woods for this type of furniture or that type of birdhouse.
Tutorials in general work great as informational posts as well. Again you are helping your readers without a sales pitch in sight.
There are plenty of ideas to use for these blog posts. Using a pillar structure you would then internally link them to your affiliate or resource pages.
This provides your reader with value and helpful information, without a hard sell. Your audience will appreciate it in the long run.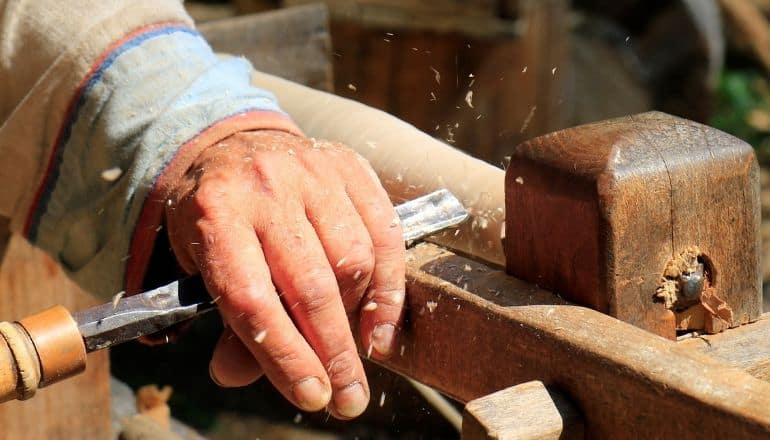 A Brief Look At Woodworking Keywords
Like any niche, keywords are incredibly important for the overall health of your blog. By targeting long-tail, low competition keywords you give your new blog the best chance at success.
You avoid many of the big authority sites while building your own brand brick by brick. For a woodworking blog, your keywords can be quite varied.
You will have opportunities in each of the type of woodworking you are writing about. Keywords for each piece of art you are creating. The possibilities are limitless.
Here are a few ideas to research
How to build a wooden birdhouse
Best tools for carving wood sculptures
best 10-inch sliding compound miter saw
types of wood for a desk
how to make a chair tutorial
The great thing about these longtail keywords is that you can substitute any woodworking piece in for another.
So instead of "how to make a chair tutorial" it could be "how to make a bed frame tutorial" and so on.
This effectively multiplies your potential pool of traffic generating keywords. All you have to do is write or record the content.
---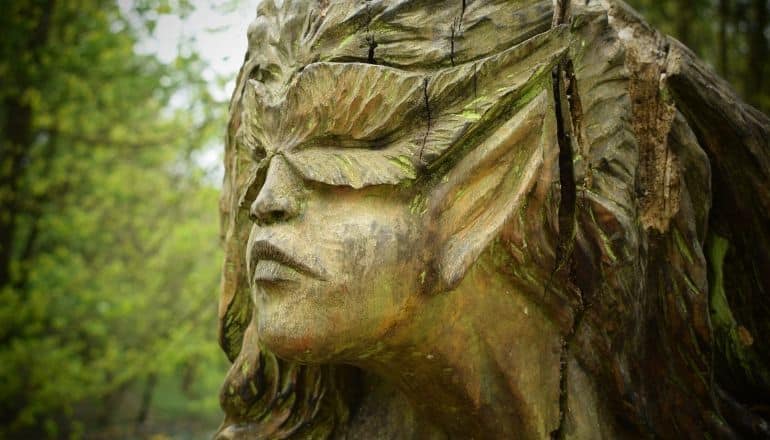 Sell Your Own Products
Selling your own woodworking products is another great option for building your own woodworking business.
It is also much more complicated. You will need to deal with your own inventory and other business-related items that affiliate marketers do not have to deal with.
But you will make more of a profit selling your own wares and services as opposed to a small percentage with affiliate marketing.
It is a tradeoff. There are a few ways to get your works out to the masses. You can sell them through your own website with strategies like Shopify and Dropshipping.
You can sell them through marketplaces like Etsy. Keep in mind that they will take a commission of their own when you sell your product on their marketplace.
Amazon and Amazon FBA place you could check out to see if they are relevant to your crafts. Although, for handmade crafts like woodworking Amazon is a poor choice.
I am not sure if anyone has had success selling their own woodworking products, other than books on Amazon.
There are examples of success but they may be the exception to the rule.
The last place to try and sell your wares is eBay. This can be a very good place to sell some of your more unique work.
In fact, combining your blog with selling your own products on eBay and Etsy might be a great way to make some real money with your woodworking business.
Generate great content to bring in your audience then use your own works of art as the money-makers, instead of affiliate marketing all the time.
Just something to think about.
---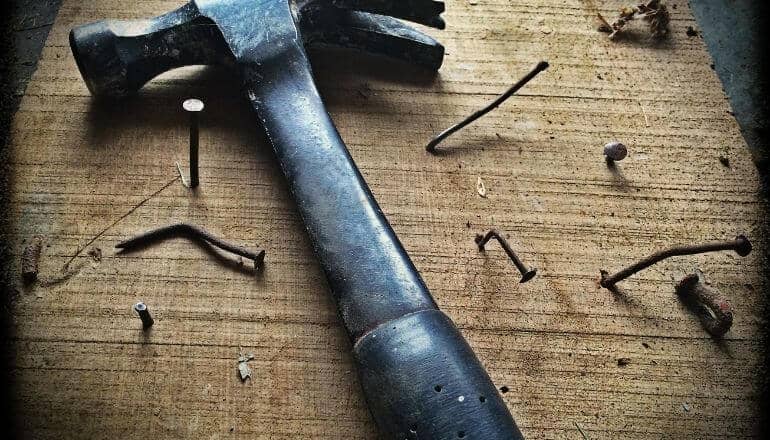 Related Questions
Here are a few questions and tips that I have come across in my research for this article. I think they will help answer any questions about the woodworking niche in general, whereas the rest of the article focuses more on the blogging aspect of woodworking.
Are all pieces equal?
There are going to be some woodworking pieces and products that are going to be more popular than others.
But most pieces have an audience of some size. So pick something you like and work with that to start.Even pieces that might not fit into a specific category are going to be art to someone. That is why having a blog is such a good idea for your woodworking business.
Someone can stumble across a piece of woodworking art that they absolutely love, just by having an article about it. Then all you have to do is point them to where you are selling it and make a nice profit on something that is not a really mainstream piece.
What are some of the best selling wood products?
Here are a few of the most popular wood projects that make money.
Birdhouses — These are great because you can make them as ornate as you want. Get a really nice piece and you can make some good money off of them.
Baby Cradles — Anything baby-related is going to do well.
Wooden Kitchen Utensils — These are incredibly popular. Make the most unique forks and spoons or ladles you can think of. Some of the relief work on these pieces is stunning.
Picture Frames — Simple and elegant. You can be incredibly creative and intricate with these projects and they will sell with only a little promotion.
Candle Holders — Another great project to work on for a woodworking blog. These smaller pieces have a much wider reach. Buying a nice candle holder is something anyone can do. Buying a wooden chair is an investment.
Where Do You Find Wood For Your Projects?
Most towns will have a place you can source your wood locally. Major chains like Lowe's will have a selection of lumber available and in many cases can order what you need if they don't have it in stock.
Amazon also sells some wood but that is probably not the best place to get it from. However, something like Woodworkers Source(link) is a great place to look for lumber. There are other places to buy from just shop around for the best prices.
Can you combine woodworking with other blogging niches?
Absolutely yes you can. But be sure to establish your brand a little bit before moving off into other areas.
That said, miniatures, you can read our article on it here, is a great example of a place where woodworking would make a great deal of sense.
Building the tiny miniatures out of wood could be a niche all to itself. Constructing entire wooden cities with your woodworking skill would be an unbelievable Youtube channel.
Can You Sell Your Crafts Locally?
It is a great idea to at least see if there is anywhere to sell your crafts locally.
Many towns will have swap meets and flea markets that you can set a store up at. Then it is just a matter of building wood crafts that sell at flea markets and you are off.
There may be an upfront fee in order to rent out a stall at the market. Just figure out if it would be worth it for your business.
And don't forget to advertise locally at these events. Print up a few hundred business cards with your blog domain on it and hand them out at the flea market.
It is cheap advertising even if you only get a few people to your website with this strategy. Be on the lookout for craft shows in your area as well.
Although these tend to be a bit more expensive for vendors so it depends on the size of your business as to whether it makes sense or not to go.
What Is The Cost Of Woodworking?
This is probably one of the biggest questions that people have when they decide they want to start a woodworking business.
The cost of the tools. They can run well into the hundreds, even thousands of dollars for the best high-end equipment.
This should not be your starting point, however. It should be your goal with a woodworking business. Especially if you are new to the woodworking space.
You will need some tools so an upfront investment is going to be required. But you don't need the best of the best to start out with.
Focus on the hand tools and master them then move on to the more expensive automated tool. You can do well with a hand saw while you earn enough for a good circular saw.
How Much Room Do You Need?
This depends on the type of woodworking you plan on doing. For small projects like birdhouses and candle holders, you can get away with a smaller area. For beds and furniture, you will need much more room.
Also, take into account the size of the equipment you will need to make your crafts.
At some point, a dedicated area in your garage or shed might make the most sense for your woodworking business.
Even small projects are still going to need at least a table and probably a bit more than that for things like clamps and cutting your wood.
Apartment living might not be the best for some types of woodworking projects. But if you do something like the miniatures woodworking that I discussed earlier.
You can probably do that in just about any amount of space. Provided you stick to one project at a time.
Keep Your Tools Well-Maintained.
This is one tip that you simply cannot ignore. Whether it is your hand tools or your expensive circular saw, you must keep them in good working order.
Learn the ins and outs of each piece of equipment or woodworking tool. Once you do that your upkeep will become second nature.
This can also generate a great deal of informational content for your woodworking blog. Have a maintenance guide for every single tool you have on hand and use in your projects.
Your readers will get a ton of value form articles of this nature. And you, in turn, get great articles that will drive new traffic to your website.
Quality
This is the one word that you must keep in mind for your woodworking business. At every step of the way, you must exude quality with your projects.
Do your best, but if one of your projects isn't up to snuff then don't sell it. Fix it or do it over. The long-run cost of inferior products is more than simply starting a project over.
Quality also applies to your blog content as well. Every article you write needs to have value. Whether it is a money-page review or an informative article about the cleaning a hand saw.
They must be of the highest quality. If you write them yourself, spend a little extra time editing them. The first draft is always the worst.
If you outsource your writing be sure and edit it to your voice so that your articles and blog have a consistent voice.
Quality is king.
---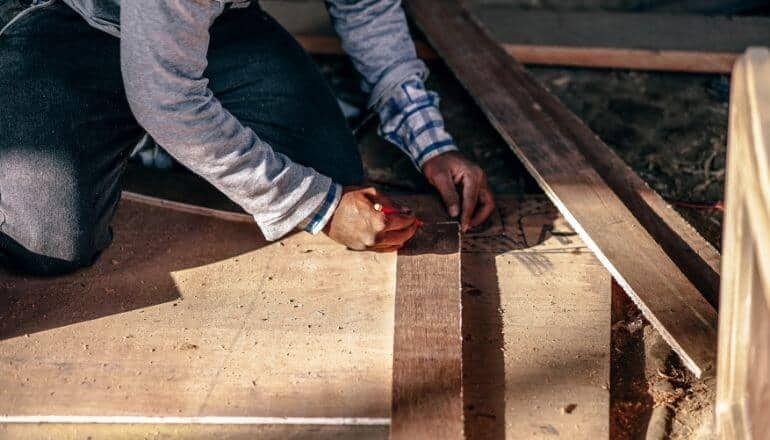 The Big Finish
Woodworking is an incredibly popular blogging niche. The potential audience of people looking to learn this great craft.
Combined with the sheer amount of content that you can draw upon makes it ideal for starting a new online business.
Even if you are brand new to woodworking you can start your own blog about it.
Learning and failing publically along with your readers are really going to endure them to you and help you bond with them.
Eventually, with enough practice, you will become a very good wood crafter and help new people get into this wonderful and fulfilling art form.
Don't go it alone. Get the best learning tools and community to help you build your online dream. Check it out here.
---
Thanks for visiting and have a wonderful day.