This article may contain *affiliate links. Please see our affiliate disclosure for more details
Woodworking is an art form. Whether you're building a chair or carving an elaborate sculpture you are creating some of the most beautiful art around. Some of it is very functional art. The bed or the cabinet or the chair but it is still a work of art.
So I got to thinking. If you create your woodworking pieces of art. Could you start a blog that could actually make you money? Could you produce content around your woodworking passion that would draw in other like-minded artisans and make a decent amount of profit from that blog? Can the woodworking niche be profitable for a blogger?
The answer is you absolutely can make a nice income in the woodworking niche. It turns out that woodworking is a great blogging niche. And a pretty competitive one at that. You're not relying on the ups and downs of the woodworking industry, you are relying on your own passion and artistic output to create content for your blog.
So if the woodworking industry has a downturn you can weather the storm by creating your own content around your pieces and then when the economy picks up you can sell those pieces and make even more revenue.
The dual aspect of creating not only content but a physical product is one of the reasons why woodworking is such an appealing and profitable niche for many looking to jump into blogging. In addition, you can ease yourself into woodworking, unlike many other artistic niches.
If you are just starting at painting your paintings are probably going to be pretty bad. But in woodworking, you can still build basic items using blueprints and training methods.
Will it be as good as a master woodworker? Of course not. But it gives new artisans a way in where they can feel comfortable with their work.
It is one of the reasons why a woodworking blog works so well. Anyone can build at least basic wooden items. And you can tailor your blog to a variety of different woodworking levels just by choosing your projects carefully.
So let's take a closer look at some of the reasons why this niche is so popular and profitable.  And how you can start and monetize your blog, what to look for in an affiliate program, and a few other things that will help you on your way.
But first, if you need help starting your own blog or website, click the link below.  The review there will help set you on your way.
There Is Just Something About Owning Your Own Business. Being Your Own Boss. Building Something From The Ground Up With Your Own Hands. Especially When It Is This Easy To Get Started.
Let's get into it.
---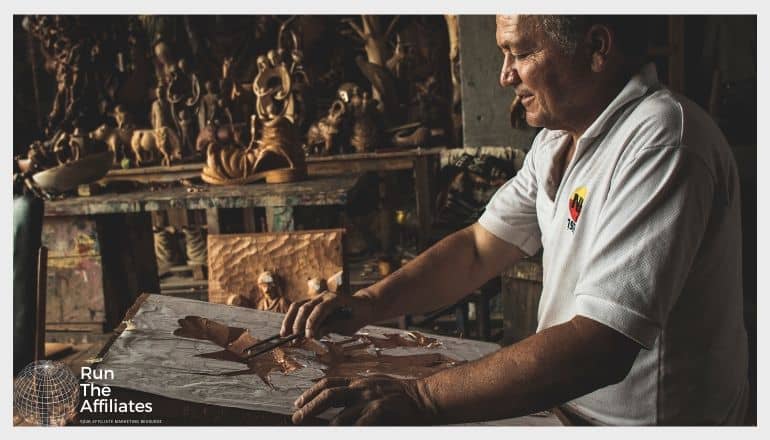 Why A Woodworking Blog?
There are quite a few reasons to start a woodworking blog. Not the least of which is that woodworking is incredibly fun.
I don't build a ton of stuff but the few things I have put together have been a blast. Just basic stuff, like a shelf for my mom. Nothing fancy. All 90-degree angles.
But I can point to it and say I build that. And that is a great appeal for someone starting a blog in this niche.
You can work on your project and then share it with like-minded artists to get their feedback and critique of the piece.
It really is an interactive niche. Whether you are creating training, reviewing saws or hammers, or simply filming your own projects and posting them to your blog you can create a really cooperative and supportive atmosphere.
Not just for you as the blogger but for everyone in the community.
Another aspect of this niche that cannot be overlooked is the visual aspect. I mentioned filming your own projects in the previous paragraph. This niche is almost perfect for a youtube video. Or videos actually.
You can create so much content around building one of your woodworking projects. Cut the entire build into 10-15 minute segments and you could have dozens of ready-made videos to drive traffic and monetize your blog with.
Youtube and other video services are becoming more and more a part of everyday blogging. And while they are not required, they fit perfectly into the woodworking niche. I would recommend trying to make videos if at all possible for this particular niche.
I know many people hate the idea of putting themselves on youtube. Myself included.
But you could create such a fun and rich experience that could complement your written blog. It would be hard to pass up the synergy between the video and the writing in the woodworking niche.
---
How Do You Monetize This Niche?
Another great appeal of the woodworking niche is the multiple avenues of income that it can generate.
You have the traditional advertising that you can place on your blog and on your Youtube videos if you choose to go that route.
You have your usual affiliate marketing links as a second option to monetize your blog and videos.
You can check out our list of some great woodworking affiliate programs for some ideas for affiliate partners.
But the third main option is selling the items you create in your training videos or just the projects you complete in general. There are quite a few ways to go about this.
The easiest is probably placing your wares on Etsy. Etsy is a marketplace for handmade and craft goods. Your woodworking projects would fit right in there.
eBay is another place that you could use to sell your wooden pieces of art. Either one would be a good choice but Etsy might be a better natural fit for a woodworking blog.
However, if you feel more comfortable on eBay then you can definitely use them.
Another option for selling your woodworking items is to add a store onto your blog with something like Shopify.
This will require a bit more work since you would need to handle shipping and the financial aspects of the store.
---
What is the Future Of The Woodworking Niche?
The woodworking industry has had its ups and downs recently. With changing attitudes towards wood products and how to make it more sustainable the industry is going through some growing pains in the U.S. The industry is still growing at a clip of around 4.5% according to this study.
But this rarely trickles down to the blog level. The price of wood for your projects might fluctuate a bit but the overall health of the industry is pretty good for the foreseeable future. Not something to really worry about as a woodworking blogger.
Overall the entire wood industry in the US generated about 8 billion dollars in the US in 2018, according to the same study.
Now the woodworking niche is only a small part of that overall revenue. But it is still significant enough to produce a nice niche for a blogger to operate in.
---
Woodworking Popularity
Woodworking is increasing in popularity in recent years. With the rise of Youtube and woodworking blogs, more and more people are being exposed to the fun of building their own woodworking projects.
For some more information on woodworking and starting a woodworking blog check out our article here.
This will continue to build as video becomes more and more a part of our daily lives. This is why it is critical that you jump into this niche quickly as it seems that right now is going to be the best time to get in before it really starts to grow.
Looking at the keyword research we find that all types of woodworking are becoming more and more popular.
Diversifying your blog might be a great way to cover several of the woodworking micro-niches. Once you have established your blog for a little while.

---
Some Micro-Niche Ideas For Woodworking
Speaking of micro-niches, trying to tackle the entire woodworking niche is probably not the best idea as a new blog. It is certainly possible but you would probably want to narrow it down to a few project types at first.
Focus on chairs or shelves might be a good place to start. If you are already an experienced woodworker you can start with more advanced projects. But be flexible.
If your audience is made up of beginners tailor your content to them. While it might be easy for you, your readers might need a little more instruction.
Here are some micro-niche ideas for starting a woodworking blog.
Woodworking Tutorials
Tool Reviews and Best Of Lists
Wood Suggestions and What Best to Use for Each Project
Wood Carving
Focus on Wooden Toys
Focus on Furniture Projects
Step By Step Video Guides
Wood Reliefs
And really any other aspect of woodworking you can think of. Basically, you want to get 25-30 pieces of content around a micro-niche subject to launch your woodworking blog. Then you can expand the focus or keep generating content in the micro-niche.
---
What Types of Affiliates To Look For?
For affiliate programs, you are going to want to pick a diverse group for your woodworking blog. Amazon Associates is always a good one to have. But don't focus on it at the expense of some other great partner programs.
Our list of 10 great woodworking affiliates has a variety of programs. They range from tool retailers to training programs and all of them could easily be deployed as part of your overall affiliate strategy.
You'll need to have at least one hardware store that supplies the wood, just in case someone wants to purchase it online.
But really most people will buy their wood locally. At least for now. Everything is being bought and sold online and you'll want to make sure you have that option.
Something along the lines of Home Depot or Lowes would be a good program to have.
Of course, you can also use Amazon for this. They have a selection of wood for DIY projects. But big hardware stores might have a better selection so have one at the ready.
---
What To Look For In A Domain Name
When looking for a domain name for your blog in the woodworking niche, I would try and find something memorable and with a good degree of branding.
Calling your blog <YOUR NAME>woodworking.com is probably the most common type of name. I would suggest coming up with some more dynamic and interesting.
Something that really comes across as fun and interesting and a brand that people will remember. A bad wood-related pun is always a good choice. Or not.
But pick something that will grow with the blog. Especially if you plan on expanding into other woodworking micro-niches. Calling it Bob's Chairs will be a problem if you ever want to branch out to a different area in woodworking.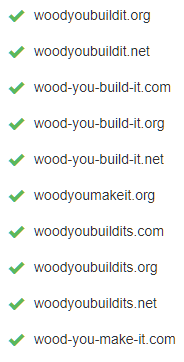 ---
Putting A Fine Finish On The Woodworking Niche
Woodworking is a great blogging niche. There are so many opportunities to monetize it, but that is really second to the real fun that you can have building your projects and sharing them with your audience.
With a careful content strategy, you can put your blog near the top of searches on just about any woodworking subject. And you can build a devoted following both through your writing and through videos of you plying your craft.
The visual nature of the niche makes it primed for the future. Videos and images of the works of art you have created will go a long way to generating the kind of traffic to make this incredibly fun niche an incredibly profitable one.
It is just going to take a little time, patience, and a whole heap of hard work.
But you can do it.  If you need help on where to start, check the link below for my review of a great training program to get you started. Thanks for reading and good luck with your woodworking blog.
Don't go it alone. Get the best learning tools and community to help you build your online dream. Check it out here.
---
As always, thank you for visiting, and have a great day.