This article may contain *affiliate links. Please see our affiliate disclosure for more details
Welcome everyone, Today I am bringing you my list of some of the best woodworking affiliate programs for your passive income niche blog.
Woodworking is art, make no mistake about it. It falls squarely into the Arts and craft niche which is both lucrative and competitive in equal parts.
The skill and craftsmanship it takes to create these beautiful works of art are right on par with the best painters or sculptors or any other kind of visual artist.
Here is the thing about woodworking.  It is as profitable for a blogger to write about as it is satisfying for a woodworker to build their projects.
These affiliates can help you build a solid monetization base while you build your audience. There are plenty more out there but I thought these affiliate programs give you a nice cross-section of what to expect from the woodworking niche.
People love "do it yourself" blogs. People love to build things with their own hands. And be sure to check out the best web hosting for your woodworking niche blog.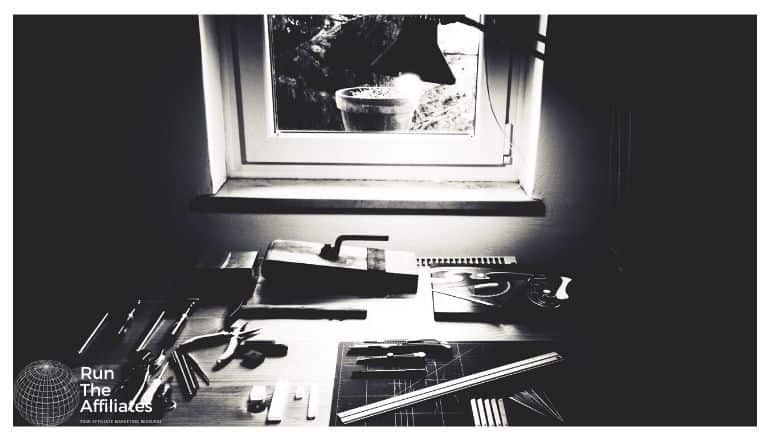 Where do you start on your woodworking journey? That is where a woodworking blog comes in. You start by helping the future craftsman get their feet wet. Creating content that will teach them the basics, projects that are easy to start and finish.
And good advice and encouragement will keep them coming back to your blog for years to come. And it will be your suggestions that they follow on what products and tools are the best ones to use for their newfound craft.
Your content will supply them with the ideas, the know-how and the tools and equipment needed to create beautiful and functional works of art that they will cherish with pride for the rest of their lives.
That is the power of writing. That is the power of a great woodworking blog. And in return for this sage advice, you will be able to generate quite a good income for your hard work building and nurturing your woodworking blog.
---
Popular Woodworking Affiliate Program
Commission: 12%
Tracking Cookie: 30-days
Auto-Approval: No

Popular Woodworking is a great affiliate to have as a woodworking blog. They are primarily a magazine that publishes about 7 times a year.
You can oftentimes find the print version of their magazine in bookstores all over the U.S.
There offer a subscription plan for both digital and print copies of their magazine, which is great for an affiliate marketer. The recurring nature of a subscription is the gold standard of monetizing a blog.
But that is not all that Popular Woodworking has to offer.
Their website store has hundreds of books and magazines dedicated to the art of woodworking. They also have a huge selection of woodworking projects for your audience to purchase.
Everything from basic bookracks to entire dressers and workbenches. Basically, if it can be made out of wood they have step by step instructions on how to make it. It is truly comprehensive.
And it's not just big projects either, they have instructions and guides on how to carve and whittle, how to use any woodworking tool available and so much more.
Other products that you can promote on your blog include an incredible amount of training DVDs and videos. However, your audience enjoys learning about woodworking Popular Woodworking has you covered.
The Popular Woodworking Affiliate Program is part of the Linkconnector Affiliate Network.
One thing to keep in mind is that Linkconnector is particularly choosy about who they allow into their affiliate network. It is advisable that you publish a decent amount of content before joining their network.
The Commission and the Tracking Cookie
The commission offered by Popular Woodworking is a very respectable 12% on all qualifying sales. Great return for promoting this affiliate partner especially given that they have a subscription magazine.
Add to that all the projects and you can combine this affiliate program with a woodworking supply vendor for a great potential commission.
The tracking cookie offered by this affiliate program is a standard 30-day. It is the average cookie duration and it is fine. I wish it could be longer but it should not be much of an issue.
The Wrap-Up
An absolute must-have for any woodworking niche. The number of projects is staggering and the commission is fantastic. This is a great place to start for a woodworking blog.
Just remember to promote an affiliate program that can supply all the tools needed for their hundreds of woodworking projects and you will have all your bases covered.
---
EZ Wood Projects Affiliate Program
Commission: 50%
Tracking Cookie: Not Listed
Auto-Approval: No

EZ Wood Projects is a 250-page ebook of woodworking tutorials. This book offers templates and guidebooks to help you with your woodworking projects. They also offer plenty of informative diagrams to your readers.
The book also includes templates for pilot holes, information on how to buy the lumber you need at DIY home centers. The program also includes 3 plans to get your audience started on woodworking.
They include:
A 2×4 Workbench Plan
A Solid Pine Bookcase Plan
A 2×4 Cutting Station Plan
The Ebook teaches your audience important woodworking techniques, such as proper measuring and cutting of your wood. Easy ways to finish wood and drill holes. All the basics a new woodworker would need to know on their first projects.
And that's what this affiliate program really offers is a basic learning guide for new woodworkers.
If your audience is made up of experienced woodworkers this will be of little interest to them. But as you bring in a new audience of inexperienced craftsmen this might be a great way to ease them into the art of woodworking.
What is the Commission?
The commission for an EZ Wood Project Designer program is 50%. While this seems like a huge number, and it is, 50% commissions are fairly standard for digital products like the ones found on ClickBank. The Ebook itself costs around $30 dollars.
The Wrap Up
This is a pretty good program with a good commission. It is a little expensive overall, but for a new woodworker, it might be worth it and is definitely worth promoting on your site if it fits in with your overall marketing strategy.
On a side note, whenever you are dealing with Clickbank Affiliate programs, make sure you dig into the fine print and make sure they are worth the price your audience is being charged. Some programs in other niches can cost thousands are not very good.
At $30 dollars you might be able to find some value from this affiliate program, however.
---
Tool Barn Affiliate Program
Commission: 3%
Tracking Cookie: 45-days
Auto-Approval: No

Tool Barn is a large supplier of all manner of hardware and tools, including a large selection of woodworking tools. This is technically not a woodworking affiliate program. It is much more of a hardware and craftsman affiliate.
However, you need to have some way for your readers to get the tools from your sites promotions. Or they will just go to another site that offers them the options your blog doesn't have. So making sure you have all your bases covered with the variety of your affiliate programs is a must.
And that brings us back around to Tool Barn. It might not be the biggest hardware retailer around but it is solid and reliable. And their focus is more on the tools of the trades instead of home improvement in general. This makes them a more focused affiliate partner than Lowes, for example.
But don't think they are inferior to the larger home improvement stores, they have everything you need from a hardware and tool perspective. Will many of the largest names in hardware and tools, like Dewalt and Milwaukee.
What is the Cut?
The commission is where this affiliate really lets you down. They offer a 3% commission. The price of the products makes up for this small commission but it still is a bit low.
However, the saving grace is this. This affiliate program is not the focus of your woodworking blog. You don't need to promote this program very much or write much content for it. And as an alternative, you can always use Amazon associates if the prices are similar.
This affiliate is there to provide an option to your readers when they need to purchase specific tools for their woodworking projects.
The tracking cookie duration is 45-days.
The Wrap-Up
A necessary and completely lackluster affiliate program. You need a couple of tool and supply partners for your woodworking blog and Tool Barn fits the bill. However, don't be afraid to drop it if you find a better affiliate program that fills the same needs.
Just be sure to have all the tools and hardware needs of your audience covered by some affiliate programs.
---
Rockler Woodworking and Hardware Affiliate Program
Commission: 3%-8%
Tracking Cookie: 24-hours
Auto-Approval: No

Rockler began as a mail-order company way back in 1954. Since then they have become one of the best sources for woodworking and hardware supplies. They have a very robust selection of tools available for your blog to promote.
In addition to brand name supplies, Rocklar has its own brand of products. These products range from basic clamps to full-on router tables and project mats. There are hundreds of exclusive woodworking products from Rockler.
These unique products add a great deal of value to this affiliate program and can be used to generate a good amount of new content in the form of reviews of their exclusive products.
The Commission?
The commission from Rocklar ranges from 3% to 8% for bloggers. 3% is on the very low end, 8 % isn't too bad for a hardware tools affiliate program as they tend to be on the low side, to begin with.
You need at least one other tool supplier in addition to Amazon associates for the woodworking niche just to make sure you have all tools and hardware covered for your readers.
From the looks of things, their cookie is only 24 hours as it is listed as a 0-day cookie on their ShareASale Profile. We will update when we get a solid answer of the cookie duration but for now, we will review it as a 24-hours tracking cookie.
There other 30-day ShareASale Statistics look decent, however.
The $139.61 Average Sale is a decent one.

The $3.89 Average Commission is a little lower than ideal. But with such a low commission it is understandable.

An Earnings per Click of $13.95 EPC
The 13.01 % Reversal Rate % is a bit concerning and something to keep an eye on. However, it could have just been a bad month reflected in the statistics.
The Wrap-Up
Not a great affiliate program to be honest. The cookie is to short and the base commission is way too low. However, you need a couple of tool suppliers for a woodworking affiliate and Rocklar fits that bill. It also has its own line of products which add value to the program.
Recommended only if you can't find something better that suits your needs.
---
Furniture Craft Plans Affiliate Program
Commission: 75%
Tracking Cookie: Not Listed
Auto-Approval: Yes

Furniture Craft Plans is a compendium of over 9000 furniture and woodworking plans. These plans cover everything you need to make your own high-end furniture and other woodworking crafts. These are advertised as high-quality woodworking plans.
This program offers a ton of plans but not anything else. You'll need to be sure to convey to your readers that they will need to purchase all their tools lumber and workstations separately. Just to avoid any confusion on exactly what they are getting in this affiliate program.
The plans included in this project are highly detailed. They should be easy to follow for experienced woodworkers, however, beginners might need a little more hand-holding in order to get the most out of this program.
A lot of what your readers are paying for with this program is the convenience of having all these plans collated in one place. Some of them are unique to this program but many can be found elsewhere for free. Be sure to explain the purpose of this program clearly to avoid any issues.
However, single plans can cost 5 or more dollars per plan from some stores, so it is not an unreasonable price to ask for this product.
This affiliate program is part of the ClickBank affiliate network.
The Commission?
The commission for this program is an excellent 75%. A commission like this is reserved for this type of digital content, usually ebooks and programs without a lot of physical products. Therefore they can give huge commissions since there is no storage or shipping or anything like that.
The Wrap-Up
A good affiliate program with a nice commission. Just be sure to explain exactly what this product is. Clickbank affiliate programs can be hard to define since they rarely have a physical product associated with them.
But if your audience understands what they are purchasing you shouldn't have any trouble promoting this type of affiliate program.
---
Toolstoday Affiliate Program
Commission: 5%
Tracking Cookie: 15-days
Auto-Approval: No

Toolstoday is an online store that specializes in industrial strength cutting equipment. Everything from saw blades to drill bits is well represented in the affiliate program. They have a huge selection of everything you would need to drill, cut and shape wood for your woodworking projects.
This is an important and very focused affiliate program. There are a few places that sell these types of cutting tools but to have a whole affiliate program dedicated to it is a bonus for a woodworking blogger.
While you may not need to directly promote this affiliate program is can be incorporated into just about any type of content when cutting or shaping wood is discussed. This makes it a very versatile, low maintenance affiliate partner.
Toolstoday is part of the ShareASale Affiliate Network.
What is the Commission?
The commission is only 5%. It continues the theme of hardware suppliers not having a huge commission for any of their affiliate programs. The overhead is quite high with these types of tools and you'll have to expect low commissions from them in most cases.
Still, 5% is not terrible and puts this program just about on par with Amazon Associates. Plus the cost of many of these tools makes up somewhat for the low commission.
The ShareASale 30-day Statistics look promising as well.
The $190.64 Average Sale is quite nice and should provide for some decent commissions.

The Earnings Per Click is a robust $65.74 EPC

A $4.77 Average Commission is a decent return.
The cookie is slightly less than average at 15-days. It should not be a problem but I always like to see at least a 30-day tracking cookie.
The Wrap-Up
Another tool supplier with a very low commission. It is not as big of a problem as it might seem as these hardware affiliate programs aren't really the focus of your woodworking blog.
Any income generated by these affiliate programs just adds to the over income of the blog through your written content and videos. Still, it would be nice to see some higher commissions for these hardware suppliers.
---
Acme Tools Affiliate Program
Commission: 50%
Tracking Cookie: Not Listed
Auto-Approval: No

Acme Tools is another hardware supplier. They have a wide range of woodworking and general hardware tools available for purchase. Including a very nice selection of table, saws in case your readers have the space to install one.
They have a great selection of brand names. Some of the most trusted in the hardware business. Some of these include DeWalt, Bosch, and Honda. These trusted brands are always a welcome sight for an affiliate marketer since it makes promoting them that much easier when you have name recognition.
What is the Commission?
The commission offered by the Acme Tools affiliate program is 3%. Continuing with the theme of lousy commissions for hardware suppliers. This really is as good as it is going to get for many of these programs. Amazon should be your first choice.
But you'll need one of these other programs to fill in the gaps. It is starting to sound like a broken record with these poor commissions but that is really the only downside with this particular niche. Ad revenue can help supplement the low percentages. Still, this is still a very profitable blogging niche.
The ShareASale 30-day Statistics look quite good.
An Earnings per Click of $34.84 EPC is pretty good as well.
The $5.77 Average Commission is decent given the low commission percentage.
A remarkably robust $283.55 Average Sale.
The 4.38 % Reversal Rate Percentage is a little higher than it should be. Keep an eye on it over a longer period of time to see if it really is a problem.
The cookie is a 15-day tracking cookie. Again not a great cookie. 30 days is average anything less is pretty poor.
The Wrap Up
Another hardware and tools supplier with a very low commission. The same thing applies to this one as it does to all the others. Keep these around until something better pops up, but make sure you have at least one affiliate program for any tool or piece of hardware that may pop up.
Don't miss out by letting your readers go to another blog if you don't have a product available.
---
JMBoxwood Woodworking Affiliate Program
Commission: 10%
Tracking Cookie: 90-days
Auto-Approval: No

JMBoxwood is a woodworking company that builds and sell hand-crafted furniture that is made in the USA. While this doesn't exactly fit into the DIY model of a woodworking blog, it is always a good idea to have a couple of sellers of finished woodworking products.
Some people might come to your site looking to start woodworking only to decide they would rather have a professional piece done for them and that's where these types of affiliate programs come in.
You only need one or 2 of them and you don't really need to promote the program that much other than a review of some of their products. It is more of an insurance policy to make sure you have all the boxes ticked for any potential reader that drops by.
The added bonus of reviews for their products increases your potential content. Plus there is absolutely nothing wrong with promoting finished furniture on a DIY woodworking website. It is, in fact, an excellent way to monetize your hard work for the blog.
JMBoxwood is part of the ShareASale Affiliate Network.
The Commission
Here is the good news, JMBoxwood offers an excellent 10% commission for all qualifying sales from their affiliate referrals. Finally something in the double digits. This is very nice and very welcome and their products can be promoted to take advantage of this commission.
The 30-day ShareASale Numbers look great as well.
A remarkable $328.95 Average Sale.
A $32.90 Average Commission is great.
The Earnings per Click are a very nice $106.13 EPC
The cookie is an outstanding 90-day tracker. Absolutely Fantastic.
The Wrap-Up
This is one of the best affiliate programs we have looked at today. It is a great way to monetize your website and fits in well with the overall theme of a woodworking blog. Don't be afraid to promote and reviews some of their products to try and generate some revenue.
A must-have for just about any woodworking blog.
---
Armani Fine Woodworking Affiliate Program
Commission: 7%
Tracking Cookie: 365-days
Auto-Approval: No

Armani Fine Woodworking specializes in building custom wood tabletops.
These can be cut and finished however your readers need them and it is a great way to get quality wood to finish off their woodworking projects. Especially counters and tables than they maybe building.
They have a variety of finishes and edge profiles and can cut their tabletops to any custom size the customer needs.
This is another very nice affiliate to have. It gives your audience options when they start to build their projects.
You can even use this affiliate to generate some content in the form of reviews of their counter and tabletops.
Armani Fine Woodworking is part of the ShareASale Affiliate Network.
The Commission And The Cookie
Armani Fine Woodworking offers up to a 7% commission for their affiliate partners. Given the cost of some of these tabletops, this is an excellent commission and one that you'll want to promote whenever it is reasonable.
The 30-day statistics from ShareASale are fantastic as well.
The $808.16 Average Sale is absolutely staggering.

A robust $44.11 Average Commission
A rock-solid Earnings Per Click of $87.06 EPC.
It gets even better. The cookie is a full 365-day cookie.
A full year tracking cookie.
This is how all tracking cookies should be. If they use your affiliate link then you should get the rewards for it. After someone buys something the cookie resets and it is off to the races again to see who can land the next sale.
The Wrap-Up
A great affiliate program to top off, literally, your woodworking projects. These high-quality tables are beautiful and should be easy to promote for your blog. All the numbers are great and the cookie is outstanding.
A must-have for a woodworking blog. And a great all-around affiliate program, this is how they should all be.
---
Highland Woodwork Affiliate Program
Commission: 5%
Tracking Cookie: 60-days
Auto-Approval: No

Highland Woodworking has been around since 1978 when they started as a mail-order company that delivered tools to your door. They have grown into a full-fledged online store at this point and their stock is pretty unbelievable.
If it has to do with woodworking they probably have it in stock. Their inventory is unrivaled in the woodworking niche and for that reason alone they are a must-have for a woodworking blog.
Axes and saws to chisels, clamps, and Dremels, they have absolutely everything.
You can use their inventory to generate quite a bit of content in the form of reviews to supplement your own guides and training videos. This is one outstanding affiliate program for a product perspective.
How About that Commission?
Highland Woodwork offers a slightly low 5% commission for their affiliate partners.
However, it is still among the highest commissions for hardware and woodworking tool suppliers. Making it one of the better options for your woodworking blog.
They also offer a solid 60-day tracking cookie.
The Wrap-Up
A must-have affiliate for the woodworking niche. Yes, the commission is a little too low but that is the only drawback of this affiliate partner. Their product selection is unrivaled, they have a nice tracking cookie duration.
All things considered, this might be the best of the bunch in this list. Go get it.
---
The Big Finish
The commission for hardware and woodworking tools look very low. But that is the nature of this niche. There is really no way around it. You will want to use Amazon Associates for the bulk of your hardware and tools affiliate promotions.
However, you need to have some of the smaller ones to fill in the gaps when specific tools are needed. Other than that though, the niche is a great one for a blogger.
It lends itself well to videos on youtube which will dramatically increase traffic to your woodworking blog.
And it is a niche that is a great deal of fun. You can even sell your own furniture and woodworking crafts online through a Shopify store or a website like Etsy.
Even breaking down the woodworking niche into smaller sub-niches would be a profitable idea. Focusing on just chairs or Dog houses or wooden figurines can generate as much income as a general woodworking blog.
It can also help to draw quite a large audience, especially as you get better at it and your end results start to look wonderful.
Don't go it alone. Get the best learning tools and community to help you build your online dream. Check it out here.
As always, thanks for visiting and we'll see you soon.