This article may contain *affiliate links. Please see our affiliate disclosure for more details
Association Football. Soccer. Whatever you call it, it is the most popular sport in the world. By some distance.
Some estimates put the number of football fans worldwide at 4 billion-plus. Choosing this sports sub-niche to start your blog is a great idea.
Is it competitive? Absolutely. But it is that competitive nature that will push you to create the best content in the entire soccer niche.
But you will need some great affiliate programs to really maximize the impact and profit of that great content you will be writing.
So I have put together a list of 10 outstanding soccer affiliate programs for you to have a look at.
These partners are incredibly diverse, from training programs to licensed team apparel you will have no shortage of products to promote for your up and coming soccer blog.
There Is Just Something About Owning Your Own Business. Being Your Own Boss. Building Something From The Ground Up With Your Own Hands. Especially When It Is This Easy To Get Started.
---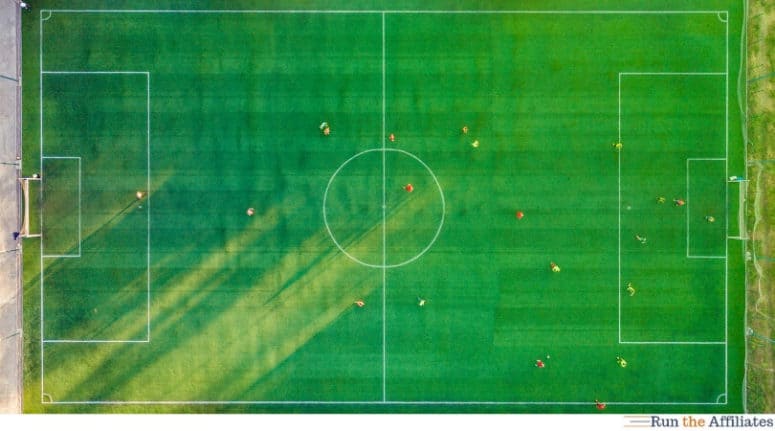 SoccerAffiliate Programs Quick Look
---
Soccer.com Affiliate Program

Soccer.com is the premier retailer of associating football gear on the internet. They have a huge and thorough selection of products for all things soccer. Boots, balls, jerseys, and everything else you could possibly need.
This is the type of affiliate that you build a micro-niche website around.
Soccer.com offers its partners a pretty decent 7.5% commission for sales through your affiliate links. This percentage is very nice for a retailer of this type. I was unable to find their tracking cookie duration, however. You will need to ask about it when you sign-up for the program.
Why Should You Promote Soccer.com?
The commission is the first reason to promote this partner. It is nearly double what you would get from Amazon. Given that their prices and products are very similar soccer.com is the clear choice for a primary affiliate in the soccer niche.
The only downside would be if this partner doesn't convert well with your audience for whatever reason. In that case, you can use Amazon but I would try and make this partnership work for you since it is one of the best general soccer retailers around.
---
Fanatics Affiliate Program

This is a more general affiliate program. It is not specific to soccer but has a huge selection of soccer-related products. I recommend this partner for just about any sports-related list and so it makes the list of best partners for a soccer niche blog.
They stock all the gear you need for a footballer. Plus, they have a great selection of licensed merchandise from all the major football leagues around there world. Whether you're looking for something in the MLS or the Premier League they will have your readers covered.
The affiliate terms laid out by Fanatics are a bit of a mixed bag. Their 10% commission is outstanding and one of the best in the niche for retailers. However, their cookie is only 7-days which is below average and a little disappointing.
Why Promote Fanatics?
The commission is fantastic and their selection of soccer gear is excellent. This is a very good affiliate for any sports blog. Put it all together and you have one of the best partner programs in the soccer niche.
---
MLS Store Affiliate Program

The official Major League Soccer online shop. This partner program is useful for most soccer blogs even if the MLS is not the focus. It would work well with a soccer coaching blog or a youth soccer blog, especially in the United States.
It probably would not make a great affiliate for a European based soccer blog but you may be able to find an equivalent type partner program for many of the big teams or leagues in the world.
The commission is not great at 5%, putting it on par with Amazon. But having the official MLS store is still worth it for the promotional opportunities it affords. There is more to a partner program than just the commission. The cookie is slightly lower than I like to see. It is only a 7-day tracking cookie.
The Wrap-Up
Overall, the MLS Store partner program is good to have for an MLS based blog. The commission and cookie are not great but the affiliation with the MLS is worth it just for the official partnership and banners you can use as an affiliate.
---
Angelos Soccer Corner Affiliate Program

Another great retailer of soccer apparel and equipment. They have specific categories for youth soccer, boots, and equipment like keeper gloves. The selection at Soccer Corner is outstanding and you should have no problem finding products to create content around.
As with most of the other stores, they carry all the major soccer brands and have licensed team gear from all the major leagues.
However, it is the great commission that really makes this partner desirable. They offer a full 10% commission for all qualifying sales. This is outstanding in this niche. The tracking cookie is less spectacular. It is only a 7-day cookie. Not ideal but you can still work with it pretty well.
The Wrap-Up
An outstanding selection for just about any soccer-related product you could possibly want to promote. The cookie is below average but their outstanding commission more than makes up for it. This could fill the role of your primary affiliate very easily. Give them a look.
---
Soccer Tutor Affiliate Program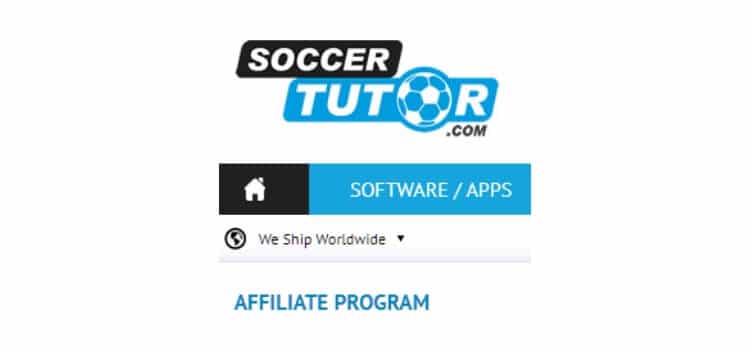 Soccer Tutor adds to the diversity of affiliates in this list. They don't sell soccer gear or jerseys, instead, they sell training and coaching videos for a huge variety of different football styles and techniques.
If your blog is in the coaching, training or youth football micro-niches then this is one of the best partners you could possibly have. They also have a selection of soccer training software and apps along with books and e-books on every aspect of association football.
Their terms are very good as well. You can receive up to a 40% commission on select products that they sell. The 40% can be reached on individual published products from Soccer Tutor. When you join the program be sure to find the best products with the best commission for your blog to promote.
The cookie information was not available, so be sure to ask about it when you join the program.
Final Thoughts
A unique soccer partner program. This one fits very well with training and coaching blogs and has some of the best affiliate terms in the niche, with commission up to 40%. If you are in the micro-niches that this partner covers it can be a great addition to your affiliate arsenal.
---
Upper 90 LLC Affiliate Program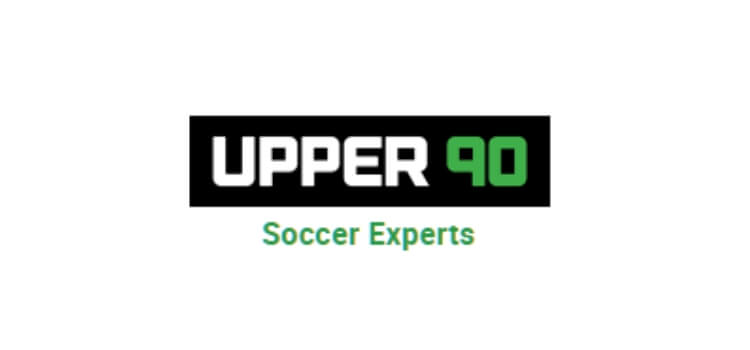 Upper 90 soccer specializes in some great soccer gear. Nike, Puma, Adidas. They are all well represented here. Jerseys from every major team and country can be purchased from them. They have a great selection for just about any type of soccer gear that you need.
In addition to apparel, they have a huge selection of soccer equipment. Soccer balls, keeper gloves, nets and goals, shin guards. They have everything you need to kit out an entire squad whether it is for your weekend league or a youth league you can find everything you need right here.
It only gets better when you see their partner terms. The commission is a robust 10%. One of the very best in the entire niche. Their tracking cookie is also excellent for the soccer niche. While many on this list only have a 7-day cookie U90 Soccer offers a 30-day tracking cookie.
While this duration is pretty standard for most niches, here it rising above some of the other partner programs with the cookie duration.
Why Promote U90 Soccer?
They are one of the best all-around soccer affiliate available currently. It is as simple as that. Their tracking cookie is good, they offer a great commission and they have some of the best and most diverse selection anywhere in the association football niche.
This could easily be used as your primary soccer affiliate for just about any micro-niche in the soccer niche. It has something for everyone.
---
Epic Sports Soccer Affiliate Program

This store is a little bit different than some of the other programs on this list. Epic make their own branded gear. They have 100's of styles of soccer jerseys and shorts that can be customized to your liking.
This is a great affiliate program for anyone starting a youth soccer blog or a soccer training blog. They also cover a wide variety of other sports as well.
The affiliate terms offered by Epic are pretty nice as well you can receive a 12% commission for any sales of most Epic branded apparel and equipment. A lower commission is available for closeout items but it still is pretty good at 5%.
The tracking cookie information was not available at the time on publication. Be sure to ask about it when you join this partner program.
The Wrap-Up
This partner has a much narrower appeal than some of the others on this list. But, this is a great one for any soccer blog that deals with training or coaching or youth soccer in general. Give it a look if you operate in any of those micro-niches.
---
Manchester United Direct Affiliate Program
Manchester United is one of the most popular football clubs in the entire world. This affiliate program is for its official store. Obviously, if your blog has nothing to do with them then this particular partner program will be pretty useless.
But your blog does not necessarily need to be strictly about Man Utd to use this partner. Any blog where a wide array of soccer fans are going to congregate will be a great place to promote this store.
Many of the biggest teams have their own stores with their own associate programs. But there are far too many to list, so I chose this one.
The take away here is that you can always find an official store for most of the football clubs around the world and promote them to a good effect on your soccer blog.
The partner terms are pretty decent for Manchester United Direct, and they are very similar to any official club shop. Its commission can go as high as 8% for new referrals and 4% for returning customers. The cookie is outstanding at 45-days.
Why Should You Promote This Partner?
The affiliate terms are not going to set the world on fire but too often that is all anyone looks at when deciding on partner programs. There are other factors to consider. By partnering with the official club store you get a rock-solid and trustworthy partner.
As an added bonus you get to use their promotional material which will often time include official crests and logos. It really adds to your site's appeal if you have the Manchester United logo on your site and on your affiliate banners etc.
---
Soccer Garage Affiliate Program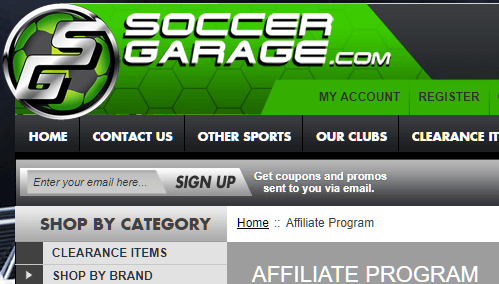 Another affiliate partner with a huge selection of soccer gear and apparel. There is no shortage of items to build content and reviews around. They have all the major brands so you can promote with confidence, there are no cheap knockoffs here.
As an added bonus this store also carries products from a variety of sports other than soccer. Soccer is their main focus, however.
Their commission starts out pretty good at 7% for all qualifying sales. However, you can raise that commission up to 10% if you hit certain sales benchmarks.
I am starting to see scaling commissions pop up a little more frequently lately. It is a good incentive to promote this affiliate a little more. The tracking cookie is also outstanding, clocking in at 60-days. One of the longest on this list.
Why Promote Soccer Garage?
This partner has a very good set of affiliate terms so you won't have to deal with bad commissions and worse cookies.
Always a great sign for a partner. But they also tick all the boxes when it comes to inventory, giving you a lot of options for which products to promote and build content around.
---
Nike Affiliate Program
This is the official Nike affiliate program. It goes far beyond just soccer but they are a big player in the world of global association football.
Their products can found in most of the other programs on this list so it may not seem like a great partner program to pick up. The terms certainly don't help.
The terms are not great. They offer a very low 3% commission, and a few types of sales are not eligible for commissions at all. The tracking cookie is only 7-days making it one of the shorter ones in this niche.
Why Promote?
You want to promote them because they are Nike. In truth, the terms are not great but the name brand is worth it just to be able to promote them on your site. It is worth picking up Nike just for that reason. Whether you choose to promote them heavily or not is up to you.
---

A Quick Look At The Soccer Niche
Association football, or just football as it is known to the majority of the planet, is the most popular sport in the world. And it is not even close. That reason alone is enough motivation for starting a soccer blog.
But once you start adding in the passion and love people have for their football clubs you begin to see why this niche is one of the best on the internet. The passion of many soccer fans is unlike any other sport.
Football clubs are like cherished family keepsakes that get passed down from generation to generation.
A Little Soccer Keyword Research
Let's delve into this niche a little deeper using my favorite keyword research tool, Jaaxy.
We will take a look at the root or head keyword first. You do not want to try and target and rank for these head keywords as they have no intent behind them and they are poor converting and very competitive. In this case, the head keyword is "Soccer".

The main reason we want to check the main niche topic or keyword is to see if there is enough traffic. For something like soccer, you can skip this step in your research since you know there will be plenty of interest and traffic.
Now let's have a look at a couple of long-tail keywords for the soccer niche. There are the keywords you want to target. The content you build around them will be your main source of the organic search traffic for your niche blog.
For this example, the keyword is "best soccer boots in the world". It has a decent amount of buyer intent and should be a pretty good long-tail keyword to write an article with. Let's have a look at it.

Exactly what we were looking for in a longtail keyword. Low competition, good traffic for a long 5-word keyphrase. We have the head keyword in our long-tail keyword. A great start for writing a piece of content that will really work well in the soccer niche.
For our last example, we are going to look at a more informational long-tail keyword. There is little buyer intent for this one, but these types of articles are great for building your site reputation. These types of informational articles should have very few (ideally none) affiliate links in then.
Instead, you want to link them to other pages on your site that are relevant to them.
The keyword for this example is "how to defend a corner kick in soccer". This keyword is great for any type of teaching article or video centered around a corner kick. Whether it is goalkeeper training on how to deal with the kick.
Or where your defenders need to be positioned. Multiple angles are available for this type of article.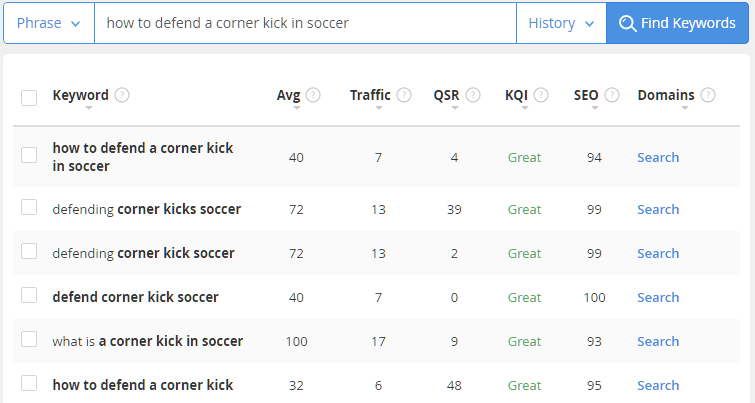 What we get back from our research is exceptional. The targetted keyword is fantastic. Good traffic, low competition. But it is the other suggestions that really make this worthwhile. Particularly the keyword "What is a corner kick in soccer".
It might have never occurred to you to write an entire article about what a corner kick is. I certainly would not have thought about it because for someone who likes soccer it is common knowledge.
But it reveals an interesting point, assume that some of your audience is learning this type of information for the first time. For a soccer blog, explaining the rules and techniques and offsides and anything else you can think of.
It is a great way to generate a lot of informational content for your blog, and in turn, it will draw in people who are not traditional soccer fans or are new to the sport.
There are millions of other keyword combinations that you could research and use for your content. Finding them and crafting great content around them is the trick when it comes to blogging. The best way to deploy these long-tail keywords is in micro-niches of the larger soccer niche.
So let's take a look at a few micro niche ideas now.
---

Micro-Niche Ideas For A Soccer Blog
There are potentially hundreds of different avenues you could use to build a successful soccer blog. I am only going to list 5. And these might not even be the best ones. They were just the ones that I came up with.
You may be able to think up even better ones and then put a little research behind them to see just how good they might be.
Favorite Team Blog
Starting a blog about your favorite team is a great way to break into the soccer niche. More and more of these types of blogs are popping up recently. Youtube is particularly good for them. You'll see fan channels and blogs for just about every major team.
But there is still plenty of room and traffic to go around for the time being. Especially for a written team blog with video elements added in. This is a great way to start out and then expand into larger areas of the soccer niche.
Soccer Skills and Drills
A great training niche. This one really lends itself well to video training courses and if you can produce quality ones yourself you can make quite a bit of extra money with these informational products.
You can focus on each position with your blog or try a broader approach. Midfield, strikers, fullbacks, or center half could each be a whole micro-niche unto themselves. Choose the one you like the most and have the best knowledge about and work from there.
Goalkeeping Skills
Goalkeeping is a micro-niche all to itself. It is one of the most difficult, and thankless, positions in all sport. If you can teach the position to others you will have yourself a great micro-niche that you can be a part of.
Like other training micro-niches, you just need to make sure that your research and techniques are spot-on. And that you are promoting quality training products.
Soccer Coaching
Instead of focusing on the player, your blog could teach newcomers the best way to coach soccer. What drills are most effective for teaching a certain aspect of the game. How can you better deal with players and put them in the best positions to succeed?
There is a huge opportunity in this niche to really make a difference in how the game is taught and coached if you can champion some great techniques. Prior coaching knowledge is a bonus but if you are knowledgable enough about the game you can work in this niche successfully.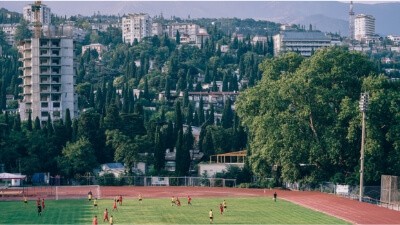 Football League Blog
Choose your favorite league and write about everything surrounding it. Transfers, derbies, the cups, and the league championship you can write about it all. You don't necessarily want to recap the games but instead, give your opinion on the league and the matchups.
You will find that people love this type of content and that it invites your readers to join the conversation which makes for a very healthy blog. This is another micro-niche that works well as a Youtube Channel.
The Big Finish
Soccer is the most popular sport in the world. That can lead to you building one of the most popular blogs in the sports niche.
No sport even comes close to the size of the football fanbase. With great content, you can tap into the passion that football fans have for their clubs and the sport.
And with the great affiliate presented here today, you can turn that passion into a very nice income for yourself and your family.
It won't be easy and the niche is super competitive but with the right keyword research, like the examples shown here today, you can start building one of the best soccer blogs on the internet.
Don't go it alone. Get the best learning tools and community to help you build your online dream. Check it out here.
---
As always, thank you for visiting and have a great day.