This article may contain *affiliate links. Please see our affiliate disclosure for more details
Hello everyone and welcome to our look at one of the most intriguing t-shirt affiliate programs currently available for you to incorporate into your fashion or t-shirt content.
The Design By Humans Affiliate Program give you the ability to promote t-shirts from some of the biggest and most popular brands and open up new avenues of monetization that you might not have previously considered.
But, does the commission and the tracking cookie and the affiliate program at large warrant you putting time and effort into this affiliate partner?
I am going to lay it out for you. I will take a look at the commission and the tracking cookie duration as well as discuss some of the best niches for this partner and what to expect from Design By Humans.
Ultimately you are the boss and it will come down to your decision making on how to proceed with this affiliate partner. There is a lot of responsibility being the boss, but I wouldn't want it any other way.
---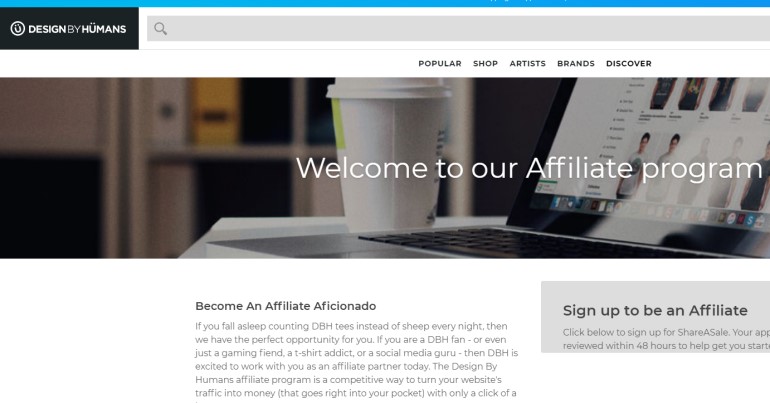 ---
What Is The Design By Humans Affiliate Program?
Affiliate Commission: 10%
Tracking Cookie Duration: 30-days
Auto-Approval?: No
Affiliate Niche: T-Shirts
The Design By Humans affiliate program Is designed to allow content creators to monetize their fashion and t-shirt Niche websites by adding Design By Humans affiliate links to their content.
When someone ticks on their link and makes a purchase from Design By Humans the affiliate marketer earns a small commission for their promotional work.
Affiliate marketing is one of the most lucrative ways to make money online with a very little upfront cost and affiliate programs like Design By Humans is the Catalyst for many of these businesses.
---
The 10% Commission
The commission for the Design By Humans affiliate program is a solid 10%. Anytime you can get a double-digit commission for a physical product affiliate partner you are doing well for your business.
The 10% commission puts it on par with other t-shirt affiliate programs and put it well ahead of Amazon Associates, making this a great alternative to Amazon for your niche site. Especially if you are promoting branded t-shirts .
The 30-day Tracking Cookie Duration
Design By Humans Offers a free standard 30-day tracking cookie for their affiliate partners. This is much better than the tragedy that you're going to get from Amazon Associates and is typically the industry standard for most affiliate programs.
what this duration gives you is a full month to make a referral and still get credit for the referral. Typically the longer the duration of the tracking cookies better the conversion rate is going to be.
You want as long a duration cookie as you possibly can because many of them give you what is known as return days which means that anytime someone makes additional purchases during the duration of that track your he'll get credit for those as well.
Always be sure and ask about return days when you sign up for these affiliate programs just to make sure that they are not one use cookies.
I was unable to find out where the tracking creates Buy Design By Humans Falls so again make sure to ask about it when you sign up.
Finally, I wouldn't consider the products to be high ticket items from this affiliate program so there's really no need for a super long duration cookie.
As a general rule, the more expensive the products are selling the longer the tracking cookie duration that you want.
---
What To Expect From Design By Humans
The first thing that you can expect to find with The Design By Humans Affiliate Program is the incredible number of branded t-shirts that they have to offer.
Here are just some of the officially licensed brands that they have on their website.
Nintendo
Disney
Star Wars
Marvel
Coca Cola
DC Comics
Dungeon And Dragons
Harry Potter
Jurassic Park
Nasa
Have a niche site dedicated to any of these brands and you have yourself a great opportunity to incorporate Design By Humans into your content.
It is a diverse affiliate program that can be used to great effect on a huge number of niche sites.
A great example would be if you were running an astronomy niche site. There are only a few astronomy affiliate programs out there.
So using Design By Humans to help supplement your income by promoting NASA t-shirts is a great way to maximize your profit potential.
Design By Humans is a great way to expand your niche sites affiliate strategy even if you never thought of t-shirts as part of that strategy.
---
Best Niches For Design By Humans
I think there are a wide variety of valid niches that you can use this affiliate program with. The most obvious is going to be the T-shirt niche.
Not far behind would be a more General fashion Niche where you would have content about t-shirts and the latest styles that you could incorporate into your content.
There are plenty of t-shirt affiliate programs out there so you'll have to choose which ones you want to promote but Design By Humans Is a great candidate for your affiliate strategy and one that you should definitely consider.
In addition to just a basic t-shirt Niche with this affiliate program works great for any Niche that can benefit from t-shirts.
Finally, any niche that can benefit from their branded products is going to be a great option for this affiliate program.
Run a Star Wars niche site? Promote branded Star Wars tees from Design By Humans and open up a new revenue stream for yourself.
The number of brands is immense and you can apply it to a whole range of niches from pop culture to video games to classic movies.
It's a pretty versatile affiliate program but one that fits into a pretty Dynamic group of niches. I think that it's something that many Affiliates would want to look into even if they're not in a specific t-shirt or fashion niche.
---
Closing Thoughts
Affiliate Commission: 10%
Tracking Cookie Duration: 30-days
Auto-Approval?: No
Affiliate Niche: T-Shirts
That just about wraps up our look at Design By Humans affiliate program. A solid all-around affiliate program that is going to do very well for many affiliate markets out there.
The commission is good at 10% and the tracking cookie duration is a solid 30 days. There's absolutely nothing wrong with the affiliate terms that you're offered from this partner.
But ultimately it is the products that are going to determine the success of this affiliate program within your content.
If it resonates with your specific audience then you are going to do quite well for yourself but if your audience rejects this affiliate program for whatever reason you need to be prepared to move on to something else as quickly as possible.
While no one affiliate program is going to work for every affiliate marketer out there I feel like Design By Humans Is going to be pretty universally accepted across most people's content.
They are a high-quality brand with high-quality products but they are in one of the most competitive niches out there.
There are dozens of different t-shirt affiliate programs that you can choose from so you want to run some tests to see which one performs best for you.
I suspect for many people it will end up being Design By Humans and it's always worth it to try these affiliate programs out just to see how well they do.
With some creative content and a lot of patience and hard work, the Design By Humans affiliate program could be the foundation for your online affiliate marketing business.
Don't go it alone. Get the best learning tools and community to help you build your online dream. Check it out here.
Thanks for visiting and have a wonderful day.