This article may contain *affiliate links. Please see our affiliate disclosure for more details
Hello everyone and Welcome to our look at one of the best astronomy affiliate programs out there right now that you can use to help monetize your astronomy Niche blog or website.
Program in question is the telescopes.com partner program. it is one of the best places online to promote for anyone that is looking for a telescope or other astronomy equipment.
It could be a great opportunity to replace Amazon Associates with telescope.com if the affiliate terms are good enough and the program itself lives up to the quality of its overall website.
There Is Just Something About Owning Your Own Business. Being Your Own Boss. Building Something From The Ground Up With Your Own Hands. Especially When It Is This Easy To Get Started.
---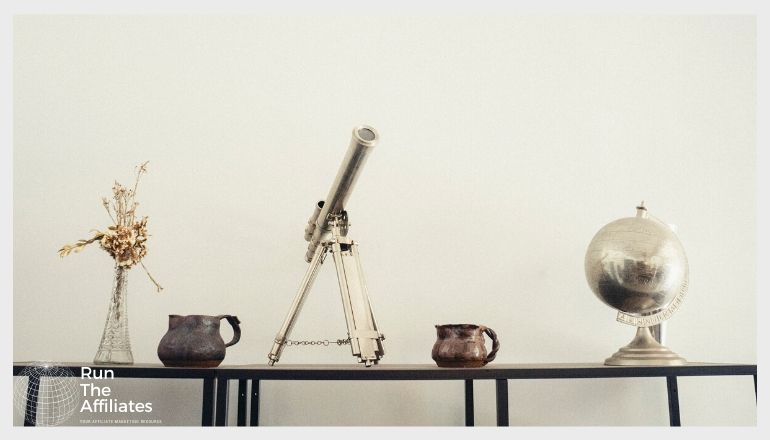 A Closer Look At Telescopes.com Affiliate Program
---

Commission: 7%-8%
Tracking Cookie: 30-days
Auto-Approval: No
Telescopes.com Affiliate Program Commission
You have multiple options when joining this affiliate program. They list PepperJam, Linkshare, and Commission Junction as options to join their partner program. I have used the CJ.com commission and tracking cookie information.
So for the sake of this article, I'm going to use the 8% commission as the overall commission for this affiliate program but be sure to inquire about it when you join the telescopes.com affiliate program to make sure that you're getting the best affiliate commission that you possibly can.
The 8% commission is an incredibly generous one for this type of affiliate program. Typically physical products tend to have a lower commission and products like telescopes can go even lower because they do have such a high overhead because of their storage and transport and because they are very precise equipment that needs to be protected every step of the way.
So when you come across and 8% commission for telescopes it's something that you really want to consider for your astronomy blog.
That 8% commission is also going to add up quickly when you consider that many of their telescopes can run into the thousands of dollars and are very much high-ticket items. When you pair that with some of their less expensive telescopes you get a broad range of products in a broad price range.
Let's discuss the important of product and affiliate links in your astronomy content.
You can join the Orion Telescopes.com affiliate program here.
Promote These Telescopes Wisely
This is ideal for an affiliate marketer. You want your products that you're going to promote to be as accessible to as many people as possible. Not everyone is going to be able to spend $1,000 or more on a telescope, So it's nice to have less expensive options for those members of your blog audience that can't spend that high of a price.
The point here is that you want to promote products that are going to be the best fit for the majority of your audience. So don't try and simply review and promote the thousand-dollar telescopes when you could expand the potential buying pool greatly by promoting the $100 telescopes or the $200 telescopes.
You want to create your content as broadly as possible and that includes the price of those products.
Where you deploy each price range of each telescope is really going to determine how well this affiliate program works for you I think.
For example you don't want to stick unlink to $1,000 telescope in an article about how to begin your amateur astronomy career. Those two are not going to line up well and you're going to waste your high ticket item affiliate links in that type of content.
So instead you would put a cheaper beginner telescope in that type of content and you'll have a much better chance of getting conversions. It's these types of problems that you're going to need the solve as an affiliate marketer. Pairing the best products with the appropriate content.
The Tracking Cookie
The tracking cookie is a solid 30-day duration. For most of your promotional content, this is going to be fine for the telescope.com affiliate program. the only problem that I see with only getting a 30-day tracking cookie from this affiliate partner is that they do have quite a bit of high ticket items on their website.
Typically for very high ticket items, you were going to want as along a track meet duration as possible to give your audience more time to consider making a purchase of that size.
So for the majority of your sales 30 days is going to be plenty but if you happen to have some promotional material or content that focuses on the $1000+ telescopes the tracking cookie might not be long enough and you could potentially lose some sales due to that.
There is generally a good correlation between the length of the tracking cookie and the conversion rate of an affiliate program and that's especially true of high ticket items Within These affiliate programs.
The Conversion Potential
There's good reason to believe that telescopes.com is going to give you a pretty decent conversion rate once you get your audience comfortable with using that website.
It will never be the conversion monster that Amazon associate is just because Amazon is so ubiquitous with online shopping at this point.
But the great news is it doesn't need to have anywhere near the conversion rate that Amazon does in order for it to be a great affiliate option for your astronomy blog.
The conversion potential is something that I like to look at before even though some running tests with a specific affiliate program.
What I look at are a few of these factors that we talked about here today. The track and cookie is very important for the conversion potential. I like to see at least a 30-day tracking cookie for an affiliate program. Telescopes.com has a 30-day tracking cookie so it's fine on that front.
Another aspect of the conversion potential that I like to take a look at is the products themselves. It's important not to overlook the quality of the products of your promoting and make sure there's something you're comfortable promoting on your astronomy website.
Telescope.com passes this criteria with flying colors as they have some fantastic telescopes for you to choose from at a wide range of prices.
The last thing you need to look at when trying to determine the conversion potential of a specific affiliate program is how well it meshes with your existing audience. If you're running new website then you're not going to have this type of information so you just kind of have to go with your gut on which affiliate programs to use and run tests to see how well they do.
But once you get to know your audience pretty well you are going to be able to pick and choose affiliate programs that are going to hit the ground running because they fit right into your overall brand and your audience expectations.
And looking at telescopes.com affiliate program from a purely Outsider view it looks to be a great option for an astronomy blog or Niche website.
Closing Thoughts On The Telescopes.com Affiliate Program
I think this is one of the best astronomy affiliate programs out there. With the caveat that there aren't a whole lot of specifically astronomy affiliate programs to choose from. I think most astronomy blogs will just use Amazon Associates as their affiliate program of choice.
However Amazon is constantly lowering their affiliate commissions to the point where it's very tough to recommend them as an affiliate program and as a result you're going to want to find affiliate program alternatives to them.
Telescopes.com certainly fits the bill as an Amazon Associates alternative for anyone in the astronomy niche. It might take some trust building between your audience and telescopes.com to get it to a level similar to what Amazon can offer.
But taking the time to do that as well worth it as the 8% commission and the 30-day track and cookie are Fantastic Four an affiliate program in the astronomy Niche.
At Amazon, you would typically get between 1% to 3% as a commission and about 20 hours for a tracking cookie duration so you can see how much better telescopes.com is than Amazon Associates when dealing with an astronomy blog.
Ultimately it's going to come down to conversions as I discussed in the conversion potential section of the article but telescopes.com is certainly worth consideration for your astronomy blog and I hope this article has shed some light on the subject for you.
Don't go it alone. Get the best learning tools and community to help you build your online dream. Check it out here.
---