This article may contain *affiliate links. Please see our affiliate disclosure for more details
Hello Everyone. Welcome back. Insights into family histories and the genetics surrounding who you are and where your family came from is a huge blogging niche.
With that in mind, I have put together a list of 10 great genealogy and DNA affiliate programs for your approval. Let's see if we can't find one that will help you further monetize your genealogy or family history niche site.
The niche is also quite broad as you could implement these affiliate programs into a good variety of websites. A health related website would benefit from the genetic reports and a family niche site would be a great place to incorporate a family history partner.
There Is Just Something About Owning Your Own Business. Being Your Own Boss. Building Something From The Ground Up With Your Own Hands. Especially When It Is This Easy To Get Started.
---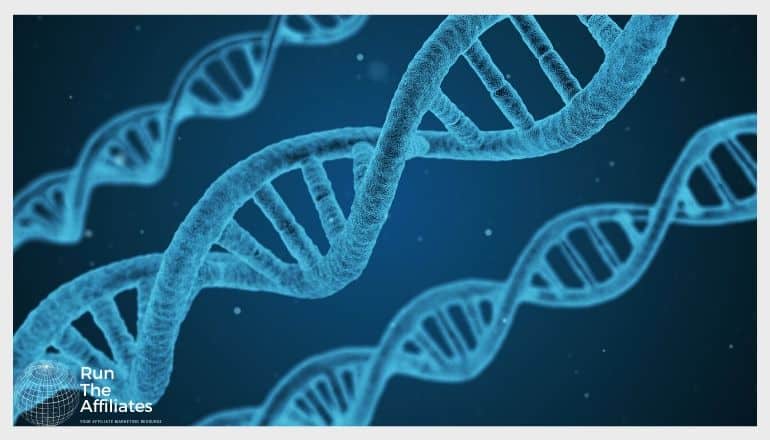 Check Out These Great DNA Affiliates
---
Ancestry.com Affiliate Program
Commission: 10%-20%
Tracking Cookie: Not Listed
Auto-Approval: No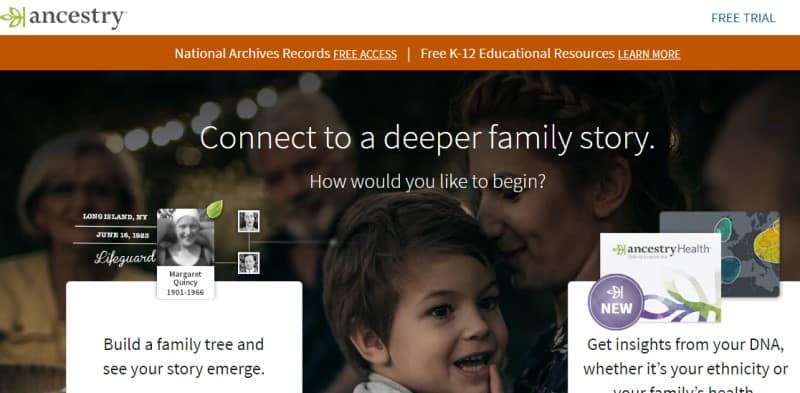 Join The Ancestry.com Affiliate Program Here
Ancestry.com is probably the most popular genetics and family ancestry website out there. Most people have probably seen their ads in mainstream media.
Ancestry.com allows people to find information about their genetic history. It is not just finding out who you are related to they also get insights into their genetic history for a look into your family health and genetic health.
The commission is pretty good for a brand this big. You get a 10% commission for most sales and a 20% commission for the subscription part of ancestry.com. The subscription service commission is one of the best you will find. Subscription services with a percentage commission are becoming rarer and rarer.
I could not find the tracking cookie information so be sure to ask about it when you join this affiliate partner. It should not be a problem but you want to make sure it is a decent duration.
---
23andMe Affiliate Program
Commission: Up To $10 Flat Fee
Tracking Cookie: 45-days
Auto-Approval: No

Join The 23andMe affiliate program here.
Another very popular home genetic testing line of products is available through 23andMe. This DNA affiliate program is probably better suited for a health-based niche website.
Their products are health-focused and should be a good addition to the type of Niche site where having a genetic history of your family health is something that you would want to promote.
The commission is a flat fee structure. They give you up to $10 per kit that they sell as a result of your referrals. It's actually a pretty good Commission and although I like to see percentage commissions more often than not flat fees can be very good if you can get the traffic and if those flat fees are high enough.
This affiliate program is hosted by the Commission Junction affiliate network or cj.com. So You will need to be a member of that affiliate Network in order to sign up for this partner program. The tracking cookie duration is 45 days which is outstanding for this type of affiliate partner.
---
Living DNA Affiliate Program
Commission: 10%
Tracking Cookie: 45-days
Auto-Approval: No

Join The Living DNA Affiliate Program Here
Living DNA offers products designed to help someone learn more about their ancestry through DNA matching as well has products that detail you genetic health.
They have a smaller product line but one that would work for an ancestry niche site or a health website as well.
Here Are some of the products you can expect to promote with the Living DNA partner program
Starter kit
Full ancestry kit
Wellbeing kit
Wellbeing & ancestry kit
The living DNA partner program is accessible through both the CJ affiliate Network and the Awin affiliate Network. The numbers that I'm using for the affiliate terms are from the CJ affiliate Network profile.
The commission is a very good 10%. It's always nice to see a double-digit affiliate commission for these types of programs and 10% will do very nicely for you on your gene genealogy Niche website or any website where you need to promote this type of family DNA product.
The tracking cookie is Rock Solid. They offer a 45-day tracking duration which is going to give you plenty of time to make a sale and still get that all-important Commission.
---
Genex Affiliate Program
Commission: 20%
Tracking Cookie: Not Listed
Auto-Approval: No
Learn More About Genex

Join the Genex Affiliate Program Here
Genex is a DNA testing service that supplies some of the most advanced and state of the art testing available. They have a wide variety of tests available, including:
DNA Paternity Test
DNA Sibship Test
Forensic DNA Test
Y-DNA Test
DNA Ancestry Test
The tracking cookie duration wasn't available on their affiliate page so be sure to ask about that when you sign up to make sure that you are getting a good tracking cookie for this partner. The commission is a very generous 20% that should do very nicely in generating a passive income for your ancestry or DNA Health Niche website.
Teloyears Affiliate Program
Commission: $12 Flat Fee
Tracking Cookie: 30-days
Auto-Approval: No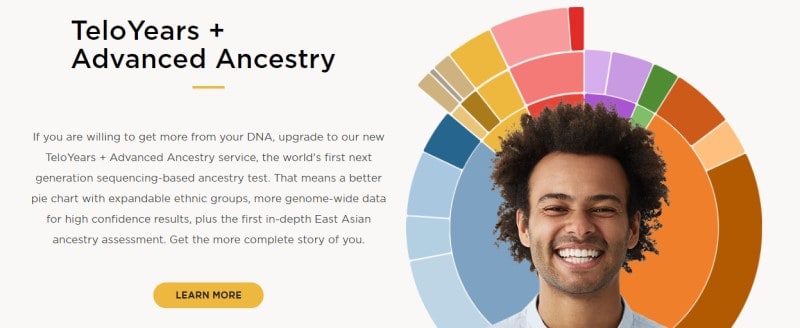 Join the Teloyears Affiliate Program Here
Teloyears helps you age better with their DNA tests that give you an idea of your actual cellular age. It is a bit different from the other partners on our list and I think it would work best on a health and wellness blog.
Control how well you're aging with TeloYears, a simple, accurate DNA test that tracks your cellular age based on your current telomere length. Then learn how to improve it through a personalized, telomere science-based support program.

TeloYears About Page
The commission offered by Teloyears is a $12 flat fee for referrals through your affiliate links. The tracking cookie duration is a standard 30-days. You shouldn't need more than the 30-day tracking gap for this type of affiliate so it should work well for you.
---
The DNA Store Affiliate Program
Commission: 15%
Tracking Cookie: Not Listed
Auto-Approval: No

Join The DNA Store Affiliate Program Here
The DNA Store is something a little different on our list of DNA affiliate programs. Instead of digging into the science and promoting testing kits and ancestry kids the DNA store has products designed around the DNA helix.
So, for example, you could get a greeting card with the DNA Helix on it or a glass cube with a DNA Helix suspended in it. These are fun and interesting products that would make great gifts but they also fit very well into a niche website that is focused on DNA ancestry or DNA Health in general. It's another layer of monetization that you can try on your Niche website.
The tracking cookie duration was not available on their affiliate profile so be sure to ask about it when you sign up for this partner program. The commission is a fantastic 15%. What's great about this is that most of the products on the DNA store are physical products and not test kits or something along those lines.
so getting a 15% Commission on these types of products is outstanding and can really start to add up even though their products aren't really that expensive.
---
Easy DNA Affiliate Program
Commission: ~15%
Tracking Cookie: 30-days
Auto-Approval: No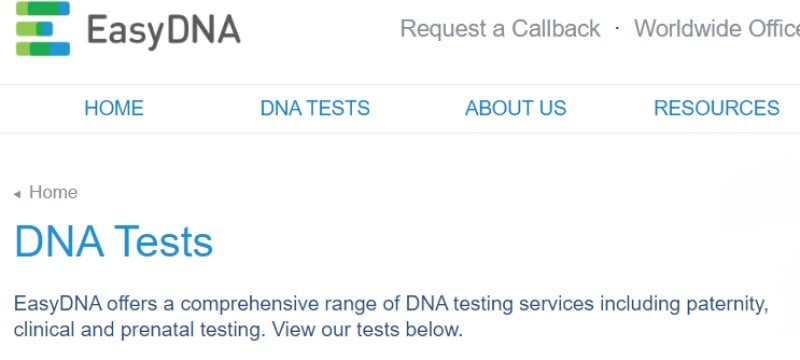 Join The EasyDNA Affiliate program here.
EasyDNA offers a huge selection of DNA tests and other related tests, here is a sample of what they offer.
Paternity Tests
Relationship Tests
Prenatal Tests
Animal Tests
Ancestry Tests
Clinical Tests
Health Tests
Drug Tests
The abundance of genetic testing and the other tests offered by this affiliate program make it a great option for a Health and Fitness website as well as An ancestry or family history type website because they do offer ancestry test as well.
The tracking cookie duration was not available at the time of publication so make sure to ask about it to ensure that you are getting the best possible tracking cookie gap that you can.
The commission on offer from the EasyDNA affiliate program is a robust 15% On average. This is starting to become quite a theme with these DNA affiliate programs. They all are very generous in their affiliate terms and EasyDNA is no exception.
---
GreenWayDNA Affiliate Program
Commission: $15 Flat Fee
Tracking Cookie: 15-days
Auto-Approval: Yes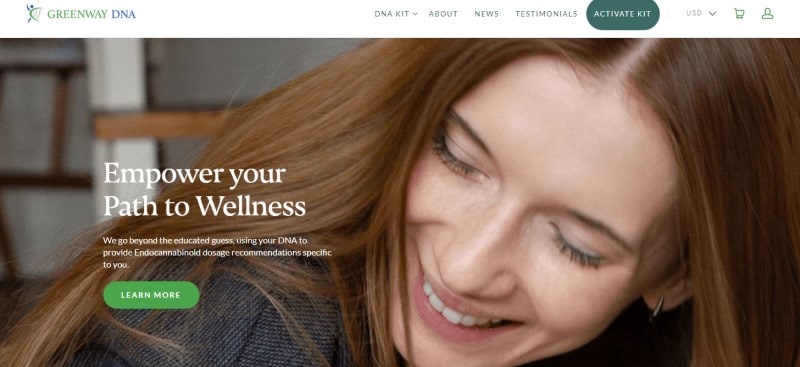 Join The GreenWayDNA Affiliate Program Here
GreenWayDNA Is another DNA testing service that would fit right into a health and wellness type of Niche website. They use the DNA testing to determine Just how much CBD your body needs.
This makes it an excellent choice for any CBD Niche website out there as well as it would fit right in with the other products in that Niche.
The commission is a very respectable $15 flat fee for Any sale from people using your affiliate links. the tracking cookie is only 15 days which is a little bit less than I like to see. Typically I want to see a 30-day tracking cookie but 15 days should do just fine for this type of affiliate program.
Finally, they do offer an auto-approval process in their ShareASale profile giving you the opportunity to join their affiliate program even if you don't have a huge amount of traffic just yet.
---
Nebula Genomics Affiliate Program
Commission: 12%
Tracking Cookie: Up To 90-days
Auto-Approval: No
Nebula Genomics specializes in whole genome sequencing for their DNA test which the claim produce even more data than regular DNA tests.
Whole Genome Sequencing decodes 100% of your DNA and produces 10,000 times more data than other DNA tests. Begin a lifetime of discovery with full access to your genomic data, weekly updates based on the latest scientific discoveries, advanced ancestry analysis, and powerful genome exploration tools.

Nebula Genomics
The affiliate terms for the nebula genomics partner program are pretty fantastic. They offer up to a 90-day tracking cookie duration which is going to give you plenty of time to make yourself and still get credit for those commissions.
The commission themselves are 12% for sales through your affiliate links. Anytime you see a double-digit affiliate you should really consider looking into it to see if it fits your overall affiliate strategy.
Join The Nebula Genomics Affiliate Program Here
---
Embark Vet Affiliate Program
Commission: 10%
Tracking Cookie: Up To 30-days
Auto-Approval: No

Join The Embark Vet Affiliate Program Here
This affiliate program is going to be unique on our DNA affiliate program list. This partner is Focused on DNA tests for your pets.
These tests are designed to give the pet owner an idea of how susceptible they are to certain genetic diseases that are common in their respective breeds. It's a real interesting proposition and would fit perfectly into a pet website or Niche blog.
In fact, I think generating a sizable amount of content and creating a category on your pet blog for this specific type of DNA testing would be a great way to expand your reach a little bit.
The commission is a 10% Commission on all sales through your affiliate links. These tests aren't cheap but they're not hugely expensive so the 10% commission can really generate a good amount of income while not excluding itself from the majority of your audience due to a super high price.
The tracking cookie gives you up to 30 days to make a sale after someone uses your affiliate link. It shouldn't be a problem for this affiliate program and the 30 days probably won't affect your conversion rate too much.
---
Wrapping Up These DNA Affiliates
That brings us to the close of our look at the DNA affiliate programs. This is an itch that is getting bigger and bigger every single day. The really great thing about it is it's not designed to be a really singular Niche. You can incorporate these DNA and ancestry tests into a wide range of Health, family, historical, and many other Niche websites.
The versatility of these affiliate programs is one of their biggest selling points. In this day and age, you want to find affiliate programs that you can use that aren't necessarily specifically designed for your chosen Niche.
What this does is simply brought in the monetization possibilities of your website or blog and gives your audience options that they may not have considered but that they now have an outlet for because of your foresight and including some of these DNA affiliate programs into your existing website.
So I hope you find one of these genealogy affiliate programs beneficial to your business and wish you the best of luck in your affiliate marketing endeavors.
Don't go it alone. Get the best learning tools and community to help you build your online dream. Check it out here.
Thank you for stopping by and have a wonderful day