This article may contain *affiliate links. Please see our affiliate disclosure for more details
Hello everybody and welcome back to the website. Today we are going to be looking at one of the best herbal and tea affiliate programs out there that you can use as an alternative to Amazon Associates for your Niche website.
The program in question is the Starwest Botanicals affiliate program. The interesting thing about this is that they do sell their products on Amazon but you will only get about a 1% Commission if you send people to Amazon to buy the Starwest Botanical products.
So incorporating their own affiliate program into your content is going to be much more profitable for you as long as you can convince people to spend their money directly at the Starwest Botanicals website instead of going to Amazon to get those products.
Let's have a look at the overall affiliate program to see just how much better it is than what Amazon Associates offers for the exact same products.
There Is Just Something About Owning Your Own Business. Being Your Own Boss. Building Something From The Ground Up With Your Own Hands. Especially When It Is This Easy To Get Started.
---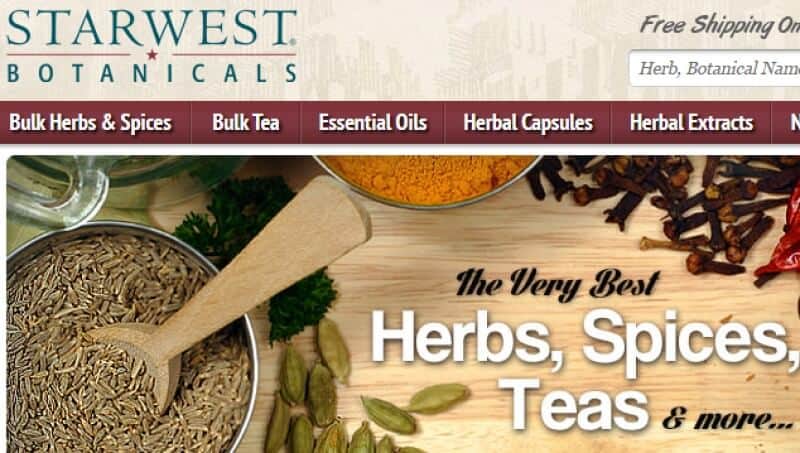 Check Out The Starwest Botanicals Affiliate Program
Commission: 15%
Tracking Cookie: 60-days
Auto-Approval: No
Join The Starwest Botanicals Affiliate Program Here
---
The Starwest Botanicals Commission
Let's start with the commission for the Starwest Botanicals affiliate program. As I mentioned in the intro Amazon will give you about 1% for the Starwest Botanical products that are sold on the Amazon website.
If you send your customers to the Starwest Botanical website and they make a purchase you will get a 15% Commission. As you can see the difference is massive.
I 1% commission is going to be very difficult to make any sort of profit off of but I 15% commission can be the basis for your entire online business. It really is that good of a commission.
Another thing to consider is that Amazon will of course convert better than a smaller website like Starwest Botanicals but it probably won't convert anywhere near 15 times as well. And that is the amount of conversion that you would need to break even with Amazon's minuscule 1% commission.
It really is amazing. The exact same products one place you get 1% the other place you get 15%. Of course, the commission isn't the only thing to consider but when there is this big of a disparity you really need to take notice of it and try and work the much higher Commission affiliate into your content even if it cost you a little bit of conversion.
A Word On The Tracking Cookie
Next up is a tracking cookie and as the commission, the start was Botanical affiliate program gives you a much longer tracking cookie to racing than Amazon Associates does. Amazon gives you around 20 hours for a standard tracking cookie while the Starwest Botanical tracking cookie is a full 60 days.
This means that any purchases made during at 60-day window will earn you the commission that you deserve and work hard to get. It really can't be overstated how good the two-month-long tracking cookie duration is for this particular affiliate program.
It will absolutely increase your conversion rate because it gives your audience plenty of time to decide exactly what they want to buy and still giving you time to get a commission from it.
The Starwest Botanicals Products
All the super high commissions and fancy tracking cookie directions don't mean anything if the products you're promoting are not good. It's not something you have to worry about we Starwest Botanicals.
Here is an idea of some of the product categories and niches that you can expect to promote with this partner
Bulk Herbs
Bulk Spices
Bulk Tea
Essential Oils
Herbal Extracts And Capsules
Accessories
And Much More
They are one of the more popular suppliers of herbs on the internet. They are particularly popular among tea drinkers because a lot of their herbs can be steeped in water and turned directly into an herbal infusion.
They tend to sell these herbs in bulk so as an affiliate marketer these purchases are going to be a little bit more expensive than if someone were to just buy a box of tea bags for example.
Speaking of tea they are among the best tea affiliate programs as well as an herb affiliate program because they do have a very nice selection of herbal teas as well as traditional teas light green and black tea.
This makes it a great option for anyone who is running a tea website or if you happen to be running an herbal remedy website or cooking website where you would use these types of bulk herbs. it turns out that this affiliate program is incredibly versatile.
My Thoughts On The Potential of Starwest Botanicals
I think that the Starwest Botanicals partner program is one of the best out there if you are in the tea niche, an herbal Niche, a cooking Niche, or any other Niche where this type of affiliate program would make sense there are few better than it.
It has a huge amount of potential to really generate a good amount of income for your Niche website. The commission is outstanding at 15%. The tracking cookie duration is outstanding at 60 days.
When you add everything together along with the crate products that they offer there is nothing that you can really detract from this partner program. It has everything you want as an affiliate marketer including a decent amount of banners and creatives if you want to go that route.
Although I think this affiliate is best employed as text links in the bulk of your content you can put advertisements and Banners on your website as well.
I really see no negatives in this affiliate program. If you can get your application accepted then this can be the foundation for your Niche website and a great way to make money with affiliate marketing.
---
The Bottom Line
That brings us to the end of our look at the Star Wars Botanicals partner program. I think I've been effusive in my praise but it is warranted because of the super high quality of the shopping experience and the product and the affiliate terms that are offered up here.
There are many very good tea affiliate programs and there are many good herbal affiliate programs and you would be wise to seek them out and consider using them if they fit into your affiliate strategy.
But I urge you not to overlook starwest Botanicals. They have the potential to be a great asset to any affiliate marketer looking to expand their affiliate program Horizons.
Thank you for stopping by and have a wonderful day.
Don't go it alone. Get the best learning tools and community to help you build your online dream. Check it out here.