This article may contain *affiliate links. Please see our affiliate disclosure for more details
Hello everyone, welcome back for another deep dive into the world of affiliate marketing. Today we will be taking a look at some of the best diaper affiliate programs for your parenting, baby, or child-care related niche blog.
I know what your thinking…
Aren't diapers an incredibly specific niche to have an affiliate program for. The answer is yes it is very specific but that is the beauty of affiliate marketing you can niche down to almost a singular product and still have affiliate programs and traffic waiting for you.
These affiliates are specifically for baby and adult diapers if you are looking for more general baby product affiliate programs, please check out our list here.
With that said lets get started…
There Is Just Something About Owning Your Own Business. Being Your Own Boss. Building Something From The Ground Up With Your Own Hands. Especially When It Is This Easy To Get Started.
---
The Diaper Affiliate Programs
---
Made Of Affiliate Program
Commission: 15%
Tracking Cookie: 30-days
Auto-Approval: No

Join The Made Of Affiliate Program Here
Made Of is an online retailer of diapers and skin care products for abies that are help to high standard and made with organic products.
Here is their mission statement
To provide new parents with simple, organic-first and safe everyday baby products, while creating consistent shopping experience without exploiting their pockets and time.

Made Of – Our Story
The tracking cookie is a standard 30-day duration. There are really no products offered by this affiliate that could be considered high-ticket items so the 30-day duration feels like it should be suitable for most marketers.
The commission is a fantastic 15% on sales made through your affiliate links. You cannot go wrong with a commission this high. If you get the conversion rates at the traffic then you can build your whole niche blog on promoting products from this affiliate.
---
IncrediBundles.com Affiliate Program
Commission: 10%
Tracking Cookie: 30-days
Auto-Approval: No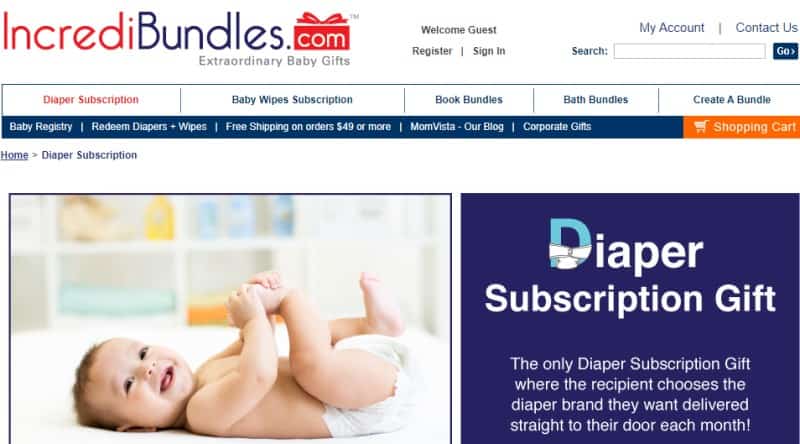 Join The IncrediBundles.com Affiliate Program Here
IncrediBundles is an online subscription and gift service that deals mainly with diapers. The subscription box industry is everywhere these days and even diapers are not exempt from this popular commerce delivery system.
The recipient gets to choose the brand of diaper that they would like delivered each month, making this one of the more customizable subscription services out there and one that the recipient can curate to their specific liking.
The affiliate terms are pretty good for the IncrediBundles.com partner program. They offer their affiliate partners a 30-day tracking duration and a 10% commission on qualifying purchases made by your referrals.
The exception is the diaper and wipes subscriptions. For the diapers subs, you get a $20 flat fee for a new referral and for the wipes you get a $10 flat fee. It is a little bit of a let down that you don't get the recurring commission but this is pretty standard for a subscription service.
The commission and cookie, along with the flat fee subs, will form a solid foundation for an online business focused on diapers and other baby products.
---
GroVia Affiliate Program
Commission: 10%
Tracking Cookie: 180-days
Auto-Approval: No

Join The GroVia Affiliate Program Here
GroVia is a modern diapering system designed to help parents who might not be familiar with cloth diapers make an easier transition away from plastic diapers. This affiliate would work well for a cloth diaper niche blog as well as a general baby niche blog.
GroVia offers a huge tracking cookie duration that could help you rack up some great profits with all those return days. The 180-day tracking duration is one of the longest for a diaper affiliate.
The commission is solid at 10%. Double-digit affiliate commissions are always a great sight to see and should not be taken for granted because the trend is lower commissions for affiliate partners.
---
Unique Wellness Affiliate Program
Commission: 3%
Tracking Cookie: 30-days
Auto-Approval: No

Join The Unique Wellness Affiliate Program Here
Unique Wellness is our first adult diaper partner on this list. You could deploy this affiliate in a wide range of niche sites and blogs. Form a blog dealing with digestive issues among older people to a niche site dedicated soley to finding the best and most discreet adult diaper alternatives for people who need them.
The commission is on the low side at only 3%. You will need an increased traffic throughput to get the most out of this affiliate but the adult diaper aspect of it is pretty unique and could help offset the low commission. The tracking cookie is fine at 30-days and should serve you pretty well.
---
SnoofyBee Affiliate Program
Commission: 20%
Tracking Cookie: 45-days
Auto-Approval: No

Join The SnoofyBee Affiliate Program Here
Technically this is not a diaper specific affiliate partner. They have a wider range of baby and parenting products. They make our list for their Clean Hand Diaper Changing Pad that makes it clean and easy to change diapers with much fuss.
The tracking cookie duration for this affiliate program is outstanding. They offer you a full 45-day tracking cookie Gap in order to make your referrals and still get a commission.
The commission is equally as impressive as the tracking cookie. You get a 20% commission on qualifying sales made through your affiliate program making this one of the most generous commissions on our diaper affiliate list.
---
AdultClothDiaper.Com Affiliate Program

Join The AdultClothDiaper.Com Affiliate Program Here
AdultClothDiaper.Com has a wide array of cloth diapers, swim diapers, and other accessories designed to be discreet and practical for the people who need them in their everyday lives.
This affiliate is going to have a much different audience than most of the other affiliates on our list as they cater to a completely different demographic and are a whole different blogging niche really.
This affiliate would be most at home on a blog dealing with the causes and health-related subjects that cause these bladder issues in adults.
The tracking cookie duration is 45-days and the commission is a solid 10%. These are pretty good terms for an adult diaper affiliate and their are not a whole lot of adult diaper dedicated affiliates out there so this is one your will want to consider.
---
LL Medico Affiliate Program
Commission: 10%
Tracking Cookie: 15-days
Auto-Approval: No

Join The LL Medico Affiliate Program Here
The adult diapers sold by LL Medico are going to be the focus for this list but they also have a decent selection of other products including…
Adult Diapers
Incontinence
Personal Care
Urology
Catheters
Overall this is a great option for a niche site focused on inconitnence and other related illnesses and the remedies for them.
The tracking cookie is a little on the short side, weighing in at only 15-days but it should not be much of an issue since we are not really dealing with any high-ticket items. The commission is 10% which should work out very nicely for your niche blog.
---
Diaper Dabbler Affiliate Program
Commission: 10%
Tracking Cookie: 7-days
Auto-Approval: No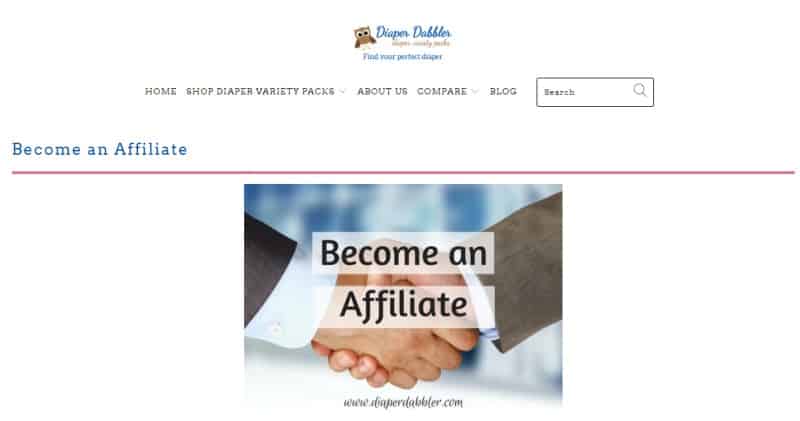 Join The Diaper Dabbler Affiliate Program Here
Diaper Dabbler isn't the largest diaper supplier out there but they do take a unique approach to diapers by allowing individuals to select a variety of diaper samples to see which ones they like the best for their baby. Their diaper sampler packages will make up the bulk of your promotions for this affiliate.
The tracking cookie has a bit of confusion about it. On their Affilaitly profile, they list the tracking cookie at 7-days and on their website, it is 60-days. I will use the 7-day cookie for this article but be sure to ask about it when you join this program as a 60-day cookie is much more desirable that the 7-day one.
The commission weighs in at 10 percent. A solid double-digit cookie for a very appealing diaper affiliate that can be used for a variety of baby niche websites.
---
Diaper Junction Affiliate Program
Commission: 5%
Tracking Cookie: Not Listed
Auto-Approval: No

Join The Diaper Junction Affiliate Program Here
Diaper Junction is an affiliate program dedicated to Diaper Rite and Diaper Junction products that you can promote on your niche blog or website.
The commission is 5% which should work pretty well with a sufficient amount of traffic coming in each day. The tracking cookie duration is not listed on the affiliate webpage so be sure to ask about it when you are accepted to this affiliate program.
---
Nicki's Diapers Affiliate Program
Commission: 5%
Tracking Cookie: Not Listed
Auto-Approval: No

Join The Nickis Diapers Affiliate Program Here
Nicki's Diapers has a large selection of diapers to choose from that you can promote on your niche site. Here are a few examples…
Cloth Diapers
Hybrid Diapers
All-in-One Diapers
Pocket Diapers
Prefold Diapers
Fitted Diapers
Cloth Diapers
And More
In addition they have a good selection of babywear and nursing apparel and accessories if you are looking to expand past just diapers.
The tracking cookie information was not listed so be sure to ask about it when signing up. The commission is set at 5%. Not the highest on our list but their products can make up for the lower commission with a good amount of traffic.
---
The Wrap Up
That brings us to the end of our look at these diaper affiliate programs. I think the big takeaway here is that there is really almost no product too niche for a content blog.
These are just one baby product for the most part. Just diapers for babies and adults. And yet we have a huge selection of affiliate programs to choose from that can help you monetize your baby product website or any website wear a diaper affiliate would make sense.
Chances are if it's something that you want to help other people with their it's going to be an audience out there for you and diapers are a great example of that.
The biggest thing that I want everybody to remember is that almost any Niche can be profitable no matter how small as long as you are certain that there's going to be enough traffic out there for your website.
Not every Niche is going to be a huge earner but every little bit helps and this particular Niche is both very profitable and very competitive
With some good content and a solid affiliate strategy, you should have no problem building a diaper Niche blog that you can then morph into a more General baby product blog once you start to grow and generate traffic.
Don't go it alone. Get the best learning tools and community to help you build your online dream. Check it out here.
Thank you for stopping by and have a wonderful day.