This article may contain *affiliate links. Please see our affiliate disclosure for more details
Dogs and cats might get all the press when it comes to pet niche websites. But horses are and have always been an incredibly popular niche in their own right.
But they do require some specific affiliate programs in order to really maximize your horse-related passive income website.
So I put together 10 of the best equine affiliate programs that you can use to help monetize your blog or website.
Let's Jump Right In and have a look.
So let's dig into these equine-related affiliate programs and see if we can find one that fits your blog or horse website.
There Is Just Something About Owning Your Own Business. Being Your Own Boss. Building Something From The Ground Up With Your Own Hands. Especially When It Is This Easy To Get Started.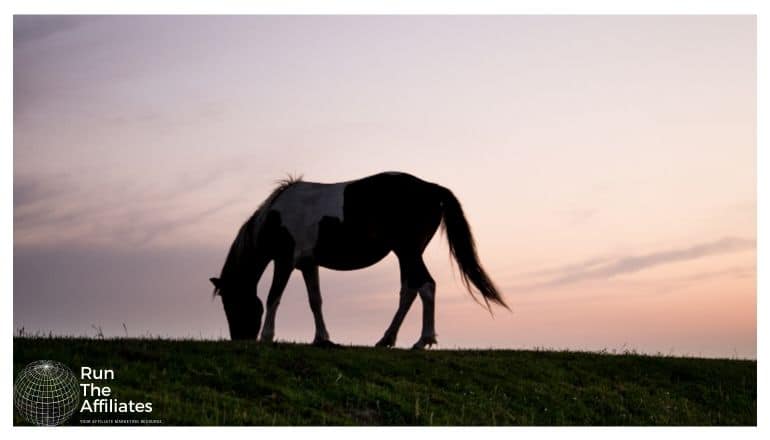 Check Out The Equine Affiliate Programs
Equine affiliate programs, or horse affiliate programs, are designed to allow individuals the opportunity to receive commissions for promoting horse-related products and services on their own websites or other content platforms.
Now that you have some great equine affiliate program ideas you just need to create the content and drive traffic to your affiliate links. With a little affiliate marketing training, you can get started on that today.
---
US Polo Association Affiliate Program

This partner sells branded merchandise for the United States Polo Association, which has been the governing body for Polo in the US since 1890, according to its website.
This is more of a clothing affiliate related to horses than a straight horse affiliate program but it could add a nice bit of variety to your horse niche website.
The tracking cookie is a standard 30-day duration. Not a lot of their products can be considered high ticket items so the 30-days is plenty long enough to make promote their products and get the commission you earned.
Speaking of the commission it is a standard 5% commissions. This is about as low as I like to see commissions go but given the products and their appeal, it is not going to be a huge issue.
Still, I always like to see commissions in the double-digits, don't we all. This is a great option for an affiliate program if your horse niche website is an equestrian sports niche website.
---
E3 Live For Horses Affiliate Program

E3 Live For Horses offers a pretty good selection of supplements for your horse as well as a few supplements for other pets as well.
They look to have two to three dozen products that you can purchase so it's a reasonably side supplement store for your horse on this website.
These types of affiliate programs are always a little bit more dependent on the receptiveness of your audience than some other partner programs.
As a result, they may take a little bit more promotion for some affiliate marketers and for others they may be a non-starter because you're readers simply do not like the products at all.
So there's going to be a feeling-out period between you and your readers to determine whether or not this is going to be a good affiliate program for you and one that's going to convert into the types of sales that you need to make it worth your while.
The tracking cookie information was not readily available when I was researching this affiliate program.
Make sure that you asked about it when you join the program to be sure that you get a good duration cookie that is going to give you enough time to promote their products and still receive a commission.
The commission offered by E3 Live For Horses is fantastic. They offer a full 20% Commission on retail sales of the first order for each customer that you refer through your affiliate link.
It is one of the higher affiliate Commissions in the horse niche and really a welcome sight to see. But the affiliate itself is going to be a little niche as its Mainely nutritional supplements for your horse and pets that are offered by this affiliate.
---
Horze Affiliate Program

Horze is an online retailer of a huge selection of horse-related apparel and gear. They have horse care products, riding apparel, blankets, and boots.
Anything a horse or its owner needs when it comes to clothing or gear, chances are they have something for you. When you combine the great products with the affiliate terms you have one of the best affiliate programs in the horse niche.
The affiliate terms are where Horze really shines. They offer up to 30-day tracking cookie giving you plenty of time to make a sale and get the commission you earned. The commission is really where the affiliate program takes off, however.
They offer an incredible 15% commission on qualifying sales through your Horze affiliate link. Anyone in the just about any horse sub-niche should take a good long look at this partner and see if they can deploy it in their affiliate strategy.
---
Horse.com Affiliate Program

Horse.com is your one-stop-shop for just about anything horse-related. Whether you need clothing or helmets, Riding boots Horse stable supplies horse.com has got you covered.
If you are in the horse Niche than this is definitely an affiliate program that you want it to consider for your website.
It really covers a lot of bases and can be used as your primary affiliate program regardless of what horse micro niche you happen to be in.
This is, unfortunately, one of the rare examples of an affiliate program that doesn't have a whole lot of information publicly available about it.
I really couldn't find anything on the affiliate terms. To find out exactly what you would need to join the PepperJam affiliate Network and then sign up for the horse.com affiliate program if the program is still active.
Unfortunately, I'm not a member of the Pepperjam Affiliate Network so I couldn't check to see what these are the terms are for this affiliate program.
---
Easy Horse Training Affiliate Program

Easy Horse Training offers a wide selection of online training courses and videos for a wide array of horse-related subjects. If this partner converts well with your audience it has great potential to be a solid earner for your equine niche website.
The affiliate commission offered by this partner is remarkable, but not surprising. Since these products are online training videos and courses they can afford to offer a 50% commission on all qualifying sales.
Commissions this high are typical for digital products. However, it is nice to see one of these types of products in the horse niche as it gives you some options for your affiliate strategy.
One thing I will say is that digital-only products take a little bit more promotion that selling a physical product. So you'll have to be a little more creative in your promotional content.
---
Horse Saddle Shop Affiliate Program

Horse Saddle Shop is just what it sounds like. They offer a wide range of new and used saddles and well as some customization options and other accessories.
The affiliate terms are just average for this horse affiliate program. A 5% commission is nice but not extraordinary and the 7-day tracking cookie could be a little longer but overall this is a solid affiliate program.
One of the nice things about this partner is that they offer auto-approval through ShareASale, so you can sign up and use their program without having to have huge traffic numbers, to begin with. This is great for new websites just starting out.
---
LV Performance Affiliate Program

LV Performance is a supplier of horse supplements that you can promote on a variety of horse-based niche websites.
Supplement affiliate programs always seem to have a little bit less appeal than some of the more common pet products, but with the right content p[romoting LV Performance should not be a problem.
The tracking cookie is among the best in the niche at a robust 90-days. A cookie this long is always welcome and given that some of the products can get quite pricey the longer duration cookie is doubly welcome.
The commission is a reasonable 8%. It is not going to set the world alight but it is a very solid commission and one that can be a real nice earner for you in the long run.
---
Breeches Affiliate Program

Breeches is an online retailer of a very wide selection of horse related clothing and gear. They have everything from clothes and riding boots all the way up to saddles for your horse. They also have a modest selection of products for your dogs as well.
They offer hundreds of products from some of the biggest names in the horse and pet niche. This is definitely an affiliate program that anyone in the horse and its really should take a look at it and see if they can use it in their affiliate strategy.
The commission offered by the breaches affiliate program is a scalable one. The base commission is 7%, which is a pretty good Commission in its own right. But once you start accelerating your sales for any given month you can increase that commission up to 12%.
Here is how it breaks down.
For 26 sales the commission increases to 10.00%. At 100+ sales the commission moves to 12%. That is how I understand it but make sure to ask just to be sure when you are approved for their program.
In addition to the wonderful commission, you get a very nice 30-day cookie. This is typically a standard duration for tracking cookies these days.
For the products that you're going to be promoting from Breeches, it is a perfectly fine cookie that will give you plenty of time to make a sale and still receive your commission.
---
BioEquine Affiliate Program

BioEquine offers a modest selection of horse related products. They have a few types of supplements that you can promote on your horse website.
Overall the limited number of products makes this a secondary affiliate program to use in spots where supplements for horses are a main part of the content your creating. They also have a few products for dogs and cats but the main focus is for horses
The tracking cookie information was not publicly available when I researched BioEquine, or I just missed it. Either way, be sure to ask about it when you sign up for their affiliate program.
The commission is a nice 10% fee for all qualifying sales through your BioEquine affiliate link. A double-digit commission is nice to see and this looks like a decent partner program overall.
The only issue might be the lack of a more robust product line that you can create content around. With only a few products this affiliate program is probably going to have limited appeal overall.
---
Equestrian Coach Affiliate Program

Equestrian Coach touts itself as the "World's Leading Online Video Training Site For Equestrians". It is hard to argue with them given the number of videos they have available on their site.
They sell DVDs as well as subscriptions to their video archives. The subscriptions are the crown jewel of any affiliate program. If you can make them work with your audience they are a great source of passive income.
They offer recurring commissions for their affiliate partners. As long as the people you refer remain a member of this program then you will continue to get residual commissions.
It is always a good idea to have at least one recurring affiliate program, if possible, in your affiliate arsenal.
The tracking cookie information was not available at the time of publication so be sure to ask bout it when you sign up for this pet affiliate program.
The affiliate commission is 10%. The great thing about a double-digit commission and the possibility of recurring commissions is that it becomes passive income almost immediately.
You don't often find double-digit recurring commissions in the pet niche so this is a pretty good deal.
---
Additional Horse-Related Websites To Keep An Eye On
Here are a couple of horse-related affiliate programs that I see asked quite often. Keep an eye on both of these stores to see if they ever allow affiliates to promote their products.
Is There A Smartpak Affiliate Program?
Not as far as I could tell. I certainly could not find one on their website or on any of the major affiliate networks.
Smartpak is a popular store with tones of horse-related products to sell so It might be worth it to contact them and ask about any affiliate programs they might have.
I would build up a decent amount of traffic and authority first, however.
Is There A Dover Saddlery Affiliate Program?
Another popular name in the horse niche that I could not find any affiliate program information on. Keep an eye on them and if they do open up an affiliate program be sure to check it out.
I could not find any information about a Dover Saddlery Affiliate Program in my research for this article.
---
Wrapping Up Equine Affiliate Programs
That brings us to the end of our look at these fantastic equestrian affiliate programs. Horses need a little bit of special attention and so do the affiliate programs that you want to promote on your horse Niche website.
Sometimes your general pet affiliate programs won't have the proper products for your audience. So you have to be prepared with some additional affiliate programs in order to pick up that slack.
Hopefully, some of these affiliate programs can do that job for you and help to build out your affiliate strategy to better compliment your horse-related content.
Don't go it alone. Get the best learning tools and community to help you build your online dream. Check it out here.
Thank you for stopping by and have a wonderful day.