This article may contain *affiliate links. Please see our affiliate disclosure for more details
Hello everybody and welcome back. can I thought it would be interesting to take a look at another affiliate program that might have a good amount of potential for your online business.
Withings is the name of the company And it's one that's you might not have heard about. it's certainly not a huge name in mainstream affiliate marketing
When you take them down and take a look at the products that they offer it becomes clear that they are very much worth your time to take a look at as long as you can find a place for them in your niche.
The Withings affiliate program it's going to offer you the opportunity to promote a lot of different products that can cover quite a few different niches.
I think the diversity of products is really going to make this an appealing affiliate program and one that you can probably use as an alternative to Amazon Associates if you're looking for that sort of thing.
So without further Ado let's take a look at the Withings affiliate program including the commission tracking cookie some of the products you can expect remote and what the best niches are for this particular affiliate program.
Ultimately it's going to come down to you to decide whether or not it's a good option for your online business. The big decisions with your business have got to be made by you because you are the boss after all.
There Is Just Something About Owning Your Own Business. Being Your Own Boss. Building Something From The Ground Up With Your Own Hands. Especially When It Is This Easy To Get Started.
---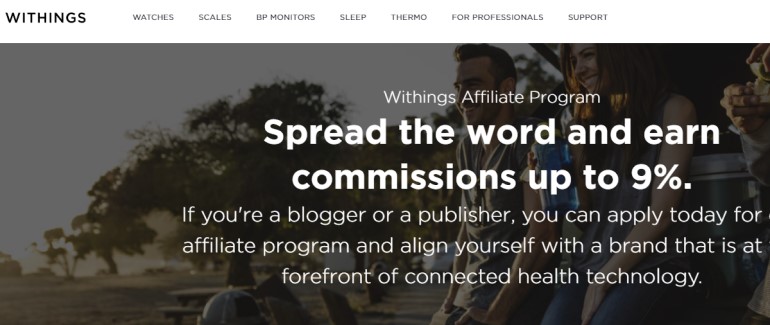 ---
What Is The Withings Affiliate Program
The Withings Affiliate Program Is a referral program designed to allow content creators to monetize their content by placing affiliate links into that content.
When someone clicks on your Withings affiliate link and then makes a purchase from Withings you get a small commission for your promotional efforts.
This is known as affiliate marketing. it is one of the most lucrative and popular ways to make money online and you'll find that most companies have an affiliate program of some sort for you to take advantage of.
Affiliate Commission: 7%-9%
Tracking Cookie Duration: 30-days
Auto-Approval?: No
Affiliate Niche: Tech
---
A 5%-7% Affiliate Commission
Let's start out with the Commission. there's a little bit of discrepancy with the actual Commission from Withings.
According to the affiliate page on their website, they offer a 7% to a 9% commission. However, when you look at their profile on CJ.com  they offer a 5% to 7% Commission.
 So I'm going to take the 5% to 7% commission from cj.com and use that as the commission for this affiliate program.
Be sure to ask about it when you sign up to make sure that there isn't another tear that you can maybe get to increase your profits a little bit that way.
The important thing to take away is that a 5% commission is pretty good for this affiliate partner. the 7% commission is for a first-time customers which you will get a good amount of to your content.
But back to the 5% commission is the type of commission that you can really build a business around. It's certainly on the low end of where you want your commission to be. Anything under about 3% is really starting to push it.
But it shouldn't be much of a problem to generate some pretty good returns with this affiliate program as long as you can get a decent conversion rate and a good flow of traffic moving through your content.
Conversion rate and good traffic are something you need for any affiliate program to work regardless of the size of the commission.
The 30-day Tracking Cookie
Moving on to the tracking cookie. Withings offers up a standard 30-day tracking cookie for their affiliate partners. 30 days is the duration that you're going to see the most through just about any Niche when it comes to tracking cookie directions.
That doesn't mean it's a bad duration by any strains. 30 days or a full month is going to give you plenty of time to promote the product and still get credit for that sale if your audience members choose to purchase from Withings.
---
What To Expect From Withings
You can expect to promote a wide range of products that fit into quite a few different niches (we'll get o the niches in the nest section).
Here is a look at some of the general product categories that you can promote with Withings.
Scales
Health Monitors
Watches
Blood Pressure Monitors
Thermometers
The price ranges are solid for most of the products. The watches are on a different level, however.
Because of the customization, your audience will need to request a quote for their specific smartwatch. These watches can be considered high-ticket items making them equally lucrative and competetive.
I would recommend using this as a watch affiliate program only for experienced marketers as they can be tricky to promote because of the price and tech.
---
Best Niches For Withings
Given the variety of products that of our for sale from Withings, you could use as a filler program across a pretty wide range of niches.
They have Scales that work great for fitness or health niche site as well as any type of diet Niche site that could use a scale as part of the overall diet.
The smartwatches Did they have on sale could work in a general Tech Niche website or a wearable tech Niche website as well as the aforementioned fitness and health Niche sites because they are these hybrid watches that Give you constant information about your health.
Another possible Niche is a medical equipment Niche site. They have blood pressure monitors and other products that would fit well into one of these types of Niche sites.
These types of medical equipment Niche sites are very competitive and you need to have quite a bit of affiliate marketing experience to really get one of these off the ground but it's still a potential out.
It could even work pretty well as a fitness tracker affiliate program because the tech is pretty similar and could add something a little different to your fitness tracker niche site.
---
Closing Thoughts
Affiliate Commission: 7%-9%
Tracking Cookie Duration: 30-days
Auto-Approval?: No
Affiliate Niche: Tech
That brings us to the end of our look at the Withings partner program.  I think this is a very good-looking affiliate program that is going to benefit a wide range of affiliate websites across 8 diverse sets of affiliate niches.
I think the smartwatches that they sell is probably going to be the most lucrative product they have if you can get them converting at a high rate.
It's not going to be easy because these are pretty niche watches in their functionality but if you can manage to convey the need for these watches to your audience then they are going to really generate a lot of income for you.
That's not to say that the other products aren't worth promoting. They certainly are and they can generate a good amount of income for you as well.
Whether you are promoting the scales or the thermometers are the blood pressure monitor, they can all work well if they fit into your overall Niche.
The bottom line is that this is a good affiliate program to consider for your net site. Ultimately how well it functions is going to come down to how well it resonates with your specific audience and how good your conversion rate is.
The best thing about it is that these affiliate programs are free to join and you can run tests on your website to see just how well they function. If they're popular and work great with your Niche then you got a solid income Source.
If they don't resonate with your audience then you simply move on to something else and all you've lost is a bit of time.
Don't go it alone. Get the best learning tools and community to help you build your online dream. Check it out here.
That's all I have for you today thanks for stopping by and have a wonderful day.