This article may contain *affiliate links. Please see our affiliate disclosure for more details
Hello everyone and welcome back. Today we are going to be taking a look at a mattress affiliate program.
Mattresses are one of the most competitive affiliate niches currently going and there are dozens of affiliate program options for you to choose from.
So today I thought I would take a look at the Saatva affiliate program to see if it is worth your time.
Saatva may not have the overall name recognition as Nectar or Purple but they have built a solid reputation and have some outstanding products for you to consider promoting.
So let us take a look at the commission and the cookie and well as touch on what you can expect from the Saatva partner program and look at some of the best niches for you to utilize this affiliate within your business strategy.
There Is Just Something About Owning Your Own Business. Being Your Own Boss. Building Something From The Ground Up With Your Own Hands. Especially When It Is This Easy To Get Started.
---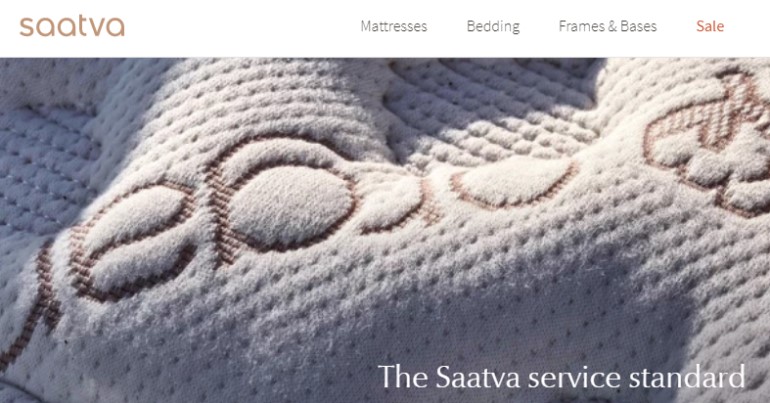 ---
What Is The Saatva Affiliate Program?
The Saatva affiliate program is a mattress affiliate program that allows content creators to monetize their mattress related content y adding Saatva affiliate links to that content.
When someone clicks on your Saatva affiliate link and makes a purchase you are rewarded with a small commission for your trouble. This is affiliate marketing in a nutshell and it is the foundation for many successful online businesses.
Affiliate Commission: 3%
Tracking Cookie Duration: 90-days
Auto-Approval?: No
Affiliate Niche: Mattresses
---
The 3% Affiliate Commission
As usual I want to start with the commission since it is the number that most people will look for first and unfortunately for many affiliate marketers it will be the only number that they look at.
The commission for the Saatva Affiliate program is a modest 3%. This is at the lower range of what I consider to be an acceptable commission for an affiliate program.
So it's not a Great Commission but it should be okay for most affiliates out there. The products that you're promoting from Saatva are high ticket items and you can generate some pretty high commissions with just a single sale even with the 3% commission.
Another thing that's interesting about this commission is that it is a percentage commission. Most mattress affiliate programs have gone to a flat fee commission where you get a flat fee of say $50 for every mattress you sell.
Each individual affiliate marketer is going to have their own preference on which one they like best. Personally, I prefer a percentage commission as long as that percentage is reasonably High.
But many people prefer that flat fee Commission because it gives them a lump sum right off the bat and I know exactly how much they're going to get for each and every sale.
The 90-day Tracking Cookie Duration
The tracking cookie duration for Saatva is phenomenal. They give their affiliate partners a full 3 months from the time someone clicks your affiliate link to make a purchase and still reward you with an affiliate commission.
These long duration cookies are great for high-ticket items like Saatva mattresses and bed frames and should help bolster your conversion rate buy giving your potential customer ample time to decide on the purchase.
---
What To Expect From Saatva?
What you can expect from Saatva is quality across the board. They have one of the highest customer satisfaction among all the mattress affiliates. According to their ShareASale profile they have…
800,000+ Happy sleepers
98% Customer satisfaction rate
That satisfaction rate is great for an affiliate marketer. You don't want to spend time promoting products that just get returned, you don't get a commission if the customer sends it back.
The 800k sales is also a great sign that people are willing to spend the money on these high-quality mattresses.
With that said let's take a closer look at the Saatva ShareASale profile to se if we can gleam anything else about what to expect from their affiliate program.
Average Sale: $1,729
Average Commission: $226.92
Reversal Rate: 0%
Earnings Per Click: 806.91
The EPC is incredibly high due to the way ShareASale calculates it. Their EPC is Per 1000, but even then it is quite high.
The rest of the numbers look great however. A huge average sale and a great commission. A sale every day or two is plenty for a full time business. And the reversal rate is 0% so the sales stick.
These are just a snapshot of a typical 30-day window. They will fluctuate as you might expect but it does give us a nice snapshot of what to expect in terms of conversions and potential commissions.
---
Best Niches For Saatva
Saatva works much the same as any other mattress affiliate program. You really need to be in the mattress or sleep niche o make the most of this affiliate partner.
A case can be made for a general home decor niche website but then the Saatva partner program is just a small slice of a larger home and garden affiliate strategy and not really the focus of the overall site.
The tricky thing about a mattress affiliate is that there are dozens if not hundreds of them to choose from. So you are going to want to pick up the ones that fit best for your specific audience.
Saatva can definitely fill that space and can work in a sleep or bedding niche on its own
But would probably work best as part of a larger mattress affiliate group where you can build list articles and videos of the best mattresses and have Saatva be a part of that.
Best list articles that include a wide range of products are some of the most lucrative types of content around.
Comparing and contrasting Saatva's mattresses with others like Nectar or Avacado is going to make a great piece of content that will benefit both your audience and your business.
---
Closing Thoughts
Affiliate Commission: 3%
Tracking Cookie Duration: 90-days
Auto-Approval?: No
Affiliate Niche: Mattresses
That brings us to the end of our look at the Saatva partner program. the mattress stitch in general is a pretty daunting one and the sheer number of different affiliate programs doesn't make it any easier.
It's imperative that you pick the ones that are going to resonate best with your specific audience in order to maximize your profit potential in this competitive affiliate marketing Niche.
Saatva And certainly help you in this regard since they are a well-regarded company with high quality products that are respected throughout the entire mattress Niche.
Building an entire Niche website around this single affiliate program might be a little bit too limiting as I would want to bring another mattress affiliate programs to help build best of lists or comparison reviews with the other mattress manufacturers out there.
But it certainly an affiliate program that you should consider for your affiliate marketing Niche site because it does have some really great things going for it,  most importantly the quality products that you can promote with confidence.
Don't go it alone. Get the best learning tools and community to help you build your online dream. Check it out here.
Thanks for visiting and have a wonderful day.