This article may contain *affiliate links. Please see our affiliate disclosure for more details
Hello hello hello today we are going to take a look at one of the most promising mattress affiliate programs out there right now.
Of Course, I'm talking about the nectar affiliate program. This is certainly not a new affiliate program nor are they new to the mattress industry. 
They are one of the biggest names in this niche and their mattresses are among the most well-reviewed mattresses in the niche.
Whether or not their mattresses are right for your Niche site is something that you're going to have to decide what I intend to do with this article is give a brief overview/review of their affiliate program specifically.
I want to take a look at the commission to see if it's up to par with what you'd expect from a mattress affiliate program also want to take a look at the track could you to make sure that you're going to have enough time to promote their products and still get credit for those commissions.
And I want to briefly touch on what you can expect from the nectar for the program in terms of products to promote and what the best niches are for this particular affiliate.
Let's jump right into it.
There Is Just Something About Owning Your Own Business. Being Your Own Boss. Building Something From The Ground Up With Your Own Hands. Especially When It Is This Easy To Get Started.
---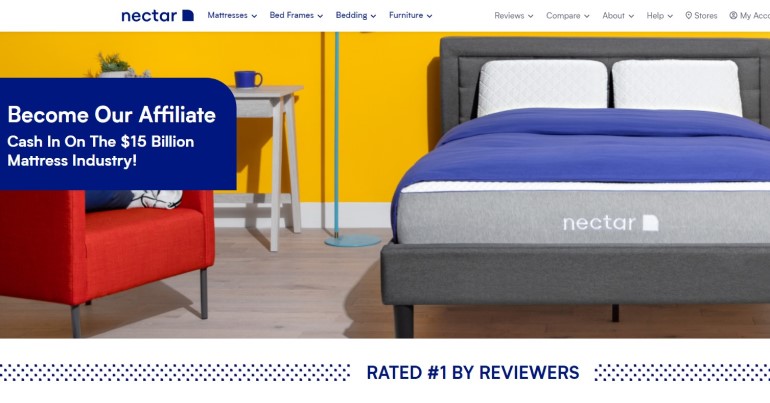 ---
What Is The Nectar Affiliate Program?
The Nectar affiliate program is a referral program designed to allow content crator to monetize their matress or sleep related content.
Once you place your affiliate links into your content you can earn a small commission for each sale made through those affiliate links.
Affiliate marketing is one of the most popular and lucrative ways to build your own business online and affiliate programs like Nectar can be at the center of those affiliate marketing based blogs, YouTube channels, and websites.
Affiliate Commission: $50 Flat Fee
Tracking Cookie Duration: Up To 180-days
Auto-Approval?: No
Affiliate Niche: Sleep/Mattresses
---
The $50 Flat Fee Commission
The first thing I want to touch on is of course the affiliate commission. This is typically the most visible part of any affiliate program and it is certainly the one that most affiliate marketers will look to first.
Nectar offers their affiliate Partners a flat fee of $50 for each mattress sale made. 
As a general rule, I tend to like percentage commissions a little bit better but when you start getting into the 50 or $100 range for each sale the flat fee becomes a very viable alternative.
And that's exactly what we have here. $50 is a very solid commission for the types of products that you're going to be promoting through Nectar. 
They have a range of mattresses that come in different sizes that span from a few hundred dollars up to close to $1,000 and you can really make a nice profit for each one of these that your audience purchases. 
Just one thing I want to add about an affiliate Commission in general. It should not be the end-all be-all of your decision-making process when looking into which affiliate programs to promote.
You've got to balance the commission for yourself with the products that you're going to promote to your audience.
Those products have to be high quality or they will just get returned and you won't get a commission no matter how good the commission rate is.
To always balance out the quality of the product with the quality of the commission.
A Massive 180-day Tracking Cookie
The tracking cookie for this affiliate is huge. They give you up to 6 full months to make a commission after someone clicks on your affiliate links.
The typical duration is usually around 30-days.
However, you really need a long duration tracking cookie for an affiliate partner like Nectar.
Here is why.
The higher the price of the item you want to promote the longer you want the cookie duration to be for the most part.
A longer duration cookie is going to give a potential customer more time to decide on the purchase.
When you are dealing with products that run well into the hundreds of dollars and close to $1000 dollars depending on the size of the mattress you want as long as possible.
That is the beauty of this 180-day duration. It gives you plenty of time to walk your audience through the benefits of owning a Nectar Mattress without feeling rushed.
I believe these long duration cookies benefit everyone involved froomthe affiliate marketer to the company selling the product.
Kudos to nectar for taking the tracking duration seriously and giving their partners the support they need.
---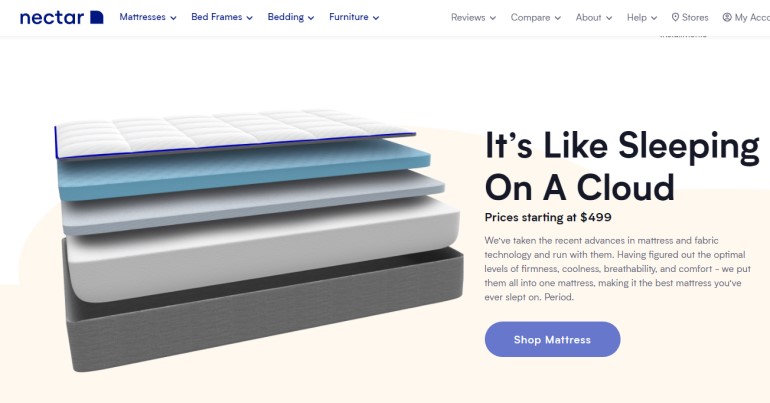 What To Expect From Nectar
What you get with Nectar is one of the most popular and respected mattress brands online.
According to their affiliate page, they are "rated #1 by reviewers".
Popularity and quality are going to be two of the biggest factors for any affiliate marketer looking to promote the Nectar mattress brand.
As with nost of these matress brands they only have a couple of mtresses and some other accessories, like bedframes and bedding.
Here are some of the bedding accessories that you can choose to promote along side their reknown matresses.
Mattress Protector
Sheet Set
Duvet
Weighted Blanket
Original Pillow
Lush Pillow
Interestingly enough both pillows and weighted blankets are their own niches by themselves. You can check out our list of weighted blanket affiliate programs here and a look at the pillow niche as well.
So it is not all about the mattresses at Nectar, but they should absolutely be your focus when prompting this mattress brand.
---
Best Niches For Nectar
I would say that there are only a handful of niches that would really work well for this affiliate program.
You could use it with a general home niche site, but I think it shines brightest on a mattress niche website or a sleep-related niche website.
Both a dedicated matress site or Youtube channel or a sleep oriented one are going to be incredibly comptetive and there are no shortage of matress affiliate programs to choose instead of Nectar.
That said if you can get the traffic then Nectar can be the foundation for your entire affiliate business online in either the sleep or mattress niches. It is just that well put together.
---
Closing Thoughts
Affiliate Commission: $50 Flat Fee
Tracking Cookie Duration: Up To 180-days
Auto-Approval?: No
Affiliate Niche: Sleep/Mattresses
That wraps up our look at the Nectar Mattress Partner Program. Top to bottom this is one of the best mattress affiliate programs out there right now.
The commission is great the tracking cookie is one of the best around and the products are popular and ready-made for a talented affiliate marketer to profit off of.
What is really comes down to is your audience and how well they respond to Nectar's products. If they love them then you are going to do just fine with this affiliate partner.
If you audience is not thrilled with them then you would need to consider moving on to another matress affiliate rogram that resonates better with your particular audience.
There is no shortage of them
The bottom line is that I think Nectar will work well on its own or as part of a suite of matress affiliate programs that you can use to generate alot of great content for your niche site.
It is time to start turning your mattress niche site into a success. What are you waiting for?
Don't go it alone. Get the best learning tools and community to help you build your online dream. Check it out here.