This article may contain *affiliate links. Please see our affiliate disclosure for more details
Hello everyone and welcome back. Today we are going to be taking a look at a business affiliate program for your affiliate marketing niche site.
The Swyft Filings affiliate program is a great opportunity to help other incorporate their own business and get started on the way to success.
But how does it stack up for the affiliate marketer. Is the commission good enough to promote it. Is the cookie duration long enough and what should you expect to promote when you join this affiliate partner.
I will take a look at all of this as well and what niches might be best served for this unique affiliate program for a business-related niche site.
Being the boss means deciding which affiliate makes the most sense for your business hopefully, this review helps a little to at least point you to a new affiliate possibility that you might not have considered before.
There Is Just Something About Owning Your Own Business. Being Your Own Boss. Building Something From The Ground Up With Your Own Hands. Especially When It Is This Easy To Get Started.
---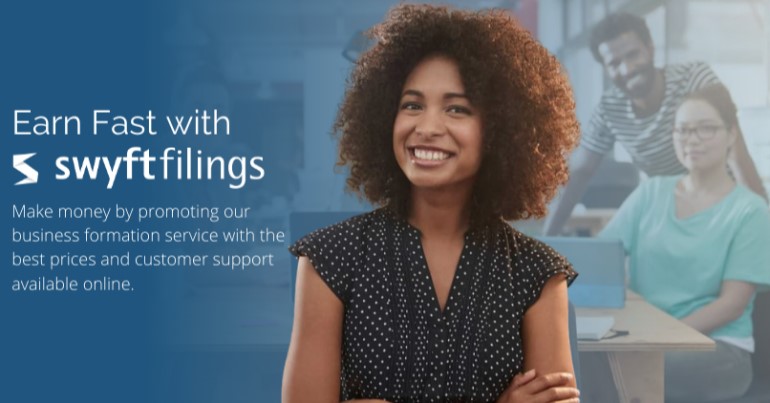 ---
What Is The Swyft Filings Affiliate Program?
The Swyft Filings affiliate program is a refferal program that allows content creators to monetize their business realted content with links to Swyft Filings, a, incorporation service.
This is known as affiliate marketing and it is one of the most popular and lucrative ways to make money online in a variety of niches and industries including the business niche that Swyft Filings is best suited for.
Affiliate Commission: $60 Flat Fee
Tracking Cookie Duration: 45-days
Auto-Approval?: No
Affiliate Niche: Business
---
The $60 Flat Fee Commission
Swyft Filings offers a $60 dollar flat fee for anyone you send their way and makes a purchase. In the business niche, flats fees are pretty common and the $60 dollar one on offer here is pretty generous.
You would only need a couple of these a day to make a very nice side income. Couple with a few other business affiliate programs and you could have a solid online business with just a few affiliate programs in total.
The challenge for this type of affiliate program is not the commission but getting enough relevant traffic to your content and then getting that traffic to make a purchase.
It is quite a bit tougher than just sending someone from your niche site to Amazon to purchase a toaster.
This type of affiliate marketing is best left to more advanced marketers who know their way around business and legal content.
If you have the chops for it the $60 commission from Swyft Filings can be a bedrock for your entire affiliate marketing business.
The 45-day Tracking Cookie Duration
The tracking cookie duration is decent. Normally a 45-day tracking cookie would be excellent for most affiliate programs out there.
But with something like registering a new business your potential customers are going to need a good long think about whether or not to spend the type of money they need to incorporate their new business.
A month and a half should be ok but I would have really liked a 90+ day tracking cookie because of the nature of the niche. That said most people should do fine with this duration and it shouldn't effect your conversation rate too much.
---
What To Expect From Swyft Filings?
It is tricky to try and give you an accurate idea of what to expect from this affiliate because of the nature of its services. The prices are dependent on a few factors like where you are filing and the type of business you want to start.
The good news is that the flat fee means you don't really need to know the individual specifics of each service they provide in every state or region.
But it does mean that your content won't have the specifics and you will need to make sure you let your audience know that those specifics will be filled in by Swyft Filings on an individual basis.
According to Swyft Filings ShareASale page this is what you can expect fromt heir service.
"Swyft Filings is an incorporation service specifically designed to help customers get a new company up and running as easily, efficiently, and affordably as possible."

Swyft Filings Affiliate Page
If we dig a little deeper into their ShareASale Profile is shakes out with some pretty impressive numbers over a 30-day period.
Average Sale: 167.75
Conversion Rate 4.78%
Average Commission: 98.34
Keep in mind that this is just a snapshot of the current 30-day window when this article was written but it gives you a good idea of what to expect from this affiliate long term.
The conversion rate is particularly impressive, but I expect that it is a little on the high side. It might be just a good month for their affiliates. If you can sustain anything near that conversion rate you will do quite well for yourself.
---
Best Niches For Swyft Filings
The number of niches that would make sense for this affiliate program is pretty limited in some regards.
This is an incorporation service that only a small percentage of online business owners would potentially use, although more probably should incorporate going forward.
The issue is that you need to have a pretty busniess focused website for this type of affiliate towork well with your audeince.
A website dedicated to setting up a small business in a step by step manner would be ideal, but I am not sure how much traffic a website like that would get once you account for the competition.
A general entrepreneur niche website might also work well for this affiliate, but only as a part of a larger affiliate strategy that included other business affiliate programs for your audience to look into.
Still with the right type of cotnent you should be able to get a decent amount of traffic.
Keep in mind that this is not the type of niche or affiliate partner that is going to bring in a huge amount of traffic like a more traditional affiliate marketing niche site.
The long and short of it is that you are going to need to be in a business-related niche that you can use to promote this incorporation service and you are going to need an audience of entrepreneurs willing to take that next step to build their own business, either offline or online.
---
Closing Thoughts
Affiliate Commission: $60 Flat Fee
Tracking Cookie Duration: 45-days
Auto-Approval?: No
Affiliate Niche: Business
That brings our look at the Swyft Filings affiliate program to a close. From top to bottom this is a very nice looking affiliate partner. A solid cookie, a very nice commission and a good service for your audience to look into.
The only downside is that the traffic might not be there for this type of service alone. You might want to pair it up with other business affiliates to maximize the potential of your niche site.
Business niches like the ones that would benefit most from this type of affiliate are typically very competetive with numerous large authority sites dominating the landscape.
But if you can be clever with your keyword and topic research and navigate the nuances of the business niches then you can be very successful with a little time and patience.
Don't go it alone. Get the best learning tools and community to help you build your online dream. Check it out here.
Thanks for visiting and have a wonderful day.