This article may contain *affiliate links. Please see our affiliate disclosure for more details
Lighting might not seem like the first place to start a successful blog but it is incredibly diverse and can be used in a wide variety of niches and blogs.
Lighting affiliate programs can be deployed in home and garden niches all the way over to hiking or survival niches that require emergency lighting.
So today we are going to be looking at a specific lighting affiliate program called Olight. Like many other lighting affiliate programs, Olight can be used across a wide range of niches.
Can You Make Money With The Olight Affiliate Program? Olight looks to be a well-rounded affiliate program that will serve affiliate marketers well in a wide variety of niche and allow them to monetize their content quite readily.
With that in mind, I want to check out the nuances of this affiliate program and answer a few questions about it. What is the commission and cookie, what are some good niches to use this partner in, and what to expect when you promote their products?
There Is Just Something About Owning Your Own Business. Being Your Own Boss. Building Something From The Ground Up With Your Own Hands. Especially When It Is This Easy To Get Started.
---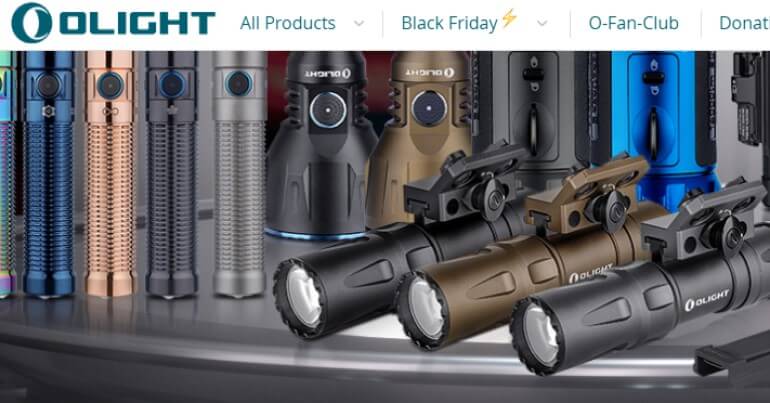 ---
What Is The Olight Affiliate Program
The Olight affiliate program Is a referral program designed to allow content creators to monetize their content by adding affiliate links.
When someone clicks on an Olight affiliate link and then makes a purchase the affiliate marketer gets a small commission for their promotional work.
Affiliate marketing is one of the most lucrative and popular ways to make money online and most companies have affiliate programs that you can join. 
You can sign up for the Olight Affiliate Program through ShareASale right here.
---
The 10% Affiliate Commission
Let's take a look at the commission for the Olight affiliate program. they offer a 10% commission for their affiliate partners.
It's always interesting to see how much value affiliate marketers put into the commission by itself. You always want as high commissions possible but you have to balance it out with a good affiliate program that's going to offer good products to your audience.
Fortunately, the 10% Olight commission is part of a very good affiliate program that seems to hit every nuance that you need to when choosing an affiliate program.
A 10% commission can really benefit just about any affiliate marketing business. It's the type of commission that you can really build your entire website or Niche blog around because it does have so much potential to generate a good amount of income.
The Tracking Cookie Duration
The tracking cookie duration for this Village program is a pretty standard 30 days. This is probably the most frequent duration that you're going to see across just about any affiliate marketing Niche out there.
It's a very solid tracking cookie duration that gives you a full month to promote the product and still get a commission for it. Typically 30 days is going to work well for just about every type of Niche out there with the exception of some high ticket items. 
High ticket items you typically want as long a duration as you possibly can get because you want to give your potential customer time to decide whether spending $1,000 on a product is something they want to do.
The reason I bring this up is that Olight does have some products that or what I would consider high-ticket items. Some of their search lamps and other lighting Products can run well over $600 which puts them right on the cusp of a high-ticket item.
So it is possible that with only a 30-day tracking cookie you could possibly lose out on some of these commissions because someone will take longer than a month to make a decision on them.
However, it's going to be a minuscule number of missed opportunities because 30 days is very good and  the bulk of your commissions are going to come from the lower-cost items that Olight has for sale
---
What To Expect From Olight
I think a big part of what to expect from Olight is quality and quantity. They have a huge selection of lighting Products for you to promote. Hundreds of products that you can use for a wide variety of niches.
Here are some of the lighting solutions that they have available for you to promote.
TACTICAL LIGHTS
LIMITED EDITION
OUTDOOR
CAMPING
HUNTING LIGHTS
SEARCH LIGHTS
HEADLAMPS
BICYCLE LIGHTS
GENERAL LIGHTING ACCESSORIES
Adding to the sheer quantity of products that is what looks to be some very high-quality flashlights and other lighting Products. The quality of product is probably the most important part of any affiliate program.
The reason for this is because the products are what you are audient is buying. Your audience doesn't care about your commission or the tracking cookie duration or any of that all they want is a good product that you recommend to them.
So it's important to make sure that you are promoting a great product to them and worry about the backend stuff like the commission later on. Find great products and you will get conversions and ultimately make money on your Niche site.
---
Best Niches For Olight
Olight doesn't have a primary niche for its products as far as I can tell. Their lighting solutions span multiple niches and individual products could be used ona number of websites that might not be lighting related at all.
Let's take look t some niche ideas for this partner program
Hiking
Camping
Hunting
Survival Gear
Prepper Niches
Emergency Preparedness
Bicycle Niches
Flashlights
And that is just the tip of the iceberg. You can extrapolate out to a number of smaller micro-niches that can benefit from these lighting options.
The great thing about an affiliate program like this one is that you can pick and choose individual products for your specific Niche. You don't need to promote the whole website or all of their products you can pick one or two that are specific to your Niche and work them into your overall content.
For example, if you're running a bicycle blog and you need a good bicycle light to promote on your website you might consider using Olight as your bicycle light affiliate program but ignoring all the rest of their products because they don't fit into your Niche particularly well.
The great thing is the track and cookie is site-wide so even if you promote them on your bicycle website and they go and buy a flashlight for a camping trip you're still going to get credit even though you didn't directly promote that specific product.
---
The Bottom Line TLDR
That brings us to the end of our look at the Olight partner program.  I think this is a very good lighting affiliate program that has a good selection of products that are going to benefit a wide range of blogging niches.
The different types of lighting are really one of the biggest draws for this affiliate program and the versatility of being able to use it for plenty of different niches is going to really up the appeal on this particular affiliate program.
When you add in a solid 10% commission and a decent tracking cookie you get an overall affiliate program that is solid anyway you look at it.
 The bottom line here is that the products are good high-quality products that you can be proud to promote, the affiliate terms are going to be beneficial for the affiliate marketer and enable them to make a good amount of profit off this affiliate program. 
Everything about it from the website to the affiliate program is extremely professional and a program that you can promote with a great deal of confidence.
Don't go it alone. Get the best learning tools and community to help you build your online dream. Check it out here.