This article may contain *affiliate links. Please see our affiliate disclosure for more details
3D printing is a huge blogging Niche right now and it is only going to get bigger as more of these 3D printing machines become cheaper and more accessible to the masses.
So now is a great time to jump into affiliate marketing with a 3D printing Niche site. With that in mind, I thought it would be a good idea to check out one of the most promising 3D printing affiliate programs out there.
Namely the AnyCubic affiliate program. We are going to find out whether or not this affiliate program is one that you can actually make some money with.
Does it have a good commission what about the cookie duration are the products solid and what are the best niches for this particular partner program? Let's jump in and find out.
There Is Just Something About Owning Your Own Business. Being Your Own Boss. Building Something From The Ground Up With Your Own Hands. Especially When It Is This Easy To Get Started.
---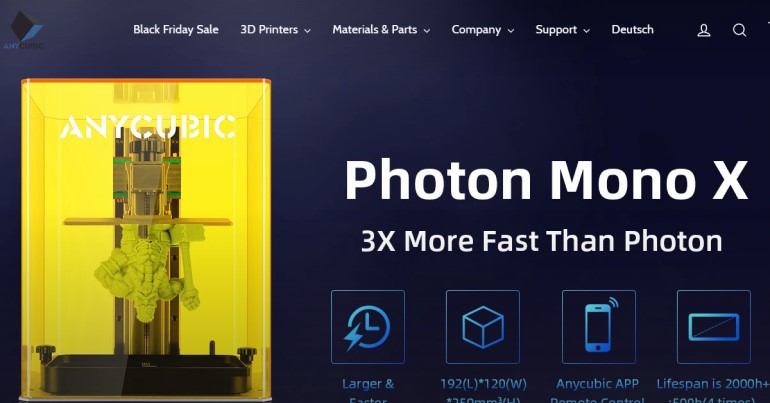 ---
What Is The AnyCubic Affiliate Program?
The AnyCubic affiliate program Is a referral program that allows you to promote their 3D printing products on your Niche website or any other place that you publish your content. 
This is what is known as affiliate marketing and it is one of the most lucrative business models online and a great place to start an online business if you are just beginning your journey.
Essentially it works like this any time someone clicks on your AnyCubic affiliate link and then goes on to make a purchase you will get a small commission for your promotional work. It's that simple.
You can check out the ShareASale application for AnyCubic right here.
---
The 5% Affiliate Commission
At first glance, the commission for the AnyCubic affiliate program might seem a little bit low.  It comes in at only 5%. However, this is actually a pretty good affiliate commission for a 3D printing affiliate program.
3D printing is notorious for high overhead and low-profit margins which means that you're going to be lucky to find any affiliate program in the 3D printing niche that goes much above double-digits if you can find a reliable one that hits the double-digit Mark at all.
So we're going to have to rely on a 5% Commission for this niche in general and that's precisely what you're going to get from AnyCubic.
 what it's really going to come down to is whether or not you can get a good enough conversion rate to make that 5% really viable for your online business.
And to be honest it shouldn't be a problem. Thousands of people make great livings using just Amazon Associates which at this point only offers a 1% to 3% commission for most of their products.
So it's really all about how good the products are how well they resonate with your audience and how high you can get your conversion rate that's really going to determine the viability of an affiliate program and not the commission alone.
A 30-day Tracking Cookie Duration
Moving on to the track and cookie now. Anycubic Offers a pretty standard 30-day tracking cookie. This is going to be fine for most of the products that you were going to promote through this affiliate program.
However, there are a few High ticket items that are probably going to require a longer duration cookie to maximize the conversion rate. These are products that are 500 plus dollars.
Typically people need more time to decide whether or not to make a purchase of this size. However, one way that you can get around this is by placing it your affiliate links for these specific products into very heavy buyer intent content.  
You want your affiliate links to be in buyer intent content, to begin with, but for these really high ticket items, you want your content to be the last stop they make before going to purchase that product.
So you going to need to develop the content around that concept To get the most out of the high ticket items from this affiliate partner.
---
What Does AnyCubic Have To Offer?
AnyCubic offers a wide range of 3d printers for you to promote on your niche site. They also have a good selection of parts and materials for you to promote, making this a 3d printing affiliate that has just about every aspect covered.
Another great thing about this partner is that they have products across a wide variety of price ranges, meaning you can promote their products to a wide range of income levels making it a good all-around affiliate regardless of the level of your 3d printing audience.
They do have a handful of 3d printers that I would consider high-ticket items ($500+ products). If you can get even a decent conversion rate with these more expensive items then you can really start to build a solid online business.
The high ticket items buffered by a few low costs products each day could easily take you from a hobby to a full-time income in relatively short order.
---
Best Niches For AnyCubic
I don't think there are a huge number of niches that you can really use this affiliate program in. Obviously, the best fit for this affiliate program is a 3D printing Niche website. 
This is going to give you the biggest bang for your buck when it comes to promoting their products since people coming to a 3D printing this site is going to be looking for high-quality 3D printers and accessories for their project. 
But other than that there aren't a whole lot of affiliate niches that are going to be a great fit. I guess conceivably you could use it on a nit site that is built around the items that you create with the 3D printer.  
One that comes to mind is a niche site built around action figures where you are building your own action figures with the 3D printer and then painting them and building scenes with him. But that is a Micro Niche of a fairly small action figure next, to begin with.
So if you aren't thinking about building a 3D printing Focus website where you already have one and I'm looking for an affiliate program this is going to be perfect for you but anything outside of that I think you can find better opportunities with other affiliate programs.
---
The Bottom Line TLDR
That just about wraps up our look at the AnyCubic affiliate program.  The bottom line is that this is an outstanding affiliate program for anyone in the 3D printing space.
They've got great products from high-quality 3D printers to all the accessories you're going to need for your project.
The commission is decent in the tracking cookies going to work well for most of the products that you're going to be promoting.
The only caveats are for the high ticket items that are going to need to be strategically placed in your most buyer intent content in order to get the best conversion rate possible.
If you are in the 3D printing Niche and are looking for a new affiliate program to help broaden your horizons in this might just be the one for you.
If you are just starting out then it never hurts to I applied to this affiliate program and see if they'll accept you 
You can wait till you start getting a little bit of traffic and then apply and you'll be well on your way to making a nice income with this affiliate program.
Don't go it alone. Get the best learning tools and community to help you build your online dream. Check it out here.
Thanks for stopping by and have a wonderful day.