This article may contain *affiliate links. Please see our affiliate disclosure for more details
Today I want to take a look at a very interesting partner program. The Nerd or Die affiliate program. It has a very narrow appeal but could be poised to break out in the near future.
They provide a lot of the backend themes and graphics for streamers, particularly for Twitch streamers. And you can get involved by promoting these themes to your audience.
Can You Make Money With The Nerd Or Die Affiliate Program? There is a good potential for making money with Nerd Or Die, however, the audience is going to be quite small, since the products are for active streamers, so you will need a solid conversion rate to make the most of it.
Streaming can be a powerful industry for your online business but with that potential gain comes a lot of competition, regardless of what niche you end up targeting.
Teaching people how to stream and giving them access to great products to make their streams easier and more productive is a burgeoning niche all to itself.
Anything that can make your stream look and feel more accessible or professional is going to translate into more followers and subscribers.
Finding the right affiliates for your Nerd or Geek niche site is going to go along way to making that online business a profitable one. Especially for one that is as specific as streaming overlays and products.
That is where Nerd Or Die comes in. They have scores of options for your channel and would make a great addition to any niche that provides insights into streaming in general.
Let's take a closer look at the Nerd Or Die Affiliate Program and see if there is money to be made by partnering up with this interesting affiliate program.
There Is Just Something About Owning Your Own Business. Being Your Own Boss. Building Something From The Ground Up With Your Own Hands. Especially When It Is This Easy To Get Started.
---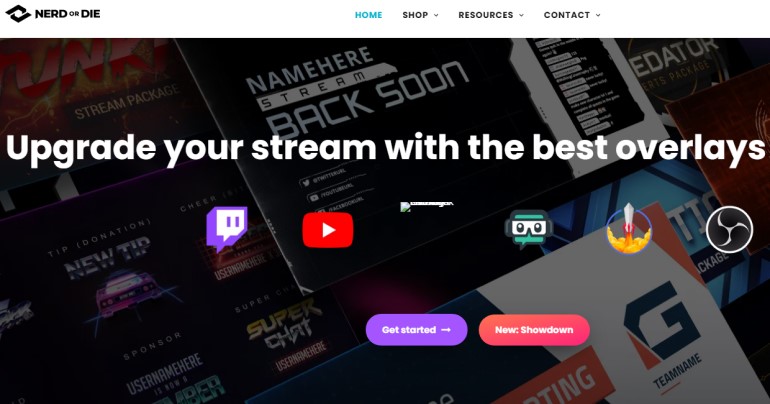 ---
What Is The Nerd Or Die Affiliate Program?
The Nerd Or Die affiliate program is a referral program that allows content creators to promote Nerd Or Die streaming products through their affiliate links.
When a potential customer uses one of these affiliate links and makes a purchase the affiliate marketer makes a small commission from the sale. You can learn more about and apply for the Nerd Or Die Affiliate Program Here.
Affiliate marketing is among the most popular and lucrative ways to make money online. Most businesses of all sizes have an affiliate program for marketers to join.
From Amazon and Walmart, all the way to small affiliates like Nerd Or Die, affiliate marketing is a great way to expand your online business.
---
The 10% Affiliate Commission
Nerd Or Die uses a tiered commission structure that ranges from a base of 10% all the way up to a massive 30% commission. The 30% commission is invite-only so you will need to do a lot of good work to hit that lofty commission.
In-between you can hit higher commissions by completing criteria like achieving 5 referrals or hitting monthly quotas. However, for our article, we are going to focus on the 10% commission since that is the one that everyone will get when they are accepted into this affiliate program.
It is a solid commission, although you would like to see a higher base commission for digital products like the products Nerd Or Die sells.
Typically digital products have a much higher commission than physical ones but 10% is common among physical products. It is not a deal-breaker I would have just liked to see something a little higher for these digital products.
The prices of their products are not that expensive. 20 to $30 dollars seems to be the going rate for their streaming themes. At 10% you will need quite a few sales a day to hit a solid income.
I would recommend using this affiliate alongside other streaming affiliate programs in order to maximize your earnings potential for an online business.
---
What To Expect From Nerd Or Die
The products are pretty simple. They specialize in themes, overlays and widgets for streamers. Anyone using Streamlabs or Streamelements are the streamers that you want to be targeting with this affiliate program.
Ideally, you want people who are just starting out or are about to start their streaming journey. They are most likely the people that are going to be most interested in the Nerd Or Die products.
That's really all there is to it. It is a very specific affiliate program with a very specific line of products for streamers.
It is one of the reasons why this might be a difficult affiliate to use for newcomers since the audience is so specific.
You will need to know how to maximize your promotional content to gather as much of that small audience as you can and build a solid conversion rate.
---
Best Niches For Nerd Or Die
Niches for Nerd or Die are going to be pretty complicated. I think the best place to deploy this affiliate is on your Twitch stream.
A lot of your followers will want to give streaming a try so providing them with an affiliate link to Nerd Or Die can work out quite well.
Gaming and Twitch streams will probably be your best bet for the Nerd or Die products since they focus on streaming for the most part and let's face it Twitch is king right now.
The great thing about Twitch is that is is expanding past just gaming. Which means that there is a need for these Nerd or Die products outside of just gaming and game streaming.
Gaming will still be the biggest area of need but if you are teaching people the best ways to stream you can expand into other niches like fitness or live streaming events.
Streaming shows through Amazon Prime or watch along for sporting events are really starting to take off.
This makes fitness niche sites as well as sports niche sites a good opportunity for promoting these Nerd Or Die products if you have a decent number of people who want to take a crack at streaming.
---
The Big Finish TLDR
Nerd Or Die is an interesting if narrow affiliate program that can work really well for an established streamer or a blog dedicated to streaming in general.
The commissions are fantastic ranging from 10%-30% so you can make quite a nice income if you can get a good amount of traffic and a decent conversion rate for your niche blog or stream.
Overall, I think this affiliate will be a benefit to a limited number of people at the moment. It is just a little too niche right now. However, as streaming grow you could do very well with this partner.
I recommend giving it a try if you think you can fit it into your niche or affiliate marketing strategy.
Don't go it alone. Get the best learning tools and community to help you build your online dream. Check it out here.
Thanks for visiting and have a nice day.
---