This article may contain *affiliate links. Please see our affiliate disclosure for more details
I thought it might be interesting to take a look at a beard care affiliate program today. Beard care is a growing niche that is a great place to start your affiliate marketing journey.
Beard care is competetive and lucrative and as long as you find the right affiliate partners for this niche you can earn a very nice income helping people with their beard-related grooming issues.
With that in mind, we are going to be taking a look at The Beard Struggle affiliate program to see if they can add anything to your beard niche site.
Can You Make Money With The Beard Struggle Affiliate Program? The Beard Struggle Partner program looks to be a very good one. They have a competitive commission and tracking cookie as well as a wide range of solid beard products for you to promote making them a great potential moneymaker for your niche site.
Let's have a look and see if this affiliate partner fits into the business strategy of your own affiliate marketing business.
There Is Just Something About Owning Your Own Business. Being Your Own Boss. Building Something From The Ground Up With Your Own Hands. Especially When It Is This Easy To Get Started.
---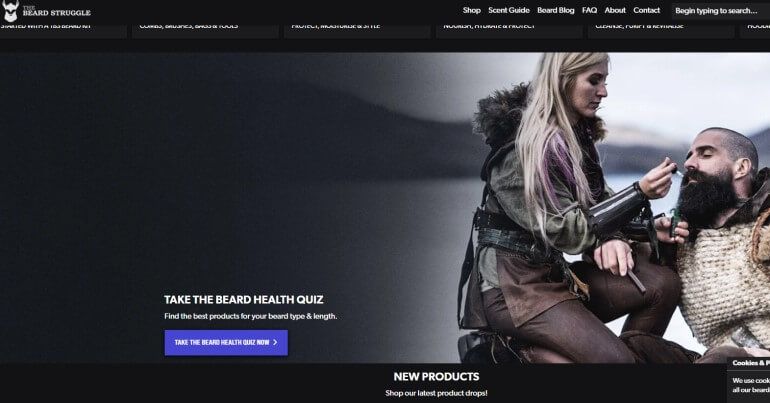 ---
What Is The Beard Struggle Affiliate Program?
The Beard Struggle Is a referral program designed to allow content creators to monetize their content by publishing affiliate links in their articles or videos. this is what's known as I feel it marketing and it is one of the most popular ways to make money online.
Most businesses have an affiliate program of some sort that allows content creators to promote their products and earn a small commission when someone makes a purchase.
Here is a quick look at this partner program.
Affiliate Commission: 10%
Tracking Cookie Duration: 30-days
Auto-Approval?: No
Affiliate Niche: Beards/Grooming
---
The 10% Commission
Let's start things off with the number that everybody always wants to see first and foremost. The commission.  The commission for The Beard Struggle affiliate program is 10%.
While the commission is always the thing that everybody looks to first it's not the most important part of an affiliate program. You always want to balance out a good commission with good products to promote and solid fundamentals underlying the affiliate program.
That being said a 10% commission is very good for a physical product vendor. Digital only products tend to have higher commissions they also tend to be a little bit more difficult to promote and convert.
The great thing about having a double-digit commission is that it can really generate a good amount of profit for your business as long as you can get a decent amount of traffic flowing to your site and you get your conversions to a nice level.
A 30-day Tracking Cookie
Next up is the tracking cookie duration. A lot of times this is one of the more overlooked aspects of an affiliate program.  But it is a very important part of the entire affiliate program.
The duration for this is for the program is 30 days. What this means is that you have 30 days from the time someone clicks on your link and makes a purchase in order to still get a commission for that purchase.
So someone clicks on your link and then weights 45 days to make a purchase you will not get the commission from that particular click.  However, 30 days for this type of affiliate program is more than enough.
Typically the only time you really need super long duration cookies is for very high ticket items that usually cost 5 or $600+ dollars.  There's nothing that even approaches that  In terms of The Beard Struggle products.
As long as you're getting a solid and steady amount of traffic and you're doing well on your conversions the 30-day tracking cookie is going to be very good for your overall online marketing business.
---
What To Expect From The Beard Struggle
I think you'll find that the products from the beard struggle are exactly what you would expect from a beard related affiliate program. They have all the products that you would typically associate with this type of online store. 
They have beard trimmers and beard oils and scents for your beard and beard balms as well as some branded clothing. and that's just the tip of the iceberg they have dozens of products that are going to fit well into your beard Niche website.
The website itself is pretty well laid out and shouldn't be a problem for your audience. The reason I bring this up is that sometimes a website regardless of how good the products are can have a very dated look and can put people off.
It might seem like a small thing but you have to build a level of trust between your audience and the place that you're sending them to buy stuff in order for them to actually spend money there.
If they don't feel comfortable with the layout of the website it can affect conversions to a real degree.
It's not something I think you have to worry about with this affiliate program because it is a modern website that is pretty easy to navigate and has a lot of information for potential customers.
The website itself has a bit of a Viking aesthetic.  it's something that you might keep in mind when you are developing content for this particular affiliate program.
If you can get the feel of their website into your content it might make the transition over and increase your conversion rates as a result.
Other than that it's a pretty straightforward affiliate program. There's nothing out of the ordinary with it and it looks to be flush with great products to promote to your audience and can be a real asset to any beard Niche website looking for something new or different in their affiliate programs.
---
Best Niches For The Beard Struggle
I don't think there is going to be a whole lot of diversity in terms of niches for The Beard Struggle partner program. Basically, you will want to e in the men's grooming niches or the beard care niches to make the most out of this type of affiliate.
I think you could work it into a gift niche especially around father's day or the holidays but I don't think that is a reliable earner like the other two niches would be.
A general men's health blog might work as well as a niche blog that caters to men in general, a cigar niche blog would be an example. But it would be a secondary or tertiary affiliate partner for that type of niche blog.
---
The Bottom Line TLDR
Affiliate Commission: 10%
Tracking Cookie Duration: 30-days
Auto-Approval?: No
Affiliate Niche: Beards/Grooming
That wraps up our look at the Beard Struggle affiliate program. What you have here is a solid affiliate partner.
The products look good and you should be able to promote them with confidence. The price ranges allow you to promote these products to a wide range of income levels.
The 10% commission is exactly what you want to see from an affiliate partner like this. And the cookie is a solid 30-days as well.
The bottom line is that this is a good affiliate program for anyone in the men's grooming or beard care niches. If you can get your specific audience on board and generate a decent conversion rate this can be a very nice option for affiliate marketers out there.
Don't go it alone. Get the best learning tools and community to help you build your online dream. Check it out here.