This article may contain *affiliate links. Please see our affiliate disclosure for more details
A Long Time Ago… You know the rest. Star Wars has been a part of our lives and pop culture for over 40 years now. It has an endless appeal for fans young and old.
It is this longevity and the passion of the fans that make it an ideal place to start an affiliate marketing niche site. There are plenty of options for a Star Wars affiliate program depending on where you focus your attention.
Need to add Star Wars clothing to your fashion blog? There are plenty of places to do that. Adding Star Wars to your action figure niche site? There is an affiliate program for that.
Need a Star Wars fanny pack? Yep you can find those as well. Just about any product can be found with the Star Wars brand on it
If you can fit these products into your niche site then you will find some of the Star Wars affiliate programs on our list more than useful. Let's have a look, shall we?
There Is Just Something About Owning Your Own Business. Being Your Own Boss. Building Something From The Ground Up With Your Own Hands. Especially When It Is This Easy To Get Started.
---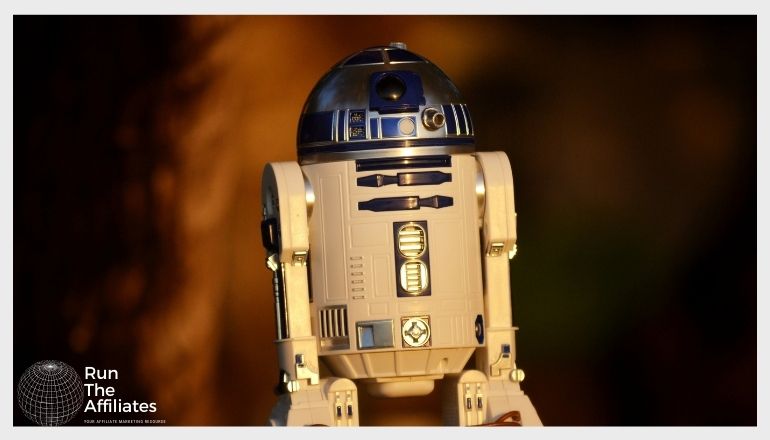 ---
shopDisney Affiliate Program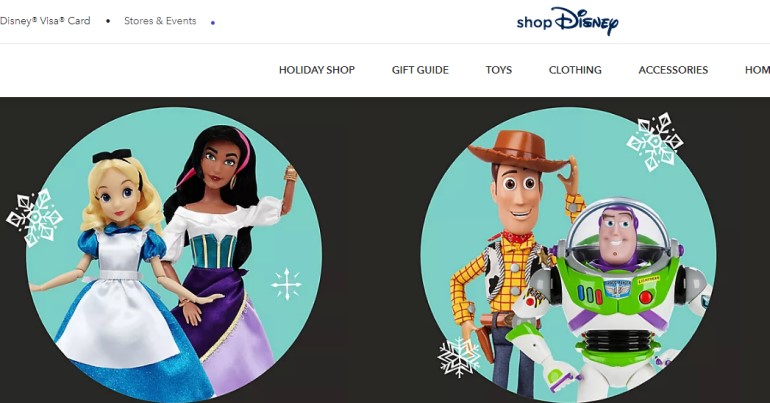 shopDisney is the official Disney store online. Star Wars falls under the Disney flag so it makes sense to have them on our list of best Star Wars affiliates. They have a great selection of Star Wars items that fit into a wide range of niches, from clothing to toys.
The shopDisney Commission
The tracking cookie duration is on the shorter end of this affiliate. At 10-days it is about a third of the typical 30-day tracking cookie.
However, it shouldn't be much of a problem since most of the products they sell are not anywhere near high-ticket items and don't need a super long duration cookie to maximize your conversion rates.
The commission is a bit of a problem. At 2% it is a little low and puts it squarely in competition with Amazon Associates which have a huge selection of Star Wars products similar to shopDisney. You will have to decide if you can make the 2% commission work for you or if it is just too much of a hassle.
Why Promote shopDisney?
Yes the commission is lo, but there is something to be said about having the official Disney online store as a partner for your Star Wars niches site.
Even if it is an accessories or product that is unique to shopDisney then it might be worhjt having the affiliate program for just that reason.
Its free to join so there is no harm in having it as part of your affiliate strategy. Just be sure to have other options with a higher commission.
For a more in-depth look at the shopDisney affiliate program check out our review here.
---
Sideshow Affiliate Program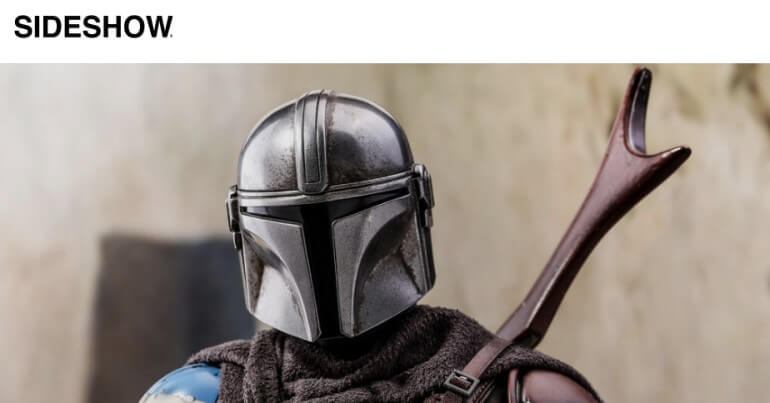 When it comes to premium collectibles for the most popular brands and IP's out there, Sideshow is at the top of the list. It is recognized as one of the very best companies for getting the latest and greatest collectibles for Star Wars and other popular pop culture icons.
It is one of those affiliates that you really need to have on your side if you are delving into the collectible Star Wars niche or even a tangential niche. The best part is that their great products are not the only thing going for it.
They have a pretty generous set of terms for their affiliate partners, that is not always the case for the larger more popular brands out there. Sideshow can be a huge benefit for your affiliate marketing business in the Star Wars or action figure niches.
The Sideshow Commission And Tracking Cookie
The commission for the Sideshow affiliate program weighs in at 10% according to their ShareASale profile. It is a solid commission and one that will work very nicely given the high prices of their premium collectibles.
But the commission is less important in this case. The products are what will make this affiliate fly for your niche site. The fact that you get a double-digit commission is just icing on the cake.
The tracking cookie is 15-days. A little lower than the 30-day average duration that many affiliates are used to seeing. But again with a brand this popular you can get away with a 15-day tracking cookie without much trouble.
Why Promote Sideshow?
Sideshow Collectibles is one of the big boys in collectible statues based around popular brands like Star Wars. These are extremely high-end figurines that are among the most popular and expensive for collectors.
Adding their products to your content through the affiliate program is going to give you some great near high-ticket items to promote on your Star Wars Niche site.
I cannot stress enough how important hugely popular affiliates like this one are to a solid niche site.
I would recommend trying to incorporate this affiliate into your niche site if at all possible. If you are dealing with Star Wars collectibles or Action figures then this is a must-have.
---
Superherostuff.com Affiliate Program
Affiliate Commission: 10%+
Tracking Cookie Duration: 30-days
Auto-Approval?: No
Affiliate Niche: Collectibles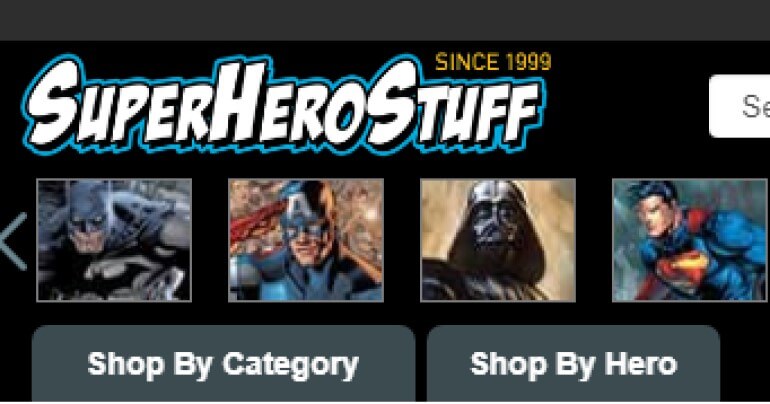 It might have Super Hero in the name but Superherostuff.com has a huge selection of Star Wars products for you to promote on your niche site.
It is a very good affiliate for anyone focusing on Action figures or collectibles from the Star Wars universe and works great for more general action figure niche sites that have a category dedicated to Star Wars.
The Superherostuff.com Commission
The 10% commission is great for any affiliate marketer out there and there are ways to increse that commission a little bit. Be sure to ask about it when you join up so you can try and get those higher commissions.
For the sake of this article I am going to assume that most people will only get the 10% commission. It is still solid and can provide you with a great level of income.
The tracking cookie is a solid 30-days. The products are not high-ticket items so this should be just fine for most affiliate marketers out these.
Why Promote Superherostuff.com?
Altogether this is one of the best affiliate programs out there for action figures across multiple brands. For our purposes, the Star Wars products are enough to give it a spot on our list.
Add in the solid commission and tracking cookie and you have yourself an outstanding Star Wars affiliate that can be the foundation of your online business if you get the conversions where they need to be.
---
Fun.com Affiliate Program
Affiliate Commission: 10% (ShareASale)
Tracking Cookie Duration: 30-days
Auto-Approval?: No
Affiliate Niche: Collectibles
Join The Fun.com Affiliate Program Here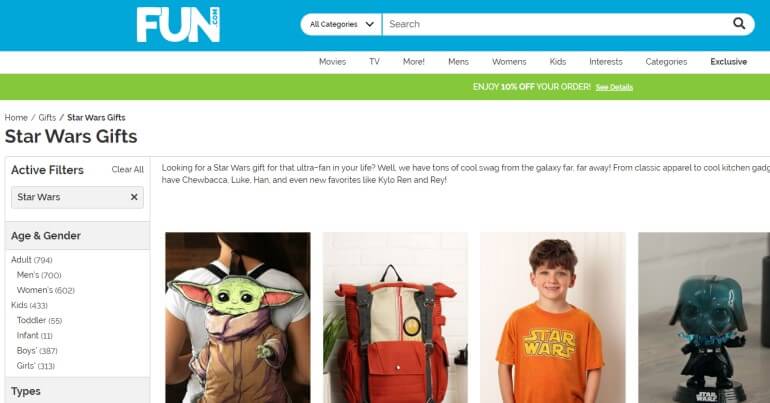 Fun.com has a great selection of Star Wars accessories and gifts that can fit into a wide range of affiliate marketing niche sites. They have backpacks and tee shirts and tons more for every member of the family.
The Fun.com Commission And Cookie
The tracking cookie is a standard 30-days. For these types of products it should work great since there is nothing here that can be consider a high-ticket item.
The commission is a 10% commission according to their ShareASale profile. This should provide an affiliate marketer with a great foundation for your affiliate business and can earn you a good amount of income with a solid traffic throughput.
Why Promote Fun.com?
Fun.com has a lot of unique and interesting Star Wars products above and beyond your typical action figures and tee shirts. That alone makes it an interesting addition to any affiliate line-up.
Throw in the solid commission and tracking cookie and you have your self an affiliate partner that is going to be a boon for your niche site if you can get it to work with your specific audience.
Finally, Fun.com offers its affiliate partners multiple options and networks to join their affiliate program.
I have used information from their ShareASale profile but it should be similar to the terms offered by their profiles on LinkConnector and CJ Affiliate. Just Pick The One That Suits You The Best.
---
Cosplaysky Affiliate Program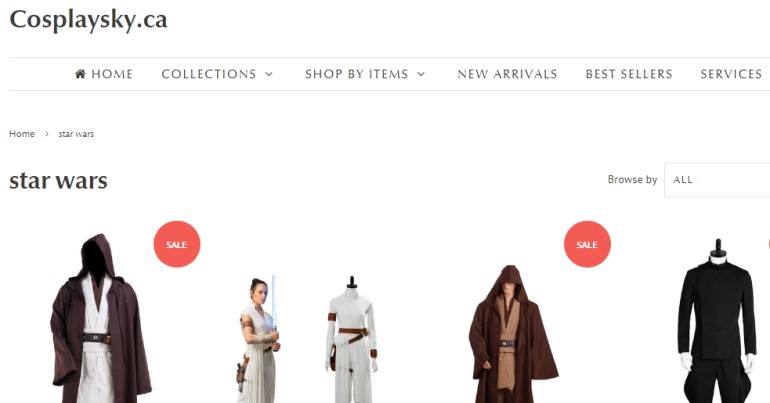 Cosplaysky offers a huge range of costumes across a wide number of pop culture brands. Including a great selection of Star Wars-themed costumes that you can add to your niche site. From Jedi to the Mandalorian they have got you covered.
The Cosplaysky Commission
The commission is a decent 7%. While you always want to get that commission as high as possible you have to accept that not all commission will hit double digits. Still a 7% commission can be quite licrative with a good traffic flow.
The tracking cookie duration is 30-days making it a pretty standard tracking cookie. It should work well for most affiliate marketers out there.
Why Promote Cosplaysky?
I think this affiliate is a great one to promote because it offers something a little different than most of the other partners on our list.
Star Wars-themed costumes are going to be a great addition to many Star Wars niches sites, especially around Halloween. This affiliate might end up being a bit seasonal making it one you will want to use alongside other Star Wars affiliates.
---
Buckle-Down Affiliate Program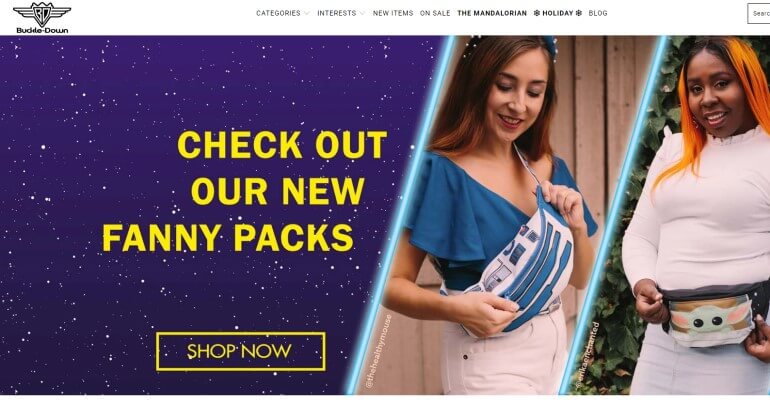 Buckle-Down has a wide range of buckled accessories like dog collars and fanny packs and they have options with the Star Wars branding that can be so valuable to a Star Wars themed niche site.
The Buckle-Down Commission And Tracking Cookie
I am not overly thrilled with the tracking cookie duration. It is only 7-days. 30-days is about the standard so this falls quite a bit short of that.
It is not terrible but you will need to make sure your affiliate links are in more buyer intent content because of the shorter duration.
The commission on the other hand is very solid weighing in at 10%. This should provide you with a good revenue stream as long as you get a good conversion rate.
Why Promote Buckle-Down?
The uniqueness of the products offered by Buckle-Down is probably is biggest selling point. From Star Wars collars and leashes to fanny packs, you will have a nice selection of interesting products to promote.
One last thing to note is that the Buckle-Down Affiliate Program has an auto-approval option on their ShareASale profile.
That means that everyone, even brand new bloggers can get in on the affiliate marketing action and start earning as soon as you get some traffic to your niche site.
---
Things From Another World Affiliate Program
Affiliate Commission: 14%
Tracking Cookie Duration: 90-days
Auto-Approval?: No
Affiliate Niche: Collectibles

Things From Another World is one of the best places to find collectibles and comics for your favorite universes including Star Wars.
The are among the most well-respected and popular places to find just about anything you could want in pop culture.
For the purposes of our Star Wars list, they have plenty of figures, accessories, comics, and graphic novels to fit into your Star Wars Niche site.
The Things From Another World Commission And Tracking Cookie
TFAW is a complete affiliate program. There is not one aspect of it that is below par. Starting with the 14% commission.
It is one of the highest commission you are going to find in the Star Wars niche and in collectibles/comics in general. It cannot be overstated how good their commission is.
Not to be outdone is their 90-day tracking cookie. This gives you 3 months from the time someone clicks on your affiliate link to make a purchase and still give you a commission.
In addition, the tracking cookie allows return days for the duration of the tracking cookie. This means that any purchases made during those 90-days will also give you a commission.
Not all cookies offer return days as part of the deal, so it is nice to see this one offer that important aspect of the tracking cookie.
Why Promote Things From Another World?
There is no reason to not have TFAW as one of your Star Wars partner programs. They have a wide array of relevant products and have one of the most generous commissions and cookies available.
Even if you only have a couple of products that you want to promote through their affiliate program it is worth applying and running some tests with them. It is one of the best affiliate programs for Star Wars products and pop culture products in general.
---
HollywoodMemorabilia.com Affiliate Program
Affiliate Commission: 5%
Tracking Cookie Duration: 30-days
Auto-Approval?:
Affiliate Niche: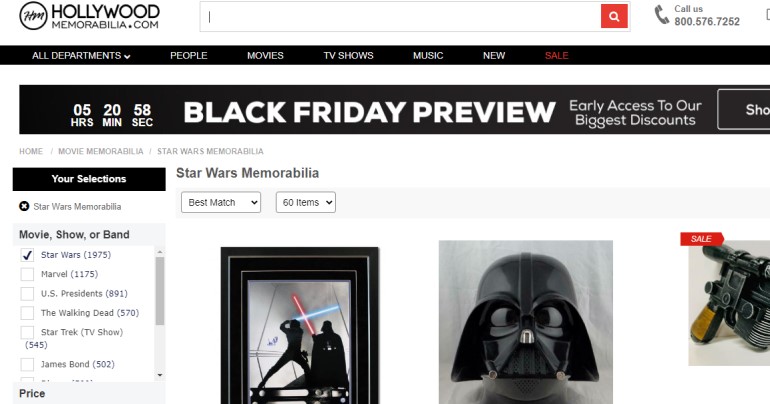 HollywoodMemorabilia.com is a high end vendor of many pop culture collectibles including some of the very best Star Wars collectible items out there right now.
These are not your run of the mill collectibles. They have authentic Star Wars memorabilia that can run into the 10's of thousands of dollars. Much of these items are unique autographed items that fetch those high prices.
The HollywoodMemorabilia.com Commission
The commission is only 5%. A bit lower than you want to see, but given these are high-ticket, autographed memorabilia it is to be expected. The overhead is probably the limiting factor their their commissions
The tracking cookie is a standard 30-days. Because of the high process of the products this might be just a little on the low side but a good affiliate marketer should be able to handle it without incident.
Why Promote Hollywood Memorabilia?
This is the type of affiliate program that is best left to very experienced affiliate marketers. Some of the prices are astronomical and you are going to need to have a good relationship with your audience if your home to make a sale with these high-ticket items.
That said this can add a whole new layer of monetization and bring in a very different clientele if you can crack the code and get a good conversion rate for these products.
---
Entertainment Earth Affiliate Program
Affiliate Commission: 7%-10%
Tracking Cookie Duration: Not Listed
Auto-Approval?: No
Affiliate Niche: Collectibles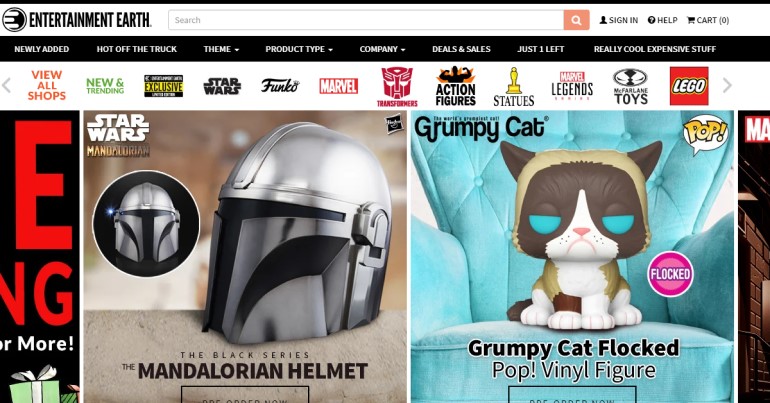 Entertainment Earth is One of the leading online retailers of action figures, toys, and collectibles from your favorite pop culture brands including a healthy dose of Star Wars products. In fact, they have over 2000 Star Wars themed items as of this article.
The Entertainment Earth Commission
The commission for Entertainment Earth ranges from 7%-10% for most purchases. You can get a higher percentage if you accept your payments in store credit instead of cash. But for our purposes, 10% is the high end of the commission scale.
Whether you are getting the 7% or 10% commission they are pretty decent commissions for your online business. It's a solid all-around affiliate program.
I couldn't find the tracking cookie information so you will need to ask about it when you join this affiliate program.
Why Promote Entertainment Earth?
Entertainment Earth is hugely popular online and a great partner for your Star Wars niche site. It provides you with thousands of Star Wars products to promote and has a solid commission to boot.
You cannot go wrong with such a good online store backed by a solid affiliate program. Get the traffic and you will find this to be a very good earner for your niche site.
---
Amazon Associates Affiliate Program
Affiliate Commission: 1%-3%
Tracking Cookie Duration: 20-hours
Auto-Approval?: No
Affiliate Niche: Everything
Normally I don't put Amazon into my lists but for Star Wars products I felt that I had to add it tom my list. Truth is I recommend Amazon Associates for all niches, but make sure you have back-up plans in the form of other higher commission affiliates.
As for Star Wars products, Amazon has everything from socks to action figures to comics and movies. And everything in between. If you can get past the low commissions Amazon is a great option for beginners.
The Commission And Tracking Cookie
The tracking cookie is good for about 20-hours. This means that your links need to be in heavy buyer intent content. It still works pretty well but you might lose out on a few commissions since it is so short.
The commissions range from 1% to about 3% with 4% being the highest as far as I can tell. It is pretty low, especially the 1% commission on some stuff but you can make up for it with the sheer conversion rate that Amazon is known for.
Why Use Amazon Associates?
Because it is Amazon. Yes the commissions are incredibly low and the tracking cookie is pretty much a joke, but you can still make a full time living with your online business using just Amazon Associates. At least for now.
They have tons of Star Wars products and can be a great place to start for beginners.
However, I would diversify my affiliate portfolio as soon as possible so that you are not tethered to the whims of Amazon Associates and their constantly shrinking commissions.
---
The Big Finish
There are probably hundreds of affiliate programs with at least some Star Wars licensed products on them. If you think they will fit into your niche site then seek them out and give them a thorough run on your website.
These are some of the best that I could find but they tend to cater to collectibles and action figures more than anything else. Throw in some clothing options and you have a lot of potential niches covered with Star Wars gear.
But its a big galaxy and there are always other places to look. Hopefully this has opened the door for you to explore more options for your Star Wars niche sites and how to monetizing them with great Star Wars products.
Don't go it alone. Get the best learning tools and community to help you build your online dream. Check it out here.