This article may contain *affiliate links. Please see our affiliate disclosure for more details
Disney is a niche unto itself. You can build niche sites and fan sites around just about any of their properties. There are hundred(thousands?) of niche sites build around Marvel or Star Wars or Pixar or Disney Classic Animation.
And they sell their products in just about every store that they can. But can you promote Disney products directly from the source? In short…
Does shopDisney Have An Affiliate Program? shopDisney does indeed have an affiliate program. This gives affiliate marketers and bloggers the opportunity to promote some of the most recognizable brands on the planet through the shopDisney Affiliate Program.
In this article, we will take a look at the commission and the tracking cookie as well as the best niches and products you can promote through the shopDisney affiliate program.
Thanks for joining us today and lets get right to it.
There Is Just Something About Owning Your Own Business. Being Your Own Boss. Building Something From The Ground Up With Your Own Hands. Especially When It Is This Easy To Get Started.
---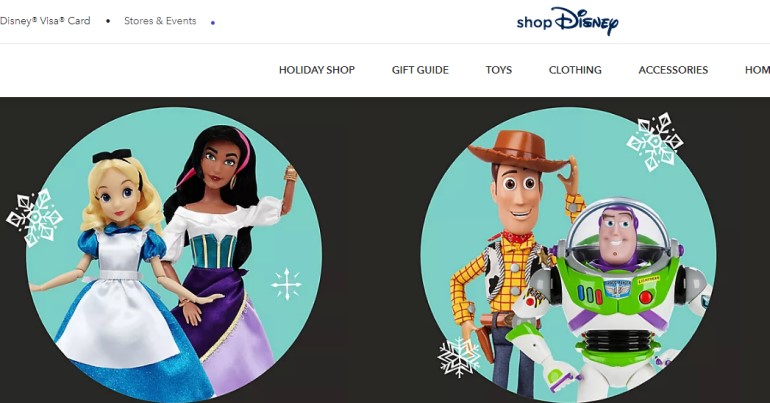 ---
What Is The shopDisney Affiliate Program?
The shopDisney partner program allows content creators to monetize their Disney related content by adding shopDisney affiliate links to their content.
When one of their readers or viewers uses the affiliate link and makes a purchase a small percentage of the sale is paid to the affiliate marketer in the form of a commission.
Affiliate marketing is one of the most popular ways to earn money online and is used by most of the largest corporations in the world. It is a great way for an individual to start an online business without a lot of capital upfront.
---
The 2% Commission
Let's talk about the commission first and foremost. This is probably the number that most people are going to gravitate towards when they look at this affiliate program, or really any affiliate program.
shopDisney offers a 2% commission on qualifying sales made through your affiliate links. If you thinking to yourself This commission looks a little bit lower than you would be correct. It is a bit on the low side.
Unfortunately, a 2% commission is going to make a lot of affiliate marketers out there just pass on this affiliate program out of hand. They simply don't want to deal with a commission this low.
However, it's not the end of the world. Yes, you are going to need quite a bit of traffic to really make this type of commission work but it is doable, and given the brand recognition and the high-quality products that you can be promoting you can make a 2% commission very profitable for yourself.
when you look at something along the lines of Amazon associate and their one to 3% Commission you realize that there are thousands of thousands of people out there making a solid living online using just Amazon Associates.
So you can work with the 2% commission and turn the shopDisney affiliate program into the type of Revenue producing program that is going to be a benefit to your affiliate marketing business.
The point here is not to dismiss it out of hand. Give it a good once over and see if it might be something that can be of benefit to you.
A 10-day Tracking Cookie
Let's have a look at the tracking cookie for this affiliate program. It weighs in at 10-days. I would classify this as a little shorter than average. Typically you will see 30-day tracking cookies as the standard so this falls a bit short of that.
However, when you compare it to something like Amazon Associates it acquits itself quite well. Amazon only offers a 20-hour tracking cookie. The 10-days would give you quite an advantage in terms of cookie duration and could help close the gap when it comes to conversion rate.
---
What To Expect From shopDisney
shopDisney has a wide array of products that you can choose to promote. From Disney clothing and toys to products inspired by their theme parks. shopDisney has a lot of everything.
What you choose to promote is going to come down to the niche you are building your website in. If you want to add a Disney specific category to a fashon or clothing blog then shopDisney has tyou convered with great looking clothing options for the whole family.
If toys are more your thing then they have a wide selection of action figures, classic dolls, and plush animals for you to promote on your niche site.
No matter which product you promote the affiliate link is typically site-wide so even if you are operating in the clothing space and promoting Disney shirts and shorts to your audience when they click on your link and go to the shop Disney website you will get credit for any sales made.
So if they buy an action figure or a tank top you are going to get credit for that and earn a commission off of that sale.
---
Best Niches For shopDisney
This is where the shopDisney partner program really shines. The shear number of potential niches for this partner is incredible.
Literally, any Disney brand or IP can be turned into a micro-niche site. Combine enough of these micro-niche sites together and you will find yourself building a solid Disney Authority site.
Star Wars Niches
Marvel Niches
Individual Disney Film Niches
Individual Disney Character Niches
Pixar Niche Sites
The list could go on and on. You could build a niche site around Disney princesses or at them to an existing children-focused niche site. There are scores of Star Wars niches sites and YouTube channels out there that could benefit from the shopDisney partner program.
If you have even a tangential relationship with Disney brands it might be worth considering using this affiliate partner to see how well it does for your niche site.
---
The Bottom Line TLDR
shopDisney is a bit of a double-edged sword when it comes to their affiliate program. The products are great and incredibly popular as you would expect, it is Disney after all.
The problem is with the commission and to a lesser extent the tracking cookie. The 2% commission is quite low and many of the products on shopDisney can be promoted through other affiliates, like Amazon or Walmart with similar commissions.
That makes shopDisney a tough sell for most affiliate marketers out there. If you only focus on Disney products it could work for you although you will need quite a bit of traffic flowing to your money pages to really make the 2% work well.
It can be done but is it worth the hassle when you can just use Amazon and their 1%-3% commission and a much larger and broader selection of products. In this case, I think Amazon is probably going to come out on top for most affiliates out there.
Still, there is a decent affiliate program here and one that you should consider if you are in a Disney related niche. Give it a try and see how well it performs for your small business. You might be pleasantly surprised.
Don't go it alone. Get the best learning tools and community to help you build your online dream. Check it out here.
Thanks For Visiting And Have A wonderful Day