This article may contain *affiliate links. Please see our affiliate disclosure for more details
So you are looking for an acne affiliate program. Sounds a little weird when you're sent out loud or read it doesn't it?
But we're really talking about here is skincare products that are going to help people deal with their acne and typically a bunch of other skin care issues as well.
So really blogging about acne in about the remedies for it is a sub Niche or even a Micro Niche of the very large and competitive skincare Niche.
So while these affiliate programs are specific to acne-related products there's some wiggle room in the type of niches that you can use them for.
Let's dive in and look at these 8 incredible affiliate programs for helping people deal with their acne.
There Is Just Something About Owning Your Own Business. Being Your Own Boss. Building Something From The Ground Up With Your Own Hands. Especially When It Is This Easy To Get Started.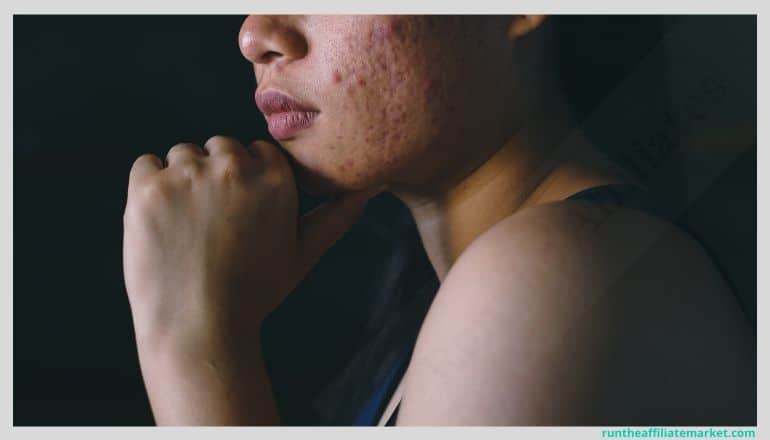 What Is An Acne Affiliate Program
An acne affiliate program is a way for companies that have acne-fighting products and solutions to leverage the larger skincare and beauty community online.
These acne affiliate issue unique affiliate links to content creators who place the links in their content and receive a commission when someone purchases a product or service after using the link.
Typically there is a set amount of time, known as a tracking cookie duration, for the affiliate marketer to make a sale after someone clicks on their affiliate link. The standard duration is around 30-days but it varies from affiliate to affiliate.
Acne affiliate programs are a great addition to a wide variety of blogging niches. But they do you no good if you can't drive traffic to them.
---
CleaRx Affiliate Program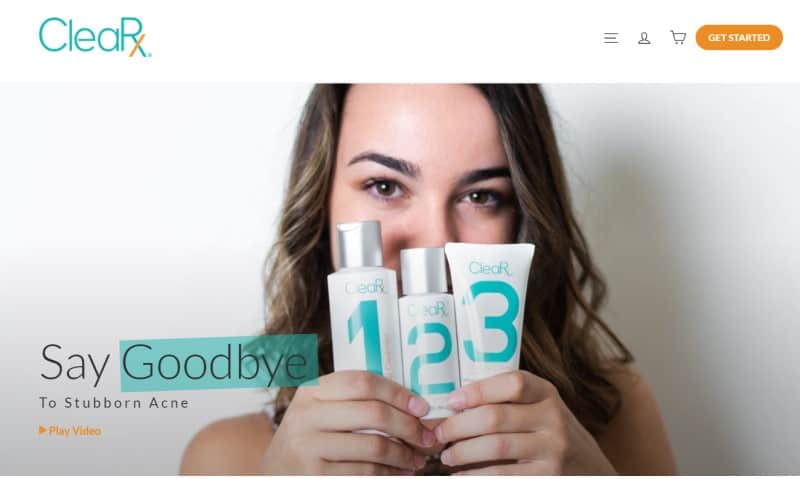 CleaRx is a company that sells acne treatments that are designed to get rid of stubborn acne and help deal with acne scars as well.
They offer a $55 dollar flat fee when someone signs up with your affiliate link. The tracking cookie is a 60-day duration.
Overall this is a very good partner program for any skincare blog. The products look good and the affiliate terms are top-notch.
CleaRx is hosted on the ShareASale Affiliate network. You will need to sign up for ShareASale before you can be approved for the ClearX affiliate program.
---
AcnEase Affiliate Program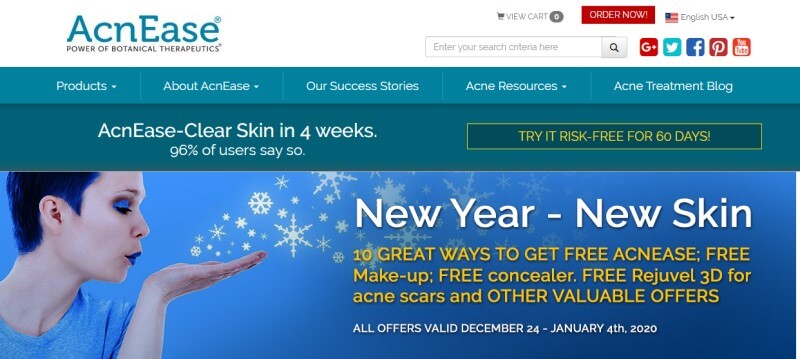 AcnEase uses the power of Botanical therapeutics to help combat acne. Their products range from mild to severe acne treatments as well as solutions for full-body acne and rosacea treatments as well.
This is the type of acne affiliate program that would work for a make-up blog as well as a general beauty blog. Dealing with acne transcends a lot of blogging niches.
AcnEase Offers a rock-solid on a 10% commission on all qualifying sales through your affiliate links. This product is sold in monthly regimens which means there's the opportunity for some recurring commissions and that makes this particular affiliate program that much more appealing.
In addition to the great commission, you get a fantastic track and cookie as well. They offer a full 60-day tracking gap so that you have plenty of time to make a sale and earn a commission.
---
Exposed Skin Care Affiliate Program

Exposed Skin Care sells a product that helps deal with acne and includes a wide range of scientific ingredients as well as natural ingredients such as green tea licorice root and passionflower extract.
The tracking cookie information was not available at the time of publication so be sure to ask about it when you join up with this acne affiliate program.
The commission is a scalable one. The material regarding the Exposed Skin Care affiliate program says that it is up to 50%.
You won't know until you sign up exactly what the base commission is but if you can get it up to that 50% Market we doing well.
---
DERMAdoctor Affiliate Program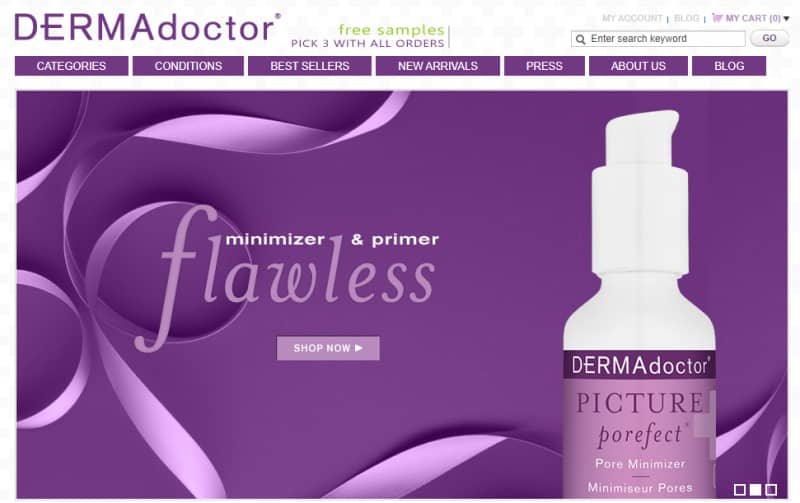 DERMAdoctor has a wide variety of products for various skin ailments. In addition to acne treatments, they have products that will help treat eczema, rosacea, dry skin and more.
The acne treatments are the focus for our list but it is always nice to have some additional products to promote if need be.
DERMAdoctor is hosted on the Linkshare Affiliate network. Oddly enough their profile failed to list the commission for their affiliate program. The program is still active as far as I can tell so be sure to ask about it when you sign up. The tracking cookie duration is 20-days.
---
Healing Natural Oils Affiliate Program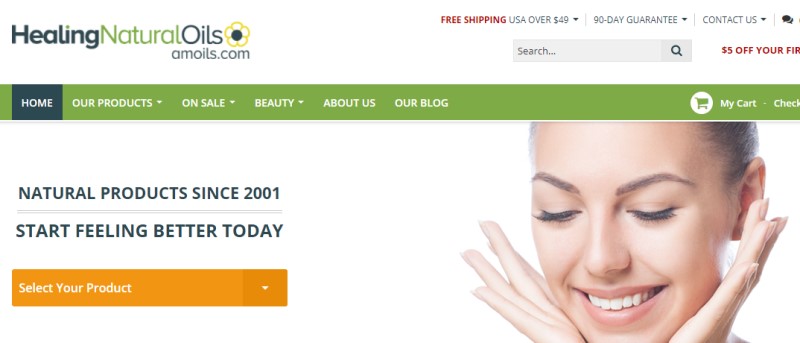 Healing Natural Oils has a decent selection of acne products for you to promote. They have an even larger selection of skincare products but you will find the ance specific products front and center at the affiliate.
The affiliate terms are fantastic for Healing Natural Oils. The tracking cookie duration is a rock-solid 60-days. Plenty of time to get those hard-earned commissions.
The commission is outstanding as well. They offer a 20% commission for their affiliate partners. You don't see these kinds of commissions on physical products every day.
This would make a great addition to any beauty niche or skincare blog along with a website or blog dedicated to acne treatments.
---
True Botanicals Affiliate Program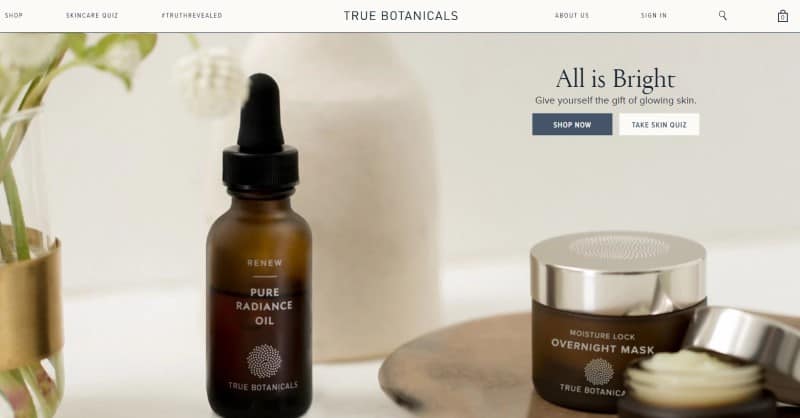 True Botanicals is not solely an acne affiliate. They have a nice selection of other skin treatments and products that will dovetail nicely with your acne focused website. The focus here is on botanical solutions to skin problems.
Another Acne affiliate program with some pretty spectacular affiliate terms. The tracking cookie is fairly standard at 30-days but the commission is great at 15%.
This entire set of acne treatment partners is really coming through with some excellent double-digit commission percentages for their affiliate partners.
---
Acne No More Affiliate Program

Acne No More is a digital-only ebook that teaches people a 5-step solution to their acne problems. These digital products can be a little tougher to promote because many people start out with a certain level of distrust towards them.
But with a little clever promotion, you should be able to get this product converting at a reasonable rate.
And if you can get it converting then you are in for a real treat. They offer an incredible 75% on all qualifying sales. There are also some upsells associated with this product which can be a good or bad thing depending on how your audience views them.
This affiliate program is something that is a little different from most everything else on this list and would make a good compliment to a more tradition acne affiliate program.
---
CLn Skin CareAffiliate Program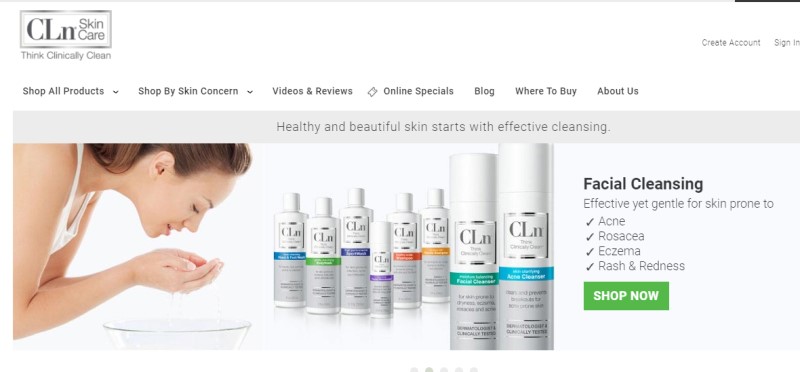 CLn Skin Care has a wide variety of treatments soaps and shampoos that help deal with acne. They have sports washes and body washes as well as moisturizers and other skincare products.
But for the purposes of our list hear their acne cleansers are something that you really are going to want to promote on your acne treatment or bath and body niche website.
The tracking cookie offered by the CLn affiliate program is one of the best of all the acne affiliate programs on our list.
They offer a full 120-day tracking cookie duration. You love to see tracking cookies this long because the longer the track and cookie are the better chance you have at getting a conversion.
The commission is very good as well. You get a 10% commission for sales on new customers. That means that the customer must not have bought anything from the website either through your affiliate link or any others for you to get the full 10%.
Repeat customers give you a 3% commission on those sales. The good news is most of your customers are going to be new to the affiliate program so you'll get the 10% commission quite often.
---
Closing Thoughts On Acne Affiliate Programs
There are a wide variety of niches where you can deploy these fantastic acne affiliate programs. They work well for beauty niches. They work well for a skincare niche website. And you can even build your entire website simply around remedies for acne.
Depending on what approach you take to an acne niche website will determine which of these affiliate programs are going to work best for you and your specific audience. You could use them in tandem with soap affiliate programs if you have a more general skincare blog.
Now that you have these wonderful acne affiliate programs and a general idea of the niche you want to operate in and where you want your passive income blog to go now you need to get to work.
They're going to be a lot of pitfalls on the way to building a successful affiliate marketing business but you can help minimize The Mistakes by getting some of the best training available right now for building a passive income website.
Don't go it alone. Get the best learning tools and community to help you build your online dream. Check it out here.
Thanks For Visiting And Have A Wonderful Day