This article may contain *affiliate links. Please see our affiliate disclosure for more details
"Making art is a mystical process — a lot of people who are artists don't understand it themselves. Especially the young ones. They feel different, but they don't know what it is. They feel more. Everything hurts. Everything. They're super sensitive. They see things that other people don't see."— Rick Rubin, What I've Learned: Rick Rubin
Art is a fabulous niche to blog about. It is visual and often beautiful. It can inspire. It can make someone happy or bring a person to tears. Art is one of the treasures of humanity and what it truly is, is in the eye of the beholder.
That's Art.
Full of emotion.
And if you can convey that emotion to your readers or your viewers or the people who come to see your art, well then you might never be a starving artist again. Because art is one of the unsung blogging niches. Everyone talks about finance and health and fitness and pets as the great evergreen niches.
And they are.
But Art can be too. It can generate just as much profit and a lot more emotion than most other blog niches. But making an art blog successful is a little trickier than some of the more straightforward blogging niches.
And that's where we come in. We'll look at ten of the top blog niches for art bloggers. Focus on one and then expand if you feel the need to, but become an expert in one first.
Gain a loyal audience in one of these micro-niches and they will follow you anywhere, to whatever art project you want to try next.
There Is Just Something About Owning Your Own Business. Being Your Own Boss. Building Something From The Ground Up With Your Own Hands. Especially When It Is This Easy To Get Started.
---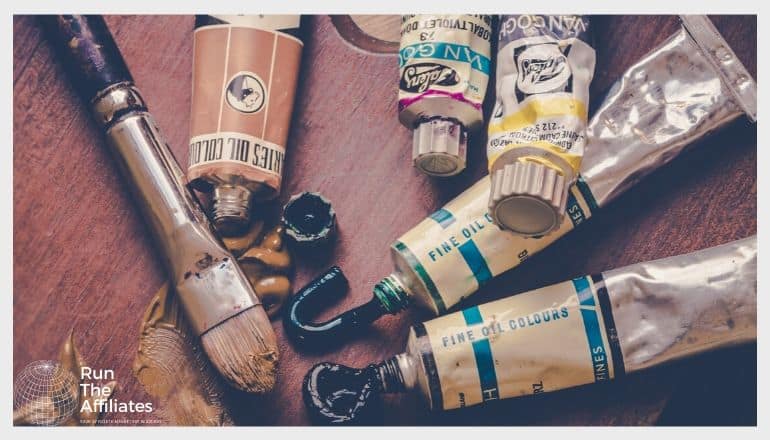 ---
Photography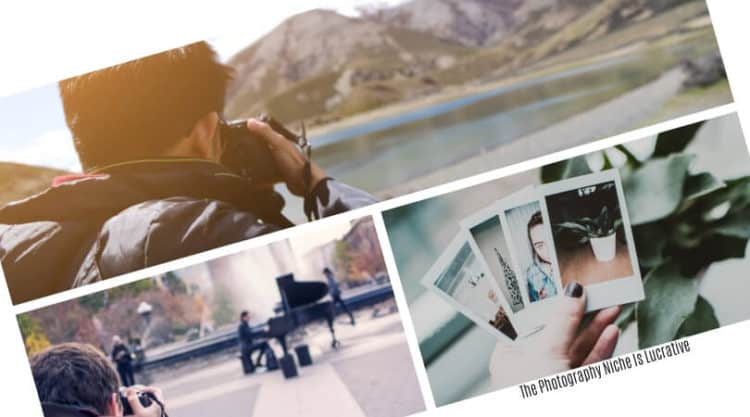 Photography is first up on our list of profitable art niches. A picture is worth a thousand words, as the saying goes. Your photographs are worth far more than that. A photography blog should be a visual feast. And that is just the opening salvo.
By writing about the art of photography and then giving your readers examples of your own photographs you set yourself up as an expert in the field.
Someone who knows a camera and ways to get the best out of one. And this will be the crux of your blog.
The beautiful photos are the hook. Your knowledge and expertise are what really sell the blog to your audience.
They will come seeking advice on cameras and photography equipment. On photo editing and shot composition.
And your content will deliver everything to them in spades. And not just other photography aficionados either.
All blogs need photos and pictures.
So you will have other blogging professionals seeking your advice on the best ways to incorporate photographs into a blog.
There are so many possibilities to monetize this niche as well. Reviews of cameras and photography equipment.
In-depth looks at photography software, flashes, lighting rigs and everything else that a photographer needs to make their art. As well as suggestions on photography courses and training seminars.
Affiliate Programs for the Photography Niche.
---
WoodWorking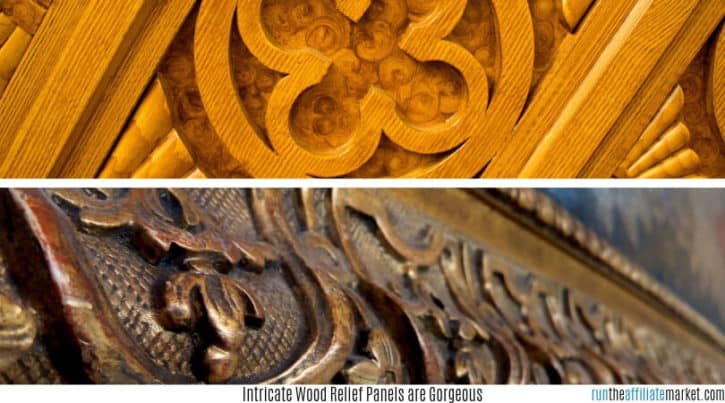 Woodworking is a very versatile art micro-niche. It might be a little too broad to start out with, however. Whittling, pun intended, the niche down to smaller woodworking projects to focus on might be the best way to approach this niche.
The micro-niches are seemingly endless. Birdhouses, dog houses, shelving, and footlockers. Although these would fall more into the craftsman niche that the art niche. But could still be used for both niches.
So many woodworking opportunities for a blog. The more artistic option would be hand carved items or smaller projects that rely on intricate work, such as creating wooden figurines.
Another interesting type of woodworking would be creating wood relief panels. These are incredibly intricate and beautiful pieces of art that would be sure to generate a great deal of content and discussion among your audience.
Exploring the different types of wood and their useful and aesthetic qualities would be great for generating content for your blog.
Like many other art niches, this one lends itself well to video in the form of training videos or step by step, do it yourself guides to building the pieces.
Promoting stores that sell top-quality wood and tools would be a great way to monetize your blog.
Additional way could include promoting training videos and stores that sell completed word working pieces. A good amount of possibilities for this great niche.
A look at a few woodworking affiliate programs. Check out our full list of 10 great woodworking affiliate programs.
---
Painting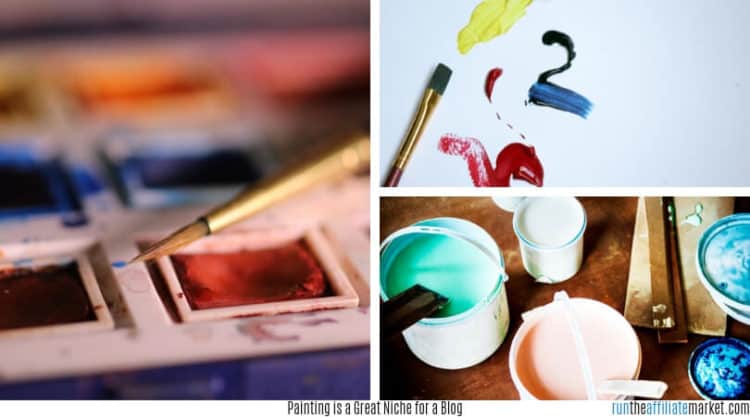 Painting is a great niche for a blog. Especially if you incorporate video into your blog. People have been watching other people paint on regular television for decades.
You can bring this type of energy and creativity to tutorials or paint along in a video.
Even without using video, step- by step tutorials are another way to create content for your painting blog.
Reviews of painting equipment. Brushes, easels and various types of paint can also be used to create content.
You can sell your own paintings from your blog as a way to generate some income.
You can also monetize the painting niche by reviews and promoting various painting equipment. What are the best brushes? The best types of paint or the best brands of paint.
All this information is going to be invaluable to your readers, especially new painters who are just getting into this art niche.
With a steady and helpful guiding hand you will be able to teach new artists about painting and make a little bit of profit in the process.
Some possible affiliate marketing programs for the painting niche.
---
Drawing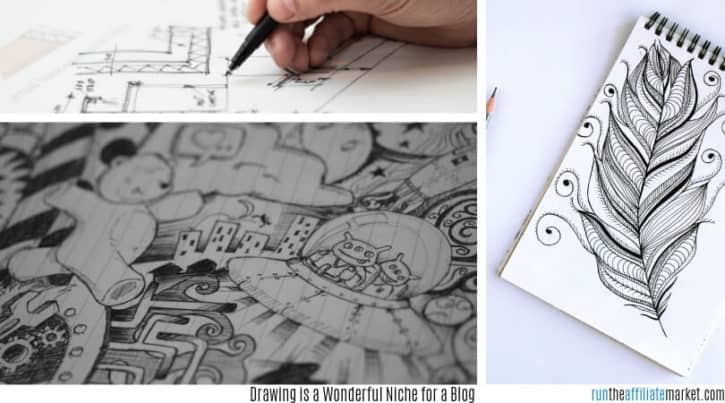 Drawing might be the cheapest art niche to start blogging about. If you have a pencil and some paper and some artistic ability you can jump right in an start creating art for your audience. Teaching them drawing techniques is a good way to start out in the niche.
You can even narrow your focus down to specific subjects in which to draw.
Only want to teach portraits? Animals? Cars? Caricatures? You can select anything that you are great at drawing and work from there. You can even incorporate your drawings into a blog from another niche.
Have a pet website? Draw portraits of your audience's dogs to generate a little extra income.
Create training videos and step by step guilds to drawing. Promote the best pencils and paper and training products to help monetize the website.
A very fun and versatile art niche to try your hand at.
Some Affiliate programs to look into for the Drawing niche.
---
Pottery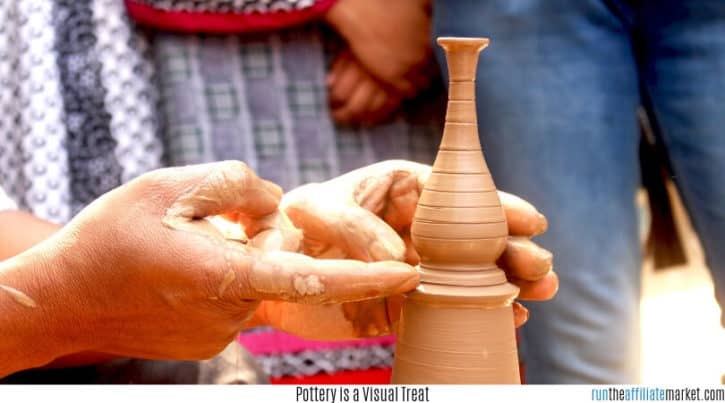 Pottery is another great all-around niche for an art blog. However, if you are going to make your own pottery it can be a little expensive on the set-up side.
You'll need a fairly large place to work and a place that can get quite dirty.
The big problem with pottery is finding a place to fire your creations. In many areas, there are classes and training seminars that will have kilns that you can pay to use but you need to find out if this service is available in your area before starting a pottery blog.
Another option is to buy your own kiln.
These cost a hundred to thousands of dollars and are a big expenditure to make if you are just starting out.
But they are worth it in the long run. An added bonus is that you can promote companies that sell these kilns, along with wheels and clays to create the pottery and they will bring in some nice commissions for your blog.
Pottery is another art niche that lends itself wonderfully to video. Creating training videos or just making a piece of pottery while filming it, is great compelling content for your audience. A really versatile niche to try if you can afford the upfront costs.
Some Pottery affiliate programs to consider.
---
Calligraphy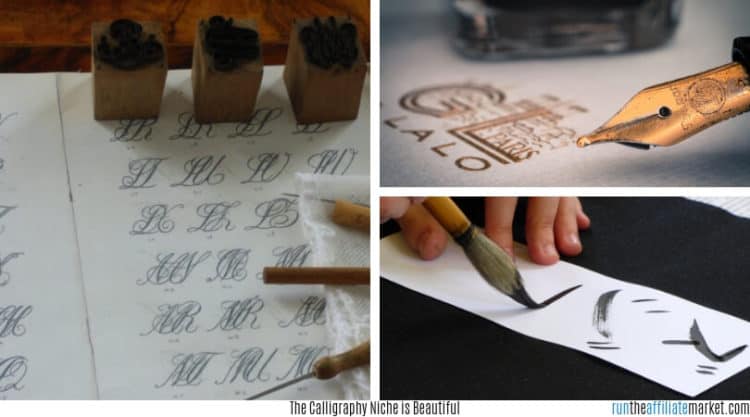 Calligraphy is an interesting niche for an art blog. You could have training videos showing people the proper ways to write in this style. You could show off some of your own work and possibly sell some of your artwork on-site as well.
The beauty of calligraphy lends itself well to the visual nature of a blog. Photographing and filming your calligraphy could generate some very interesting and unique content for your audience. And teach them at the same time.
This niche is one that tends to do better when combined with another micro-niche or two.
The niche is large enough to support a full blog but might be more lucrative if promoted alongside another art-based niche.
Monetizing calligraphy is going to be a little trickier since there are only limited products to promote.
But you should be able to promote the calligraphy pens and parchment paper along with any books and training on the subject.
Some affiliate partners for Calligraphy could include.
---
Watercolor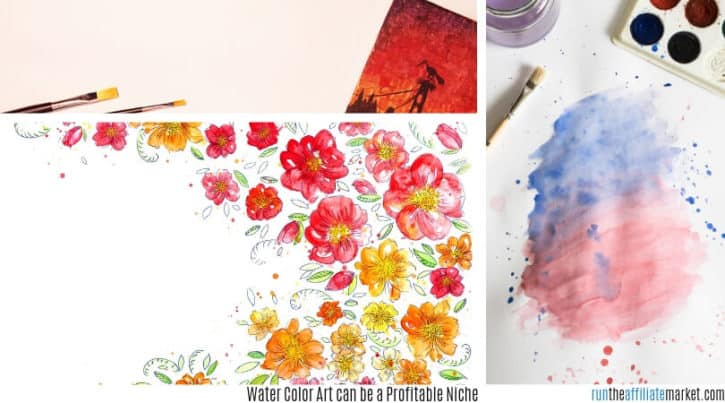 Water Color painting is a very unique style of painting and one that lends itself well to a blog, either as part of a larger painting blog or as a specific watercolor niche art blog.
The look and feel of watercolors are incredible and becoming more and more popular recently.
As a watercolor blogger, you could create your own original works of art and sell them through your blog or you could go the teaching route and create training videos and courses that you could sell to your audience.
Monetize this niche by promoting the best watercolor paints and brushes as well as the other pieces of equipment you need to be successful in this form of art.
In addition, you could promote other artists' works and receive a commission for their promotion.
A very good, but somewhat small niche. Still can be very profitable with the right types of promotions and affiliate marketing.
Some Affiliate program ideas for the Water Color Painting Niche.
---
Coloring Books for Adults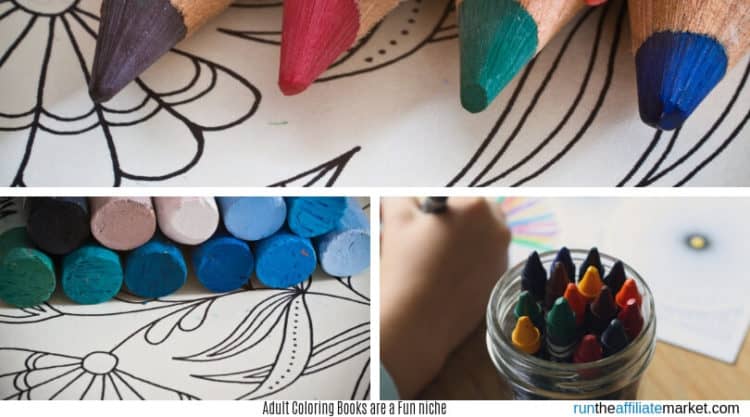 Coloring books are not just for kids anymore. Adult coloring books have become more and more popular in recent times. These coloring books have very intricate and beautiful art for your readers to color.
This is not going to be one of the most lucrative art niches but it can easily be a secondary niche on an art blog.
There are a few ways to monetize this niche, however. First, the coloring pencils are a good item to promote for this niche.
The books themselves are also a great way to generate some content for the coloring book niche.
Make a video of your coloring one of the pictures is a great way to introduce people to just how much fun and relaxing coloring books are for adults.
There are not a huge number of coloring book-specific affiliate programs but here are a few to look into.
---
Videography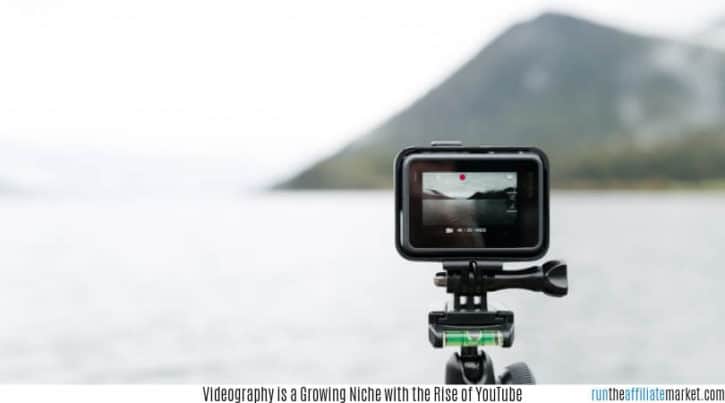 Videography is the art of making videos. That should be enough information to convey just how much potential this niche has.
The rise of Youtube has put a premium on great video content. People are desperate to get their content on youtube and other video channels.
If you can teach people how to do it properly then you will have a hugely profitable evergreen niche.
The start-up costs are a little higher than most other art niches. You can just grab a pencil and a sheet of paper to get started in this niche.
Cameras can run a hundred to thousands of dollars and you'll want to have some good equipment, to begin with.
It would be difficult to take your training seriously if it was shot on a smartphone.
Once the initial costs are dealt with, however, your content should be engaging and robust.
Teaching people every aspect of videography from onscreen presence to shot composition to effects and everything else that has to do with making a great video.
You could focus on Youtube type videos or teach more artistic forms of videography.
The possibilities are near limitless.
Monetize your training videos by selling them outright or with advertisements.
Earn commission from promoting the cameras and equipment to your audience. And just putting your videos on YouTube would earn you some extra income.
Affiliate Programs for Videography.
---
Scrapbooking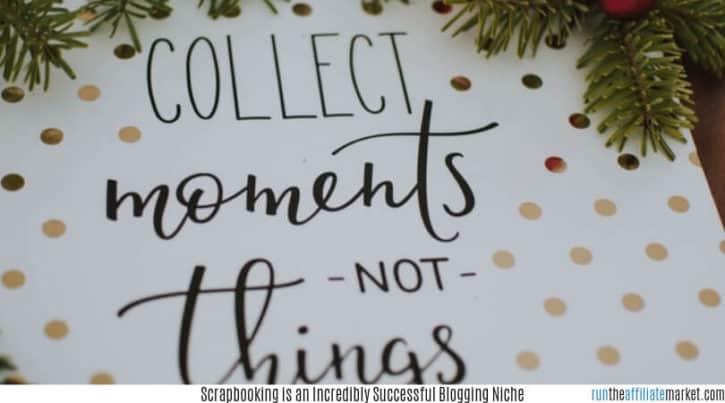 Last, but definitely not least is Scrapbooking. It may seem an odd choice for a blog, but it is one of the most popular and potentially most profitable sub-niches in the entire art niche.
You are teaching people how to organize and display their most cherished memories.
That is what a scrapbooking blog does, at its core. In the blog, you can give people techniques and examples of how to display their wonderful memories in beautiful and coherent ways.
You can teach people how and what are the best items to select for a scrapbook.
This niche dovetails extremely well into other art niches. Photography scrapbooks for example.
Or drawing scrapbooks. Your blog could show people that there is much more to the art of scrapbooking that just cutting a pasting some stuff into a folder.
There is a real art and a real beauty to teaching people how to properly create a scrapbook.
One that will stand the test of time and hold onto those most wonderful and unforgettable memories that all of us have.
Some affiliate programs to check out for the scrapbooking niche.
---
The Big Finish
Ten fantastic niche ideas for an art blog. You need to have some skill in whichever artistic discipline you choose to blog about.
For the most part anyway.
You could always start a blog about your quest to become a good painter or sculpture are any other kind of artist.
That would create compelling content, to say the least. But eventually, you would want to become a proficient if not extremely talented artist in order to make these niches work for your blog. But the art niche is broad and very malleable.
Anyone can learn to create some of this art and share it with the world through a blog. And make a little bit of income for yourself doing something you absolutely love. That is the dream we all have.
Don't go it alone. Get the best learning tools and community to help you build your online dream. Check it out here.
Thanks for visiting and have a great day.