This article may contain *affiliate links. Please see our affiliate disclosure for more details
Welcome, everyone. Today we are going to take a look at the affiliate program of one of the most popular fitness trackers out there.
Specifically the Fitbit affiliate program.
We're going to dive into this partner program to see if the commission, the products, and the tracking cookie are worthy of your time and effort in promoting their products.
There Is Just Something About Owning Your Own Business. Being Your Own Boss. Building Something From The Ground Up With Your Own Hands. Especially When It Is This Easy To Get Started.
---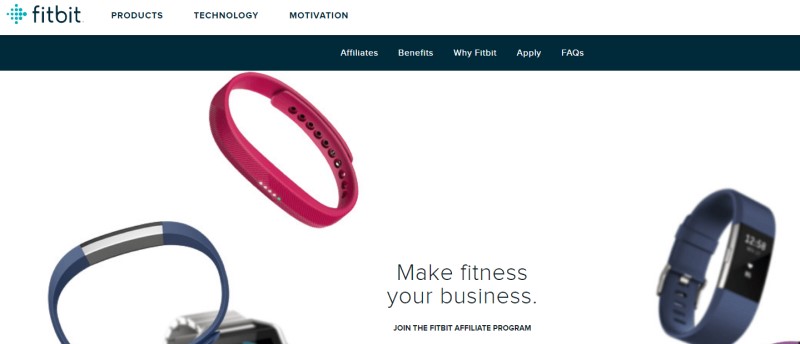 A Closer Look At The Fitbit Affiliate Program
Affiliate Commission: 3%
Tracking Cookie: 15-days
Niche: Fitness Trackers
Application: Join Here
Affiliate Network: CJ.com
While the affiliate terms are on the low side, the Fitbit brand is one that you must take notice of if you are in the fitness tracker or general fitness niches because your audience will expect to see at least some content dedicated to this popular brand.
Now the big challenge is driving traffic and high conversion rates for the Fitbit affiliate program. I recommend checking out some affiliate marketing training to help you maximize your passive income business.
---
The Fitbit Affiliate Program Commission
This is probably the biggest problem with the Fitbit affiliate program. They only offer a 3% commission on sales through your affiliate links. These cells also have to come directly from the Fitbit website.
Fitbit is such a big brand that they are products are offered on quite a few other stores that have affiliate programs for you to take advantage of. You can buy Fitbit products on Amazon For example and the typical commission for Amazon products of this type is around 4%.
Amazon does have a scaling commission structure but as far as I can tell the commission schedule for Fitbit falls into that 4% category.
What this leaves you with is the option of using the most popular shopping website online and getting 4% for the same types of products that you would be promoting through the Fitbit website and getting only 3% for them.
There's really not much of an argument to using the Fitbit affiliate program because their products can be purchased from Amazon for a better commission for the affiliate marketer.
My general rule is that if the products can be purchased from Amazon for around the same price while still getting around the same 4% commission then you should just use Amazon for your promotion.
And that's what I would definitely suggest here. You just can't justify using the Fitbit affiliate program in this case And the commission is the only reason why.
The Tracking Cookie Duration
The tracking cookie decoration for the Fitbit affiliate program is average. It's a little bit lower than the standard 30-day that you find in many of these affiliate programs but it's not so low that it becomes impractical to use.
They offer a 15-day tracking cookie duration which is going to give you just enough time to promote their products and make a sale. Typically the higher the price of the product you're promoting the longer the track and cookie you want.
Fitbit products aren't super high ticket items but they aren't cheap either. And that's why I would categorize this tracking cookie as just average. I would like to see at least 30 days for this affiliate program to really maximize the potential of this partner program.
The Fitbit Products And Brand
Sometimes affiliate marketers tend to overlook the actual products that they're promoting and only focus on the affiliate commission that they are going to receive. That can lead to promoting some bad products at times and really goes towards hurting your reputation.
The great news about Fitbit is that these are high-quality products that are incredibly popular and should be very easy to promote and not cause you any sleepless nights thinking that maybe you're promoting a bad product.
The Fitbit products are the highlight of this affiliate program. They are also the highlights of many other affiliate programs that sell Fitbit products.
As I went over in the commission section of this article it's probably a good idea to promote the Fitbit brand through another affiliate program like Amazon Associates. The products are going to be the same and can you get a slightly higher commission with Amazon.
But in addition to that, you also get these great products at one of the biggest and most popular online stores. it really doesn't make sense to use the Fitbit affiliate program over Amazon Associates because you are promoting the exact same products.
If the commission were just a little bit higher say 5 or 6% then it would make sense to try and use the Fitbit affiliate program as your primary source for Fitbit products. But until then I would just suggest using Amazon Associates to promote all the Fitbit products for your Fitness tracker or general fitness Niche website.
Potential Niches For The Fitbit Affiliate Program
Fitbit is a brand that can be incorporated into a variety of different niches, whether you use their primary affiliate program or a 3rd party affiliate that sells their products, Fitbit is going to be an affiliate that you are going to want to consider.
Some of the best niches for the Fitbit affiliate program are:
Fitness trackers – This is the most obvious one and there are plenty of other fitness tracker affiliates that you can incorporate into this niche as well.
Wearable Technology – A tech niche that is growing daily and covers a wide range of products, Fitbit would be a great option here.
Walking or Running Niches – Another great place to incorporate your Fitbit affiliate program. These are very popular niches and can be lucrative with a variety of sneaker affiliates as well as clothing and tech partners.
General Fitness Niche – A very good match for the Fitbit partner program. You could use it for a wide variety of fitness niches.
Weight Loss Niche – While Fitbit might not be an exact fit for a weight-loss website it does have some tangential value for them. I would run some tests and see how it performed.
This is by no means an exhaustive list. There are plenty of other niches and micro-niches that you could use the Fitbit affiliate program or Fitbit products in general on.
---
The Bottom Line
That brings us to the end of our look at the Fitbit affiliate program. The big takeaway from our look at this partner program is that while the Fitbit brand is definitely something that you want to look into when you're in a fitness type Niche the affiliate program associated with Fitbit is not all that great.
A big reason for this is that Fitbit products can be bought from a wide range of stores that also have affiliate programs and oftentimes have better affiliate terms than the manufacturer affiliate program.
so you definitely want to promote Fitbit products if you are in the fitness tracker Niche or some other Nish that would benefit from them but I would recommend looking into other options 4 after late partner rather than use the primary Fitbit affiliate program.
That being said if the Fitbit affiliate program converts well enough then it's going to be perfectly usable even with the lowest commission that they offer. It is going to come down to your specific audience and how well they relate to this affiliate program.
Don't go it alone. Get the best learning tools and community to help you build your online dream. Check it out here.
Thanks for visiting and have a wonderful day