This article may contain *affiliate links. Please see our affiliate disclosure for more details
Hey There everyone. Michael here and I would like to welcome all of you to our look at the Diamond CBD Affiliate program. The CBD niche is growing exponentially and hundreds of affiliates have sprung up around this profitable niche.
How does Diamond CBD measure up? Is The commission good enough? How long is the tracking cookie? Are their enough products to make it worth your while to promote? We dive into this CBD affiliate program to find out if it is one you should consider for your niche site.
There Is Just Something About Owning Your Own Business. Being Your Own Boss. Building Something From The Ground Up With Your Own Hands. Especially When It Is This Easy To Get Started.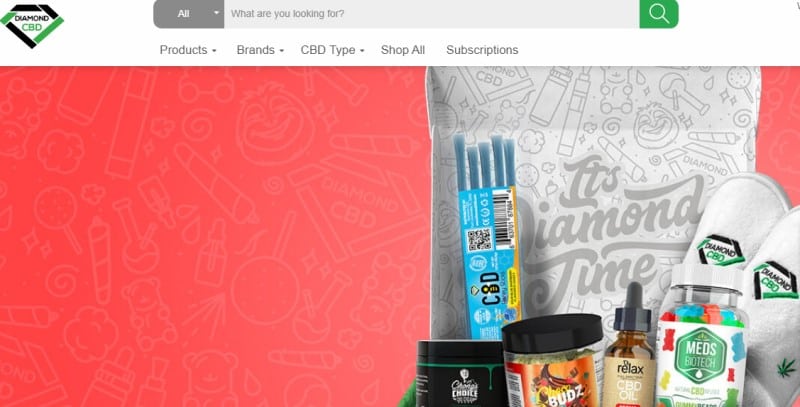 The Diamond CBD Affiliate Program Quick Review
Everything about this affiliate program looks pretty good on our quick look. Let us continue on to find out what types of products you can expect to promote and the various niches that Diamond CBD would work well for. You can also learn more about Diamond CBD at its website.
You can maximize the potential of the Diamond CBD affiliate program and build passive home-based income for your financial future.
---
The Diamond CBD Affiliate Program Commission
The star of the show for this affiliate program is clearly there affiliate Commission. The CBD Niche is renowned for its high commissions but even in the CBD niche, this is one of the best you're going to find.
They offer a 35% Commission on all qualifying cells made through your affiliate links. That is almost unheard of for an affiliate program that deals with physical products.
You typically see these types of commissions in digital-only products where there isn't nearly the overhead but CBD products and supplements tend to reach these lofty Heights as well.
The only thing that I would caution you about is to make sure that you are comfortable promoting the products that they offer and that those products are going to resonate with your specific audience. Don't try to force an affiliate program on your readers or viewers just because they give you a Great Commission.
You need to balance out whether your audience is receptive to that particular affiliate program with a good commission percentage for yourself. With Diamond CBD you have one of the best commissions so it's just up to whether your audience feels about their products the way you feel about that fantastic Commission.
The 35% commission is what is quoted on their ShareASale profile. The affiliate website lists a 20% commission, you can see it here. Sign up for the ShareASale partner program and be sure to ask about the commission to make sure you are getting what you deserve.
The Tracking Cookie Duration
The commission is phenomenal there is no question about that but the tracking cookie duration is not that far behind and it's robustness.
Diamond CBD offers a 90-day Commission for its affiliate partners. This means that you have three full months to promote their products and still get the commission that you've earned.
Typically tracking cookies are not one-time use either. They tend to be good for return days as well. Whether or not that's the case with diamond CBD I couldn't find any information one way or the other.
However, most tracking cookies do include return days meaning that anytime someone returns to that site to buy another product you will still get the commission as long as it's within the track cookie duration. As always ask your affiliate manager the specifics of how their cookies work and how they're tracking Works to make sure that you are getting exactly the commission's that you've earned.
The Diamond CBD Products
The products are the most important part of an affiliate program from the customer's point of view. This means that an affiliate marketer needs to be sure that they are comfortable with the quality of the products they intend to promote.
It would be impossible to try out all of Diamond CBD's products, there are hundreds if not thousands, but you want to research as many as you can and do a hands-on review of some of them as well to get a feel for the brand and how well it will resonate with your audience.
On the outside looking in the products look wonderful and the prices seem in line with other CBD retailers. How well they sell to your audience will ultimately determine the overall effectiveness of this affiliate program.
Here are just a few of the CBD products that you can promote with this affiliate program.
CBD Oils
Bath & Body
CBD Capsules
CBD Creams
CBD Edibles
CBD for Pets
It looks to be pretty standard fare for the types of products and if you determine the quality of the products to be where you need it to be then this is definitely an affiliate program that you will want to consider for your CBD niche site or even other niches as wee will get into right now.
Additionally, they do have a subscription box option that you can take advantage of. Make sure the subscription box is part of their overall affiliate program when you sign up to ensure you get the proper commission for your efforts.
The Best Niches For Diamond CBD Affiliate Program
A CBD niche website is the most obvious niche to use this affiliate program. There are dozens, if not hundreds, of CBD affiliate programs that would work well for a CBD niche site.
Diamond CBD would fill that role for a niche site very well. But you will want to run some tests with each affiliate to find out which ones are going to be best for your niche site.
While CBD niches would be the most natural fit for the Diamond CBD affiliate program it is certainly not the only one.
CBD Diamond has products that would fit into a variety of other niches and help to expand the monetization options for those niche sites.
Here are some alternative niche ideas that Diamond CBD would work well in.
Bath And Body Niches – Diamond CBD has a large selection of bath bombs, bath salts, and skincare products derived from CBD that would work great in this type of niche
Pet Niches – Diamond CBD doesn't have the largest selection of pet CBD products but it does have enough to be useful for some pert niches sites
Food Niches – Particularly anything related to honey as they have a wide array of CDB infused honey sticks and honey pots that you could promote. In addition to CBD edibles that you could promote
Supplements and Oils – They have plenty of oils and CBD Supplement Oils that would fit nicely into a general supplement niche website.
You could even squeeze a few more niches out of their products if you get really creative. The bottom line is that this is a pretty versatile affiliate program that can work for a variety of niches. Ultimately it will come down to how well it converts for your specific audience, but everything is in place to make this a very lucrative partner to have.
---
The Bottom Line
And that just about concludes our look at the diamond CBD affiliate program. As you can see this is a phenomenal affiliate program. It has an outstanding commission and a very good cookie to boot.
From an outsider's perspective, the products look outstanding and well within the price range of similar competing products so it should fit very nicely into your affiliate strategy for your CBD Niche website.
The thing to keep in mind is that there are hundreds of these CBD affiliate programs and you only need a couple, maybe up to 5. but you don't want to saturate your website with a bunch of different affiliates programs as it just tends to confuse your audience.
You want to have a select few CBD affiliates that you constantly promote in order to build a good relationship between you your audience and the affiliate program that you are promoting.
So try and find affiliate programs that have a wide range of products, have a good commission that's going to satisfy your profitability needs, and that resonates with your specific audience in order to get the conversion you need.
The conversions will take care of themselves but Diamond CBD seems to have everything else going for it. It's something you should really look into and consider using for your CBD Niche website or any of the other niches that we talked about in this article.
As Always enjoying these affiliate programs is completely free so running some tests with diamond CBD affiliate program is a great idea and it's not going to cost you anything but time if it doesn't work out. If it does then you have one of the best CBD affiliate programs out there that is going to start generating some wonderful profits for your passive income business.
Don't go it alone. Get the best learning tools and community to help you build your online dream. Check it out here.
Thanks for visiting and have a wonderful day.