This article may contain *affiliate links. Please see our affiliate disclosure for more details
When something hits the evening news you know it has hit the mainstream. Everyone knows about it at that point. Moms, dads, grandparents. They all want to know what CBD oil is because it has started to show up on the 6 o'clock news. What follows is two-fold. A ton of misinformation and a great opportunity for affiliate marketing bloggers. Once something hits mainstream outlets people go to search for it online.
A smart blogger has their articles up and ranked on the first page months before this happens just to be prepared. If you missed the window, all hope is not lost. This is just the first salvo in a battle that will last for years. So your chance to start a CBD blog and get in on this incredibly fast-growing niche is still very much on the cards.
But getting the blog up is only the first part of the equation. You need a way to monetize it and affiliate marketing is a great way to do just that. For that, you are going to need some pretty great affiliate partners. And there is no shortage of these partners for the CBD niche. So here are some great CBD affiliate programs for you to consider for your blog. Find ones that really resonate with your audience and promote them. Build your audience and become an authority in all things CBD.
There Is Just Something About Owning Your Own Business. Being Your Own Boss. Building Something From The Ground Up With Your Own Hands. Especially When It Is This Easy To Get Started.
---
Joy Organics Affiliate Program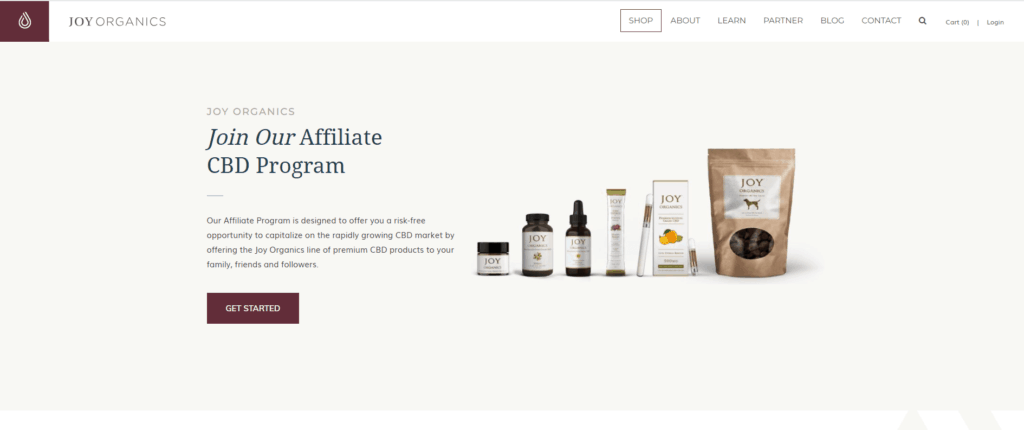 Joy Organics is a family-run business whose mission statement is to provide the very best in CBD-related products to its customers. Co-Founded by Joy and Todd Smith, Joy Organics is dedicated to educating its customers about the benefits of CBD products.
It is their product selection that really makes this an appealing partner program for a CBD niche blog. They have products for skincare, CBD oils, and even CBD products for your pets. While their selection is not as large as some other CBD stores they make up for it with the quality of their goods.
Commission And Cookie
The Joy Organics Affiliate program offers an excellent set of affiliate terms for its partners. The commission is a sizable 25% for all qualifying purchases. These types of commissions are pretty common in emerging niches like CBD. But they tend to go down as the niche matures.
It usually takes a few years for the commissions to settle at their natural position. In the meantime, you can use these high commissions to great effect and reap the benefits of getting into this type of niche early. The tracking cookie offers up here is also very good. At 60-days it is about twice as long as the industry standard for trackers.
The Wrap Up
A very good affiliate to have on your roster. They don't have the largest selection but they have nice products that are easy to promote. Their commission and goods are top-notch as well. A good affiliate to consider for your CBD blog.
---
CBD Pure Affiliate Program

CBD Pure offers a line of CBD oils for use as dietary supplements. They tout the health benefits of CBD oils and lay out exactly what you are promoting on their website. As an affiliate marketer for CBD oils a good chunk of your content is going to be dedicated to explaining what it is and what it does.
Having your partners bolster your content with their own explanations is going to go a long way to helping you close the sale. CBD Pure has a very limited selection of products. They essentially have CBD soft-gel capsules and CBD oil in 3 different strengths. The products are categorized in 100mg, 300mg, and 600mg strength for the oils offered by this supplier. And 750mg for the soft gels.
What this means is that your audience either loves their products or they don't because there is no selection to offer them something different.
The Affiliate Terms
The good news is that they offer one of the best commissions in the CBD niche. The 40% commission is one of the best you are going to see for any physical product in any niche. Commissions this high don't always last forever. If this affiliate converts then focus on your promotions and get the most out of this partner while you can.
The tracking cookie is also excellent. At 90-days it is one of the best for this niche and for a physical product. 90-days is plenty of time to close your sales and receive a commission.
The Wrap
A great commission and an excellent tracking cookie combine with CBD Pure's high-quality products to produce one of the most attractive affiliates in this niche. If they convert for you then you have yourself a real winner here.
---
Love CBD Affiliate Program

Love CBD is another fine vendor of high-quality CBD products. Their offerings range from balms and sprays to oils and capsules. They are similar to other companies out there with their CBD products.
The trick for you as an affiliate marketer is to find the ones that resonate the best with your specific audience. You don't need or want to promote every affiliate your find. Only a couple that converts well.
With that said Love CBD is a top-notch supplier, with an excellent FAQ onsite to help explain what CBD is and does. This will act as a complement to your own content and really help sell the products you are promoting.
The Affiliate Terms For Love CBD
The commission offered up for this partner is 15%. While it is a nice commission it is a little lower than many of the other vendors on our list. Don't let that keep you from giving it a try. The commission is only one part of the equation. A 15% commission that converts is better than a 75% one that does not. The cookie information wasn't readily available so you will need to ask about it once you are accepted into their program.
The Wrap Up
A good all-around affiliate program. The commissions are solid and the products are top-notch. It all comes down to just how well their offerings convert for your audience. Certainly, one to run some tests with and see if they are good for your readers.
---
CBD Biocare Affiliate Program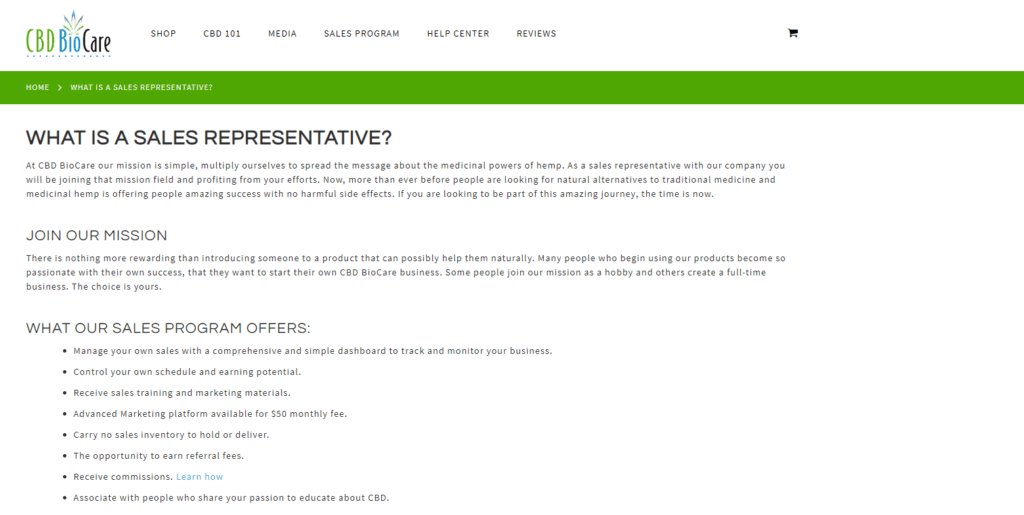 CBD Biocare has a pretty nice selection of CBD products for your readers to choose from. They have one of the more robust selections on this list so far. They, of course, have your standard CBD oil. This will probably be the biggest seller as it is the product that people discover first most often.
But they have items like CBD gummies and various creams as well. Skin cream and eye cream and a few others round out a nice selection of skincare products from this vendor. One other interesting this that they sell is their pain stick roll-on. This is an interesting addition and one that can really generate a little content when you compare it to more traditional pain roll-ons.
Finally, they offer some products for your pets. This might not fit into your CBD niche perfectly but you can promote them just the same. You can also use this affiliate for a pet blog and just promote the pet items. Something interesting to think about.
The Affiliate Terms
The affiliate terms for this partner are a little nebulous. Their commission is up to 40%, which is nice if you can get the full commission. But you will need to make quite a few sales to get the top-tier commissions. The tracking cookie information was not readily available at the time of publication so be sure to ask about it when you are accepted into this partner program.
The Wrap Up
They call their affiliate sales representatives but they operate in a similar fashion to traditional partners. Don't be afraid to ask them some questions if you need clarification on exactly what they are all about. That said their products are good and they offer competitive affiliate terms. One more affiliate to consider for your CBD empire.
---
CBD Medic Affiliate Program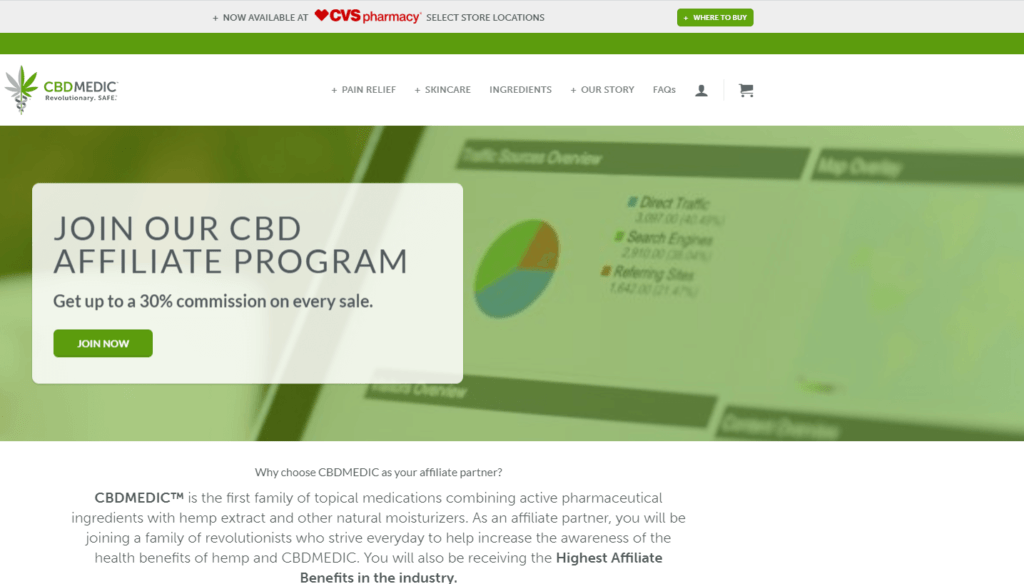 CBD Medic is one of the more recognizable CBD brands. Some of your audience will have come across them at CVS pharmacies where they can purchase their products off the shelf.
This kind of mainstream adoption makes it so much easier to promote products of this type. And not just for CBD Medic in particular. Showing up in retail stores helps the entire industry in a real tangible way. CBD Medic focuses on a couple of main areas with their products. The first is pain management.
It is important to make sure that your promotions do not promise anything when it comes to these claims. Much of this stuff has not been FDA approved. it might help with pain or skin problems but it is not a cure or an official remedy.
Back to the products. They offer a few pain management products targeted at specific issues. Arthritis is one of the big ones. Depending on the age of your readers this could be a very important area to develop content and promotions for. They have a few skincare offerings as well. They claim to help with specific ailments like eczema and various rashes.
The Affiliate Terms
CBD Medic has an excellent commission. They offer up to 30% commissions on all qualifying sales for their affiliate partners. Be sure to ask about getting the max commission, but they start at around 20% so even the low end is quite nice.
The tracking cookie is also very nice. They give you a full 60-days to make a purchase and still get that all-important commission. The duration is nice since their products run around $40 dollars and are just a little bit above being an impulse buy.
The Wrap Up
Great commissions and a very good cookie round out what is a very good partner program for your CBD niche blog. They have a relatively small product line, but it is a mainstream and popular one. It should be easy to add them to your affiliate strategy. Give them a look.
---
Koi CBD Affiliate Program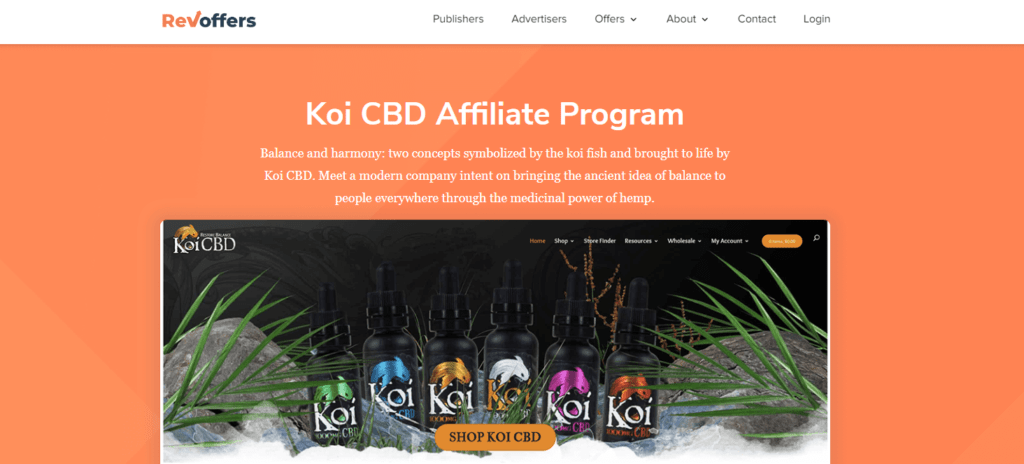 Koi CBD products are proudly made in the U.S.A. This can be emphasized in your promotional content. Much of your sales will come from the U.S. and you need to be aware of what countries you can sell to.
Having someone use your link then discover they are ineligible is going to be frustrating for them. Be sure you let them know upfront where it is legal to purchase these products worldwide. Koi CBD has quite a retail presence in the U.S. as well. They can be found in many CBD and Vape stores around the country.
A quick look at the store locator(link) on their website shows numerous retailers in my area. They have a nice selection of vape juice in their product line-up. This makes them a great candidate for a vape niche blog as well as a CBD blog.
You can get more info on the vape niche in our article here. Koi CBD also has an extensive selection of tinctures and topicals that your readers can use for a variety of issues.
They also have some CBD gummies that are becoming increasingly popular. Many people tend to take them as a daily vitamin or as a supplement when they eat something. And Finally, they have a few products for your pets as well. This seems to be a new niche all itself, but I am not sure it is quite big enough yet to support a blog on the subject.
The Affiliate Terms
The 15% commission offered up by Koi CBD is pretty competitive for such an established brand. Typically the bigger the brand the lower the commission since they don't need as much promotion through their affiliates.
The tracking cookie offered up by this affiliate is your standard 30-days. Nothing to really complain about with this duration of tracking cookie. It works well for this type of product.
The Wrap Up
Another outstanding CBD partner to look into. They have competitive commissions and cookies. Made in the USA and have a robust retail presence. This makes Koi CBD and its robust product line one of the best affiliates to consider for your niche blog. Try and fit them into your strategy if you can.
---
CBDFX Affiliate Program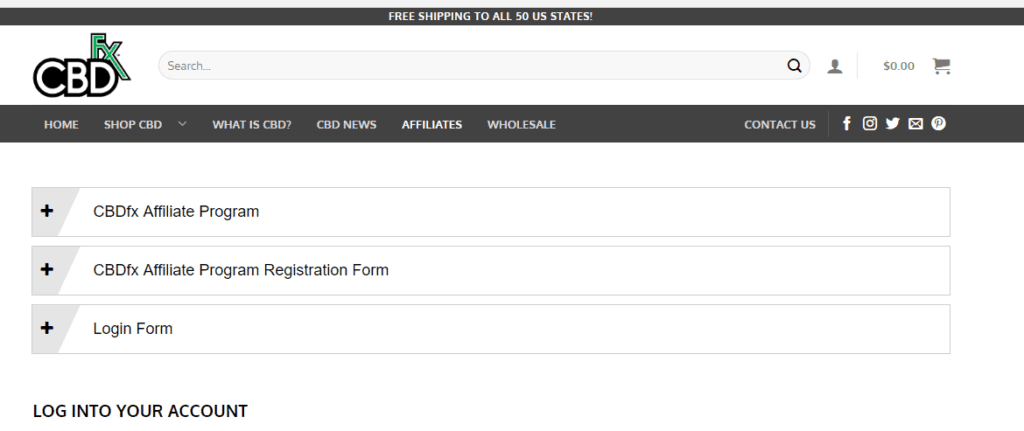 What really sets CBDFX apart from many of the other programs on this list is the sheer size of their inventory. This partner has a huge array of different products for all types of people and problems. It could be used as your primary affiliate partner for your niche blog just based on the amount and diversity of the products it offers.
They have the ever-popular CBD gummies as well as a huge variety of oils and tinctures to choose from. These are often blended with other flavors and fragrances to create unique products. One great example is their hemp face mask line of products. They add cucumber or lavender and a variety of other healthy products to create these rejuvenating face masks that you wear to bed.
They also have a good selection of CBD products for your pets. This is an area of the niche that is really starting to take off. Keep an eye on it and maybe create an entire promotional campaign dedicated solely to pet products. CBDFX also has a wide range of edibles, topical solutions, and vape products for your readers to consider. Really there is not a stone left unturned here. They seem to have a product for everything.
The Affiliate Terms
CBDFX offers its affiliate partners a very good 20% commission on all qualifying sales. The tracking cookie is outstanding as well, at 90-days. That is 3 times the industry standard. These terms only enhance what is one of the best affiliate partners around for the CBD niche. The combination of commission terms and products is almost unrivaled in the sector.
The Wrap Up
The commission and cookie are good, but it is the product selection that makes this affiliate outstanding. They have a huge variety of products for just about anyone of your readers looking for a CBD product.
---
Hemp Bombs Affiliate Program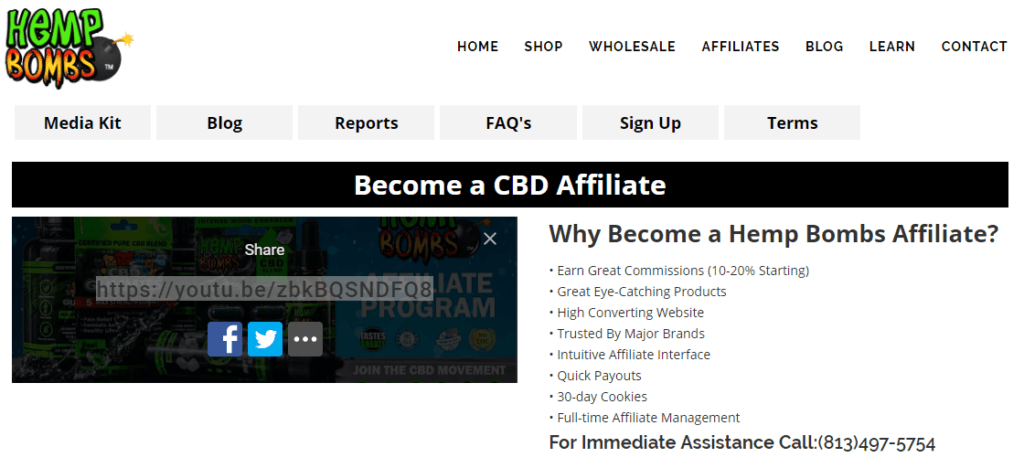 Hemp Bombs offers high potency CBD products to their customers. And they do so with a bold color scheme and packaging. You can see in the promotional video below exactly what to expect from this affiliate program. They also have a wide range of products for your readers to choose from. The usual suspects are all here. CBD Gummies and pain relievers. Oils and Shots and Vape Juice is here as well. There is not really anything not to like about this partner. Looks like a good one to consider for your niche blog.
Affiliate Terms
Hemp Bombs offer a 20% commission on their products sold through your affiliate links. It is a very nice commission and one that is on par with many of the other partners on our list. The tracking cookie is a standard 30-day duration. Perfectly acceptable for this type of product.
The Wrap Up
Hemp Bombs is a little less buttoned-up than most of the other partners on our list. That can be either a good thing or a bad thing depending on your core audience. If your people shade a little older and are looking for something to help out their arthritis then the in your face attitude of Hemp Bombs might be a little much. For an audience that skews younger, it might work out well. Run some tests and find the sweet spot for your readers.
---
CBD Essence Affiliate Program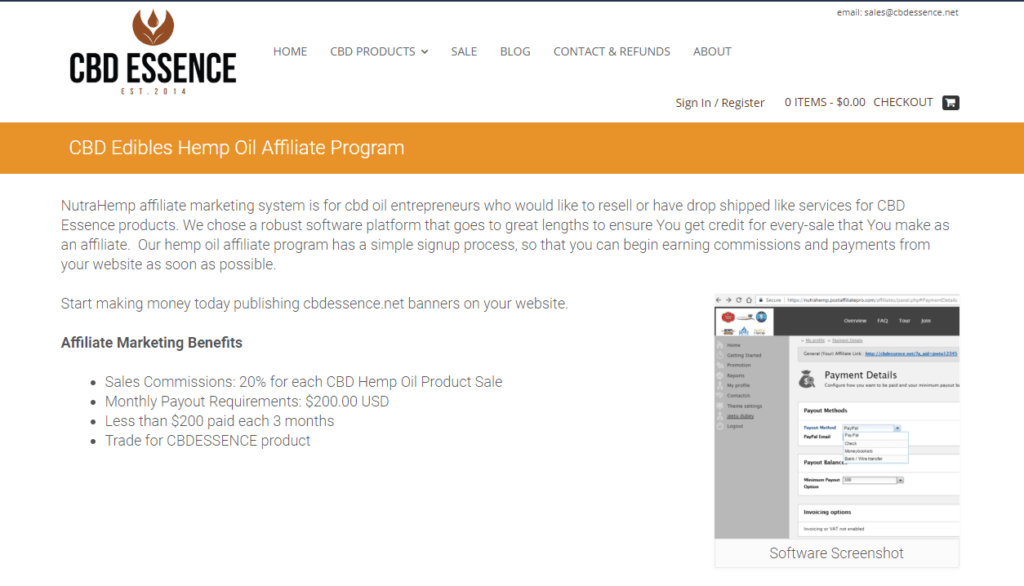 Yet another great CBD affiliate with a robust product selection for your readers to choose from. They have something for everyone here. Let's start off with their selection of edibles. These are becoming increasingly popular so you need to make sure you have some affiliate partners that carry them for your readers.
They also have the usual tinctures, oils, and topical creams that you would expect a good CBD store to have. They also have some gel caps to round out their product inventory. Finally, they have a good selection of vape juice for your readers to choose from if they are in need of that type of product. And of course, they have a selection of products for your pets if that is more your thing.
The Commission
The commission offered by this partner is a rock-solid 20%. The entire CBD niche is great for these high commissions right now, be sure to take advantage of them. The tracking cookie is remarkable, however. CBD Essence really goes above and beyond in this regard. They offer a fantastic 180-day tracking cookie to their affiliate partners. A good set of affiliate terms mixed with a very nice selection of products for you to promote make this a very good-looking affiliate program for your CBD blog.
---
Savage CBD Affiliate Program

We should come to expect this from CBD vendors by now, but this is another example of a partner with a very good selection of products that you can promote to your audience. The first interesting product I came across from Savage CBD was their sunscreen. This is a unique little product that you can get some decent content out of.
I am sure some of the other vendors on our list have something similar but I don't recall which ones offhand. Something new and different is always great for an affiliate marketer. In addition to sunscreen, they have a good number of lotions that you can promote on your blog. They also have a very nice selection of vape products for your readers to choose from. As well as a small selection of edibles.
Savage CBD also offers a CBD spray for your pets. Almost everyone on this list has something for their pets. I am going to take a long look at CBD for pets as its own micro-niche. The affiliate terms for this partner are fantastic. They offer a robust 35% commission for all qualifying orders. The tracking cookie is equally as good at 90-days. Put them together and you have one of the best affiliates offers on this list.
The Wrap
Add it all together and you get a fantastic partner program that checks every box. Great commissions. Great cookie. And one of the best product selections and varieties available in this niche. This is definitely one to consider for your CBD Blog. See how it converts and promotes away. I think you will be very satisfied with the results.
---
The Big Finish
That is a wrap for some of the best CBD affiliate programs for your niche blog. These products are legal in all 50 states in the US. But be sure to check for the countries you intend to sell to. Some of these products might not be eligible for export or import into some areas of the world. And be on the lookout for regulations on this industry as it becomes more popular.
CBD sales are expected to jump to almost 2 billion dollars in the US alone by 2022. It was just 500 million in 2018. That is a huge increase(source). So as both CBD and the legal Cannabis market continue to grow you can position yourself as an expert with your niche blog.
Take another look at those statistics in the link above if you think you have missed the opportunity. It is still there for the taking you just need to get in now and start building your CBD niche blog right away.
Don't go it alone. Get the best learning tools and community to help you build your online dream. Check it out here.
---