This article may contain *affiliate links. Please see our affiliate disclosure for more details
Hello, one and all. Welcome. Today we are going to be operating in the tea niche. We will see if Twinings has an affiliate program and whether it is up to par with the high-quality tea they sell.
Does Twinings Have An Affiliate Program? Twinings does have an affiliate program available through the Awin Affiliate Network. You can promote their tea products on the Twinings teashop and use it as an alternative to Amazon Associates.
But just how good is their affiliate program? Is it available to everyone? Is the commission good enough to use it instead of Amazon Associates? Can you make money using it on a tea niche website?
Let us find out…
There Is Just Something About Owning Your Own Business. Being Your Own Boss. Building Something From The Ground Up With Your Own Hands. Especially When It Is This Easy To Get Started.
---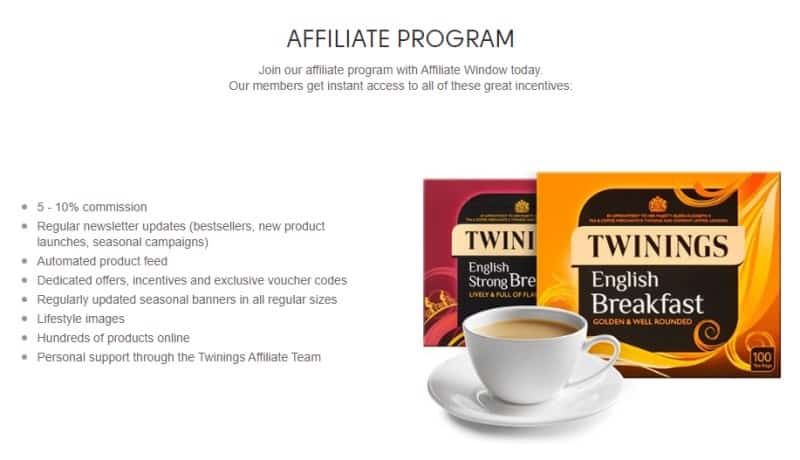 The Twinings Affiliate Program At A Glance
The Twinings Affiliate Program Vitals
Commission: 5-10%
Tracking Cookie: 30-days
Auto-Approval: No
Region: United Kingdom
Twinings Tea shop has the look of a very good affiliate program. A solid tracking cookie and commission mixed with an outstanding selection of teas from a very reputable and renowned company.
If you are in the tea niche and in a region where it is available this is an outstanding tea affiliate program to use as an alternative to Amazon Associates.
Verdict: Recommended (if available in your region)
Join The Twinings Affiliate Program
---
The Twinings Affiliate Commission And Cookie
The commissions for the twinings affiliate program are pretty good, especially when you realize how large the Twinings company is. it's nice to see a decent Commission from a company of this size.
Their commission operates on two tears. You get a 10% commission for a brand new customer to their website and a 5% Commission or any returning customers who use your affiliate link.
It's a bit convoluted and you see it from time to time in affiliate marketing where the affiliate program will use this two-tiered approach. It's not that big of a deal since most of your customers are probably going to be new users.
Return users are not as prevalent in affiliate marketing because once someone buys something from a store they typically go back to the store and not necessarily through your affiliate link again. So you should get the higher 10% commission most of the time.
The Tracking Cookie Duration
The tracking cookie duration is great for this affiliate program. The cookie weigh in at a 30-day duration. Typically this is simply a standard duration tracking cookie but for a tea affiliate it is quite good.
The reason is that most of your tea purchases are going to be under $100 dollars so you won't really need a super long tracking gap to maintain a high conversion rate. Longer cookies are always better but a standard one is perfectly fine for the Twinings affiliate program.
The Twinings Products
Twinings is a worldwide tea company that has been around in one form or another since the 1700s. It is among the most widely recognized tea companies in the world and you can find their product in just about any grocery store in the Western World.
The point here is that Twinings is a very mainstream tea company. The amount of recognition that Twinings has is a benefit for any affiliate marketer. It means that you were going to have great quality products that you can have confidence in promoting.
And that confidence that you have in promoting the product is going to shine through to your audience, hopefully translating into a higher conversion rate because the brand and their products are so well known and respected.
The one issue that you might run into is that their products can be found just about anywhere. What typically happens in this scenario is that people will look at the product and then go search for an Amazon. It's a tricky balance but you want to try and get your audience to purchase these products through twinings tea shop since that is where you were going to get the best commission.
It's important not to push too hard and just let people do what they're going to do because you will end up getting some commissions anyway. But when you're dealing with Tronics like this you have to expect Amazon to cut into your profits quite a little bit as people will naturally gravitate towards the big-box retailer.
With all that said you can still do very well with the twinings affiliate program and their products because their affiliate commission is between 5 and 10 times better than Amazon's. So that means it that to make the same amount of money you would only need to make one-tenth of the sales that you would with Amazon Associates.
Can You Make Money With The Twinings Affiliate Program?
To carry over the conversation from the product section of our article it is indeed very possible to make money with the Twinings tea shop affiliate program. as I mentioned the commission is up to 10 times better than Amazon which means you don't need as much traffic or as high a conversion rate to get the same amount of profit with your tea business.
That doesn't mean you don't want to scale your business as big as possible and grab as much traffic as you can it just means that you aren't necessarily beholden to the incredibly low commissions that Amazon has just to get those pretty good conversion rates.
Twinings really benefits from their reputation and that means that you can comfortably promote and recommend their tees in just about any type of content on your team Niche site. These types of very Broad affiliates with a wide range of teas and tea blend are ideal 40 sides because you can't adapt it to just about any type of content.
Whether you were discussing green tea or some crazy cucumber strawberry tri-blend there's going to be an option on the twinings website for you to promote that specific tea.
It's always great to have one of these larger Tea Affiliates to act as a catch-all for anything that might not be available from some of the smaller more specified tea affiliate programs.
---
The Bottom Line
That brings us to the end of our look at the Twinings affiliate program. I think it is one of the better tea affiliates out there especially when it comes to the larger tea companies.
I think this affiliate works best when you pair it with one or two other more specialized tea affiliate programs that are going to give you a lot of options in regards to what types of teas and tea Blends that you want to promote on your Niche site.
All in all, it's nice to see a large company liked winnings really have a good solid affiliate program with a good commission and of course the Fantastic products. It's going to be a great asset for any affiliate marketer operating in the tea niche.
One last thing to add is that this affiliate program seems to be for the UK region. Whether or not they allow people to be affiliates outside of these regions is unclear, but it might be worth applying just to find out because it is a very solid affiliate to have for your tea niche site.
Don't go it alone. Get the best learning tools and community to help you build your online dream. Check it out here.