This article may contain *affiliate links. Please see our affiliate disclosure for more details
Welcome, Everyone. Michael here and in this article we are going to be taking a look at the Barnes and Noble Affiliate Program. Starting with the most basic of questions…
Does Barnes & Noble Have An Affiliate Program? Barnes & Noble does have an affiliate program. Their partner program is offered through the CJ.com affiliate network. You can earn a commission promoting Barnes & Noble products on a wide variety of niche websites.
Let us take a deeper look at the inner workings of the Barnes And Noble partner program to see if it is worth your time to promote it on your website.
There Is Just Something About Owning Your Own Business. Being Your Own Boss. Building Something From The Ground Up With Your Own Hands. Especially When It Is This Easy To Get Started.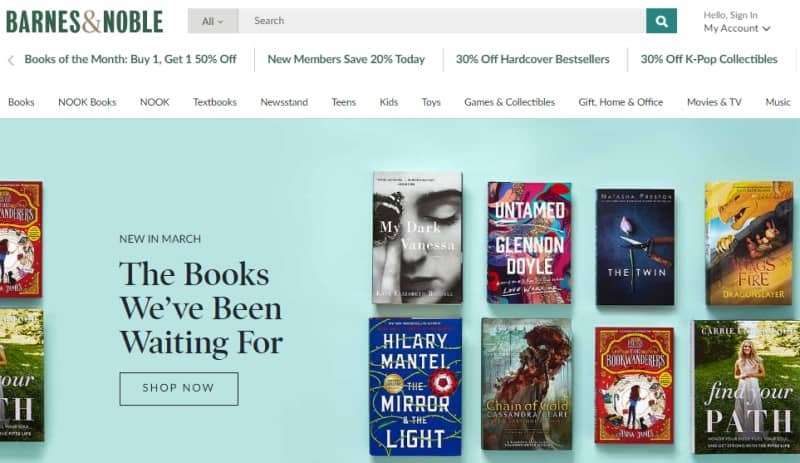 A Closer Look At Barnes And Noble Affiliate Program
While the affiliate terms might be underwhelming the Barnes And Noble brand is fantastic. They have a very good reputation and can be used for a wide variety of niches.
Basically is there is a book that fits into your blogging niche then Barnes and Noble can fit into your affiliate strategy very easily.
But finding an affiliate program is only part of the struggle. Getting traffic and conversions requires a lot of know-how. You can learn the nuances of building online niche sights with a little affiliate marketing training to maximize your affiliate marketing success.
---
The Barnes And Noble Affiliate Program Commission
The affiliate commission for the Barnes & Noble affiliate program is only 2%. There's no way to sugarcoat that commission percentage. It is incredibly low and it really does damage the overall affiliate program quite heavily.
You would need an incredibly High conversion rate to really make the most out of this affiliate program. That doesn't mean it's impossible but there are probably easier paths to finding a book affiliate program that's going to meet your needs and have a better set of affiliate terms for your overall business.
The Tracking Cookie Duration
The tracking cookie duration is not the best for the Barnes and Noble affiliate program. They only give you a one-day tracking gap. This means that from the time someone clicks on your Barnes and Noble affiliate link you have 24 hours for them to make a purchase or you lose the commission.
If they decide to buy something 48 hours later than you don't get the commission. Typically you want to see a tracking cookie around 30 days. There are exceptions to that rule and you can be very successful with lower duration cookies but as a rule, you want to see 30 days.
you can still do pretty well with a one-day track and cookie. Amazon has a 1-day tracking cookie and it's one of the biggest affiliate programs around. But that's Amazon and they get most of the traffic for online retailers.
For someone like Barnes and Noble, you can still work with the one-day tracking cookie but you were going to need to put your affiliate links into content that is heavily geared towards buyer intent customers.
In essence, you want your link to be the last click they make before the purchase. You need to set it up so that they don't need to spend a lot more time thinking about making that purchase and just click and purchase in order to maximize a 1-day tracking cookie.
What Types Of Products Can You Promote?
Barnes and Noble is most known as a bookstore but they do have a wide range of other products as well. They have a lot of magazines and music as well as movies and some culinary Goods like tea and popcorn. but the main focus is going to be on the books that they sell.
As a result, this affiliate program works great for book-related niches. And can also be applied to most niches if you need a book for a specific niche.
So if you owned a sports Niche blog for example. And you decided to do an article on baseball history then linking to a baseball history book available at Barnes & Noble would be a great way to incorporate this affiliate program into your affiliate strategy.
Here is a look at what to expect from this partner product-wise.
Books
Nook Products
Newsstand Magazines
Movies
Office Products
Games And Collectibles and much more
Barnes & Noble itself is an incredibly popular brand that is going to really need no introduction to your audience provided they have some rudimentary knowledge of the company as a whole.
It means that you're not going to have to spend a lot of time developing content explaining who Barnes and Noble is and what they are famous for and things along those lines. Basically having a known entity as an affiliate program just reduces the workload a little bit for the affiliate marketer.
Conversion Potential Of The Barnes And Noble Affiliate Program
The conversion potential of the Barnes and Noble affiliate program is actually pretty decent. It's a well-known brand with products that are also well known. How many people have a Barnes & Nobles in their area so they can order online and go pick up their purchase.
But the conversion rate would have to be incredibly high for it to really be worth your time to promote this affiliate program because of the incredibly low commission.
I've often said that the conversion rate is the most important part of an affiliate program. If you can't get conversions it doesn't matter what your commission rate is.
However, there needs to be a base level of commission in order for it to be a viable affiliate program. And 2% is just a little bit low. Typically I use Amazon as a Baseline and their 4% commission as the very bottom for an affiliate program.
Because the basic rule of thumb when it comes to converting commissions is that if it's available on Amazon for the same commission then you have a better chance of getting good conversion rates using amazon.com.
There are of course exceptions. If your specific audience loves Barnes and Noble or you have an audience that is invested heavily in the Nook product then Barnes and Noble might make sense even with the low condition.
---
The Bottom Line
That brings us to the end of our look at the Barnes & Noble affiliate program. This is a very tough sell as an affiliate program. The commission is just too low and the cookie is very underwhelming as well.
When you were looking to choose an affiliate program that deals with books like Barnes & Noble are known for then there are plenty of other options out there that are going to give you much more of a commission than they do.
I've often suggested that if you have an affiliate program that offers the same products as amazon.com then the commission needs to be significantly better than what Amazon offers for that to be an appealing partner program.
Whiskey Barnes and Nobles' affiliate program that is just not the case. On average Amazon will give you about a 4% Commission which is significantly better than what Barnes & Noble offers.
The exception is if you have a very high conversion rate as we spoke about in the conversion potential section of the article. But that is really a slim option and even then it might be best to go with another affiliate program.
Of course, if you really like the Barnes & Noble brand then give it a run out on your website and injected into some of your content and see how it does convert because even at 2% and affiliate program can make you money if you get a great conversion rate out of it.
Don't go it alone. Get the best learning tools and community to help you build your online dream. Check it out here.
Thanks for stopping by and have a wonderful day.